Romance time for Ashok and Kaurwaki in Ashoka
Aug 26, 2016
Romance time for Ashok and Kaurwaki in Ashoka (By Medsuper)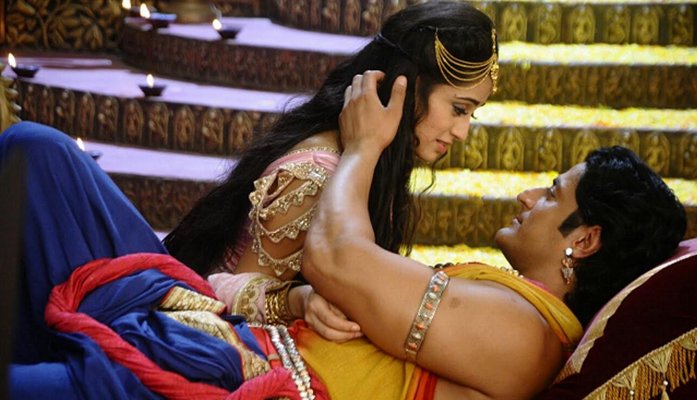 Colors' widely appreciated historical drama series Chakravartin Ashoka Samrat that traces the life of Emperor Ashoka and his journey from being a young warrior prince to a vindictive leader has been creating waves among the viewers.
The show recently witnessed a romantic track with Ashoka (Mohit Raina) and Kaurwaki (Soumya Seth) falling deep in love with each other ahead of their marriage
As a part of the sequence, Kaurwaki goes to meet Ashoka in order to apologise for whatever went wrong between them. But when she will enter his room, she will find Ashoka fast asleep. Mesmerized by the innocent look on Ashoka's face, Kaurwaki will expresss her affection by giving a kiss on his forehead.
Ashoka will quickly sense Kaurwaki's touch and pull her closer to him when she is about to leave. Kaurwaki would be unable to content her happiness and blush softly over Ashoka's sweet gesture. As the sequence will progress, they would get lost in this romantic moment.
Speaking about shooting the intimate scene, Soumya Seth said, "Initially, I was little apprehensive about shooting an intimate scene but as we went along, I loosened up a bit. Our director and my co-star Mohit made me very comfortable while filming the sequence and we shot it without any hiccups. The episode has come out really well and I am extremely happy about it."
Credit : Tellychakkar
Disclaimer: The views expressed above are member's views and this website does not comply with it. The views expressed may not be factually correct. Incase of any issue please contact us/report it to us.