Ek Tha Raja Ek Thi Rani:Rani leaves the palace afterfinding out about her parent's murders
Sep 8, 2016
Ek Tha Raja Ek Thi Rani:Rani leaves the palace afterfinding out about her parent's murders (By Medsuper)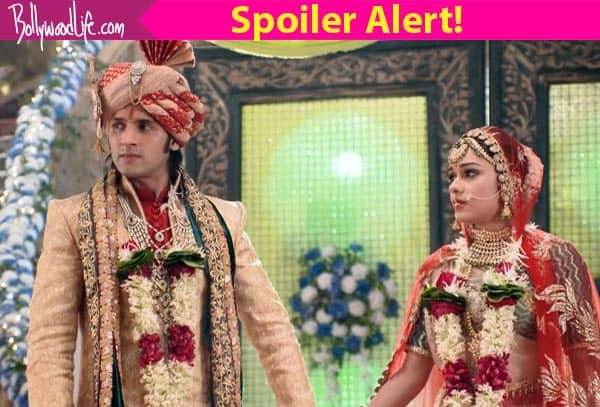 Badi Rani Maa and Kaal try to reason with Raja since he is furious with them for whatever they did to Rani's parents. Raja is in a dilemma whether to tell Rani the truth or not. Badi Rani Ma and Kaal tell him that if she finds out the truth that they were the ones who killed her parents, she will leave Raja . They ask him to choose between the truth and Rani . He decides to tell to Rani the truth when Rajmata finds him and tells him that Rani will be crushed if he doesn't marry her.
He looks at Rani and her face reminds him of all the good moments they shared and all the promises he made to live together happily. He, then, decides to marry her instead of telling her anything. Raja is still in a dilemma about marrying her without letting her know that she is the rightful heir of the throne. He is lost in thoughts while getting married to Rani and while performing all the wedding rituals. Meanwhile, Bindu tries to kill Rani by pointing a gun to her head when Badi Rani Maa stops her and tells her that no one can stop this wedding now. Rani is elated to finally marry the love of her life.
In the upcoming episode, Raja and Rani begin their new life together. Rani, somehow, finds out that Kaal and Badi Rani Maa killed her parents, Gayatri and Rana Indravadhan Sen, and they also killed Lakhan. She is furious with the fact that Raja knew all along and never told her. She packs her bags, takes Rajmata and storms out of the palace leaving her marriage and Raja behind. Raja is devastated at letting Rani go and regrets not telling her the truth when he had the chance.
Will Raja convince Rani to comeback or will Rani force him to leave the palace and start a new life with her at some other place? It would be interesting to see what new twists and challenges lie in store for these royal couple.
Credit :Anusha Iyengar
Disclaimer: The views expressed above are member's views and this website does not comply with it. The views expressed may not be factually correct. Incase of any issue please contact us/report it to us.