Kapil Sharma warmly welcomes Anna Hazare on The Kapil Sharma Show – here are all the Deets
Sep 24, 2016
Kapil Sharma warmly welcomes Anna Hazare on The Kapil Sharma Show – here are all the Deets (By Medsuper)
"Anna: Kisan Baburao Hazare" is a 130 minute long Hindi feature film and has been shot for over a year at locales in Hazare's native village Ralegan-Siddhi in Ahmednagar (Maharashtra), Mumbai, New Delhi, Jammu & Kashmir, Ladakh and Rajasthan. The film is produced by Rise Pictures Private Limited and directed by Shashank Udapurkar, the maiden directorial venture of the well known Marathi actor, who also plays the lead role of Anna Hazare, and has penned the dialogues and screenplay.
Apart from him, the film also features Tanisha Mukherjee as a young journalist who records Hazare's social-political travails in the biopic injected with three Hindi songs.
"The Kapil Sharma Show" features Kapil Sharma, Navjot Singh Sidhu, Sunil Grover, Chandan Prabhakar, Kiku Sharda, Ali Asgar and Sumona Chakravarti.
Hazare is one of the most well-known social activists of India. A former soldier in the Indian army, Anna is well known and respected for upgrading the ecology and economy of the village of Ralegan Siddhi which is located in the drought prone Ahmednagar district of Maharashtra state. The erstwhile barren village has metamorphosed into a unique model of rural development due to its effective water conservation methods, which made the villagers self-sufficient. Earlier, the same village witnessed alcoholism, utter poverty and migration to urban slums. I Hazare is now synonymous with rural development in India.
Anna Hazare has been awarded with Awards like: Padma Bhushan, CNN-IBN Indian of the Year in Public Service, CNN-IBN Indian of the Year.
The episode is expected to be aired on 2nd of October (Sunday). Kapil's show was in the news lately when the news of Navjot Singh Siddhu quitting the show came out. It was being said that he has left the show as he wanted to focus more on his political party. But, later he cleared that he is not quitting the show anytime soon.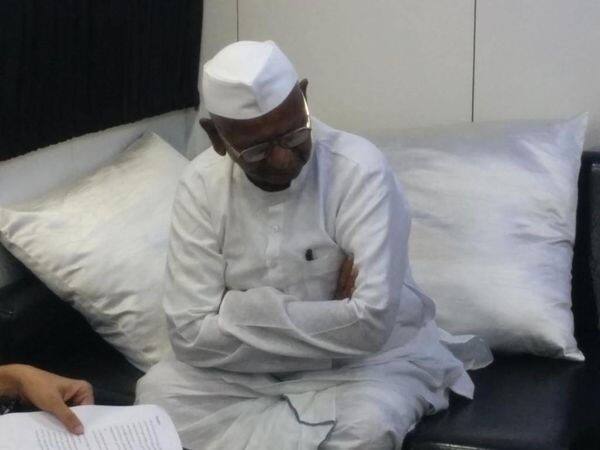 Credit : IANS
Disclaimer: The views expressed above are member's views and this website does not comply with it. The views expressed may not be factually correct. Incase of any issue please contact us/report it to us.