Anna Hazare cannot identify Shah Rukh Khan on The Kapil Sharma Show!
Oct 3, 2016
Anna Hazare cannot identify Shah Rukh Khan on The Kapil Sharma Show! (By Medsuper)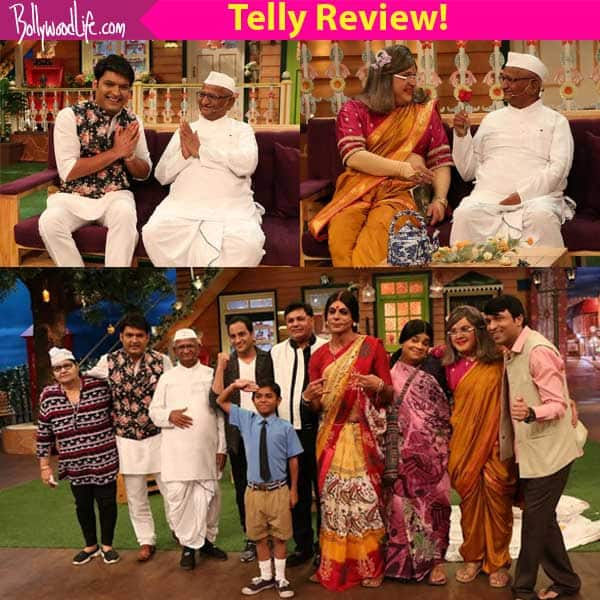 Tonight's episode of The Kapil Sharma Show was exciting for a very unique reason. It was graced by an individual who represents the values of modern India. Yes, 79-year-old Anna Hazare is behind promoting accountability in India whether it is the RTI Act or his hunger strike to pass the Lokpal Bill. Kapil Sharma kept the humour very Indian. The show started off with the theme of how important technology is in today's world and invited statements from guests. A diary technologist had come who said that we do research on ghee to reduce cholesterol. Kapil retorted that wouldn't exercising the cows help. The jokes were rooted to India and rural parts.
Later, we were introduced to Anna Hazare who said his real name was Kisan Baburao Anna Hazare and that Anna meant an elder brother. Anna revealed that he wanted be a social worker since 25 after he laid his hands on a book of Swami Vivekananda. He said that unlike a man who makes a small family/household, I have made a larger family. Anna spoke about the Right To Information Act and Lokpal Act. He said the Government is not scared of people dying it is only afraid of falling. Kapil Sharma asked Anna if he ever stopped eating to blackmail his mother. Anna revealed that once he asked his mom for ek anna to press his clothes but she refused and slapped him. Anna ran away from home and hid in the pigeons pen. He revealed that he quit eating only when on hunger strike. Kapil asked him do does he get the energy to keep fast, he says it is power of society. Anna also spoke about his trust.
Anna revealed that though he is 79 and a bachelor he never strayed. He said that if he ever did so, society would never spare him. He also told Kapil that mann bada chanchal hai. The activist revealed how he managed to stay unmarried by rejecting every girl. His relatives termed him mentally unstable and that helped him stay a bachelor. Sunil Grover aka Dr Mashoor Gulati also introduced himself and Kapil told him to behave himself. The segment was quite short.
The social activist revealed that he was a huge film buff as a teenager. He used to watch films first day first show. Anna also recognised a few celebrities like Dilip Kumar and Vyjayanthimala but could not identify Shah Rukh Khan. Kapil showed pictures of some actors and asked him to identify them. He also showed him a snap of Deepika Padukone but he could not recognise her. Anna revealed that he watched Naya Daur that had Dilip Kumar in it.
Ali Asghar aka Naani did not spare Anna from her flirtatiousness. He also played along much to the audiences delight. She said that a girl would be lucky to marry you as she would not need to cook much. Anna also spoke of the time when he got recruited in the Army during the emergency. He did not match the physical requirements but became a commander of a small contingent.
Kapil Sharma also expressed his grief over the death of Indian soldiers. The ace comedian asked Anna if he ever drank during his Army days. He revealed he did have a couple of rums in his early days. Anna said he was unhappy that India and Pakistan were at unrest. He said he believes that war should not happen. However, if Pak does not agree he at the age of 79 is ready to fight with the forces.
Chandan Prabhakar did a small comic segment and took blessings from Anna. Kartikeya Raj aka Khajoor also took blessings from him. Anna revealed that there was corporal punishment in his school but now since it was banned, educational standards had fallen. He said it like a joke. He said that it was important for people to have the right values. The veteran activist said that it was important for people to have spirituality with technology.
Anna also revealed that he was not on Twitter. On a lighter note, Kapil Sharma said one should be careful about opening one's mouth on Twitter. Did he just take a dig on himself?
Actor Shashank Udaypurkar who plays Anna in the biopic also came on the show. He has also directed the film. Shashank revealed that he was impressed after seeing him in 2011. Then, he decided to make a film on him. He revealed that Anna told him to make a film on Mahatma Gandhi or Swami Vivekanand but he cajoled him. He revealed that he wanted his permission after hearing that it was targeted at youngsters. Kiku Sharda and Sunil Grover played two housewives who were on hunger strike.
The two danced on Mohe Rang De Basanti on the show much to the delight of the audience. Anna Hazare told people to watch the film. He also lauded Kapil for promoting social initiatives through his show.
Credit : Urmimala Banerjee
Disclaimer: The views expressed above are member's views and this website does not comply with it. The views expressed may not be factually correct. Incase of any issue please contact us/report it to us.