Mouni Roy talks about Naagin2, the jokes made on her, her Bollywood debut and much more...
Oct 6, 2016
Mouni Roy talks about Naagin2, the jokes made on her, her Bollywood debut and much more... (By Medsuper) (Thanked: 1 times)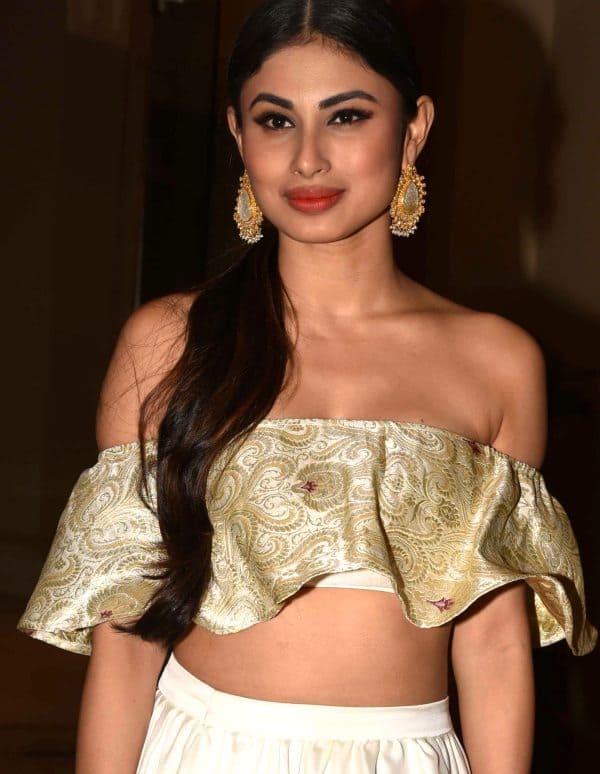 Mouni Roy slithered her way into people's hearts with her snake act in Naagin and now, the actress is back with the second season of the fantasy drama. And, this time, she will be essaying a double role, that of a mother Shivanya and her daughter Shivangi. It's the first time in her career that she is playing a double role and the actress can't wait to check out the response. In fact, there have been many firsts in her career this year. She turned host with the Indian version of the international dance show So You Think You Can Dance and for the first time performed at a film awards show. Mouni, who made her debut with Kyunki… Saas Bhi Kabhi Bahu Thi is on-top-of-the game even after a decade in the industry. No wonder, then, she says it's the best phase of her career. Here, the actress tells us about her experiences shooting for a double role, hosting and more.
How was the experience of playing a double role in Naagin 2?

I just shot for a scene which involves both the mother's and daughter's part. And I must say it was quite funny. These were chroma shots and I was talking to a long green bamboo. It seemed like a monologue because once I would talk as the mother and once as the daughter. But on a serious note, it is quite a challenge. While playing it, one doesn't realise, but there is a distinct difference between a mother and daughter and I am trying really hard to get that right. The first thing one notices is the appearance, the face and judge how old they are — whether they are approachable, the aura, etc. I do minimal make-up, but to add on a few years, we are using certain camera tricks.
Are you taking any references to play the older role?
No, it doesn't work with me at all. Whatever character I play, the acting comes from within. When you see Shivanya, you will also see a lot of Mouni in it. I have loved dancing since childhood and I know one thing for sure: To make a cho-reography your own and for it to look convincing, you can't imitate anyone. You have to imbibe the cho-reography and then put your touches to it. It's the same thing with acting. I am going according to what the creatives want.
Do you find any similarities between Shivanya and Shivangi?
No, Shivanya was driven by rage and the intention of avenging her parents' death. Shivangi, on the other hand, is a happy-go-lucky small-town girl brought up in a joint family. She is a little innocent. Shivanya had a goal in mind, but there's nothing like that with Shivangi. She is a normal girl and that makes her likeable. I relate to her in the sense of her being a small-town girl because I am also one. I can understand the values, the cocoon that she is in, the perfect, sheltered life. But the way I see her character growing, she is nothing like me.
Since taking on the show, you have become the butt of naagin jokes with even actors taking potshots at you. Does that bother you?
I play a naagin, I can't help it. I can't help the scale of the show, I can't help what people are saying or the jokes. I can either enjoy or ignore them. It's fine, it doesn't bother me. It's funny even, but initially, I used to get very embarrassed.
How was your stint as the host of So You Think You Can Dance?
I have to confess that it was only towards the end that I got comfortable. But in the beginning, for the Tuesday shoot… 'I would get up and say 'Oh My God!, I have to anchor today. Where should I go, what should I do?' It was completely new territory for me. That was not my zone. I enjoy acting, and dancing is my passion. When I do either, I feel it in my skin. But here that feeling was not there. I was not used to being the sutradhar of a show, introducing people and controlling the audience. You get a little thrown off because nobody else talks with you. But Rithvik (Dhanjani) was a great co-host, he really helped me. By the time mid-season rolled around, I found my ground. I knew what I was doing and what I was saying. It has also to do with the kind of person I am — I am a lost person in general. I could be talking to you and go into some other zone. Once I stopped doing that, it was okay and I can't wait to host Season 2, if it happens.
Would you say this is the best phase of your career?
Absolutely. We didn't expect Naagin to do so well, but it did and so much stuff followed. There is a lot of visibility like I got an opportunity to perform at the IIFA as well. But you know, when I was shooting for Mahadev and Junoon, I didn't get to know what other people were talking about. Even when I was shooting for Naagin, the same thing happened. You are following the same routine and your team is like your family, so nobody tells you how good you are looking, or about your work. It was when we went to an awards function that we realised we had become popular.
What about films? Are you looking at doing any?
Not right now, I am doing Naagin for the next six months, so there is no time.
There were reports about you being approached for Bejoy Nambiar's Agni Nachatiram remake…
(Cuts in) I don't like to talk about things that have not happened.
(Text by Chaya Unnikrishnan)
Credit :DNA
Disclaimer: The views expressed above are member's views and this website does not comply with it. The views expressed may not be factually correct. Incase of any issue please contact us/report it to us.