Mouni Roy's Naagin 2 will compete with Amitabh Bachchan, Shatrughan Sinha and Prabhudeva
Oct 7, 2016
Mouni Roy's Naagin 2 will compete with Amitabh Bachchan, Shatrughan Sinha and Prabhudeva (By Medsuper)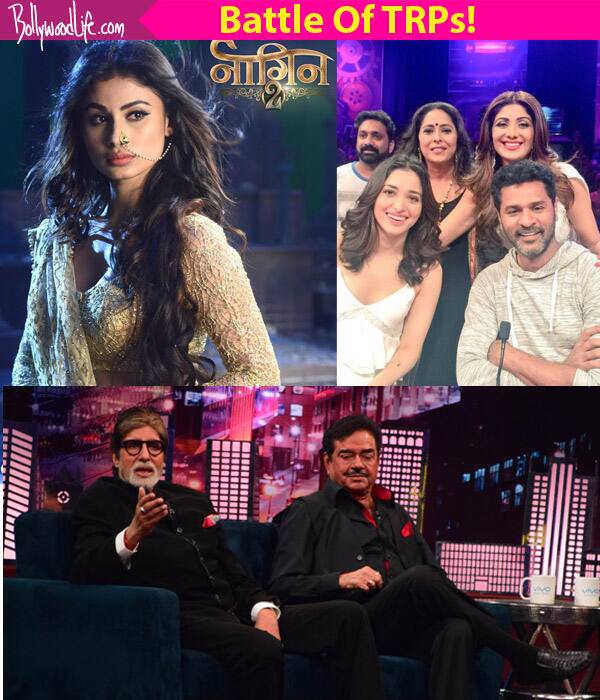 Come Saturday and eyes of TV viewers will be on Naagin 2. The first season was a huge hit amongst masses and this season is also a hugely awaited one. It has come earlier than it was expected. Mouni Roy plays a double role on the show. She is the mother, Shivanya and a daughter, Shivangi. The lady is super excited and nervous as well. In an interview at the launch, she said, "Yes, there is a bit of nervousness. When Naagin started off we never expected this kind of TRPs. Now, we have a benchmark to meet up. As artistes we can only give 100 or 200 per cent. The rest is upto the audience." Well, Naagin will air on Colors from 8pm on October 8. It also features Karanvir Bohra and Adaa Khan in lead roles. Karanvir Bohra plays Rocky while Adaa plays the dual roles of Ruchika and Shesha.
Naagin 2 will have competition from two quarters. One of them is Sony TV's Super Dancer and the other is ZEE TV's Yaaron Ki Baraat. We know that Prabhudeva, Sonu Sood and Tamannaah are coming to promote Tutak Tutak Tutiya on Super Dancer while Yaaron Ki Baraat features Amitabh Bachchan and Shatrughan Sinha.

We don't know if Mouni Roy or the rest are aware of the competition that includes Bollywood's megastar Big B. Yesterday at the launch of Yaaron Ki Baraat, the hosts Sajid Khan and Riteish Deshmukh said that those who loved good content would appreciate their show. It is indeed a rare treat to have Big B and Shatrughan Sinha on the same dias. The two have done films like Dostana, Shaan, Kala Patthar and Parwana together. Big B and Shatru's rivalry is one of the famous stories of Bollywood. We are sure many would tune in to watch the show. However, Naagin has a bigger fan base with children, which can be a game-changer.
The only person who seems to be truly cool in the Naagin camp is Karanvir Bohra. He said, "I am quite relaxed. There is no pressure. I came into the show when it was already an established brand."
Now, is this a threat for Naagin 2. Most people would agree. While Prabhudeva on Super Dancer was okay, competing with Big B is a different ball game altogether. The actors of Naagin 2 said they were worried about TRPs and now we understand why. Do you feel Yaaron Ki Baraat is stiff competition for Naagin 2?
Credit : Urmimala Banerjee
Disclaimer: The views expressed above are member's views and this website does not comply with it. The views expressed may not be factually correct. Incase of any issue please contact us/report it to us.