A look at TV's newsmakers!- The Week That Was!
Oct 8, 2016
A look at TV's newsmakers!- The Week That Was! (By Medsuper) (Thanked: 4 times)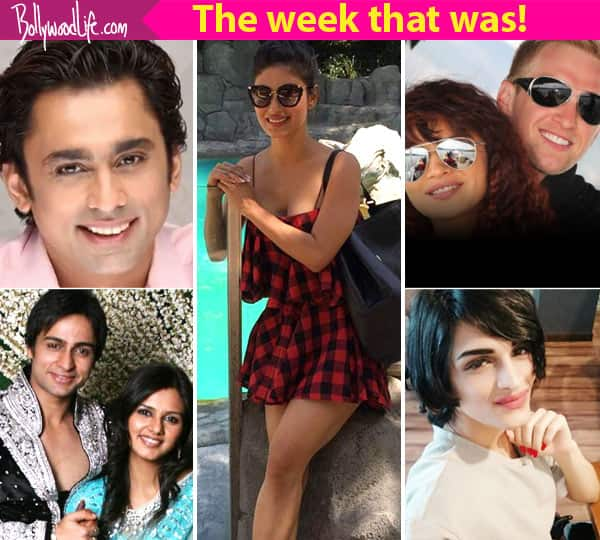 Anger, love, romance, TV's headlines this week were dominated by varied emotions.Naagin 2 actress Mouni Roy was damn upset when someone asked her about a lip job at the press conference while Aashika Goradia spoke about her new man, Brent. Karan Patel made news for a number of reasons. Here is our recap…
Mouni Roy
She is on cloud nine (though a bit nervous) as Naagin 2 releases today. However, Mouni Roy was mighty miffed at the press conference of her show as a journo asked her about her lip job. The irate actress told her to check her Instagram pictures. Mouni also reportedly left that interview section in a huff. Lip or not, this Naagin is a ****y diva. Mouni returns in a double role as Shivangi and Shivanya in the second season. The younger version is a simple girl who has led a sheltered life. She says she is close to that character.

Aashika Goradia
Aashka was also asked about her lip job. The lady retorted saying in what capacity was the journalist asking the question. Aashka said no and also stated that she would go for one if she felt like it. Moreover, the lady also opened up on her American boyfriend, Brent saying that they plan to get hitched next year in a Hindu-Catholic wedding.
Karan Patel
He made news for three reasons. The actor lashed out at Om Puri for his statement on Indian soldiers. The veteran's reported show of disrespect on a news channel infuriated him and he told him to get some work. On a happier side, Karan's mother-in-law Kiran Bhargava is also entering Yeh Hai Mohabbatein and wife, Ankita could not control her happiness. He also posted a romantic dance video that made us go awww.
Anuj Saxena
Loved by ladies for his good looks and charm, actor Anuj Saxena of Kkusum fame has been in the news for all wrong reasons lately. The CBI asked him to surrender within two days for his alleged involvement in the graft case. It seems he paid Rs nine lakh to late BK Bansal and directly benefited from it.
Gaurav Gauri Arora
The former MTV Splitsvilla contestant who shocked us by his transformation into a girl, Gauri Arora recently opened up on his tough journey. However, in an interview he gave hints at the mystery man who had a short fling with him. It was this closeted celeb who apparently made him realise that he was a woman at heart. As per his hints, people speculated it was Parth Samthaan, since the teen icon matched all the criterion stated by him.
Shaleen Bhanot
A Mumbai court acquitted Shaleen Bhanot of allegations of domestic abuse filed by his wife, Daljiet Kaur. The actor said he was relieved and would like to focus on his son, Jaydon and how to be a good father.
Credit : Urmimala Banerjee
Disclaimer: The views expressed above are member's views and this website does not comply with it. The views expressed may not be factually correct. Incase of any issue please contact us/report it to us.