Yeh Hai Mohabbatein 9th October 2016 Written Update
Oct 10, 2016
Yeh Hai Mohabbatein 9th October 2016 Written Update (By Medsuper)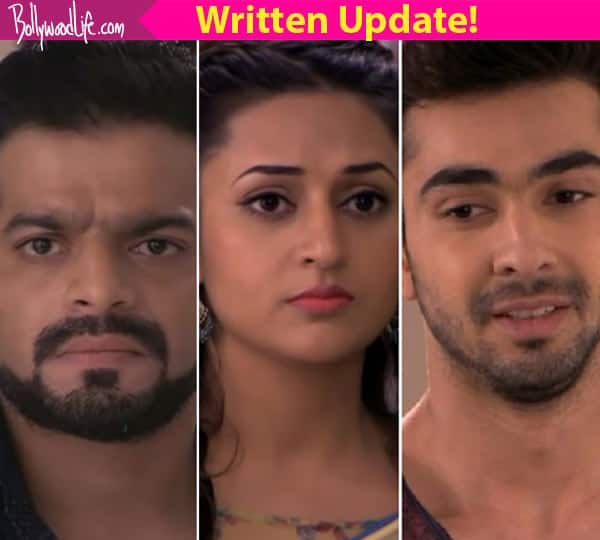 I****a = Is-hita
Adi and Aaliya request I****a to convince Raman to not talk to Mani and she scolds them saying she hasn't raised them like this. She tells them that they themselves have ruined everything and that Raman will hate them if they are not able to bring Pihu back home. Pihu asks Shagun if they should inform Mani about Aaliya leaving when Shagun asks what she wants as a gift. Pihu tells Shagun about Simi scolding her and Ananya for chatting with each other. Shagun puts her to sleep thinking everything is in her control. Mani opens the door to see Raman, I****a and Adi with Aaliya an Raman tells him that they will talk once inside the house.
Raman insults Mani and asks him why his daughter was with Adi in a hotel room. Adi tries to butt in but Raman silences him. Raman questions Mani's way of upbringing and feels proud of raising Adi the right away. He tells Mani that he will never let Adi marry a characterless girl like Aaliya and leaves. Mani slaps Aaliya when Shagun stops him. Mani tells her everything and tells her that because of Aaliya he was so humiliated. Aaliya yells at him saying she loves Adi when Mani slaps her again. Mani tells Aaliya that he had promised Aaliya's mother to take care of her and he raised her as his own daughter. He says that he never got married because of her. Aaliya is still stubborn about meeting Adi and takes out her phone. Mani throws the phone and locks her in a room.

Shagun adds fuel to the fire and says that someone has been influencing them. Shagun assures Mani that he should get her married soon and that's the only way she will be happy. At the Bhalla house, Raman is still mad at Adi who patiently tries explaining to Raman the gravity of the situation. Adi tells Raman that it is his fault that Pihu is not with them today since he didn't change Shagun's name in the birth certificate. He tells Raman that the entire family is suffering because of him. He also screams at I****a, too, for getting Shagun married to Mani.
The elders of the family try to calm him down when Adi says that Raman and I****a have also made mistakes and can't blame him for everything. He explains that Adi was telling Aaliya that she is wrong when Raman walked in the room. Adi says that he cannot be blamed for everything. He takes a dig at Raman and taunts him for being rash all the time. Adi says that everything is happening because of Raman and I****a and leaves the room.
He tries calling Aaliya but can't get through and gets worried. He calls the landline and Mani answers the call asking him to never call them again. He starts throwing things when Romi comes in the room. He tells Romi everything and cries. Romi asks him to follow him when Mihika sees them. Romi tells Mihika that they are going to Madhav's house to beat the guy up.
Credit : Anusha Iyengar
Oct 10, 2016
Written Update by Amena (By Medsuper) (Thanked: 1 times)
The Episode starts with I****a scolding Adi and Aaliya. She asks how can they stain her upbringing, what was the need to take this desperate measures, you are scared of elders now. She says you guys have grown up, you both can't do this, I m trying to resolve the problem, you all are trying to increase the problems, Raman is worried as Pihu is not with him, will Mani let Pihu come, Mani and Raman will hate you, why are you doing this, I can't save both of you, did you not see how will I meet their eyes.
Pihu asks Shagun did she tell Mani about Aaliya. Shagun says I will tell him, don't worry, tell me what gift you want. Pihu says I want a top model mobile for my best friend Ananya. Shagun asks Simmi's daughter. Pihu says yes, Simmi saw her with phone and scolded for chatting.
Shagun says why not, chatting can be done at home, there is nothing wrong in that, I will get a new phone for Ananya, now go to sleep. Shagun thinks everything is in my control, just I know Aaliya's secret.
Mani opens the door and sees Raman. Raman shows Aaliya. Mani gets shocked. He asks whats all this happening. Raman says we will talk inside, I don't want you to lose name in society. Raman asks Mani not to stare Adi, stare Aaliya and ask her what was she doing in hotel room at night with my son, and before you blame Adi, mind you, you should know Aaliya called Adi to hotel. Adi says Aaliya did not had such intention.
Raman says shut up, did Aaliya not book room on Mr. and Mrs. Bhalla's name, Mani see your upbringing, see what she did and my son is still defending her, listen to me, till I m alive, I don't want such characterless girl for my son. Aaliya cries. Shagun looks on and smiles. Raman asks Adi to come. Adi, I****a and Raman leave.
Mani angrily slaps Aaliya multiple times. Shagun asks Mani to stop it, its not right to slap grown up daughter, I know I m not her mum, but this is wrong. Mani says Raman caught her from the hotel room, I had to get Raman's slap because of her. Aaliya asks what could I do, I love Adi, I told you, I had no option, who are you to stop me. Mani cries and says when your mum was dying, she took promise from me that I will raise you, I did not marry then, I raised you like a father, you have seen my love, now you will do what I do to fulfil a father's duty, I will get you married soon. Aaliya says you can't do this, I have to inform Adi. Mani asks how did you get phone and breaks her phone. He locks Aaliya in the room. She asks him to open the door.
Shagun calms down Mani and says I m also feeling bad as Adi is my son, he should not encourage Aaliya, why did he not stop Aaliya, don't know who is influencing them, its all wrong. Mani says I will end this connection. Shagun says yes, infact Aaliya's marriage decision is right, get her married, Adi will forget her, and Aaliya will be happy after marriage. Mani nods and goes.
Shagun says drama just started, lets see what Raman and I****a do. At bhalla house, Raman scolds Adi for defending Aaliya. Adi says I was explaining Aaliya, she took big step as there is no one understanding her, its not her mistake, we all know whose mistake is it, its your mistake that you did not change Shagun's name in Pihu's birth certificate, that's why Pihu is not here.
Raman gets shocked. He argues with Raman and blames Raman for everything. He says we did mistake, Aaliya's intention was not wrong, we wanted to show we are together, Papa came when I was explaining her, we had no wrong intention, trust me, we are not small kids, we know responsibilities and values. Adi convinces all family members. He says we behaved impulsively, I realized my mistake when I got to know Aaliya does not love me, you can't blame us always, and what role models are Raman and I****a, Raman gets drunk and says anything to others, if all mistakes are forgiven to him, why not us. Raman gets angry. Adi asks Raman to beat him. He says just think how helpless you made us that we took this step, its your mistake.
Adi goes to room and calls Aaliya. He worries as her phone is off. He gets angry and says it means Mani took her phone, don't know how is she. He calls on landline. Mani answers call and says Adi, I know its you, don't call her again. He ends call. Adi huts the bed and throws the sheets angrily. Romi comes to Adi. Adi cries and says Mani took Aaliya's phone, if Mani does her marriage with someone, what will I do, I have to stop this marriage. Romi says come with me. Adi asks where. Romi says you trust me right. Adi says yes. Romi says then come. Mihika calls them out. Romi asks Adi to get the car. Mihika asks where are you going. Romi says we will beat the guy and threaten him. Mihika asks what, this is worse plan than mine. I****a tries to stop them. Romi leaves. Mihika tells I****a where Romi went. I****a asks what, its limit, stop them.
Shagun and Ashok meet and have a talk about Adi and Aaliya. She tells how Aaliya is like I****a, and she does not like her for Adi, she will find a better girl for Adi, once Aaliya gets married to that guy, Pihu and I can get space, and I can spend time with Mani. He says you are saying a lot for Mani. She says he is a nice man, he supports me, if I get feelings for him, its fine. Ashok says fine, but does he know you are playing game with him, you are having midnight coffee with me and loving Mani, is there anything like loyalty. She asks him to shut up and not talk about loyalty, let me enjoy my coffee now.
Romi and Adi go and meet Karan. Karan asks Romi why did you call me, all is well, shall I call Manav. Adi asks Karan to be away from Aaliya. Karan says my fiancée. Adi says you did not exchange rings, she did all that drama of getting drunk, forget her, refuse for marriage, as Aaliya is just mine. Karan says I already said yes. Adi shouts and says everyone does mistakes, now rectify it. Karan asks him not to get aggressive. Adi asks him to refuse, then Mani will forget this. Karan asks Romi to explain Adi. Romi says Adi is my nephew, just do what he says, you get away from Aaliya, you will refuse to marry her, else forget your marriage, just Adi will become Aaliya's groom, got it.
Precap:
I****a gets Mani's call and puts on speaker. Mani tells her that Adi is a goon, he has threatened Karan, this marriage will happen in next 2 days, just explain your son I****a. I****a looks at Adi.
Disclaimer: The views expressed above are member's views and this website does not comply with it. The views expressed may not be factually correct. Incase of any issue please contact us/report it to us.