4S: DADI'S WISH- Completed
Jan 6, 2017
TS: DADI'S WISH (By Spriya) (Thanked: 42 times)
SHOT-1
sun rays start filling the room and disturbs arnav sleep who sleeps in a king size bed which is placed in the middle of the room. He slowly opens his eyes and turns to his right side which is empty. Then he remembers what today is?how can he forget that, today is a day where he doesn't know whether he had to be happy or sad. This question always haunts his mind every year from past 5 years. Whatnot he was happy for his two children because they both born on this day before 5 years, and sad for....suddenly someone knocks the door,
Arnav: come in....HP enters with his coffee
HP: bhaiyya your black coffee.
Arnav: I don't want it, take it downstairs, said angrily.
Anjali who was passing by his room hears this and comes to room after taking coffee from HP she sent him out and turns to arnav,
Anjali: chotte how many years you are going to be like this. Every year this day you always scold on everyone. we know how you feel today but not only you are sad, we all are sad. We too lost her & we can't change the past. Try to forget the past chotte. It gives you relief and don't keep this sad face before aarush and aarushi. Today is their birthday, if they see you like this, they also become sad. Do you want your muffins to keep sad on their birthday?
Arnav: No di, i don't want my muffins to be sad. I will try not to keep sad face. I am also happy di, but at the same time, i am unable to forget the past di.
Anjali: If you feel it a loss, then you don't able to be come out of it. Just think your muffins chotte then all will be easy, saying this smiling and turns other side wiping her corner of eyes. Get ready soon chotte. Don't forget we have to go to temple and havan in our home.
Arnav sighs, nodes at her and gets up from bed takes the towel for washroom. Anjali sighed seeing this and went next to arnav's room.
PRECAP: CAT AND MOUSE FIGHT
Happy Reading.both positive and negative comments are welcome.......
Voting: (Total Votes: 37)
Jan 6, 2017
shot 2 is up! (By Spriya) (Thanked: 58 times)
SHOT-2
Anjali went next to arnav's room.There two cute children sleeping, one in taekwondo pose in blue coloured bed, other sleeping straightly hugging a pillow in pink bed. she goes near them,
Anjali: Aarush, Aarushi come on get up both.
Aarushi: Let me sleep for 5 minutes.
Anjali: No way, get up aarushi. Today is your birthday remember, now get up fast we have to go to temple like every year.
Aarush didn't even move an inch when anjali wakes him. He is a deep sleeper like his mother. seeing this aarushi who gets up now went to him,
Aarushi: screams 'BABY' in aarush ears.
Aarush who is sleeping till now jerkingly gets up and glare at aarushi.
Aarush: How many times i have to tell you don't call me baby? said angrily and goes near her screams 'CARTOON' in aarushi ears.
Before aarushi could react he fled to washroom, but not before winking at his bua who was silently watching this cat and mouse fight with open mouth.
Aarushi: Bua see na, he always does this, i hate cartoon. Why on the earth a normal people can watch cartoon??they are insane, saying this by making faces.
Aarush peeps from washroom says, people in right mind watch cartoon not like you and sticking his tongue out...
Aarushi: buaa......
Anjali glares at aarush and turns to aarushi,
Anjali: you only first start aarushi, you know na how much he hate to be called as baby...ok leave it. Atleast today you both don't fight. Please give us a break, said to both.
Aarush, Aarushi: ok bua.....
Anjali: Both get ready soon. we have to go to temple, saying this she went to living room.
Payal: Di, did you wake aarush and aarushi?
Anjali: Yes payalji, as usual they both started fighting. Now they both are getting ready. After breakfast we have to go to temple you know na, please get ready soon and say it to aakash and aayan. payal nodes at her.
(Aayan, son of aakash and payal 4 years old).
Anjali: HPji, please be ready with the items for havan, we have to do it after we came from temple.And thinks 'May you stay with peace in heaven'.
Later arnav, aarush, aarushi, aayan in one car, aakash, payal, anjali in other and mamaji, mamiji in another car starts for temple.
PRECAP: HAVAN AND BIRTHDAY CELEBRATION
First i thought to write it in 3 shot,but now i thought to make it as 4 shot. Hope you all like it.A big thank you for who press like and thank you button.Happy Reading.both positive and negative comments are welcome.......And special Thanks for your comments-
Medsuper, Kshamadeeksha, sujesan61, Lily30, Angel23, Jelebigirl, Archanasuresh, Pia
About khushi you have to wait for upcoming shots...
Voting: (Total Votes: 47)
Jan 7, 2017
shot 3 is up! (By Spriya) (Thanked: 41 times)
SHOT-3
In temple, already nani and khushi were waiting for them. Khushi sees arnav's car & comes nears them to the parking.
Aarush, Aarushi: Mumma...
Khushi(smiling): Janamdin mubarraak tum dono (happy birthday for you two), saying this kissing their cheeks.
Arnav comes from the car with aayan.
Aayan: Good morning maasi, pointing towards aarush and aarushi, they both are fighting from the time they sat in car. My ear is bleeding maasi, said pouting. Arnav smiles hearing this.
Khushi: Arnavji, you eat breakfast and tablet na? asked doubtingly.
Arnav: haan khushi....now all came there.
Anjali: khushiji where's nani?
Khushi: she's in inside the temple di. Did they both trouble you di?
Anjali: No khushiji, please don't scold them today! Can we go in?
Khushi: haan di, you all go inside di, take aarushi and aarush too. I'll come.
Anjali nods at her and all went upstairs to temple leaving arnav and khushi.
Mamiji: Hello Hi Bye Bye, are you both going to romance here outside the temple, asked while looking at the surroundings and rolling her eyes. Khushi turns red by this.
Arnav: smiles said, aap jayiye mamiji, we will join you in few minutes.After mami went,
Khushi: Are you okay arnavji, asking this while holding his hand.
Arnav: smiles at her says, haan khushi. I am fine, you don't worry. Already you wake early and come here. So don't stress yourself, said cupping her cheeks.
Khushi: I am not stressing myself. I do it for our...suddenly aakash calls both of them. we are coming jijaji, come arnavji saying this holding his hands and take him to the temple.
After pooja and donating foods for needy, they all come to home.
Nani: All take rest, after an hour we perform havan. chotte are you going to arrange a party for children?
Arnav: haan nani, after havan workers, starts their work for party.
Nani nods at him, khushi betiya come we'll eat. From morning onwards you are running around whole house and temple.
Khushi: ok naniji, arnavji i will come to the room after breakfast saying this went to dining room.
Soon havan started, there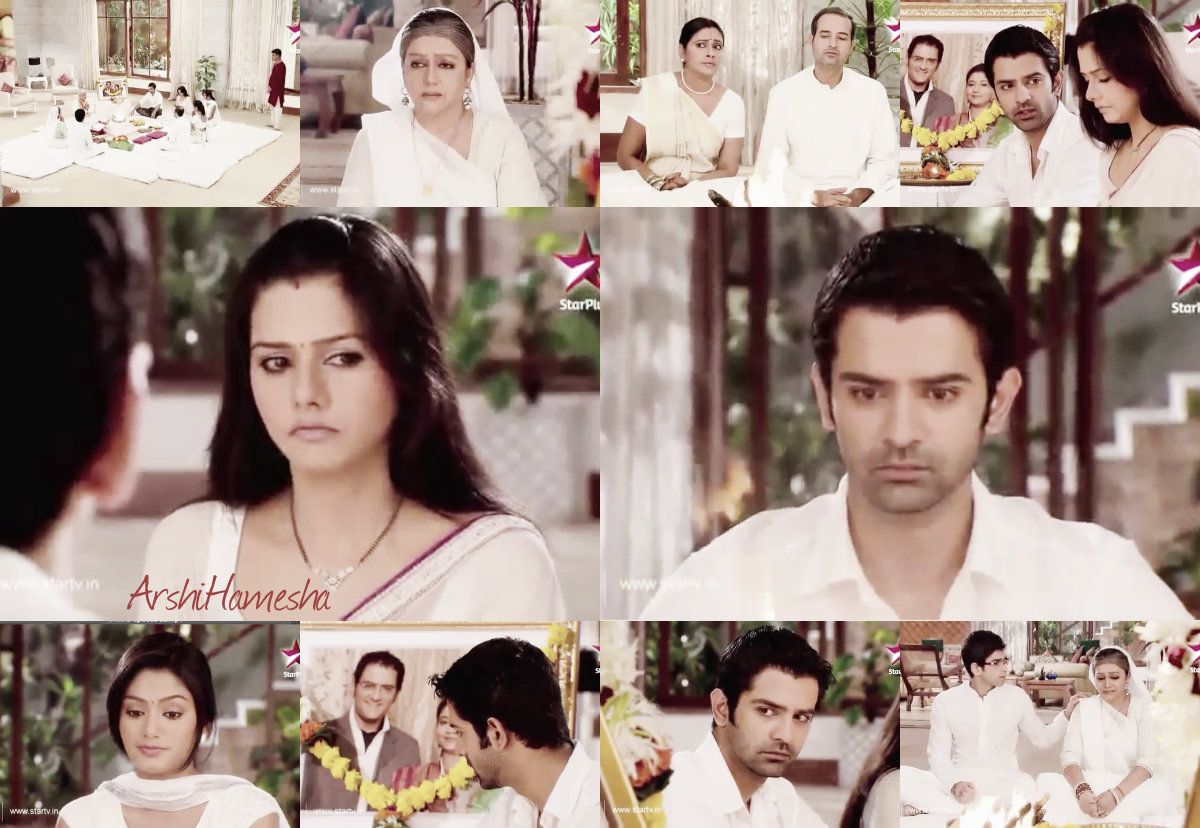 (imagine khushi in lavanya place & include kids also)
PRECAP: DADI'S WISH
Hope you all like this. A big thank you for who press like and thank you button.Happy Reading.both positive and negative comments are welcome.......And special Thanks for your comments-
Angel23, Lily30, lazydoll, myarshi, Maahiak, Kshamadeeksha, Candie.
Voting: (Total Votes: 37)
Jan 8, 2017
shot 4(last shot) is up! (By Spriya) (Thanked: 55 times)
SHOT-4
After havan all goes to their rooms. Here in arshi room,
Aarush: papa, i only wear suit not like sherwani or whatever.
Arnav: ok champ, you wear what you want.
Aarush: But papa mamma strictly tells me to wear sherwani, said while keeping sad face.
Arnav: Its ok, i'll handle your mamma wear what you're comfortable, says winking at him.
Aarush happily nods at him, and said 'I LOVE YOU PAPA' kissing his cheeks went to his room for getting ready for party excitedly.
Later evening birthday party starts with prince and princess of fashion world descending down the stairs in suit and cute frock holding their parent's hands. They arrange a grand party, all business associates are invited. After cake cutting and wishes finally, the party came to end. All are disappeared to their rooms after dinner. Aarush, Aarushi went to arshi room. They four lies in the temporary bed that was put in the poolside. Aarush lies beside khushi while aarushi on the arms of arnav hugging him. They saw a star glows brightly,
Khushi: pointing at sky says to both children, see the star which glows brightly that is your dadi. 
Aarushi: haan mamma, Daddy i think dadi loves you very much.
Aarush: Yes papa, i too think dadi loves you so much that's why "DADI WISH" to god to give our birthday on the same day of dadi death anniversary.
Aarushi: haan daddy, so that only you celebrate parties not to be sad, said cutely.
Arshi are stunned by their words. They didn't expect this much of maturity from them. Till now they too didn't think in this point of view. Arnav was very happy.
Arnav: haan yes, your dadi loves me that's why god give two cute muffins, said smilingly kissing their cheeks one by one and hugs them tightly. Khushi wipes the corner of his eyes & hers. They are very happy today. Arnav feels out of the world, he feels complete. seeing this cute family the brightest star glows more.
Aarush: papa i feel cold here, can i sleep in my room.
Aarushi: me too...
Arnav: ok, but you both don't fight. They both nods at him.
Aarushi and aarush wish them good night, after kissing their parents they went to their room. khushi comes near arnav place her head on his chest, hugging him by waist. Arnav too hugs her.
Arnav: I am so happy today khushi. I don't know when my muffins grow up this much. They seems to be mature haaina.
Khushi: haan arnavji, they grow up fastly and i know maa wishes is always there with them. From next year onwards you don't to be sad. As said by your muffins maa always wish to see her son happy.
Arnav: When i have a beautiful family why i become sad. From now onwards i don't to be sad on this day khushi. This all because of you only khushi. "I LOVE YOU DAMMIT"
Khushi: "I LOVE YOU TOO DAMMIT" says shyly.
Arnav slowly lean towards her lips,
Soon their lips meet in a passionate kiss. Later arnav carries khushi to their room, place her in bed & comes on top of her starts kissing her. soon their clothes on the floor. They both are in their own world with their bare bodies touching each other inside the blanket without caring about the outer world.
CLARIFICATIONS:
  * It's a wish of aarush and aarushi dadi not arnav's dadi.
  * Havan is performed for arnav parents.
                                                              THE END.
Hope you all like this and i hope i dont write something stupid, not wasting your time.A big thank you for who press like and thank you button.Because of your responses i am getting encouraged. thanks for tolerating my english and reading this by spending your precious time. Happy Reading.both positive and negative comments are welcome.......And special Thanks for your comments-
Dsv, Nandhinisankaran, Kshamadeeksha, Angel23, Candie, I4arshi, Lily30, Prasa, myarshi.
If you like this please do comment and like...
Voting: (Total Votes: 39)
Disclaimer: The views expressed above are member's views and this website does not comply with it. The views expressed may not be factually correct. Incase of any issue please contact us/report it to us.