OS: WHO'S MY VALENTINE?
Feb 11, 2017
WHO'S MY VALENTINE? (By Spriya) (Thanked: 45 times)
I am Anjali singh raizada, sister of great ASR who has all wealth, happy family, luxurious but 'Is she happy? That too today? 14th February'. My two brothers are happy, lovers around the whole world are happy, but I am....sighs I am happy for my brothers who have best life partners but I am surely not jealous just feel lonely on this particular day.
'Chalo anjali, you have to get ready for morning pooja' chided herself. After pooja arnav hands her an envelope saying someone deliver this morning in her name.
'For me? Who may sent this letter that too morning itself?' thinking this went to her room and sees the envelope having no sender address. Quickly she opens the letter and starts reading,
"You are the greatest gift in mine and my love's life. You always make me feel special. I always have an overwhelming feeling when you take my side and support me. HAPPY VALENTINES DAY.....
WILL YOU BE MY VALENTINE??"
Yours love,
Crazy.
Sweat beads formed on her forehead. 'who sent this? Who is crazy? Shyam is in jail....then?' she thought to inform this to arnav. Someone knocks the door, anjali opens the door. HP gives a gift wrapped box to anjali said delivery man delivers this.
Anjali sees ASR is written boldly on the centre 'HP wait this gift is for chotte not me'
HP said 'No didi, see Anjali singh raizada is written on it' pointing towards the corner of the gift.
'Ok' anjali sat on the bed and opens the box to be surprised with a beautiful colourful long skirt and a matching top with a note,
"Please wear this, a car is waiting for you outside. Get in, don't ask anything to driver he cannot tell you. If you want to celebrate valentine party then what are you waiting for? Get ready fast.....I am waiting............ WILL YOU BE MY VALENTINE??"
Yours love,
Butterfly.
'Who is this crazy and butterfly? Why i am feeling he/she is near me?' A message is beeped in anjali phone. Anjali hurriedly opens the message 'Don't think too much to know who is sending this.....you will come to know me when you board in car....don't waste your time....i am eagerly waiting for you....' anjali checks the sender it displays private number. Frustrated herself of not figuring out whom her valentine? She went for changing.
In car anjali eagerly searching to find any clue, in backside a bouquet of red roses is placed along with a chit. She hurriedly opens the chit,
"Your eyes are calm as leaves in the forest,
Your eyes are seeing through me,
Your eyes are soft, gentle, soothing.
Your heart is always gold,
Your heart knows when i am in trouble,
Your heart is with us always!"
WILL YOU BE MY VALENTINE??"
Yours love,
Happy.
Now anjali is impatient to know who is this? She is anticipating surprises from that person in that she forget to notice who is in home? and why no one said anything about her new dressing style. Her thoughts are clouded by ' who wants her as valentine? and Who is my valentine?'
The car came to halt to broke her thoughts. She descended from the car and mesmerises seeing the sight infront of her. She is near a cliff that is fully decorated by flowers according to daylight and a small tent is at one corner. Near the edge of the cliff a girl is standing there with her back is facing her and that too wearing same costumes as her.
Suddenly from nowhere a chit fell infront of her from above scared her to the core. Slowly she picks it and reads 'Thank you for coming here....your next gift is inside the tent....go and take it...don't dare to try to see me....'
Anjali fastly walk towards the tent and sees a frame is placed in a table. She held it in her hands and starts reading,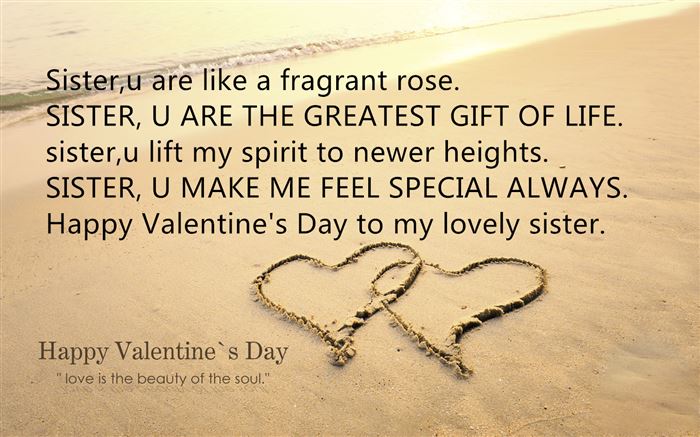 After reading she hears some sounds turns to see stunned. There khushi is bending on her knees with a red rose in her hand like proposing someone,
"Di I consider you as my sister not sister-in-law. You always give me the love from our first meet. You are the one who stood with me always against that laadgovernor. I consider you and jiji as same. Need not to say you always there for my laadgovernor even in happy and sad times. If i continue to speak about you then we may stuck here forever....so please,
WILL YOU BE MY VALENTINE??" asked sweetly.
Anjali hugs her instantly, happy tears roll down her eyes and smiles remembering her confession. She is really crazy how can i forget it she is the one who always does something crazy like this. 'Di my knees are paining' said breaking anjali's thought process.
"Yes Yes Yes....I'll be your valentine", said smilingly and silently whispers herself "I FOUND MY VALENTINE"
Sorry for late entry...I don't know what i wrote. This thought just cross my mind, hope not stupid...Thanks for reading this....PLEASE DO COMMENT and tell me your reviews...
Disclaimer: The views expressed above are member's views and this website does not comply with it. The views expressed may not be factually correct. Incase of any issue please contact us/report it to us.