Humko Deewana Kar Gaye - 2 - COMPLETED
May 27, 2017
Humko Deewana Kar Gaye - 2 (By Angel23) (Thanked: 13 times)
Prologue
" I love you" the man in front of me said smiling to me, urghh how much I hate this smile of his. I feel like punching his face hard. Okay, you must be wondering why am I angry instead of being happy that he loves me, and that's because you don't know how he proposed me..
On a normal day of my college, he came suddenly to me and said with his stern face " I love you" now tell me, who is the girl that will accept a man like him! And since that day he keeps stalking me on my college everyday with his favorite dialogue " I love you". And I'm not used to all this, I was always treated like a kid in my house, and never had interest in boys, my focus was always on my studies. My sisters Meera and Payal were always the one who loved when boys give attention to them, while I just looked at them rolling my eyes. Never in my life I would imagine a man behind me! And this one is a mad one, DM please save me…
" Khushi what are you thinking?" he asked me smirking, see even my name he knows, I refused to tell him but he discovered it by threatening the college principal to give him all the information.
" Just go away from here" I shouted at him, now I'm really tired of this mad man. I walked to go inside the college campus..
But he held my hand not letting me walk, I rolled my eyes angrily and turned to him…*thud* , I slapped him on his cheeks..
And to my surprise he smiles at me, "This is like a kiss to me" he said smirking. I just went from there running…
****************************
" What?? Her father appointed a bodyguard for her??" Arnav asked confused with the information he got of his lady…
" Okay do one thing, pay this bodyguard to leave this job.. " Arnav smirked at the idea that came in his mind..
" Be ready Khushi, one day or other you will have to accept me, because now I will be with you 24x7" Arnav thought while caressing her pic on his cabin….
New story... Do tell me you thoughts. Should I continue or not? Its your choice
May 27, 2017
Turning ASR into a bodyguard (By Angel23) (Thanked: 11 times)
" Do I look like a bodyguard Akash?" Arnav said checking him out on the mirror..
" No Bhai, you look like a business man with this suit and all" Akash said looking at the magazines trying to find a perfect look for his brother.. " By the way why do you need to this bhai? Can't you see this girl doesn't love you? You're wasting time bhai…" Akash said rolling his eyes..
" I know she loves me, only scared to accept a man in her life, I'm wasting time on the right girl for me Akash" Arnav said sitting on the couch near Akash..
" Okay" Akash sigh knowing that its impossible to convince ASR now.
" I think I should use some normal suits, so that they don't get suspicious that I'm rich" Arnav said ignoring the looks Akash was giving..
" Okay bhai, will work on your looks.." Akash smiled then went away set to the job of changing ASR into a bodyguard!
*************
" Khushi my dear how was your college?" Devyani, her dadi asked showing a sweet smile on her face to her little granddaughter..
" It was terrible Dadi" Khushi said, then bit her tongue remembering that no one knows about that man here in her house..
" Why dear? Is anyone teasing you?" Dadi said making an angry face, no one can even touch her golden doll..
" Who is teasing my doll on college?" Khushi's father, Shashi asked sitting in between Khushi and Dadi on the sofa..
" No one Papa, you know how Dadi is.." Khushi looked away, praying for her father not notice her lying face..
" NK bring food for the girls.." Dadi shouted, and on the kitchen a man closed his ears shutting his eyes tightly..
"Bringing it boss" NK said serving the food on the table, glaring at Dadi, he is a chef in this house since two years and he won everyone's heart here but Dadi is the only one who still finds faults on his food.
" NK you did jalebi for me!" Khushi smiled chirpily sitting on the chair, NK nodded smiling..
" Tomorrow a bodyguard will come for you all three.. He will protect you in college" Shashi said remembering the incidents that's happening in his life..
Dadi patted his shoulder for support..
After eating the girls headed to their room, Khushi after freshening up saw a message on her phone. She rolled her eyes knowing who it is..
" I love you" Khushi read this message sitting on her bed, punching her pillow frustrated. After thinking about whats going to her life with this mad man she slept..
The next day Shashi was at home to talk with the bodyguard and explain what he has to do.
Arnav looked at the big mansion in front of him, then started walking inside. He stopped seeing a mirror, then looked at himself: " See I'm so handsome like Hrithik Roshan, so strong like Salman Khan, so perfect like Aamir Khan, so romantic like Shah Rukh Khan, so so so.." Arnav was busy complimenting himself…
" So funny like Johnny Lever…" He heard giggles from the voice he recognizes in seconds..
" Toh? What's lack in me?" Arnav turned to her..
" I don't love you, you're forcing me" Khushi turned serious..
" Okay I will give you time to love me" Arnav said coming near her. Khushi stepped back, nodding sideways..
" You're the bodyguard?" Shashi asked looking at both. Khushi looked at him confused whispering "Bodyguard", Arnav stopped then turned to Shashi.
Arnav: Yes sir..
Shashi nodded smiling: That's good. Today you came on time, most of the worker don't do this. Whats your name?
Arnav: MBA..
NK who was going to the market, laughed hearing this along with Khushi. Khushi: Your name?
Arnav glared at both, people fear him even not knowing his name, but here he is becoming laughing stock: That's my name sir.. MBA stands for Master of Bodyguards Arnav..
Arnav smirked at his intelligence, Khushi was shocked hearing this. Shashi smiled: Arnav right? You're very funny..
Khushi giggled again: Like Johnny Lever…
Payal and Meera came there to see the Bodyguard! Payal: WOW such a handsome bodyguard!
Arnav glanced at Khushi smiling: Like???
Khushi made a crying face munching her jalebi, that was in her hand since Arnav was talking with her: Hrithik Roshan…
Arnav: So tell me who is the person my body going to guard? (Arnav chuckles at his own joke)
Khushi now understood why he was here as a bodyguard, just to torture her more. Shashi also laughed: My three daughters Khushi, Meera and Payal..
Arnav looked at three nodding.
Thanks you so much for the comments
May 27, 2017
Chapter 2 - Stubborn Simran (By Angel23) (Thanked: 10 times)
" So Arnav I want you to go their college today just to check how are you going to work and all" Shashi said, then walked inside the house again..
" Lets go Girls.." Arnav smirked looking only at Khushi. Khushi fumed in anger opening the door of the car.
They reached the college, Arnav entered with Khushi in her class, making her raise her brows..
"Tell me where are your friends?" Arnav said while his eyes were travelling around the class, as if looking he would find out who is her friend.
Khushi: Bodyguard your job is to protect me and my sisters, and we three are in different classes, so you better stay outside only.. And you don't need to know about my friends..
Arnav: Do you think I came here to protect you all? You know very well what am I here for.. Just for you my princess..
Khushi clenched her fist hearing him calling her by sweet names.
Arnav: Tell me that you are ready to accept this relationship and I will stop this fake job..
Khushi glared at him: I don't want you in my life, is that difficult to understand? And I will prove to Papa that you are a fake bodyguard..
Arnav smirked: Kaise? You don't even have proofs, you will never know who I'm..
Khushi's teacher reached the class, Khushi started pushing Arnav out of the class. Her teacher glared at her.
Teacher: Who is he Khushi???
Arnav: Her bodyguard. I'm supposed to stay with her 24x7 as per as her Dad's orders..
Khushi wanted to speak, but the teacher nodded immediately after knowing that its Shashi's orders..
Arnav sat beside Khushi, not letting any man sit near her. Khushi had a little smile on her face after seeing him protect her from the devils of this class.
" Shyam" her classmate loves to tease her, but she never complained to her father because Shyam's father is her father's best friend, and if she shares this with him will spoil their friendship.
" He teases you every day?" Arnav asked looking at Khushi, Khushi nodded: Not more than you..
Arnav: I don't tease you okay. I just want a serious relationship with you, and till now I never forced you or misbehaved with you.
Khushi: Wrong, by doing all this you're forcing me. Arnav sigh: Continue with your studies..
Khushi muttered "Pagal" then engrossed herself on her studies.
Arnav looked at her all the time. Teacher: Bodyguard you can rest assured, here in the class no one will kidnap Khushi. You don't need to keep looking at her..
Khushi hid her face with her books, while all students laughed.
It was lunch time, and Khushi was walking fast so that Arnav leaves her alone, Arnav wasn't giving up he also walked faster..
" Arnav stop it please.." Khushi said..
" I'm your bodyguard Khushi" Arnav smirked, making Khushi grimace at him.
" So what? You're appointed to look after Meera and Payal too, just go na.." Khushi pointed to her sisters classroom..
" Nahin, I came here to protect you baby" Arnav smiled. Khushi: I'm not baby.
Arnav: You're my baby!
Shyam came there with his colleagues: Hi Khushi baby!
Khushi glared at him, Arnav moved Khushi behind him: The next time you utter her name you won't be in state to talk..
Shyam laughed: You bodyguard.. Haha.. Do you know who I'm??
Arnav punched Shyam's cheek hard, it was so hard that Khushi shivered, she clutched Arnav's shirt in fear. Shyam was caressing his cheeks and about to faint, his friends hold him asking if he was alright, but like Arnav said he wasn't able to talk anything.. At least for two days he would be in this state..
Arnav looked at Khushi indicating her to go ahead, she walked looking at Arnav: Are you really a bodyguard?
Arnav nodded: Yeah, sirf tumhara…
" Rabba vee… Rabba vee.."
Khushi broke the almost one minute eyelock with Arnav. She started walking hugging her books.
" Don't you want to eat something?" Arnav asked stopping near the canteen..
Khushi nodded sideways, but still Arnav went to buy burger and cold drink for her, he handled it to her: You need to eat, otherwise you will faint studying here…
Khushi giggled, Meera and Payal came there. Meera looked at Arnav: Bodyguard you're supposed to stay outside and control if any Papa's enemy come to harm us..
Arnav: That would be a guard job no?
Meera looked at Khushi and Payal indicating them to speak further. Khushi: Papa said like that, you go and stay outside..
Arnav: Lets go home you three. I know you want to escape from me, but remember Arnav is more smart than your teachers..
Khushi was left with open mouth. The three followed him to the car…
They reached home, the girls went tired to their rooms. Arnav stood still thinking what to do now. NK called him to the kitchen..
"My name is NK and yours?" NK smiled while cutting the onions..
"Arnav" Arnav replied curty..
"Bodyguard tell me how many people you've beaten up?" Nk asked thrilled to know about a bodyguard's life…
"How will I tell you that I only kill people in my office. I've never dealt with goons" Arnav faked a smile thinking..
"It depends on the goons" Arnav replied…
"Ahn?? You're very strange, I thought you would say at least 25 goons a day.." Nk said making a weird face…
"If you know much about it why are you cooking? Go and beat them na" Arnav asked getting frustrated with this chef..
"Heyy relax Bodyguard. I was just asking" Nk smiled thinking that its better to be his friend than his enemy..
" Arnav how was the work today? Did my daughters trouble you?" Shashi asked entering in the kitchen..
"No sir, Khushi ma'am is very calm.." Arnav said smiling thinking about his angel's face..
Shashi and Nk looked strangely at Arnav, is he forgetting about Meera and Payal? Arnav realized this by their looks: Payal and Meera ma'am are also good..
Khushi who was on the door smiled hearing him speak good things about her. She entered in he kitchen to drink water making Arnav attention shift to her, he was capturing her every move to his mind.
Khushi felt a pair of stubborn eyes look at her, she stopped drinking the water to throw an angry glare at him, but it still didn't made any effect on him, he was really lost in her. It has been 6 months Arnav is behind her, all these six months passed but he still has patience to look lovingly at her like he is looking now, send chocolates and jalebi for her asking the college guard to give her and come to see her at least two times in a day at college.
Khushi shakes her head in disbelief, then went to her Dadi's room…
She rested her head on Devyani's lap little sad: Dadiiii..
Dadi stroke her hair: Haan my guriya, what do you want?
Khushi smiled a little: When someones really loves you, but you don't love that person. What would you do?
Dadi smile: Are you in love Khushi?
Khushi immediately refused: No dadi, answer my question na..
Dadi chuckles: Okay, lets see.. I think I would talk with him and make him understand that he will find another girl for him who will love him a lot..
Khushi frowned: But what if the boy is stubborn? I mean he really wants her?
Dadi rubbed her chin thinking: Then she should show him that she isn't the girl for him. Khushi nodded smiling at the plan that came in her mind.
Arnav was leaving the house, when NK called him: Heyy bodyguard where are you going? Come with me, I will show you the place we workers stay..
Arnav shrugged his shoulders: Excuse me, I have a house to stay..
Shashi: Arnav you have to stay with us. You never know when these enemies attack my girls.
Arnav just looked at Shashi not believing he, Arnav Singh Raizada will live in a small room? Okay, for that woman he is ready to do even this..
Nk went with Arnav to show him where the room was. Arnav reached there making a disgusting expression, Nk: Why are you making faces? This room is far better than the one in your house..
Arnav was about to answer, then he remembered he is a bodyguard! He sigh seeing his destiny..
It was night time, Arnav was having dinner with the workers, while Khushi's family went out for dinner..
Arnav was forced to leave his food to go with them. Khushi giggled looking at him whispering: Admit it this job isn't for you. Go and do something better in your life. You will never win me..
Arnav smirked: Never baby!
Khushi fumed in anger hearing "Baby" again. They reached the restaurant, Arnav was standing a little far from them controlling if anyone comes to harm them..
Khushi was playing with her food, thinking that Arnav didn't even eat his.
Dadi: Baby eat the food. Kya hua?
Khushi came back to the world: Kuch nahi. Papa you could invite that bodyguard to eat with us..
Meera spilled the water she was drinking: What? A bodyguard will sit with us. Are you mad Khushi?
Payal also looked shocked at Khushi. Khushi smiled sheepishly: Please papa, he didn't eat his food.
Shashi: Why are you so worried about a worker Doll? This is his job..
Khushi looked down, disappointed. She went outside, Arnav looked at her confused then went behind her: Baby kya hua?
Khushi still sad: All refused to eat with you, just because you're a bodyguard..
Arnav smiled: That means you care for me right?
Khushi glared at Arnav: I care for everyone okay..Arnav just go away from here, I really don't love you..
Arnav looked away: Never, when I feel tired of proving my love to you, I will..
Khushi looked deeply at Arnav, this man is madly in love with her!
Arnav: Eat this, I know you love it..
Arnav handled her chana. Khushi smiled brightly seeing chaana, she immediately snatched it from Arnav's hand…
Khushi: Thanks, eat you too..
Khushi showed him, Arnav smirked: I've already eaten it Khushi..
Khushi widened her eyes, but continued eating since she can't ignore her favorite food. Khushi: You are not a real bodyguard, what if a real goon attack us?
Arnav: I will save you, what else?
Khushi face palmed: Not only me, you are here to protect my sisters also..
Arnav gave her a I-don't-care-about-them look.
A kid came there smiling at them: Aunty and Uncle you both are just the perfect couple.. like Raj and Simran..
Arnav smiled: Haan that's what I'm trying to tell her, but this Simran is very stubborn..
Khushi: This Raj is a mad man!
Kid: So you both agree you're Raj and Simran na?
Arnav bend to kiss the kid: Cutie you're more intelligent than people who are studying in college..
Khushi glared at him, this kid's mother came to take her…
The kid waved at Arnav smiling…
Arnav turned to Khushi: Lets go back. Khushi: Yeah its better to go back, because staying with you I will become mad..
" Bodyguard.. Bodyguard…." Shashi screamed for help..
Khushi and Arnav looked at each other shocked then went running inside the restaurant.
Shashi came running to Arnav: That goons took Meera with them.. do something…
Arnav gulped his saliva, thinking where to start. He doesn't even know what to do in such situations, for him he would call the police here…
Khushi looked at Arnav crying: Please save my sister..
" What the… is she mad? She knows I'm not a real bodyguard but still looks at me as if I can save her sister" Arnav thought looking at Dadi, Shashi, Payal and Khushi who were looking at him expecting him to be the superhero..
He went from there, then started looking for Meera..
" Aree yaar where am I stuck? " Arnav walked all the places looking for Meera..
" Let me call Akash to call the police, no.. they are so famous. It will come on news tomorrow.. dammit, only I have to save her" Arnav thought then spotted Meera on a car unconscious. He took a bike there leaving the owner scream at him, Arnav followed the car..
While on the other side Shashi, Payal, Khushi and Dadi were also looking for Meera on their car..
Arnav reached a dark place, his phone started ringing. He quickly picked it up whispering: What happened Di?
Anjali: Where are you Chote? Its very late, come home fast..
Arnav: Di I'm about to fight with big goons here. So please let me win this battle then we will talk..
Anjali almost shouted: Kyaaaa?? Chote you stole something??
Arnav sigh in frustration: Di I'm fighting with them, how come I'm the one who stole something? Where do you leave logic in your brain??
Anjali bit her tongue: Acha okay sorry.. Beat them a lot okay..
Arnav wasn't believing this, he never did such things..
He walked inside this dark room, as he entered there were already guns being pointed at him. Now this is something no one ever dared to do to him. He angrily started beating those goons.. After a sequence of fighting with the goons.. He went near Meera, then lifted her and left the place…
Reaching home, everyone came running to Meera, Arnav left her on the sofa. Then went to take water, he made her drink the water.. Meera smiled mumbling: Thank you..
Shashi: Now this is the limit, these goons have started attacking my girls on such places too, I thought it was only in college..
Arnav: Sir do you know who is your enemy?
Shashi: That's the problem Arnav, we don't even know who is the one doing all this..
" This means Khushi's life is in danger.." Arnav thought..
THANKS FOR THE COMMENTS!!
May 27, 2017
Chapter 3 - Will my heart accept him? (By Angel23) (Thanked: 9 times)
Khushi went to sleep with Meera, she was hell scared of her father's enemies, clutching
her blanket she closed her eyes tightly.
Khushi mumbled while sleeping: I'm scared Meera.. Meera looked at her: Khushi you don't need to be scared, we have that bodyguard na. He will save us in any situation..
Khushi opened her eyes remembering about Arnav. She went out of the room running, Meera looked at her confused but knowing Khushi's antics, she shrugged her shoulders leaning on her bed.
Khushi went to the workers room, where Arnav was. She knocked the door, Arnav who was about to put on his shirt, looked at the door cursing the person who was knocking the door, little did he know that the person was his little princess.
Arnav opened the door with a serious look, Khushi who was looking at nowhere, shifted her gaze to Arnav and her world stopped right there.. Arnav shirtless with his serious ****y look!!!! Khushi gulped her saliva glancing at him. Arnav smirked seeing her: What do you want ma'am?
Khushi stammering: Woh.. I .. want..wanted to say.. woh...
Arnav laughed: Khushi speak na. Why are you scared? Is it because I'm shirtless?
Khushi frowned: You're making fun of me?
Arnav went to put his shirt, leaving Khushi on the door. After some minutes he came back to her: Now tell me..
Khushi was totally embarrassed: Woh Thank you
Arnav widened his eyes: OMG.. Khushi Kumari Gupta the one who slapped me days before, today is saying Thank you..
Khushi glared at him: You deserved that slap, the same way you deserve this Thank you!
Arnav crossed his arms: Ohh really, just because I love you. You slapped me, what kind of logic is this?
Khushi: You love me. But I don't, and you held my hand that day..
Arnav: You and your thinkings, I will never understand you.. What's the problem in accepting me? If this doesn't work out, we will break up. I promise I will not force you to maintain such a relationship, if you aren't prepared for it.
Khushi looked down: I don't want to!
Arnav sigh, its going to take a long way to make Khushi his. This woman is very stubborn.
Arnav: Good night stubborn princess. Khushi chuckles hearing this name. She walked to go, but a shadow made her step back in fear, colliding her body with Arnav, Arnav held her by her arms: What happened?
Khushi pointed with her index finger shaking: Woh.. Look there..
Arnav looked at the place she pointed, he also saw a shadow. Both waited for a while, Khushi was thinking that it is some goons, while Arnav's face fell thinking that he had to fight again, tomorrow he will wake up in hospital for sure.
The person started becoming visible to them, Khushi sigh in relief seeing the person. Khushi entered in his room pushing Arnav, and closed the door..
Arnav: What the...
Khushi looked at him: What the nahin.. What is she doing here?
Arnav looked more confused: Can you explain clearly whom are we talking about?
Khushi: That is our maid: Paro. She likes gossiping about peoples lives and loves NK. But NK doesn't love her, so I guess she is here to tease him..
Arnav jaws dropped: And you are scared of your maid?
Khushi face palmed: Offo no, but if she sees me here. She will tell Dadi everything.
Arnav looked at Khushi weirdly, this family seems to be a mad one, like his.
The next day Arnav was waiting outside for the girls to come, he looked at the driver: Heyy aren't they getting late?
The driver looked at him: Talk to me with respect, I'm your senior. Arnav gave him ohh-really look, but stopped himself from saying anything as he knows his new fake status now.
He decided to check Shashi's princess, he went upstairs whispered to himself: This job is more difficult than being the CEO of AR..
Arnav went to Khushi's room but didn't found anyone, then went to Meera's room he looked at them in disbelief, they were still sleeping! Arnav rolled his eyes shouting: Khushi ma'am, Meera ma'am wakeee up..
Khushi opened her eyes slowly hearing sounds, Arnav's world stopped right there seeing Khushi with a purple night dress. Arnav stared at her shamelessly, Khushi widened her eyes seeing him there, she doesn't know why but she was blushing seeing him look at her like that, but quickly composed herself pulling a blanket to cover her body. Arnav looked away to not make her feel uncomfortable...
Khushi: Who told you to come here?
Arnav rolled his eyes: You're getting late for college madam..
Khushi looked at her watch, in shock: What? I will miss my classes today..
Arnav: Get ready fast then. Khushi: First go away from here. Arnav looked at her covering her body with the blanket, he left the room leaving Khushi with a red face...
********************************
At college, Arnav was looking at Khushi only, while she was taking notes. She stopped for a while to glare at him: You look like a drunkard, you know..
Arnav smiled: This is what happens when a person falls in love. He doesn't know what he does, talks and all, like a drunkard.
Khushi: Then in this case let me inform you that I hate drunkards.
Arnav: But you will love me! And that's Arnav's promise.
Khushi stared at him for a while, then looked away concentrating on her studies. Arnav: Ohh you want to study further right? That's not a problem Khushi, I have no problem with your studies even if you meet me for five minutes in a day. I will accept it. Now please accept my love for you..
Khushi surely melt after hearing this, she looked at him serious: Lets go outside. Both went to the campus.
Khushi: I know you love me a lot, but I'm scared to fall in love. I never thought about these things in my life, I have no interest in boys and all. I'm not prepared to have a relationship with you.. Please understand my part too.
Arnav: But why? I also never dated with any girl Khushi, I was waiting for my right girl and when I saw you. My heart already knew you are the one for me...
Khushi: But I don't have such feelings for you..
Arnav turned more serious: Are you sure? I can wait Khushi, I have no problem in waiting till you fall in love with me. I know right now you see me as a stalker but try to see in another perspective too. I just saw you one day here and my heart started beating for you. I told you the truth on the first day itself but that doesn't make me the bad boy. I really love you.. I also have a sister and I wouldn't play with your heart, because I wouldn't want to see her in the same state..
Khushi was hearing Arnav with full attention like a baby. Arnav waited for her response, Khushi: I need time to accept you..
Arnav smiled hearing this.
**********************************
They returned home, Khushi went near Dadi, who was scolding the workers to clean well the pool. Khushi hugged her from behind: Dadiiiii..
On the other side NK handled Arnav some heavy boxes to hold. Arnav was having a hard time balancing it while walking. He suddenly bumped with something or someone which he couldn't see because the boxes were blocking his view, he only heard screams, he left the boxes on the ground then looked at Khushi who was looking at the pool shocked. Arnav came near her confused, then looked at the pool, he also widened his eyes seeing Dadi on the pool screaming..
" Arnav go na" Khushi said worried for Dadi.
" Why should I go? She is so fat how can I lift her? " Arnav said not believing Khushi is asking him to save Dadi..
" You're the one who made her fall on the pool, now go and save her" Khushi said glaring at him, Arnav remembered that he bumped with someone and it was Dadi
NK came there and shouted: OMG Boss what happened? This is not the age to swim...
" Help me you fool" Dadi screamed fighting with the water.
Arnav with no other option left, took out his shirt and lifted Dadi. Khushi almost forgot about her Dadi, seeing him shirtless, she was busy ogling at him saving Dadi. Hearing Dadi screams she came back to earth.
" I'm going to die.. OMG.. Why make me suffer?" Dadi said, while Arnav left her to sit on the bench..
Khushi went running to hug Dadi: Dadi are you okay?
Arnav jaws dropped hearing this: What the.. You should ask me if I'm fine or not. My bones almost broke lifting Dadi.. You should go to gym Dadi..
Khushi giggled with NK. Dadi glared at them: You are a bodyguard and you're complaining just because of this..
Arnav remembered once again of his fake identity. NK: Haan Bodyguard you shouldn't complain about small things. I think you don't even deserve the name you gave to yourself - MBA, you're still on learning stage..
Arnav glared at him: You cooker shut up..
NK was left with open mouth: You called me cooker???
Arnav nodded: Your face is like a cooker. Dadi and Khushi laughed, Dadi: Indeed your face is like a cooker only..
NK made angry faces then left from there. Arnav helped Dadi to get inside the mansion, Khushi liked seeing his care side. He was so adorable, not only with her but with her family also.. Will her heart accept him? Or her heart already accepted him??
Thank you for your comments and thank you.. This means a lot to me!!
May 27, 2017
Chapter 4 - So many entrys (By Angel23) (Thanked: 34 times)
Around 9pm:
Arnav was passing by the garden to go to his room.
" Arnav Singh Raizada" he heard a voice calling him, the voice made him turn behind, and he was shocked seeing who called him like that..
" Sir.." Arnav looked at him..
" Arnav Singh Raizada.. Wait there is more here in the newspaper.. The youngest billionaire.. Are wah.. I never knew my bodyguard could be this much rich.. " Shashi said handling the paper piece to Arnav, with a sarcastic smile..
Arnav gulped taking the paper, and checking it by just one look, he was hell confused who published such news, and his picture also, he never allows anyone to do that.
Looking at Shashi who was still waiting for an answer, Arnav: Woh..actually...I'm..
Shashi cuts him off: You're in love with my daughter right?
Arnav smiled awkwardly nodding. Shashi who was still now with a rude and stern face, smiled brightly: Sachi? You love Khushi? You're doing this for her?
Arnav nodded now surprised with Shashi's reaction.
Shashi hugged Arnav: I can see you're truly in love with her, that's why being so rich, you're accepting living such a life. You have my support SIR..
Arnav smiled: Sir why are you calling me like that?
Shashi threw his hands on air smiling: Don't call me sir, in business world ASR is the boss of all of us..
Arnav laughed with Shashi. Shashi patted his shoulder: You're doing a great job in AR.
Arnav: Thank you.
Shashi sat on the bench calling Arnav: Come here, give me some tips to maintain my company like yours..
Arnav sat beside him with a smirk: That's a secret!
Shashi: Acha, I'm going to give my daughter to you and you want to keep secrets with me??
Both laughed..
Shashi: So I'm not supposed to say anything to Khushi, that I know who you are?
Arnav nodded: Haan sir, but you see your daughter is very much stubborn. From college to her house, I'm trying to convince her but she doesn't agree.
Shashi chuckles: If it was Payal or Meera, you wouldn't have much trouble. But Khushi is like this, she doesn't trust someone so easily, for her, her world only consists in me, her Dadi, her sisters and Mohit.
Arnav frowned: Mohit??
Shashi nodded: Haan Mohit, her best friend, since childhood. Both grew up together, but he went to London to pursue his studies and left Khushi here, you know how much she cried when Mohit left her? You don't even imagine how many days she stayed in her room crying only. And the great news, is that Mohit is coming tomorrow here. We planned a surprise for Khushi.
Arnav nodded slowly, he was clearly jealous. Khushi cried for this Mohit, he thought making faces.
" Papa what are you doing here? You should rest" Khushi shouted coming near them..
Arnav immediately got up. Shashi also acted like he was talking something serious with Arnav.
" Heyy bodyguard you will talk with my papa about work tomorrow" Khushi said looking at Arnav.
Arnav went from there without looking at her face, he was angry with her for giving too much importance to a friend only.
Khushi felt ignored, she frowned looking at Arnav going: Go on, it's better you ignore me only. In this way you will leave from here quickly and I will live my life normally ..
Thinking about this, she went back to the mansion with Shashi.
*************
Payal was smiling alone looking at the ceiling of her room, Meera looked weirdly at her: Payuu what happened with you?
Payal looked at Meera, who was sitting on the recliner with a book on her right hand.
Payal: I think I'm in love..
Meera widened her eyes, leaving the book aside: Really? With whom? How? When? You didn't told me anything ..
Payal smiled: His name is..
Khushi shouted: Waaaaiiiittt.. How can you tell your love story without me?
Meera: As if you're gonna follow her steps..
Khushi pouted: It's my right to know about my big sister!!
Payal made Khushi sit beside her: Acha sunno toh.. His name is Akash. He keeps coming in college to see me always and one day he came to talk with me and gradually we became friends. But now I fell in love with him, but I don't know if he feels the same for me...
Khushi was lost in her thoughts, the way Akash approached Payal, was similar with Arnav. The only difference is Akash first became Payal's friend, unlike that kaddos Arnav, she thought.
Meera clasp happily: Wow what a story.. Payuuu I'm going to have a jijuuu. That's so cool..
Khushi smiled a little, making both sisters look at her suspiciously.
Payal: Khushi what happened? Didn't you like my love story?
Khushi: I like it Jiji.. I'm very happy for you.
Meera raised her brows: Really? You would be shouting in happiness right now Khushi. As far as I know you.
Khushi yawned: It's just I'm sleepy. Let's sleep together today..
Dadi opened the door slowly smiling mischievously...
The three looked at her: Dadii?
Dadi caressed Khushi's hair: Are you happy now? Your Mohit is coming now..
Meera and Payal face palmed. Meera frowning: Dadi it was to be a surprise for Khushi.
Payal nodded: Dadi is such a spoilsport..
Dadi pouted: Why torture my little princess?
They all failed to notice Khushi, who was jumping in happiness now.
Khushi: Oh my god..Mohit is coming.. Mohit is coming.. How is this possible? Yesss...
Dadi, Meera and Payal forgot their little fight seeing Khushi back to her chirpy and bubbly nature.
*********************
" Cooker tell me na.." Arnav frowned looking at NK
" Bodyguard I don't know who Mohit is, remember I've joined here two years ago. " NK said trying to explain Arnav, who was irritating him since so long..
" Okay, you're such an useless person" Arnav rolled his eyes..
" You eat my food" NK commented with a smirk..
" I protect you, that's why you're still alive to cook for me" Arnav teased him..
" By the way why do you want to know about this Mohit? " ignoring his teasing, NK asked lifting the pillow to sleep.
" Nothing.." Arnav said leaning on his bed, trying his best to not reveal anything to NK.
****************************
The next day Arnav was with Nk on the kitchen waiting for the girls to wake up. They heard Shashi talking with someone, who wanted the job of bodyguard. Arnav frowned, after sometime he widened his eyes: "Is it the real bodyguard now? But I told Akash to pay him a good money, I won't spare this real bodyguard" Arnav thought getting angry now.
He left the kitchen, and went to the dinning hall, his jaws dropped seeing the person talking with Shashi.
"Akash??" Arnav whispered..
Akash looked at him winking, Arnav asked with his hand what he was doing there?
To which Akash blushed looking at Payal, who was having breakfast with Shashi now. Arnav smiled:"Ohho same situation as mine" ...
Shashi: Look I already have a bodyguard now, I don't need one.
Arnav came there running, side hugging Akash and looking at Shashi: Sir, let him be here. He is another pot to your flower (Arnav winked at Shashi, then pointed to Payal)..
Shashi widened his eyes: " Kamal hai, I myself didn't start to look for a dulha to my daughters, and they are coming themselves to me"
Arnav chuckled understanding what Shashi was thinking. Shashi: Okay. So do one thing, you will be Meera's bodyguard now. And Arnav will protect Khushi and Payal..
Shashi smirked at his plan, he wanted to know if Payal really likes Akash also.
Payal spilled the juice she was drinking: Why papa?
Shashi: Why not beta?
Payal stammered: Woh, Actually Akash can stay with me because I don't like Arnav much..
Arnav pouted thinking: "Was it necessary to say hurtful words to me, only to stay with her lover"
Shashi laughed shaking his head: Okay, okay.. you choose what's best for you. I'm happy with whatever you choose for yourself..
Payal felt a strange meaning in his words, she smiled genuinely..
Khushi came there with a bright smile on her face, she was looking extra gorgeous today with a yellow simple dress.
Arnav smiled seeing her, she stand beside him and he took the opportunity to compliment her: "I wonder if you belong to this world, or by mistake you fell from heaven.."
Khushi glared at him: Don't flirt with me..
Arnav smiled mischievously. Khushi shook her head, then looked at Shashi smiling: Papa, let's go and take Mohit.. I know about the surprise now, so you don't need to hide or lie to me.. I'm just so excited to see him. Finally someone who thinks like me is coming to support me.. yaayy.. papa lets go na..
Dadi patted her back: Calm down Khushi, Mohit beta isn't going to run away from you now. Have breakfast first, then you will go with your papa to pick him..
Khushi nodded giggling. Arnav raised his brows: So this means you're not going to college today?
Khushi looked back at Arnav: Of course not. Do you think I will miss Mohit's entry? No way..
Meera came there also to have breakfast quickly..
Akash and Arnav went to kitchen. Arnav's mood was already off now. Akash looked at him: Heyy tomorrow she will go na. And relax Mohit is just her friend, nothing more than that..
Arnav nodded: I know, but I don't like sharing her with anyone. (Looking at Akash suspiciously) by the way Mr.Raizada, when did your start liking Payal? You never told me..
Akash blushed: You know I'm shy...
Arnav smiled, pulling Akash near him: " Aaja meri bhai, we both are in the same boat now"
Akash nodded making a weird face: I never thought from CEO of AR, we would stay in someone's house as bodyguards..
Nk in shock: Whaaaaat?? Wait what I've just heard now? Y..you.. no, come on tell me the story behind this..
Arnav took Nk to his room. Closing the door, he turned to Nk: Promise us, you will not tell anything we are sharing with you, with anyone..
Nk nodded: Promise..
Arnav: Okay Cooker, this starts with .... (Arnav narrated to him everything). After finishing the story, Arnav and Akash sat on the bed smiling, they knew what kind of reaction Nk would have right now..
Nk placed his hands over his heart dramatically: o...ooh..myy..god.. Bodyguard nahin.. BOSS.. I think I'm dreaming.. Arnav Singh Raizada.. the king of fashion world.. famous over the world.. is in our house, as a bodyguard.. that too for Khushi ma'am..
Arnav: Cooker stop overreacting man, now that you know keep your mouth quiet. I'm the same bodyguard for you, forget I'm ASR..
Nk: NO.. no.. how can I forget you? You..boss.. ayeee.. God...
Akash laughed. Arnav: What the.. I'm not any God. Now please behave normally.
Nk nodded gulping his saliva, now it will be difficult to look at Arnav the same way.
*********************************
*Airport:
A man in his late twenties, took everyone's attention with his unique style and handsome look.
He was accompanied with a boy and two girls.
Arnav who was behind Shashi and Khushi looked weirdly at them: " Wasn't it supposed to be one person, now who are these three man?" Arnav thought making a boring face, now that four new people entered in Khushi's life, she will not give attention to him..
I posted the parts that were already posted earlier, will continue soon..This story accidentally got deleted from my laptop, so I was rewriting it again..
Syarsi - it's here the story, will continue soon.
Thank you..
May 28, 2017
Chapter 5 - Arnav save Khushi (By Angel23) (Thanked: 83 times)
Khushi ran to hug her friend tightly. She smiled at him: Mohiiiiiiitt.. I missed you yaar.
Mohit also hugged her: I missed you too my sweetheart..
Arnav pressed his lips with folding arms.
" She can hug him normally, when I hold her hand then she slaps me" Arnav rolled his eyes.
Shashi could feel Arnav burning in jealously.
He approached Arnav: You can do same thing..
Arnav looked at Shashi confused: What sir??
Shashi: Make her jealous. Only then she will realize that she feels something for you na..
Arnav nodded sideways: I can't sir. I can't touch another girl just to hurt her.. I can't imagine myself giving my love to another person other than her, even if it is fake.
Shashi was touched by Arnav's words, he was sure now Arnav was the right man for his daughter.
Khushi came with Mohit, Saanjh, Maya and Arjun.
Khushi smiled: Papa let's go.
Shashi nodded and all went to the car.
***************************
In the car, Arnav was driving it getting irritated with Khushi non stop talks with her friends.
Khushi: Mohit how's been your life in London?? You don't even call me these days..
Mohit smiled caressing her cheek: Sorry my jalebi. I was busy with work and all, that I don't get time to even look at myself. Now I'm here only for you
Khushi smiled sweetly at him.
Arnav fumed and looked away.
****************************
Reaching home, Arnav was getting headache now hearing sweet talks.
Khushi went to her room to freshen up after leaving Mohit and his friends on their respective rooms.
Arnav went behind her, in her room.
Khushi raised her brows: What are you doing here??
Arnav: Khushi seriously.. You're kind of ignoring me now..
Khushi: I always ignored you, are you noticing that now?
Arnav felt hurt: You really don't have any feelings for anyone. You're really selfish Khushi, I left my everything, my house, my work, my family for you. Can't you just be polite with me? Is it that difficult?? When you love someone one day, and that person ignore you, then you will get to know how does it feel..
Khushi angry: Who told you to leave your family? I didn't even say anything to you Arnav, and you're just jealous that Mohit is my best friend. Don't talk rubbish now..
Arnav: Yes I'm jealous and its normal for a person who loves someone immensely, but you will not understand it.
Khushi smiled sarcastically: Now that you know that I won't understand, stop trying your luck now. Weren't you the one who said you will wait for me?? What happened ahn? Got scared or tired? I knew that was to show off only..
Arnav pulled her near him by her shoulders, also angry: I'm not weak, got that? You're the one who is scared of falling in love..
Khushi tried to shove his hand from her: Leave me Arnav.. You're hurting me.. Leave me..
Arnav left her and went away from there.
Khushi cried caressing the place he left a mark with his touch.
*****************************
After sometime...
" Payal you're looking gorgeous today" Akash smiled caressing her cheeks.
Payal blushed profusely: Thank you Akash..
Akash also smiled shyly..
Arnav passed from the garden, Akash noticed him: Bro what's up??
Arnav nodded sideways sad.
Akash: Kya hua?? Are you okay??
Arnav: Yeah I'm fine, just wish I had never fallen in love..
Payal looked at him surprised, she looking at Akash with questioning eyes.
Akash whispered: I will tell you everything later okay..
Payal nodded and gave both the privacy they needed.
Akash went towards Arnav, Arnav: Why is she so difficult? Even Payal understood your love for her..
Arnav: She tells me that I'm jealous, yeah I'm, why wouldn't I be?? I'm weak!! Seriously I left Di, Nani, Mami and Mama just for her, and she tells me I'm weak.. I'm being forced to live in way I've never lived, just for her.. And I'm weak!!
Akash: Did you both fight??
Arnav nodded, then remembered how he hurt her on her shoulder..
Arnav: I will be right back..
Arnav went running back to her room.
He reached her room but she wasn't there anymore.
He went running to the living room looking for her.
Paro was passing by and looked at him worried: Malik kya hua??
Arnav: Paro did you see Khushi ma'am??
Paro nodded: Yes, she went running outside. I don't know where was she going.
Arnav frowned and whispered to himself: Where could she go??
*****************************
Khushi was running, panting heavily and looked behind her, to see if he was following her.
She ran through the corridors of her mansion, shouting for help: Arnaaaaavvvvv.... Arnaaaavvvvv...
Arnav on the other side, heard her shouts.
He went running outside looking for her, he noticed some strange men looking like goons type running here and there silently.
Arnav understood why Khushi was screaming.
He went running behind the goons, and grabbed one of them by his collar: Who are you?? Who sent you here??
The man wanted to punch Arnav, but Arnav was fast enough to hold his hand tightly, and shouted: I asked who are you??
Another man came behind Arnav and beat him on his head. Arnav left the man he was holding and groaned in pain.
All of them went running behind Khushi again, leaving Arnav.
Arnav called for help: NK.. Parooo...dammit..
He held his head and walked behind the goons alone..
Inside the mansion, Mohit descended the stairs and started looking for Khushi.
Mohit: Dadi where is my angel??
Dadi smiled cutting an apple for herself: She must be in her room.
Paro: Nahin ma'am, Khushi madam left running from here. I don't where she went..
Dadi: Kyaa?? Where did my doll go in such hurry? And where is that bodyguard?? Didn't he go with her?
Paro nodded her head negatively: Nahin ma'am, he is looking for her now.
Dadi got scared now, Mohit calmed her down by caressing her shoulders: Don't worry Dadi, I will find her, she must be somewhere..
**********************
Arnav reached in the terrace looking for Khushi and the goons. And that's exactly what he found, the goons where approaching Khushi and she was stepping back everytime they went near her.
Arnav shouted shocked: Khushi stoooop you will fall..
Khushi looked at Arnav, she smiled: Arnav..
Arnav went running to her, but before he could reach her, the goons started beating him.
Arnav slowly was loosing conscious, and lips were bleeding. The goons were way more stronger than him.
One of them pulled Khushi near him, Khushi shouted crying: Arnaaaaaaav heeeelppp meeee.. Arnaaav.. Pleaseeeee..
Arnav fell on the floor being beaten brutally by those goons.
His blurred vision made him see that man trying to take Khushi's duppata..
And Khushi fighting with him.
Khushi shouted on top of her voice, crying.
Arnav tried to get up, when those goons left him to deal with Khushi.
He held a basket of water, and let it fall on the floor..
Then called them to gain their attention: Heyyyy...
The men left Khushi again, and went running to finish this boy who was interrupting their mission all the time, but all of them slip on the floor because of the water.
Arnav looked at Khushi: Run Khushi.. Run away..
Khushi wiped her tears and went running from there, directly to the mansion.
" Papaaaaaaa... Moohittt... Please help... " Khushi looked around the mansion trying to spot someone to help her..
Mohit looked at her devastated state: Khushi what happened to you?
Khushi: Please help Arnav.. They will kill him.. Help Arnav..
Dadi caressed Khushi's hair: Dear what happened?? Explain us clearly..
Khushi held Mohit's hand: Come with me please.. They will kill Arnav..
Mohit went with Khushi, where she was guiding him.
NK, Paro and Dadi and Mohit's friends also went behind them.
They were shocked when they found Arnav on the floor, blood was coming out of his head.
Mohit and NK went running to him.
NK: Bodyguard.. Wake up.. Bodyguard..
Mohit: OMG.. Who beat him so brutally??
Khushi looked at Arnav's body crying: Please do something.. Jaldiii..
Mohit nodded: Let's take him to hospital.
********************
Hospital XYZ:
Akash, Shashi, Payal and Meera came running after knowing what happened in their house after they left.
Shashi looked at Dadi: Is Arnav alright??
Khushi hugged Shashi tightly: Paaapaaa.. They said he need to do operation..
Akash was shocked hearing this, what will he answer to Anjali now. He got worried for his brother.
Shashi gulped: Kyaa? Who did this to him??
Khushi cried: Papa some goons came to my room, and started attacking me, I left running to the terrace and Arnav came behind to save me, but they started to beat him mercilessly. Nothing should happen to Arnav, papa..doctors said there are less chances for him to survive paaapaa..
Akash step back in fear, " What will I do now? Should I inform Di or stay quiet??" he thought..
Mohit side hugged Khushi: Relax nothing will happen to him.. Let's pray to DM.
Shashi, watched Arnav being operated through the door's mirror.
" I really salute you Arnav.. To save my daughter today you really became her bodyguard. You didn't even though about yourself.. How will I pay you for this? Even a thank you isn't enough.. DM please don't let anything bad happen to this boy. Please he has nothing to do with my enemies.. Please don't let him die, what will I answer to his family? Please protect him.." Shashi shut his eyes while a lone tear escaped from his eyes.
May 28, 2017
Chapter 6 - I will forget her.. (By Angel23) (Thanked: 90 times)
Raizada mansion:
" What?? Chote is in hospital, Akash explain this clearly to me, chote..bodyguard .. what's all this??" Anjali got worried for her little brother.
"Why did you both hide this from us? Being someone's bodyguard is a difficult task, Arnav beta life was in danger, and Akash you supported him in that??" Mama scolded Akash for his stupidity.
"I'm sorry Di.. I didn't know all this would happen" Akash cried with joined hands to Anjali who was crying heavily now.
"Let's go.. I want to see my chote.." Anjali stoop up and went running outside, all family members also went behind her.
*********************************
Hospital XYZ:
" Please DM save Arnav, he saved my dignity today, why are you punishing him for his good deed?? I should be the one in his place, please don't let anything bad happen to him please.. DM I trust you, you know that.. please save Arnav.." she cried in the hospital, standing in front of DM's idol.
Anjali passed by her running looking for Arnav, Akash guided them to the room Arnav was being operated.
At the same time, the doctor came out of the room. Khushi seeing him came running to him, she and Anjali asked at the same time: What happened doctor??
The doctor looked at both smiling: Thankfully we managed to save him, if you reached here a bit more late then we wouldn't be able to save his life. It's yours prayers that saved him (Doctor looked at Khushi)
Khushi sigh in relief, Anjali: Can I see him??
Doctor nodded sideways: He is unconscious now, please let him rest, you will meet him later.
Khushi looked at Anjali: Who are you??
Anjali glared at her: I'm Arnav Singh Raizada sister..
Khushi gulped scared, while Shashi went forward: I'm so sorry for what happened with your brother.
Anjali: Sorry is a very small word for what she did to my brother. But I accept it from you uncle, you have nothing to do with this. We would like to be left alone, we'll take him home.
Khushi widened her eyes: But...
Anjali: Don't think he is going to stay as your bodyguard all his life okay, he has a house to stay and he doesn't need a girl like you, he is ASR, will find thousand girls better than you..
Khushi looked down embarrassed. Now Khushi's family was confused.
Dadi: What are you talking girl? Is this the way to talk with us, who gave your brother a work and top of that a place to stay??
Anjali: Sorry aunty, but my brother is not a bodyguard, he is world's fashion king Arnav Singh Raizada, he only fake this job to make a place for him in your granddaughter's heart, but she doesn't even realize what he did for her, or to say she doesn't know what true love is..
Khushi cried silently, Dadi, Mohit and Meera were shocked knowing this, Payal already knew through Akash who told her about Arnav's story.
Anjali joined her hands in front of them: Please leave from here.. And Khushi rest assured, Chote will not come behind you anymore.
Khushi looked crying at Anjali: Please let me stay, I want to talk with him...
Anjali: You don't need to hurt him anymore, and if I will say thank you from you to him. Now please leave..
Shashi held Khushi by her shoulder taking her away from the hospital. Khushi: Papa please let me stay, I just want to see Arnav.. please papa..
Shashi nodded sideways, and made her sit on the car with Mohit beside her.
*****************************************
One week later:
Raizada Mansion:
" But Di.. " Arnav tried to speak only to be interrupted by his Di.
" Stop it Chote, she doesn't love you. Are you blind or what? Will you live in her house as a bodyguard forever ahn?? Just forget all this as a bad past please.. I can't see you hurt Chote" Anjali hugged him crying " I would die Chote if something bad happened to you.. I would die"
Arnav hugged her tightly: Shh.. Don't cry I'm fine now.. I will forget Khushi, but just let me save her from her father's enemy.. please Di, her life is in danger now.. I need to find out how those goons entered inside the mansion despite all the security around" Arnav pleaded her.
Anjali nodded: Tik hai, but do this in your ASR way, not this bodyguard.
Arnav nodded and kissed her cheek: You're the best sister in this world.
Anjali pouted: And you the worst brother, who couldn't even tell me what is happening in your life, I share with you even my fights with Shyamji and you didn't even tell me anything about you..
Arnav giggled:Let's find another brother for you then..
Anjali gasped and started beating him, carefully to not hurt him: I hate you.. I don't need another brother..
Arnav hugged her again: And I love you so much..
Anjali smiled: I love you too my Chote, you're the best bro in this world..
**********************************
Gupta mansion:
"Doll please open the door, talk with us please" Dadi pleaded her crying, it's been one week Khushi doesn't talk with them.. and she is always crying in her room alone, chanting that she wants to see Arnav.
" Khushi open the door.." Mohit said, while Shashi sigh..
" Khushi come outside, I will take you to Arnav" Shashi said somewhere scared if Arnav's family would accept this meeting, as far as he know everyone there is angry with Khushi.
Khushi opened the door quickly, she went running to Shashi: Papa let's go.. I'm ready..
Jun 5, 2017
Chapter 7 - The difficult task - ignore her.. (By Angel23) (Thanked: 84 times)
Raizada mansion:
" Please let us in, we just want to talk with Arnav" Shashi said to the guard, while Khushi stare at him impatiently.
"Sorry sir, but it's ma'am orders, and I can't deny it" the guard looked down.
" See Khushi, I told you" Shashi turned to Khushi feeling sad for her.
"Haan Khushi they will not accept you here, I saw his sister that day she was very angry with you" Mohit added.
"But I just wanted to say thank you to Arnav for saving my life, I want to see if he is fine or not.." Khushi said crying, the cruel act made by those goons to Arnav are still alive in her mind, she just can't forget it.. neither she gets sleep.
Arnav walked near them, Shashi smiled seeing him, he nudged Khushi: Khushi look...
Khushi looked up and saw Arnav leaving his mansion and coming near them, she smiled brightly: Arnav...
Arnav finally reached them limping, while Akash came behind him to help if he needs..
Arnav: Uncle..how are you??
Shashi smiled: I'm fine beta, tum kaise ho?? Arnav I'm so sorry, because of my enemies you suffered so much.. and thank you for saving Khushi's life..
Arnav nodded: It's okay Uncle, I just did whatever I felt right..
Khushi came near him: Arnav.. thank you..
Arnav ignored her, and just looked at Shashi, Khushi frowned seeing him do that, the man who never stopped staring at her when she was with him, today didn't even look at her face!!
Arnav: Uncle if you want, come inside..
Shashi nodded sideways: It's better not. Khushi wanted to thank you and see if you're alright or not..
Khushi nodded with a faint smile, expecting that Arnav would react hearing her name, but he remained his normal position.
Shashi and Mohit walked to the car, while Khushi stood still looking at Arnav, who still didn't meet her eyes.
Khushi took baby steps to him, and cupped his face: kya aap mujhse naaraaj hain? (Are you angry with me?)
Arnav said without any emotion on his face: I have forgotten you.. be happy about that, there is no Arnav in your life anymore to irritate you..
Naina lagiyan baarishan
Te sukke sukke sapne vi pijj gaye
Naina lagiyan baarishan
Rove palkan de kone vich neend meri
Naina lagiyan baarishan
Hanju digde ne chot lage dil te
Naina lagiyan baarishan
Rut birha de badlan di chhaa gayi
(My eyes got raining,
and even the dry dreams got wet (in tears),
My eyes got raining,
my sleep cries in the corners of eyelids,
My eyes got raining,
Tears fall and heart gets hurt
My eyes got raining,
(and) It's weather of separation's clouds)
" Please don't say this." today the words she was so eager to hear, were making her hurt..
Mohit took Khushi from there, while she kept crying staring at Arnav..
**************************************
AR:
" Yeah Aman, I want you to find in Shashi uncle friends, who will be benefited if anything happens with him or his daughters?
Aman: And why don't we look his enemies then???
Arnav: Because only a friend know much about your house, these goons entered in that mansion very easily and without being notice, and also left without being caught, so you know what does it mean don't you??
Aman nodded: I will go through it now..
**************************************
Gupta mansion:
Khushi cried, taking the wall as her support, it hurt her so much when Arnav ignored her, he has became an important part of her life now, will she be able to live without him?? Forget him??
Mohit came with a tray of food and juice for her: Sona please have something, you're becoming thin now, please..
Khushi: Just go away from here Mohit.. don't call me sona..stay away from me.. Arnav doesn't like it, because of you he left me.. just go away...because of you he left me... Arnav will never come near me now.. go away..
Khushi mumbled, and sat with a thud on the floor crying heavily, she looked at Mohit who was still there, she shouted angrily: Didn't you hear what I said?? Goooo away from hereee..
Jun 12, 2017
Chapter 8 - Roles exchanged.. (By Angel23) (Thanked: 90 times)
He threw a pillow in frustration, yes this task is the difficult one he has ever done in his life: But I have to forget you Khushi..
Anjali came inside his room, she look intensely at his eyes, and she could see that he was crying: If she loved you back Chote, I would myself do all the possible things to unite you both, but..
Arnav nodded: I know Di.
Anjali: Are you angry with me?
Arnav: No.. please Di leave me alone for a while..
**********************************************
One week later:
"What the.. why didn't I think of him before??" Arnav's eyes grew wide, after seeing the picture of the man responsible for this attack on Khushi.
"Yeah, no one would.. " Aman rolled his eyes.
" Shyam seems that he didn't forget my slap" Arnav gritted his teeth.
"Now, what's next??" Aman asked excited for this mission.
"Keep a watch on him and especially his father, Khushi once told me that both are best friends" Arnav leaned back on his chair.
"What? You're giving me bodyguards job now??" Aman jaws dropped.
"Aman that will be your job, if you get fired from AR. So respect that.." Arnav smirked.
*****************************************
Arnav took baby steps to his mansion, he didn't even to enter today, Khushi's thoughts will haunt him again.
" Beta.. " he heard someone calling him.
He turned behind, and saw an man staring at him with a big smile on his face.
" Yes..do you need something?? " Arnav looked at him, then shouted.." HP call Mama his friend is here.."
The man suddenly placed his palms on his mouth, shocking him.
" Shh.. I'm not Mama's friend.. " she winked at him.
Arnav felt her smell, realization dawned on him: You.. What are you doing here in disguise of a man??
Khushi smiled: Correct guess, I'm your mansion gardener from now on, got that??
Arnav rolled his eyes: Can't you be creative? Had to steal my idea??
Khushi: Excuse me you were a bodyguard, I'm a gardener..
Arnav: Khushi just go away from here, I don't want to see your face in my life again..
Khushi looked at him fuming in anger: Why are you getting scared now?? You said you're never going to give up on me.. Why are you accepting defeat now Arnav??
Arnav shouted angrily: Now what should I do ahn? Keep praying all day and stay in your house as a bodyguard in hope that one day you will come to me and say " Arnav I love you too", seriously, now that your friend Mohit came, you keep giving attention on him, like he is your life, your boyfriend and soon you're getting married to him.. with a man like Mohit in your life, that you like a lot, and me that you hate, do you think I stand a chance?? Bolo Khushi, will you ever choose me as your life partner?
Khushi beat him on his chest angrily: What did I say to you? I said to you that it will take time to fall in love with you.. And what Mohit, why did think he is my boyfriend ahn?? If Mohit was more important to me than you, do you think I would be here leaving him?? Bolo Arnav.. Give me an answer for that... (she beat him more, sobbing) do you know why I'm here today??
Arnav stare at her surprised, Khushi rest her head on his chest crying: My heart has started beating for you Arnav..
Arnav was too shocked to react to her confession..
" HP careful these are important files.." they heard a shout approaching them.
Khushi quickly pushed Arnav, and composed herself.
Mami looked at the new face in her house: Mister who are you??
Khushi smiled: Gardenerji.. I will work here from now on..
Mami: No we don't need your service, we already have Arnav beta who take care of these plants..
Khushi giggled: Ohh ji, are you saying that your son is a gardener??
Mami widened her eyes, Arnav glared at Khushi, then at mami for indirectly calling him a gardener.
Mami smiled sheepishly: Woh beta..it's you do all this, so..
Arnav: That doesn't make me a gardener Mami..
Khushi: So I'm hired right?? Beta doesn't want to be a gardener, so you have no choice pretty lady..please accept me..
Arnav smirked at Khushi's intelligence, she was trying to convince Mami by praising her..
Mami seemed convinced also, she was already thinking that she is Miss universe..
Mami smiled: Of course, come in..
Arnav folded his arms: His work is outside, let him stay here only.. Come on, start making these plants your friends.
Khushi smiled: Ohh ji.. You're not a gardener, so they are your friends, since my job depends on them, plants are my boss.. And boss and employee don't need to be each other friends, they just do their work, so let me in!!
Mami was confused with these plants talk, she only nodded and made space for him to enter.
Khushi and Arnav entered in the mansion.
" Wow.. Such a beautiful house.." Khushi whispered smiling..
" Chote who is he??" Anjali asked confused.
Arnav looked at her, like invent some name now..
Khushi thought, then shouted smiling: Karanarjun..
Arnav: What the..
Mami giggled: Heyy were your parents Bollywood lovers??
Arnav whispered to her: Couldn't you take one name out??
Khushi muttered angrily: I'm playing a man first time in my life..
Arnav: I also played a bodyguard once..
Khushi: And you came with three name, MBA.. Should I remind you? MBA stands for Master of Bodyguard Arnav..
Arnav: Shup..
Khushi looked away: You shup..
Anjali smiled confused: Okay.. Karanarjun, what are you doing here??
Mami: I appointed him to be our gardener, but Arnav beta brought him..
Anjali: Where did you find him Chote??
Arnav looked at Khushi: Hmm..woh.. I think..haan.. on the roads Di.. He was begging there.. So I offered him a job..
Khushi jaws dropped, she stare at Arnav with I'm-going-to-kill-you look.
Khushi made a crying: Poor me.. I have three kids to take care of..
Arnav: What the.. You don't have kids..
Khushi frowned: Are you the mother of my kids??
Arnav: What the.. Kh..(Arnav bit his lips) Karanarjun you told me you were single..
Khushi: Yeah.. But I will have my three kids in future na.. So I have to take care of them..
Anjali: Acha HP show him where to stay..
Arnav: No..
Anjali: No??
Arnav: Karanarjun will stay in the guest room.
Khushi smiled sweetly at Arnav.
Anjali: Chote..what are you saying??
Arnav: Di I know what I'm saying.. He will stay there and that's final..
Khushi: Koi baat nahin sirji. I can, stay with the workers here..
Arnav glared at her, Khushi placed her finger on her mouth gesturing him that she will stay quiet now.
Anjali nodded: Okay..
Khushi went with Arnav to the guests room.
" Are wah.. You're so smart, you chose a room next to yours for me.." Khushi blushed.
" I just saved you from sleeping with men" Arnav rolled his eyes.
" Now no one is here, please tell me that you forgive me.." Khushi begged him, joining her hands cutely to him.
Arnav hugged her tightly: I wasn't angry with you my doll..
Khushi wrapped her arms around his neck, happy: Are you still hurt??
Arnav placed a kiss on her forehead: Only my leg, still hurts..
Khushi closed her eyes feeling his touch: It will be fine, I will massage you everyday now..
Arnav: Did you inform your family about this??
Khushi giggled mischievously: Only papa knows that..
Arnav: And you're having a lot of fun playing a man?
Khushi nodded excitedly: Bohot..
Arnav: Di will not leave you if she gets to know it's you..
Khushi smiled and pulled Arnav near her by his collars: Khushi Kumari Gupta is not scared of anyone.. I will fight with anyone for you.. Got that ASR!!
Thank you for the comments and for pressing thank you button!!
Jun 14, 2017
Chapter 9 - Trouble while romancing! (By Angel23) (Thanked: 103 times)
"Chote chalo we're getting late..." Anjali shouted in the hall calling Arnav, she went upstairs to call him.
Arnav smirked looking at Khushi: Are we scared???
Khushi smirked back: No..
Arnav kept his hand on her waist, and Khushi was still with her hands around his neck confidently.
Anjali was approaching the room, Arnav looked at the door: Khushi you're really mad, Di is coming..
Khushi giggled: Toh?? I'm not scared if she finds out about me..
Arnav: But.. (he left her quickly sensing Anjali foot steps) leave me Khushi.. Di will see us..
Khushi nodded sideways: You challenged me.. now I will not leave you..
Arnav looked at the door scared: Khushi leave me.. what are you doing?? Di is coming.. I already saw you're not scared of anyone.. now please leave me..
Khushi: Nahin.. I'm having fun seeing you like that..
Arnav shut his eyes when Anjali pushed the door, Khushi placed a kiss on his cheek then left him at the same time Anjali opened the door.
Arnav sigh in relief, he caressed his cheek where she kissed him smiling, Khushi blushed looking down, she never thought in her life she would do this.
Anjali looked at both: Nani wants to go to mandir, did you forget Chote?
Arnav nodded sideways: I know, but Di I have a terrible headache, if you don't mind could you both go with Akash??
Khushi: Headache?? OMG.. I will massage you sirji..
Anjali: It's okay Chote.. aur ask Sheetal to massage you, today she is coming here..
Arnav rolled his eyes: Seriously Di.. Sheetal?? She will increase my headache, it's even better if Karanarjun does it for me..
Anjali: But chote he is...(Anjali looked weirdly at Khushi)
Arnav: Men also massage people Di.. nothing wrong in that..
Khushi laughed silently, Anjali: Still wait for Sheetal..
Arnav: You know I hate her..
Anjali: She is better than that girl you loved.. at least she loves you unconditionally, you're the one who never gives her a chance..
Arnav: Love isn't one sided Di..
Anjali: I know, but you can learn to love her, can't you??
Khushi eyes got moist..
Arnav: Di I don't want to discuss with you.
Anjali sigh: Chote I just want the best for you, nothing else.. and I think you should give Sheetal a chance..
Khushi didn't like the way Anjali was speaking, she intervened: Pyaar madamji is something that you can't learn, it happens suddenly..
Anjali: Karanarjun this is a private matter.. so please concentrate on your work here..
Khushi: Ohh madamji you're getting angry.. why?? I'm just saying..
Anjali glared at Khushi. Khushi giggled: Madamji aise na dekho mujhe (Don't look at me like that) I may fall in love with you.. (Khushi winked)
Arnav widened his eyes: Karanarjun behave yourself... she's my sister..
Khushi nodded: She is your sister, but will be my wife oyee oyee..
Arnav laughed, while Anjali just look at him in disbelief: Choteee!!!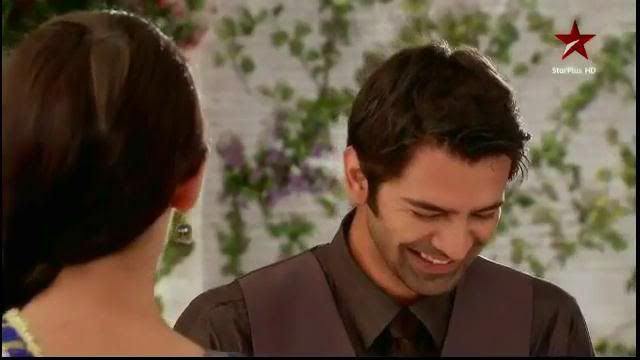 Khushi: Keep laughing sirji.. you look so handsome!!!!
Anjali: Karanarjun are you gay or what??
Khushi pouted: Waise toh, I'm not gay madamji..but your brother.. uff he is just too hot to handle.. I'm just appreciating him okay.. nothing more than that..
Anjali look at Khushi with big eyes, Arnav laughed more clutching his stomach now..
Arnav stopped laughing a bit: Ohh my.. Karanarjun keep quiet for a while, I will die now.....
Anjali: Chote I'm going now.. (she whispered to Arnav only) stay away from this mad man..
Khushi pouted: Mad nahin madamji.. dewaana.. for your brother only..
Anjali was about to say something, Khushi cuts her: Nahin madamji.. I'm not gay.. I already explained you..
Arnav pushed Anjali gently to the door: Tum jaoo Di.. I will handle Karanarjun..
Anjali: Chote I think his Karan part likes men, but Arjun part likes girls.. that's why he is talking like that with you and me.. be careful okay..
Arnav chuckles: Haan okay.. bye..
Anjali left, shaking her head. Arnav laughed loudly closing the door: You will bring problems to me Karanarjun..
Khushi giggled, Arnav sat on the bed to rest his body from laughing: Where do you get such mad ideas to talk??
Khushi: Creativity Mr.ASR, which you don't have..
Arnav: Acha?? Should I show you mine??
He slowly took out her turban from her head, and Khushi's hair was left open now, Khushi leaned on the bed scared of his move.
"What..ar..are you doing??" Khushi stammered.
"My creativity.." he whispered huskily to her.
He tilt his head to kiss her, but at the same time they heard a shout.. "Arnieeee", Arnav groaned in frustation.
"OMG who is it now??" Khushi said worried, she was searching for her turban, which God knows where Arnav threw it on his romance mood.
"Khushi wear that thing of yours now.. Sheetal will come here in search of me.. jaldii" Arnav said composing himself..
"But where did you throw it??" Khushi asked him, searching for it on the bed once again.
"Woh..uhn.. I don't know.." Arnav said confused, he searched on the floor, but it wasn't there either..
Khushi looked at him biting her nails: Abhi?? But its your fault..
Arnav: What my fault??? Don't lie because I know you like it what I did okay..
Khushi glared at him: Toh?? It isn't necessary to make my turban disappear suddenly, pagal man..
Arnav: I'm not mad, you're pagli.. dammit, where did I throw that thing??
Khushi looked at the window open: Ayee DM.. Arnav there...(she pointed to the window, making a crying face)
Arnav shocked: What the... no man...
Both went running to the window to see where the turban was, Khushi pointed: woh dekho Arnav..
Arnav looked at the place she was pointing: What a bad day.. it had to fall on that stupid pool..
Khushi beat him on his shoulder: It's not bad day okay, I came here first time.. ghar ki laxmi, got that???
Arnav: Yeah, and what a laxmi you brought for us..
Khushi: Arnav stop complaining, go and get my turban for me.. that girl who called you, must be coming.. jaldi kuch karo..
Arnav repeated like her sarcastically: Jaldi kuch karoo.. what's the use now?? That turban is wet now, how will you put it??
Khushi pouted: Everything is my fault.. I shouldn't have said creativity.. yours went too far Arnav Singh Raizada, like name like actions!!!!
Thank you for the lovely comments!

Disclaimer: The views expressed above are member's views and this website does not comply with it. The views expressed may not be factually correct. Incase of any issue please contact us/report it to us.