Raizada and ranawat family
Jul 2, 2017
Raizada and ranawat family (By Indhrs) (Thanked: 8 times)
Thanks to all please press thank you button.and please be wait this story will have twist also.
Gupta house:
Shashi:says I will talk to Payal first and we will decide.and I like arnav beta.my kushi is very lucky .
Raj and sandhya says naniji is not well she wants to see arnav marriage .so we will come here immediately.
Shashi says I will talk to my daughter's first and tomorrow i will told u .
Raj says ok no broplem .
After sometime Raj and sandhya leave from there.
Garima ask shashiji what are you thinking.
Shashi says nothing.we will talk night.he said I have meeting I leaving bye.
Gupta fashion house:
Shashi in his cabin.he is very tensed thinking about kushi.
Fb:in delhi.garima is pregnant in her second child .
Mala came with juice for garima.
garima says malaji u also pregnant na u drink first then I will drink.
Mala says first u.garima says first u .
Mala says ok ok I will drink.she drink the juice and says I will come here  to take care of u .but u don't allow me to any work.
Garima:says don't talk like that ur like my sister.i have brothers only but no sister.so ur my sister ok.
Mala says thank you.
Garima asks but ur huspand..and Family
Mala says don't ask anything about that please.
Garima says ok  I am sorry.
Shashi come from office and asks h r u both .
Mala and garima says fine.
In night :
Mala thinking about rudra and crying.
Shashi :sees Mala .and asks r u k .
Mala says han I am fine bai.
Shashi says go and sleep .Go u take rest go.
Mala says ok bai thank you.
After somedays passed.
Garima have labour pain.mala take care to hospital and she called shashi .
Shashi came to hospital and sees Mala he ask Mala how is garima .
Mala says I think fine .baby will come soon.
Shashi says how is garima. 
Mala says everything is fine.wait for sometime.
Doctor came and says garima and baby fine.
Shashi and Mala happy hearing this.
Mala came to garima room and sees baby is breathing heavily .she is shocked and called doctor and shashi came there.
Doctor checks the baby but baby will dead.
Shashi asks how is my baby doctor.
Mala have labour pain at the same time she going to fall but nurse hold her and shashi also sees her . Doctor says take her to operation theatre.nurse says ok.
Shashi is very sad his baby is dead how he told this garima.she has lot of dream and Payal she is eager to see baby she always talk about baby.
Nurse came with a baby and says sir ur sister child  .see sir she is so cute sir.
Shashi sees mala's baby and says Yea she is so cute.he wipe his tears and ask how is Mala.nurs says fine sir.
He came to Mala room .Mala ask how is garima .she is not wake up .I don't know how to handle her .
Mala says don't talk like that.garima child is not dead she is in ur hand only .
Shashi asks what?
Mala says bai give this baby to garima.this baby is urs .
Shashi ask what are you saying Mala.
Mala says don't ask anything please she crying. If garima wake up she search her baby go first.and she says if garima asks for my baby told her my baby is dead.
Shashi:also think about garima and he leave from there.
Garima sees baby and very happy .she asks Mala shasi says she has labour pain 
Garima ask how is she now. how is baby
Shashi says she is fine but her baby is dead.
Garima says I want to see her she is crying.how is she .she feel bad na shashiji.
Shashi:says she is not in her room. She leave from there .I will search her but i didn't find her.
Garima is shocked where is she went .hey devimayya.
Shashi says I don't know why she leave from there.she don't say anything .
Garima :says. Please search her .
Shashi says ok.he says see our baby how cute she is.
Garima says she is like Mala na shashiji.i think like that.
Shashi is shocked hearing this.he said no no she is like u 
Garima smiled .han han my baby is like me only.
Shashi came out of garima room.and sees Mala .
Mala says I am leaving now.take care of ur baby.
Shashi says please don't go Mala.
Mala says no bai  .I am leaving please  don't stop me.i know u will take care of my baby.
Shashi says please call me if u want any help ok.
Mala says ok.
FB END.
Shashi called Mala .
Mala :hello bai h r u.how is Payal garima.
Shashi says u don't ask ur daughter.
Mala says I know garima will take care  of her.and u send her photo na.i got it bai she is like garima .
Shashi says I want to talk to u important matter.
Mala asks what:
Shashi says ur daughter is now going to ready for marriage.
Mala hearing this very happy she is crying she wants to see her.but she think about garima and kushi's future .
Shashi asks r u there 
Mala:han han bai .
Shashi says I know ur crying u want to see her na come to Mumbai to my house .
Mala says no bai she is ur daughter .I don't have any rights .
Shashi says but u just came to her marriage na.
Thakur came and called Mala 
Mala says she is ur daughter bai .u know na what she want .so u and garima decision is final decision.she says I have some work I will call you later bai she cut the call.
Ranawat house:door bell ring 
Mohini open the door and asks who are you .
We are coming  from welfare team .we have to see rudra and paro.
Mohini says come inside and says to sit.
One girl says my name danwari and she is devyantiji.
Danwari says we came As we listened that you torture is being done on paro here.
Mohini says it's wrong.when rudra took paro here forcefully since then we are taking care of here ,
Danwari:ask what forcefully?
Dhanveer:tries to cover up.
Danwari;says if we feel paro is not safe here the we will take here.
Outside rudra and paro comes,rudra says be careful,paro says you are worrying for me.he says you fall on ground alot then walking so I just warned you ,you know that I marry you only for my uniform and job.paro says what may be the reason but I am your wife ,he says don't disturb me.
Paro says if I say nothing even then you get disturbed.
Inside mohini :says to ladies that don't do that,devyanthi ask where are they. 
Mythili says they went to BSD to meet all.
Dulwari:ask what you mean
Mohini says don't ask so much  questions see it by urself when they come then decide.
Rudra comes in holding paro's arms like dragging her .
Mythili comes to them and informs about ladies.
Mohini ask them to come.
Devyanti sees them 
Rudra moves his hand from arm to her hand and holds paros hand .
Danwari ask how you both got married.we listened that you made paro stand whole night.
Paro says no it was my prayers for him.he irritates me alot but I like it.someboady clicked picture and things got worse
.devyanthi says we asked you about your marriage.
Mohini says I wished to get them married grandly but you know happened on maha shivratri,
Paro says my dad destroyed everything.she looks at Rudra and says when two people decide to live together then what can anybody do.
Rudra says you all sit and have tea which my wife will make ,he ask paro to come ,
Danwari ask where are you going ? To help her in kitchen,
Rudra says why not.and takes paro from there.
In kitchen:
Rudra says what you were saying,
Paro says talk in low tone.and you were not able to say anything do I handle it my way.
rudra says you know this is related to my job.
Paro says don't worry I know how important it is for you.i will not let anything happen to your job.your dreams and your uniform.
Mohini says to ladies that paro's Mami is alive but she was not invited in marriage as rudra doesn't like it and nobody can go against him.
Danwari says it's very big torture to girl that she wasn't able to meet her family,
Rudra comes and says it was done for our country for catching thakur we lost many soldiers and still he is not cought.so he can hurt paro or Mami that's why we had to maryy like this and her life's safety is most important .
Mohini says you broke your dad dream too.
Couldn't wait until he comes back.
Paro says bapusa wasn't there but his wishes was with me as I wearing saree given by him 
Dhanveer says everything happened so fast ,
Danwari says major your wife make very good tea we came to see paro but got to know that she is married and seems happy so we will leave now.
Devyanti:says no I am still not convinced till i believe that everything is fine there are portraying I will not leave .she says we will stay here to night.
Mohini says great ,I mean it's good as ritual are remaining of marriage so we will complete it.
Danwari says that's good we will enjoy, 
All leaves their respective rooms.
Devyanti comes to rudra and says I listened alot about you so I will stay here till I want .do you have any broplem
Rudra:says no.....
Jul 5, 2017
Raizada and ranawat family (By Indhrs) (Thanked: 6 times)
Thanks to all who read my story's.
Noordina,n,Londoner,arsigeet .thanks to u all.
Raizada house:
Arnav ready for office.
Sandhya came with his black tea.she smiled at him.
Arnav:asks mom why are you smiling now.
Sandhya :says your looking good chote.where are you going .
Arnav:mom whats your broplem I am going office mom.
Sandhya :says what ?
Arnav:look at her confused and said han office..
Sandhya says chote your in love now.you dont think to meet her .
Arnav:says mom you also talk like your daughter in law.ok I am leaving now bye.
Sandhya :says stop ....
Arnav:asks now what ....
Sandhya says Anjali is coming tomorrow.
Arnav:asks really ....
Sandhya :smiled and says yes chote your di is coming.
Arnav:says mom I am so happy if rudra knows this he is very happy ma .then only he realized what he says.
He says bye I am leaving now.
Sandhya :says chote you just called him .he is married Parvati .dhanveer bai called me and says everything.
Arnav:says I dont care mom.he can do anything for his job I know him very well.and I dont talk to him .but I dont stop u and di.u want him na u have to go and meet him I dont have any broplem.but please me and my wife sandhya look at him .he says I mean kushi I dont talk to him and I dont allow to talk my wife too.
Sandhya:if kushi wants to talk to him na.
Arnav:I know her mom.she dont hurt me.and he leave from there.
Sandhya :says both brothers always fighting .hey devimayya please do something.send someone to change him.
Ranawat house:
Dhanveer tells about ritual that both will blindfold and if they take rose then their life will be beautiful.if they take kheer ,then their coming life will be sweet and if they take gold coins they will be financially very strong,
Danwari says I am eager to know how there life will be as what they choose.
Ritual starts paro and rudra sits infront of each other,they are blindfolded,rudra extends his hand on gold but paro touches his hand so he moves ahead,paro moves her hand and touches roses rudra touches roses too.
Danwari :says great they both chose roses
Mohini:says paro is rose but rudra is prick,
Dhanveer says their relation is made ,even with fights they will be together forever.
Rudra and paro looks at each other.
Danwari :asks paro when you are angry with rudra,how he pacifies you?she asks her to tell.
Paro:looks at rudra and says he sings for me.he sings song from kuch kuch hota hai movie,
Danwari:says you both are sweet couple
Davyanti:says lets go for rest.
In rudra room.
Rudra is about to throw roses which they had chose.
Paro says dont throw,she keeps it on table and put one rose in book.
Rudra ask are you afraid that prick is wirriten in your fate.
Paro says you are calling yourself prick?
Rudra says I know what I am.
Paro says I love this prick,what can I do,its all fate,
Rudra is bowled.
Paro says some pricks are sweet,
Rudra says prick is always a prick,
Paro says rose can die but prick dosenot,they always remains same,rudra keeps looking at her and says don't say foolish things,I dont understand it neither I want to.
Paro places mat on ground to sleep
Rudra says what you said outside that I sing for you,
Paro says I didn't know what to say so just said that.
Rudra turns off the light,
Paro sleeps on ground while rudra on bed. Mohini sees this and thinks now I will call those ladies and show them real face of this marriage.then rudra will be out of bsd and from our lives and that Mumbai sisters also dont come here.
Danwari :drinking water in kitchen.
Mohini pretends to be crying,danwari ask what happened.she says I am rudras kaki and masi too.he is stubborn and angry ,rudra is sleeping on bed and innocent paro is sleeping in ground.even they are huspand and wife still they dont believe this ,let me see with my own eyes take me to their room.they gose.
Paro feels mouse in room and gets up,she listens to outside mohini saying to danwari that rudra says he lives paro but if husband and wife sleep far away from each other then its not good thing.paro gets up and calls major sahab but he is in deep sleep.she sees them coming towards room so lies on bed beside rudra,rudras hand is on paros face ,she sleeps close to rudra,
Danwari and mohini sneakily opens door and looks in their room .they find them sleeping loveingly,she says put rose abstract in your eyes what you said was worng,they closes door,
paro takes off rudras hand from her and looks at him.she gets up but rudra put hand around her,she removes his hand.rudra waks up and ask what is she doing here?
Danwari tells davyanti about they were sleeping ,
Davyanti says we will their love on breakfast table,
Danwari says u should see them now,
Rudra ask paro what were you doing in bed.paro is about to fall but rudra holds her,he says you are trying to come close to me like this,paro says enough,for your respect I didn't thought about me,they came to see us.
Danwari and davyanti are going to their room.
They see paro crying in hall alone.
Danwari says whats happpening here on this.
Mohini says there is no happiness in her life ,my son has made her life hell,now you have seen whats happening with her here take action against rudra.
Davyanti says I know what to do.
Rudra comes there singing kuch kuch hota hai paro is stunned.he sits infront of paro .he sings in bad tone but cutely,
Danwari says wow what a love story even he is singing badly but is pacifying her.
Rudra wipes paros trars and says forgive me,I got angru but I cant bear your tears,he ask sweetly to forgive him.they gets up rudra respectfully holds paros shoulder and they start walking in each other's arms.theys gose away ,davyanti let sleep now.
Mohini is going in her room.rudra comes to her.she says you need mosquito coil,he says no .I just want to sleep with peace and you should sleep too.mohini says beacause of weather changing I dont get sleep.rudra says you will sleep from tomorrow as I will give you sleeping pills given to horses.she ask horses?he says yes your mind horses run to fast.
Rudra comes in room,paro looks at him,he says dont stare at me ,they were seeing you crying thats why I pacified you.she says I just wanna say that even if world goes upside down please never sing again infront of anyone,paro starts laughing.rudra says stop it and pins her to wall.he comes closer to her. Paro gets nervous.he turns on the other side.paro takes the rug.rudra snatches it and says the three bats are gonna come you have to sleep on the bed.rudra turns off the light and sits on the bed.he lays on the bed.paro is about to get the sheet but he takes it and sleeps with his back turned when he realizes he offers her the sheet and turns on her side,paro is uncomfortable but she lays down as well.rudra listens something and says what is this voice ?paro says its the rat .he says I will tell him tomorrow morning.she says no .he says why?will his wife be widowed well you like everything that annoys me.
In morning
Everyone in breakfast table.mohini says to paro make lunch box for sunehri to take the college. Paro leaves for the kitchen.
Rudra starts coughing.
mohini says should I bring water he stands up and says I will take it.
Rudra come to kitchen paro gives water and asks what happened?he says did you make the breakfast?you do such stuff to annoy me.she says what have I done?he leaves in anger .Everyone leaves the table one by one
Mohini is in kitchen and planning something.she places of water at the edge .she calls Parvati in and says can you make sweet for me will you mash this coconut for me.she sits to mash it.mohini places the glass on the edge and leaves a pumpkin rolling over the slab.its hot milk in the glass .mohini leave the kitchen.the hot milk falls on paros hands got brunt.she wonders who placed these things there.they weren't there when she came in.she says mohini did this so she can accomplish her task I wont tell rudra.I wont let his career ruin.
Mohini calls paro and asks why have you changed the clothes?she says for no reason.
Mohini says thats weird.
Paro says the sweets are ready.
Mohini says rudra must be so angry when he came to the kitchen.
Paro says he didn't say anything about the spices but said he would like to see me in full sleeves .thats why I changed the clothes.
Danwari says wow thats cute.is that all ok now.we shiuld go to home now.
Mohini says to the ladies that its a ritul in our family we make the birde wear red bangles and a gold bracelet by groom.
Paro says I know why are you doing this to blame rudra for this
Mohini says they will see your bruises and then rudra will be out of bsd and this house.she ask paro to get her sleeves up.rudra comes in.mohini says ask her to get her sleeves up so we can start the ritual.you said her that you wanna see her in full sleeves but we have to do it for the ritual.he says you make her ware I wont.
The lady says why is it troubling you to make your own wife wear the bangles
Mohini says no worried I will do it.rudra says no I will.he sits besides and ask her to lift her sleeves paro is worried.he says why are you being shy.lift the sleeves.paro smiles and lifts a little.she is ready wearing something in her wirst.
Mohini says lift this as well all the bangles wont fit in.he holds her wirst paro hides the bruises with other hand.rudra makes her wear the bangles .she smiles and danwari takes a photo .paro is feeling the pain because of the touch .
Mohini is wondering how she concealed it.paro says I wont let him lose.
Davyanti says we have some work and leaves from there.rudra and paro gose from there too
Paro is getting of bangles.rudra says why are taking off outside you were enjoying it.paro says we had pretend like a happy couple and I was doing same rudra says it was more than that you were smiling looking in my eyes,holding my hand what was all that
Paro says I dont need to explain anything.she is going out .rudra comes behind her .mohini sees them .rudra grabs paro and says to listened to him.I have to do this love drama but I hate you.I feel suffocated with you.mohini bringing davyanti and danwari there.
Rudra is shouting that why are you lying that this marriage is a happy one.this is your punishment.I have to do all this for my uniform.paro says ask me what I feel when you say you do all this for uniform only.its related to my life my love.rudra says to hell with your love and life.
Davyanti and danwari listens to them and are shocked they comes there.rudra is stunned.paro says its nothing like that.what have you seen ,
Davyanti says enough of lie and deciet I understand it in first sight that this is love drama.rudra I can tell seeing mans hand whether he lifts it for caressing head of a girl or to slap her.
Paro says its all wrong that picture in nwes paper and also what you have seen today ,paro says let me explain,
Davyanti says you have only one chance ,tell something which I can trust otherwise rudra have to find new job.
Paro draws circle ,paro ask what typevof circle they say it can be sun,moon,bangle anything can be seen in different ways,paro says yes,I know you have travelled world but I just want to say that we believe what our eyes says.the picture in newspapers show that major did torture on me but its wrong.I will tell you whole truth today.whenever I was in trouble he saved my life putting his life in danger many times.he has done many things for me but never bragged about it.I love him and I said it to him that I want to marry him.to prove my love I stood on ine foot.
davyanti says this means he didn't ask you,paro says no my love did that.picture got published but after that what happened nobody knows.he lifted me and took to his room
Davyanti ask then why marriage in hurry ?were you forced ?
Paro says I told you I wanted to marry him.
Davyanti ask rudra wherher he did marriage on his will.rudra is bowled by paro and says yes.paro says I accept our marriage is not usual one but I got what all I wanted.
Davuanthi says I can trust you but your huspand,paro says he is will better he gets angry fast but our shivji is like this too.and we do pooja of him because we know he knows how to love she says believe me we have love in this marriage.
Davyanti says to rudra that you can be bitter your character is pure you dont do illegal things and this girl whom all say that she is being used and she is helpless but I find her strong in her will and still she has deep love for you.maybe you cant understand deepness of her love.I am women so I can see her heart ,one day will come when you will see her heart till then I want you both be happy,she says anger is enemy of relation.it can break them then you will have regret only ,she says to mohini that being elder you should set things right not make them worng.she says rudra I can report worng about you.but I have eye on you every minute and paro if you ever have any problem you can came to me.she ask rudra to take care of paro and also his anger.
Danwari says and also about singing,you can get will angry but never sing.they leave.
Paro and rudra awakward,rudra says I am going to office.paro says tell major sing. rudra understand what she wanted to say and nods.he is about to leave but turns and looks at paro.he turns then paro looks at him.
Rudra tells major that they promised me that they will not report against me .major says I didn't expect this seeing your behaviour maybe paro did that,he says you have to come to jaipur as I have given party for my 25years of marriage ,he says geetanjali wants all to be there.aman tells about ball party to paro on phone.rudra says I cant come major says geetanjali will not agree ,you have to come and bring paro too.
Mythili is giving clothes to paro ,paro says I dont think he will not want me to come with him.I never went birpur ,rudra comes there,mythili says tell me later what clothes you want for jaipur,she leaves,
Rudra ask paro how she knows?
Paro says aman told me.
Rudra says look if we go together then people will talk about recent events ,
Paro says its ok I also don't want to come ,just wanted to say that .she is about to leave.
Rudra ask where are you going.she says you dont like bangles noise so going to take them out.she comes in hall and says you know paro that he will not take you with him.it will be weird to go together.
Rudra comes there.paro is wincing in pain ,rudra says this much time in taking out bangles .paro hides her wound and says I will take out after sometime.rudra ask what are you hiding.he looks at her hand and says I did that?paro says no I promise you didn't give it.rudra brings first aid and says it must have pained when I made you wear bangles.paro says I didn't say because those ladies would think that you did it.rudra ask how it happened?paro says in morning I was working in kitchen and millk fell.rudra says it happened when I was out and you were wearing full sleeves when I cameback.rudra looks at paros wound in her hands and says kaki wanted me to make you wear bangles so that blame will be on me.that I give you this wound in this case only wouldn't have told her,in this case only she must have given this wound to you.I will come back.he gose to kaki.
Rudra is with mohini,mohini says you are doubting me?rudra says I know you did so make me lose you burnt her but listen carefully stay away from paro and pray from today she will not get scrtch because you dont know what will happen then.mohini says you said that you dont have any relation with her...rudra says I also said that nobody will come inbetween we husband and wife.dont ever give her any wound because for her protection ,I will always stay infront of her.he comes out and recay how he made her wear bangles on wound and she smiled.he is pained.
In morning:rudra says to paro to pack her bags and take some woolen clothes ,paro says I am going with you.rudra says no I am talking with rat.paro says you said that I will not come.rudra says I cant keep thinking there that what kaki must be doing here with you.you are only safe with me.so pack bags.paro packs her stuff in his suitcase.
Paro and rudra reaches hotel,servent brings trolly for their luggage,paro says no need its only one ,rudra gives her look and ask servant to take it.paro ask what are you gifting major sing ,he says it was wirriten in invitation that no need for gift.aman comes and says to paro that I told you he will bring you here.rudra gose in lift.paro stands outside,rudra ask her to come.they come in their room.paro says we should hang room keys behind door.rudra shows her card.rudra ask where will you hang this card?he takes out card and light switches off ,paro gets afraid and calling to rudra .rudra says dont worry light will come ,he puts back card im jack and lights come back,paro leaves his hand.paro says keep this card there as if it get lost then basanti will go in water.rudra ask pasanti? Paro says its my cow name in birpur,a bouqute and champangne are placed on table paro ask its for whom.
Rudra says may be for us.paro ask what is wirriten bouquet.
Rudra says our name major rudra pratap and parvati ranawat.
Paro smiles ....
Rudra shows her things in room like frige,tv ect ,paro ask where is fan?rudra AC is there.rudra turns toward bed and is shocked to see heart is made on bedsheet with rose patels.and two ducks made with bedsheet.
He says let me show you wash room.they comes in washroom,paro ask there is load shedding of electricity are there.paro says nice smell.rudra says I have to take bath he ask paro to go out.
Paro comes in room.she looks at champange ,she is happy and smiles ,she sees difrent things .she looks at ducks and plays with them.she looks at there name wirriten in bouquet chit and hides it in suitcase.she looks in copboard and there is thread and needle box there she says I will make something for major sir and his misses.paro looks at chocolates and eats them she finds their taste good.she looks at champange botrle and tries to open it,it gets open with usual burst ,paro gets afraid and says rudra will be angry.she gose in wash room to wash it from her clothes.she looks behind and rudra is having bath .she closes her eyes and comes out.rudra comes out too.paro falls on him.he ask what you where doing here? He sees rose ib her head and takes it out ,paro says I will take bath.rudra leaves ,paro comes in washroom and sees shower valves she ask rudra for bucket.rudra says there is shower ,open knob from down,paro open knob of hot water.and scream .rudra gets tensed and ask are you fine ,she says yes.paro takes bath and says to rudra that I forget my clothes outside.rudra says wear bathrobe then paro ask what.he says see there is something made of towel wear it.paro wears it ,rudra says I am going down ,wear clothes I will come she says fine rudra gets call and says I am coming.he takes out card and leaves .light gose off.paro gets tensed.
Rudra meets major sing in hall ,geetanjali meets him and jokes ,she says I did that decoration in your room.that champange and all.did you like it.where is your wife.did you loack her as key is with you.rudra sees key in his hand and is stunned.in room paro is tensed and afraid of darkness.and calls out rudra .rudra thinks that paro must be afraid.
Paro being afraid comes out her room in corridor wearing bathrobe.all looks at her.she is tensed.rudra is running towards his room.he comes there.paro is in tears and looks at him.he runs towards her.paro also runs towards him.she hugs him tightly.rudra comforts her.paro says I was afraid a lot.rudra says calm down.I am here.nothing will happen paro doesn't leave him.he days look at me.he says lets go inside ,they are about to go in.rudra looks back and ask people what they are seeing go from here.paro rudra comes in ,paro gets aware of closeness and distances herself.
He ask are you alright.she nods he says sir called me so I went taking key.he says sing sir's wife wants to meet you.change clothes he moves paro stands his way.he says I am not going anywhere.he sits and looks at paro.paro looks at him so he looks at other side.
Paro comes to meet geetanjali ,she says I didn't know you are so beautiful ,paro tuches her feet ,she jokes that yes its 25th anniversary of our marriage but I am not that old.
Paro says you are wife of major sing so I have to give you respect.she makes paro sit and ask how you met rudra 1st? Paro recalls how he saved her from goons when they met she says he saved my life and I saw him 1st time there.
Geetanjali :she says rudra must be loved you in 1st sight,she ask rudra ,she says its fun to irritate rudra she says I know him from many years .he gets red face when he teases little.
Paro ask r u from Rajasthan.
Geetanjali says yes
Paro says I am from birpur.they talk about imli of there ,tea is served paro looks at tea and is thinking looking at empty cups.
Rudra understand she doesn't know how to make tea with tea bags.he makes tea and is about to mix sugar,paro says you dont take sugar ,he says its for you.you dont take milk in tea he gives it to her and says she doesn't know so I made it .geeta says it was sweet.after sometime they takes leave.geeta says to sing that never knew that he will marry and with suchchewgum type girl.paro thanks rudra for tea.some upper class ladies sees paro dress and makes fun that who called this village girl here.paro and rudra sees it and comes room.
Rudra says u stay in room as people here are new and you may not mix with them .paro says ok I will not come.he says geeta was asking so many questions snd other people ...paro says you are right.you go I will stay here.paro starts doing her embroidery work.rudra gose to change he comes out wearing suite ,paro looks at him admiringly.he does hmmmm.paro looks down ,he says if you want anything to eat then call opretator and keep lamp open you will not fear.he gose out paro sees imli and is about to eat but then says I will give it to geeta.
Jul 7, 2017
Raizada and ranawat family (By Indhrs) (Thanked: 15 times)
Thanks to all my readers please press thank you button.
geeta comes to paro room.she ask paro why are you not coming in ball.she say rudra is there.she says but why not you? Paro says I am not feeling well.geeta says I will not go then.paro says but its your party,she says I know rudra asked you not come,you stay here, I will come ,paro says but your party,she says dont stop me now.geeta makes paro ready and does her mekup.
In party:
Aman ask rudra where is bhabhi.rudra feels something and turns,he sees paro coming with geeta wearing red saree and high heals,he is clean bowled and comes to paro,geeta says I told you he will loose his senses,she gose,rudra comes to paro,
Paro says I am sorry.actually I didn't wanna come but geeta forced me and does this.are you angry.
Rudra doesn't say a word....
Major sing grabs attention off all and says I didn't want this party but bowed to my wife wish,
Paro tensed....
Geeta says play some music, music palys,geeta says couples come on dance floor and bachelor's enjoy seeing them,
Paro says I will go to room,
Geeta says rudra dont run from neither your wife,come on dance floor.
Paro says I cant do this,
Rudra says you shouldn't have to come here but if you came then you have to do this,
Paro says I dont know this dance,
Rudra says don't worry,just give me yourself for sometime,
Paro says but my heals,rudra says trust me will not let you fall,he takes her hand in his and takes her to dance floor,he looks at her, paro feels shy.he takes her hand,put one hand on her back,rudra set her for couple and they start dancing on song har kisi ko milta pyar from move boss.rudra makes paro dances and well.they enjoy dance and suddenly comes very close .
Rudra is attracted to her and is about to kiss her paro closes her eyes,rudra realizes what he is going to do and pushes her away, he start dancing with her again, rudra closely dance with her and finishes it with bending her down.
Paro and rudra are close.rudra lifts paro up,all claps for them,
Geeta says it was my party but you guys rocked,she ask all to clap for this beautiful couple,
Rudra leaves paro also leaves behind him.
Mr and Mrs sing cuts cake they feed each other,geeta spikes juices,sing ask what are you doing,she says you force made them to strict so I am making them human ,she says this is for paro,she says you make drink for rudra,he says no,she insists,they come to paro and rudra.sing offers drink to rudra ,geeta offers spiked juice to paro,geeta says bottom in one go.paro drinks and says which fruits is this ,it was bitter,
Rudra says to sing that drink was hard,
Geeta offers one more drink to rudra.he drinks .rudra and paro are intoxicated geeta ask rudra was is it love 1st sight for you with paro? He says no.paro says liar.did your chacha looked back when your bus was going,wasn't it love.geeta ask how many time you both met for 1st time paro says nice,rudra says two times,
Rudra says dont start your bus story again.
Sing ask about it .
Paro says we 1st met at bus came there,paro say no 1st my came.then rukmini came,
Geeta ask who rukmini.
Paro says my butterfly friend,then he came there and saved me.rudra says no I saved you in birpur way,rudra gose to get water.paro says with foled hands to take rudra back in bsd,sing says 1st let report come,paro says his job his everything his love,his passion and for me rudra is everything ,please take him back,sing says ok I will ,rudra comes and gives water to paro.
Rudra and paro come in room.she says I am going to walk you sleep here.he ask where,she says in chandangarh we dont see place like this in dreams even.he says ok lets go out,they comes out,paro slipsand shout my heals ,he says what is it paining,she says you also give me pain,you brought me here just to save me from kaki otherwise you were not bringing me here.rudra says ok tell me why your face became pale when I said my foot is aching.he says it was paining you ,when you are pain I don't feel good.I feel like crying ,they sit on stairs ,paro says when you were crying in bus ,I felt like someone put weight on my heart.rudra says wish your bus would not came infront of mine ,wish we didn't meet.paro says all this is waste wishes now major sahab,he leans closer to her and says dont call me major sahab,paro says to rudra that you do bad with me so I hate you but everything is evident in your eyes then I love you 1,2,3,4,5 countless times.
Paro is blabbering and says you searches me everywhere then I would have asked how you got wound on your face then you would ask me how I got wound on heart, you remember when I use to catch but then thief came to police(rudra) ,why was I running from you when I had to come to you,its my fate.she starts laughing,
Rudra says you laugh weirdly ,it doesn't make noise,how would I understand you are laughing in happiness or sadness,
Paro says to understand me you have to come in heart but without shoes,she start laughing again..
Rudra ask her to stop laughing ,
Paro says you keep ordering me to sit here,dont laugh,I will laugh,she starts throwing water on him,
Rudra grabs paro and comes closer to her.
Paro says dont come so close ,
Rudra ask why?
Paro says my mind stopped,I cant breath.both look at each other.rudra leans closer to paro to kiss her,she is shy and puts hand between their lips.paro closes her eyes .removes hand from their lips.they are very close
Rudra looks at paro and makes distance,they looks at each other little shy,paro runs from there,rudra comes behind her.paro says you are coming behind me like my pearl,rudra says its important to come behind you make some drama wherever you go,paro feels dizzy and sleeps on rudra shoulder.he ask her to get up but she doesn't budge,rudra lifts her in arms ,they come to room,paro says its not our room ,rudra says I don't care I will sleep here,if you wanna go then go alone,pari puts hands around his shoulder tightly and says I will not go anywhere leaving you,rudra smiles ,he puts her on bed,you kick me ,you are not habituated,he puts her on one side of bed and lies on other side,paro holds his hand and sleep with back to rudra,he leans closer to her to free his hand but keep looking at her ,paro holds his hand in her hand,rudra lies on his side of bed and is thinking about her,he again goes closer to her,he again goes closer to her and puts blanket on her,paro holds his other hand too which is around her waist ,they sleep.
In raizada house:
Sandhya talking with kushi in her mobile.she said kushi u know arnav is very angry on rudra.he said today morning I and my wife I mean u both dont talk to rudra.but u all go and meet him talk to him enjoy with him I dont care.
Kushi:says ok aunty.I dont talk to rudra.I want arnavjis happy.
Sandhya says no kushi they both or very adament u just try to change him .he will do anything for you.I saw his eyes full of love for you.and he is so possisive towards u.I know he is slap u but he is hurt when he slap u.
Kushi says I know aunty.he always trust rudra and he likes morethan himself.thats why he is angry now.and rudra also lies na so he is behave like this.but I know he is not forget rudra.
Sandhya:smiled hearing this and says tomorrow ur anjali di is coming so u all came to our house ok.
Kushi says ok aunty bye.
paro is blabbering why major sahab u dont talk arnavji.he is very good u know he likes u very much.
He wants to see ur happiness thats why he dont agree for his marriage.
Rudra:says sleep.I know him .he says I also want to see his happiness .thats why I am talk like that .then only he will marry and move on his life.
Its morning:
Rudra wakes up and sees himself sleeping with paro holding her close.he says paro here,paro turns in sleep and comes more closer to him,she holds his hand and sleep,paro is about to get up,rudra pretends to sleeping,she is shocked to see rudra so close and rudra runs out of bed ,rudra looks at her,he finds earrings on bed and puts in pocket ,paro is having headache,rudra gives her lemon water,paro says its better I will not drink,rudra holds her nose and make her drink in one go.rudra says you did foolishness after drinking wine,paro says wine and me? He says you drank so much that one can make bath,when you cant handle then why do you drink .look at room its not our,paro is shocked,rudra enjoys,he says you danced like monkey in party ,and pulled geeta's hairs,you snatched glass from her and drank more and you also sing very badly,he says I took you from there forcefully ,you were blabbering alot,so I had to....he recalls their almost kiss ,paro ask what ?he says I dont remember ,he says lets go from this room otherwise we have to tell servent too that you were high last night,they goes from there.
In mumbai:
Gupta family also in raizada house.
Anjali and everyone talking each other in hall.anjali talking to kushi.but arnav stare at her.
Anjali ask kushi how is rudra.and his wife.
Kushi:is tensed seeing arnav.
Shashi says raj I want to talk to you.
Raj :says ok.
Shashi says I agree for Kushi and arnav marriage .
Raj and sandhya and raizada family everyone happy.
Arnav look at kushi and smiled at her.
Anjali and akash teased them.
Arnav said I am leaving my room maa .
Sandhya says ok chote.
After sometime
Sandhya says kushi I have one help give this coffee to chote.
Kushi:ask what?
Sandhya ask what happen.
Kushi says ok aunty.
Arnav :count the number 5,4,3,2,1
Kushi enter arnav room.
Voting: (Total Votes: 10)
Mar 25
RAIZADA AND RANAWAT FAMILY (By Indhrs) (Thanked: 10 times)
THANKS TO ALL MY READERS.....
Kushi : enter arnav room with his black coffee, she searching him , she put the coffe in table, suddenly arnav grab her, she landed on the door, her heart beat breathing fastly, he look at her smilingly, she also look at him and lost in her thoughts, she thinkherself whenever i see your eyes i lost everything. wo wo arnavji what are you doing? he says when your quiet , your eyes tell all the truth.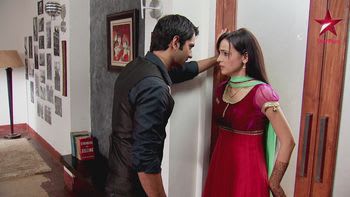 Arnav: he raised his eye brow , and asks what you want ,
kushi : lost in her thoughts..
Arnav: little loudly asks what you want?
Kushi: parro
Arnav: what?
kushi: looked at him and scared of his anger. nothing arnavji your tea...
Arnav: smiled , and says black coffe,
KUshi: wo yea i jsut , anjali called kushiji .....she looked at arnav.
Arnav: kissed her forehead , she closed her eyes, he says go, she nods her head...
kushi came to anjali room, she asks kushiji what hapen ? are you ok, your cheeks ... kushi says i am fine di, why are you calling me,
Anjali: oh kushiji if chote did anything , i mean something something.
Kushi: di please dont tease me ,
Anjali: i am going to jaipur.
Kushi: what? she shouted loudly, anjali closed her mouth and says , sorry we are going to jaipur , i want to meet parvathi and rudra,
kushi: she talk to herself, heydevimayya if arnavji knows this he is angry on me , no di no i cant come with you.
Anjali : is very sad,
Kushi: di if arnavji knows this he will angry on me, you know your chote anger , and you know di i canot lie to him , if i saw him or i see his eye i lost everything ,
Anjali : smiled and says he is very lucky, we will go to jaipur ok, you dont worry.....
Kushi: says but you only take care of me, time start now i am your responsibility, if your chote meet me i will tell all the truth deal ok di.
Anjali: happyly says ok fine thank you.
Arnav: came to anjali room , he asks what are you doing both,
kushi : look at anjali, anjali says nothing chote i mean at the same time garima called kushi, they both try to go but arnav says stop, kushi hold anjali hand tightly, he asks kushi are you ok, your looking tensed , wo arnavji nothing i am fine
Garima: called again kushi iiii
They both came down very fastly, kushi heart beat fastly,
Anjali: aunty kushi will stay here for some moredays for me, i have plan to go outing with my friends,
Garima: ok beta , but carefull ok.
Anjali and kushi is very happy and says thank you mom , & aunty.
Arnav watching all this in upstairs, he is very happy kushi will stay here,
Anjali and kushi talking eachothere in the hall.
kushi: says we will go out di. or your chote come again he ask me so many qustion. then i canot stop my self, i tell all truth to him,
Anjali ; says kushi if you scared like this how can you manage my chote after marriage,
Kushi: says di , we will go please,
Anjali: saw her mom in kitchen, she look at kushi and says come , they both run from there.
Arnav: came down, his mom served him breakfast, he searching kushi ,
sandhya : asks mom where is everyone , your dadiji going mandir. your dad leaving office, mamiji in her room, manohar and akash also leave office. she smiled silently,
Arnav: maa where is di.
Sandhya: i think she is in her room chote,
Arnav; mom she is not in room ,
Sandhya : why are you asking so many qustion , she is not a child,
Arnav: maa where is kushi.
Sandhaya: smiled and says i dont know chote , anjali and kushi both in the hall before sometime.
Arnav: maa they both planing something , they both hide something ,
Sandhya: hold her son ear , chote they both meet after one year, thats why they are going out or meet their frds , dont distrub them ok.
Arnav: maa its paining , i will find out where they both whent, wait a miniute, he called kushi mobile ,
Sandhya: sees kushi mobile in dining table, she give mobile to arnav and says they both are leave their mobile in home chote,
Arnav: angryly leave from office.
Anjali and kushi in the mall, anjali buy some jewellery for parvathi.
Kushi: says di we will go home its already afternoon, i am hungry.....
Anjali: smiled and says ok come.
kushi : asks when we are leaving jaipur, ticket
Anjali: your shyam brother booked our tickets,
kushi: ok di..
AFTER SOMETIME ANJALI AND KUSHI CAME TO SHANTIVAN:
Sandhya: called anjali , when you both going out, you dont inform me, chote asking lot of qustions to me,i try to pacify but , he has doubt on you both and angry to..
Arnav: enter the house , he called mom .
Kushi is like this tensed hearing his voice,
Anjali also tensed and hold kushi hand, she says kushiji come we will go and freshup then we will eat togethere ok.
Anjali and kushi leaveing
Arnav : di your room in upstrairs na , where are you going,
Anjali : start crying , look at her mom , maa what happen to him , he asks so many qustion to me,
Sandhya : anjali you can go and freshup , chote you come lunch is ready,
Arnav: di i am here,
Anjali: little angryly asks whats your broplem chote, i am going to naniji room and fresh up, i think we will have lunch and leave my room,
Arnav: ok di you can go, kushi come i want to talk to you .
Anjali: stop it chote we are already tired, she talk to you but not now , she drag kushi and run from naniji room. and closed the door both of them laugh continuesly,
kushi, and anjali freshup and come to dining table, kushi sit anjali beside , arnav opposite, she looked at arnav , but he dont look at her, anjali also look at him , but he busy with eating.
After sometime kushi and anjali finished their lunch, anjali sees arnav in the hall talking with his mobile.
Anjali in the kitchen , kushi going to naniji room , suddenly arnav grabed her , she landed on his chest
he asks angryly what you both hiding to me. where are you going both in the morning, you dont take mobile with you kushi,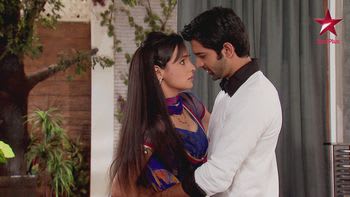 Kushi: wo wo arnavji we are going shoping, why dont you inform maa ,
Arnav: ok leave it , are you hiding something,
Kushi: look at him , she has tears in her eyes, no.....
Anjali: hearing this relifed, and she called kushiji, where are you , shyamji want to talk to you come fast,
Arnav: leave her and wipe her tears , and says i am sorry kushi, bye take care ,he leaveing office.
kushi: silently run from there...
Arnav feel bad seeing her tears,
sandhya , naniji ,and mamiji in the hall they called kushi and anjali,
both came down, anjal asks what maa,
devayani :(devayani nani of kushi, dadi of anjali) she asks anjali whats your plan, tell me i will support you,
Anjali: nothing dadiji i dont have any plan,
Sandhya : asks kushi you tell the truth, she looked at anjali,
Anjali: why are you looking at me like that tell her ... we have no plan,
sandhya : asks oh really anjali, then why shyam booked tickets for you both to jaipur. i saw your mobile, if chote sees this your plan will be closed.
Anjali and kushi shocked hearing but they try to pecify them.
Mamiji: says hello hai bye bye both are very smart.....
sandhya says naniji also come with you then only chote agree this trip ok.go and pack your things its already late,
Kushi: asks naniji ticket, sandhya says shyam booked her ticket also.
IN JAIPUR:
RUDRA AND PARO IN HOTEL ROOM.
Rudra mobile ring, he sees it was his di, he attend the call hello di how are you.
Anjali says i am fine hows my bhabi, rudra look at parvathi and says she is fine,anjali says me , naniji , and kushiji will come to jaipur tommorow.
Rudra: i am happy di, but kushi if arnav knows this he will angry on her, we all know his anger na,
parvathi is very happy hearing kushi name, she looked at rudra,
Rudra and anjali talking eacother sometime, rudra says di ,naniji, kushi came here tommorow they want to see you.
parvati: smiled brightly and asks really rudra ...
Rudra: yes .
how was the update friends
Disclaimer: The views expressed above are member's views and this website does not comply with it. The views expressed may not be factually correct. Incase of any issue please contact us/report it to us.