Aap Mujhe Achche Lagne Lage
Oct 8
Chapter 20 - Friends again!! (By Angel23) (Thanked: 119 times)
"Girls let's roam around this beautiful place.." NK said throwing his hands on air with a smirk.
"When your paradise is here in front of you, why roam around other places.." the girls giggled staring at Arnav dreamily.
NK pouted, "Cheaters.." he went from there and bumped with Lavanya on the way.
"Wait.. wait.. am I seeing well?? Is NK, the playboy being ditched by his girls??" Lavanya smiled teasingly.
"Loser.. you were waiting for this moment only na.." NK put his hands on his hip, glaring at Lavanya.
"Not Loser, but Winner.. do you get that?? You lost because these girls who were all over you, now are behind bhaiya.. means my bhaiya is more handsome than you." Lavanya stuck her tongue like a kid to him.
At the same time, Anjali was running away from Shyam laughing, and she bumped with Lavanya making Lavanya land on NK's arms, his lips unknowingly touched her cheek and his arms automatically traveled to her waist.
She looked at him deeply, and he was also lost in her.
Anjali wanted to say sorry, but seeing them having this so romantic-moment, she didn't want to disturb, so she went from there to Shyam.
"I lost yet I won a kiss from you.." NK smirked.
"Aww.. it wasn't a kiss.. leave me.." she struggled in his arms, NK rolled his eyes.
"You kiddo.. always crying like a baby.." NK pushed her lightly and went from there, leaving Lavanya curse him behind.
Later she smiled a little touching her cheek that had contact with his lips minutes ago, "Pagal.." she muttered and went from there.
************************************
Khushi was quietly staring at other talking with each other, she was sitting beside Nani who was making boring faces to her.
"Nani kya hua??" Khushi looked at her smirking.
"Why don't go and do something rather than staying with a Nani like me??" Nani said pushing her lightly.
"Aww now you're a Nani.. you're so young to be a Nani.." Khushi giggled.
"That's true.. I am really young, that's why I understand things that even you're pretending to not understand.." Nani said.
"Naniiiiii.. I said na, Arnav is only my friend.. not more than that.. you only ask him.. he will say the same.." Khushi said shrugging her shoulders.
"But give it a chance also.. you don't know but love only happens.. it doesn't inform anyone.." Nani said pouting.
"Haan but.." Khushi was about to reply her, but Arnav came and sat with the two, facing Khushi.
"Are you sure you don't want to be my friend??" Arnav asked her cutely "Soch lo.. you don't know what you're losing Baby.."
Khushi looked at him, "Hmm.." she nodded her head as if saying "Yes, I'm sure.."
"You're really bad Khushi.. when you were a baby also you tortured me so much just to accept being my friend..and now you're doing the same thing.. please don't do this with me.. please say yes.. otherwise I will not talk with you Cute baby.. I'm warning you already.." Arnav said everything that came in his mind to convince her.
Khushi remained silent, with a hiding smile on her face. The past flashbacks ran on her mind, when he came in Ratna's room and took her Doll, blackmailing her to accept his friendship, but as always she won!!
Arnav cupped her face, "Acha.. I'm lying Cute baby.. I'll always talk with you.. no matter where I am.. but you should talk with me too na.."
Khushi was about to nod her head, when NK came and forced both to play volleyball with them.
Arnav groaned in frustration, while Khushi giggled seeing his expressions.
Nani sat on a chair and watched the family play volleyball together.
In one group was, Anjali, Shyam, Ratna, Arnav, Payal, Kabir, Mami and some of the girls and in other group was Khushi, Lavanya, Akash, Mama, Radhika, NK and Raj and the rest of the girls.
They start playing, and Arnav threw the ball, Khushi managed to not let it touch the grass, after that Shyam also saved the ball and passed to Khushi's group again. NK grabbed the ball and passed to the other group again.
Lavanya was trying to catch the ball, but was not able to. NK laughed at her face.
Akash threw the ball and it landed on Payal, who let the ball fall.
"Ohhh noooo…" the group made sad faces, Payal smiled sheepishly saying sorry. And Akash felt guilty that he made her lose.
Khushi ran and hugged Payal, "Heyy it's okay.. we will win.." she said smiling.
Payal felt relieved, the ball was handled to Arnav's group and they continued playing.
During the game, girls were purposely clinging to Arnav, sometimes others were pretending to fall on him just to get close to him, it was irking Khushi.
"Why did you brought your friends here??" Khushi asked to Lavanya.
"They wanted to see bhaiyaa.." Lavanya replied innocently.
"Bhaiya is only for you, Lavanya don't you see for them he is more than bhaiya.. look at them.. they are throwing themselves on my Arnav!!!!" Khushi said jealous.
"Ohh sorry.. I will warn them to stay away from your Arnav.." Lavanya smiled teasingly.
Khushi blushed when she realized what she said. The ball came to her direction and she wasn't paying attention.
The ball hit her forehead, "Ouch.." Khushi frowned and rubbed her forehead.
Arnav stare at her side as soon as he heard her hissing in pain. He went running to his Cute baby.
"Are you okay??" he asked and dropped a kiss on her forehead warmly, making Khushi feel as if someone who she has the right to call as her own, was taking care of her.
Arnav rubbed her forehead lovingly, and whispered sweet nothings to her as if she was still that baby who used to cry and he used to pamper her all day to make her feel better.
Khushi nodded, "I'm fine.."
"Who threw the ball to her???" Arnav frowned.
"Arnav bitwa it's okay na.. it's just a game.." Mami said trying to calm him down.
"It's not okay.. what if something happened to Khushi??" Arnav said worried for her.
Khushi stare at him.. Rabba vee.. Rabba vee..
Later, Arnav did not allow Khushi to play volleyball and took her with him to an isolated place.
"I'm fine Arnav.. nothing would have happened to me.. it's normal.." Khushi assured him.
Arnav stare at her without saying anything, Khushi stare at him as if trying to read his face.
"When you were brought to my house, you were a little baby Khushi.. and I made you fall unknowingly.. after I saw tears in your cute eyes I felt so guilty to hurt a fragile doll like you.. when my mumma scolded me for hurting you.. I promised myself that I would never let you hurt yourself when I'm there for you.. that's why even this small wound on your forehead breaks my heart in pieces.. maybe you yourself don't even imagine what you're for me Khushi.." he broke the silence between them.
"You too don't know what you're for me.." she replied cutely to him.
Arnav smiled hearing that, "Really?? That's why you're not accepting my friendship??"
Khushi nodded and started walking with him.
A cute little puppy came running to their direction, Khushi widened her eyes and turned to Arnav. She hugged him tightly.
"Take this dog away from here Arnav.. take him away.." she cried, jumping impatiently and buried her face on his neck.
"Khushi.. calm down.. he is a puppy.. na.. I brought him for you.. don't you like him??.." Arnav pat her back lovingly.
"No.. I don't like him.. take him away.. he will bite me.." Khushi said clutching his shoulder.
"But.. I thought you weren't scared of dogs now.. don't you remember you used to play with that dog near our mansion??" Arnav asked her confused.
Khushi faced him crying, she nodded her head like a baby: Haan.. I used to play with that dog but he left me.. and I don't know where he went.. then I found one dog in a park.. I went to play with him.. but he bite me on my arm.. dekho.. I still have that mark.. I don't want to play with dogs anymore.. I'm scared now..
She cutely showed him her arm where a dog bite her. While the cute puppy was licking Arnav's shoes calling him.
Khushi stepped back a little to hide from the puppy. Arnav just didn't knew if he should smile at the way she cutely told her story or feel bad for her.
"This one will not bite you.. trust me.." Arnav made her sit, and then took her tiny hands to reach the puppy who was very happy in receiving attention now.
Khushi shut her eyes tightly but slowly she started caressing the puppy and then started enjoying playing with the Cute puppy.
"He has something.." Khushi said pointing to a heart shaped locket tied around the puppy's neck.
Khushi analyzed the locket taking it out of the puppy's neck, as soon as Arnav gave her the permission to go ahead.
She opened the heart, and found two pictures on it, hers and Arnav's picture.
She smiled brightly, and looked at him.
Arnav had cute puppy face indicating her to at least now accept his friendship.
"Lo Maine Kaha Tumse Dosti Karungi (Okay, I say that I'll be friends with You) Tum Bhi Kaho Mujhse Dosti Karoge (Now You also say that You'll be friends with me)" she sang smiling and extended her hand to him.
Arnav was about to shake hands with her, but then he smirked and sang, "Dekhunga… Sochunga… Kal Parso Kuch Kahunga… (I'll look, I'll think, I'll tell You my decision tomorrow or the day after)"
He stood up and was going away without her. While the family watched them secretly, the girls were like "Ohh we lost.." and the boys team were jumping in happiness as they won.
Khushi jaws dropped but still she was happy, she knew he was only saying that to tease her as she tortured him a lot.
She went running to him "Arnaaaaavvvv" and jumped to him smiling wrapping her arms around his neck.
Arnav smiled and held her tightly.
(Imagine Arshii)
After seeing Khushi and Arnav together, the family cheered for them happily forgetting about their challenge. They were really happy to see the cutest friends together once again!!
Oct 17
Chapter 21 - I didn't learn how to live without you!! (By Angel23) (Thanked: 108 times)
Raizada mansion:
Arnav held Khushi's hand taking her quickly to his room.
"Arnav what are you doing?" Khushi asked being guided by him.
"I want to talk with you in our poolside.." Arnav replied opening the door of his room, and let Khushi inside.
Khushi sat on a chair smiling, and staring at the pool. Arnav smiled to her.
"You have changed.." he said.
"Me? No.. I haven't changed at all.. I'm still your Cute baby.." Khushi said, shrugging her shoulders.
"No.. I didn't mean that.. I mean you're grown up now.. I was so shocked when I saw you Khushi.. maybe my mind was still on the past.. I thought I would see that cute and little girl waiting for me.. and now I saw a woman.. time flies.." Arnav said.
Khushi nodded, after some seconds she pouted.
"Am I not cute anymore?" she asked him looking at him with big eyes.
"You're Khushi.. you will always be my Cute baby.." Arnav smiled.
Khushi smiled and moved her face near his, he smirked and brushed his nose against her nose, then waited for her to reciprocate.
"Now what was your problem? Why didn't you want to talk with me??" Arnav asked pinching her cheek.
"I felt shy.." Khushi confessed, no matter what happens, to her Arnav she never lies.
"Shy?? Why??" Arnav smiled confused.
"Shy because I saw you after many years na.. it felt strange to talk with you.. it seemed you're not the same anymore.. but then.. today you made me play with that dog.. just like the way you did in the past.. I realized you're my Arnav only.." Khushi said.
"Hmm.. for me it's not that strange because I used to call you everyday.. see if you at least talked with me all these years of our separation.. you wouldn't feel shy.." Arnav said blaming her.
"It's not my fault.. you deserved that punishment.." Khushi said.
"You're still angry with me Khushi.." Arnav looked at her with a worried face, his eyes changed it's color.
Khushi placed her palm on his right cheek, nodding sideways: No.. I'm not angry with you.. I want to tell you that I'm really proud of you.. you know I always prayed for you that you achieve everything you want.. and you did it Arnav.. people screaming for ASR.. seeing you receive awards.. seeing your talent being recognized by everyone.. trust me.. makes me feel very happy.. I'm really happy and proud of you..
Arnav smiled warmly at her.
Khushi closed her eyes and kissed his forehead warmly, "I know you never left me.. you were always with me in my heart.. you said one thing truly in that time of our separation I learned how to be independent.. but listen.. I still didn't learn this life without you.."
"Neither I learned how to live without you.." Arnav whispered.
*********************************************
Next morning..
"Good morning Mumbai.." Lavanya reached in the breakfast table that was in the garden. Ratna specially decided that they would have breakfast today enjoying the sun rays and the view of her garden.
"Stupid.. who said we are Mumbai??" NK glared at her, making space for her to sit.
"Duffer.. I just said that because look we are so many here.. that it looks we are whole Mumbai itself.." Lavanya giggled.
"If we are many then you should go back home.." Radhika gritted her teeth.
Lavanya stopped laughing, and looked down with an embarrassed smile, while NK felt hurt seeing her like that.
"Ma she is just joking.." NK said frowning. Radhika rolled her eyes.
Raj: Lavanya and Payal are also like our daughters and they can stay here when they want.. it's their house also..
Radhika smiled embarrassed.
"Where's Khushi and Arnav??" Ratna asked looking around.
Everyone shrugged their shoulders. But hearing Khushi's laughter all of them turned their heads behind.
Khushi reached on the gate, running and looking back laughing, while Arnav came behind her running also with a smile on his face and his gaze fixed on her.
"I won Arnav.." Khushi declared jumping.
"I let you win Khushi.." Arnav reached near her, drinking his water.
Khushi frowned. Arnav handled his bottle to her, "Drink it.. otherwise you will faint.."
"Nahin.." Khushi looked away, nodding her head in negative.
"Drink it.." Arnav raised the bottle to touch her lips.
"Nooo.." Khushi faced her back to him.
"Acha baba.. you won.. I lost Baby..now drink.." Arnav wrapped his one arm around her waist, hugging her from behind, and his other hand trying to make her drink.
Khushi felt goose bumps now, her heart beat increased with his touch on her. For a moment she didn't knew how to react, she stood still while Arnav was pampering her to drink water.
"Khushiii.." Arnav called her loud. Khushi turned to him, and he made her drink water. She looked at him, while drinking from his hand, and he was only staring at her only.
The one who treats her like a Baby has reached!! How many years passed, and she never received this kind of care and love for her.. Only Arnav pamper her like this.. Only with him she feels she belongs to someone, she has someone who would protect her always.. with him she feels she is special.. she is important.. she means a life to someone…
The family was awed by them, the way Arnav cared for Khushi still now didn't change from the way he used to care for her. Radhika clenched her glass of juice, staring at both getting close to each other.
"Things are not going the way I want to.." she thought.
Ratna smiled, "Where were you both?" she asked as soon Arnav and Khushi approached them in the table.
"Jogging!!" both replied at the same time, then looked at each other smiling.
"I'll just freshen up and come back.." Arnav said to his mother, who nodded.
Mama: Bitiya I need your coffee please..
Khushi smiled and nodded, "You will get it in minutes Mama ji.."
Arnav while walking, stopped and turned to Khushi: I also want coffee..
"Today you're going to taste the best coffee made by our daughter.." Raj said smiling to Khushi, as soon he remembered their conversation.
Mama pouted, "Just don't forget me Khushi bitiya.."
Mami: Me also Khushi bitiya.. it's not only him who gets headaches with his wife, I also get because of him..
Khushi widened her eyes, while everyone giggled silently of Mama's shocked face.
**************************************
Khushi's room:
She quickly walked out of the bathroom chanting on her mind, that she must not forget to make coffee for Mami, Mama and Arnav.
Khushi was drying her hair with a towel, not noticing someones's presence in her room.
Her eyes later landed on him, "Arnav.. what are you doing here??"
Arnav shrugged his shoulders, "Do I need a reason to meet my best friend??"
Khushi nodded sideways, "No.. but you should have called me na.. I didn't see you.."
"I was enjoying seeing you dry your hair.. in your own world.." Arnav smiled.
Khushi blushed.
"You know, you're so so soooooo beautiful.. that if I wanted I would make you AR's top model.. but you see.. you're like a precious diamond for me.. And everyone keeps their precious things hidden.. same I will do.." Arnav said.
Khushi hide her face on the towel, "I'm that beautiful.."
Arnav jumped from her bed, and walked to her taking the towel off her face, he pinched her cheeks smiling, "You look more beautiful blushing!!!!"
"Ahmm.. I found this basketball ball in my room… you kept it for me na.." Arnav showed to her.
"Hmm.. you still remember about it?" Khushi nodded.
"I do.. it's my first ball Mumma brought for me.. I thought it would be in dustbin right now!!" Arnav chuckled.
"None of your things I threw.. they are still safely with me.." Khushi said.
"You know this ball made me remember my competitor in basketball Aman.. do you know about him??" Arnav asked.
"Haan.. we meet often.." Khushi replied.
"Khushi I said I don't like you talk much with boys.." Arnav said jealous.
"WE.. means me, Payal, NK.. everyone.." Khushi said calming him, "I've made all the boys my brothers because of you.."
Arnav chuckled.
24 hours ago
Chapter 22 - Arnav's cabin! (By Angel23) (Thanked: 95 times)
Nani reached in the room clearing her throat.
Khushi and Arnav looked at her startled.
"Arnav your father is calling you.." Nani said to which Arnav nodded and went from there.
"You made all the boys your brothers means Arnav is the only one who isn't and I can conclude now that you love him.." Nani smirked.
"No.. Nani app bhi na.. it's just.." Khushi stammered not knowing how would she explain to her Nani.
"It's just you love him.. accept him na Cutiepie.." Nani caressed her hair, trying to make her confess.
"My Cutiepie Arnav is only my friend and nothing else.." Khushi smiled pinching her cheeks.
Nani pouted and both went to the kitchen.
**************************************
Khushi served coffee for Arnav, who smiled in return thanking her.
His phone beeped.
Khushi: Your phone..
Arnav looked at her, "First your coffee, then phone.."
Khushi sat beside him happily, that he chose her first then his other things, these small gestures by him make her always feel he still cares for her the same way as before.
"You like my coffee??" Khushi asked serving for herself.
"I just loved it.. you will make for me everyday ok??" Arnav said still relishing the taste on his mouth, it's the best coffee he ever had!!!
"Not everyday.. everything in excessive is bad for health.." Khushi said in a scolding tone.
"Who gave you the right to scold to me??" Arnav raised his eyebrows.
"This is a care wala scold for you okay.. and you only gave me that right remember??" Khushi said pointing her index finger to him smiling.
He nodded, "You really didn't forget anything about us!!"
"Did you??" Khushi asked.
"Somethings.. like you favorite things.. I really forgot…" Arnav said with a teasing smile.
"Arnav how could you? Everyone can forget about me and my things, but you don't have the permission for that.." Khushi pouted.
"Just kidding.. even if I lose my memory.. I would remember about you.." Arnav chuckled.
"Acha.. how??" Khushi asked.
"I would write everything about you in my body.. just like that movie Ghajini.." Arnav said.
Khushi giggled and he joined her.
Ratna rolled her eyes, "Food is in front of you and both are ignoring it.."
Khushi and Arnav looked at Ratna, then smiled sheepishly eating their food otherwise they would listen from their mother.
*******************************************
Arnav's room:
Khushi knocked the door of his room.
"Come in.." Arnav said frowning staring at his shirt button that just fell.
"Dammit.. all these things happen when I'm in hurry.." Arnav was busy in his world cursing his life.
"What happened??" Khushi asked him, seeing him whisper things she couldn't hear.
"Dekho (look)" he showed to her his button.
Khushi smiled and shook her head, "There is nothing to be worried about.. I will fix it in seconds for you.."
She went running to her room and came back with a needle and thread.
While she was stitching for him, he was staring at her.
"Everytime I look at you.. I feel like I have to tell you that I love you.. I just can't keep this secret with me anymore.. but my confession has to be special for you.." Arnav thought.
"Careful this needle might prick you.." Arnav said caressing her finger. Khushi nodded.
"And it's done now.." Khushi said showing to him.
Arnav nodded and brushed his hair quickly, taking his bag.
"Where are you going Arnav??" Khushi asked him.
"Office baby.." he answered "And I'm late.."
"Office?? So soon.. now only you reached.. I thought to show you Mumbai.." Khushi said sadly.
"I just have few important works.. and after that we can go out.." Arnav said.
Khushi smiled and nodded.
"Okay.. then quickly change your clothes and I'm waiting for you outside.." Arnav said caressing her cheeks, then he went outside his room. Leaving a smiling Khushi behind.
******************************************
AR..
Arnav reached for the first time in AR in Mumbai. Every employee stood up to greet him; he just nodded and walked in front.
Khushi was still smiling and replying to the "Namaste" alongside with NK, Lavanya, Payal and Akash.
Arnav rolled his eyes and went in the cabin especially made for him, his father came to welcome him in his new office from now on.
"I think I don't need to say good work.. because you're excellent at what you do.." Raj said smiling.
Arnav side hugged him.
Khushi reached with her gang.
"Congratulations for your new home now.." Khushi said smiling, and extended her hand to shake with his.
Arnav raised his eyebrow, and did not shake hands with her: Is this the way you congratulate me?
Khushi smiled sheepishly, "No, but this is like how business people do na.."
"I don't want this way with you.." Arnav said.
Lavanya smiled, "Khushi just give a tight hug to bhaiya.."
Khushi took baby steps to reach him, shyly because everyone was looking at them including the employees who were witnessing the great ASR smiling!
She wrapped her arms around his neck, and rested her head on his shoulder: Congratulations Arnav..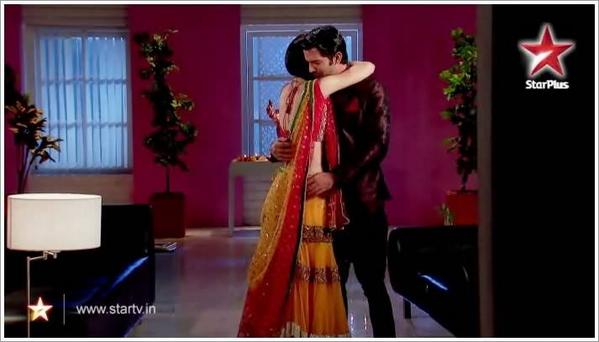 "Now that's how I like.." he whispered only for her.
"Now quickly open this cabin.. I'm dying to see it.." NK said excitedly.
"Then die.." Lavanya replied sarcastically.
Khushi slapped her lips lightly, "Shh.. aisa mat bolo (Don't say like that..)"
Lavanya pouted, "You always are on his side.. what about me?? Don't you see how much he tortures me??"
NK glared at her, "I won't give you that happiness.."
"Don't worry Lavanya.. now I'm here to protect you from this monkey.." Arnav smirked.
Lavanya smiled and hugged Arnav tightly, "Thank you bhaiyaaa.."
Raj smiled at their craziness.
Arnav opened the door of his cabin, Khushi smiled excitedly.
"Wow.." he whispered staring at one particular thing, that was his picture with Khushi hanged on the wall when they were kids, and then it had other pics of them and his family around the huge one.
The atmosphere of the cabin made him feel at home only, everything was simple, stunning, organized.. just like the way he wishes..
"Who did this decoration?" Arnav turned to them.
Everyone pointed their index fingers to Khushi, she just shyly looked down.
"That's why I loved it.. it had your touch.." Arnav smiled.
"Awwwwwww…" both heard everyone saying it with dreamy faces.
Disclaimer: The views expressed above are member's views and this website does not comply with it. The views expressed may not be factually correct. Incase of any issue please contact us/report it to us.