Love is Arshi - Completed
Nov 1, 2017
Love is Arshi (By Nitty_Arshi) (Thanked: 56 times)
Hi guys here goes my first story online.Its a very short one for the time being.I'm quite new in this. plz encourage me if u like it
Main Characters
Khushi Kumari Gupta
played by Sanaya Irani
Khushi Kumari Gupta is a small town girl from Lucknow who was forced to move to Delhi following events related to her sister's cancelled wedding. After her parents' death at a young age, she was raised by her aunt and uncle who consider her as their own. She upholds her faith in god and believes in traditions and customs of her heritage. She is a bubbly and positive minded girl who has the courage of standing up for what she believes in.
Arnav Singh Raizada
played by Barun Sobti
Arnav Singh Raizada is a business magnate who was born into an affluent family. Personal tragedies faced in his adolescence resulted in him adopting a very practical and bitter attitude towards the world where he believes in the power of wealth above everything else. He does not believe in god or any higher power. The extent of his devotion to his family is only matched by his mercurial temper.
Anjali Jha
played by Daljeet Kaur Bhanot
Anjali Jha is Arnav's only sister. She is portrayed as a loving and devoted sister who bears no malice to anyone. She has a slight physical disability in her leg. She is married to Shyam Manohar Jha. She resides at the Raizada family home.
Shyam Manohar Jha
played by Abhaas Mehta
Shyam is married to Anjali and is the main negative character of the show. His obsession towards Khushi results in him plotting to harm Arnav and Anjali. Anjali remains oblivious of his real intentions as he plays the part of a doting husband efficiently.
Payal Singh Raizada
played by Deepali Pansare
Payal is Khushi's sister. Although they do not share the same birth parents, they are more sisters than cousins. Payal is shown as a mature and composed young woman. She is very fond of her sister. She is married to Arnav's brother Akash.
Akash Singh Raizada
played by Akshay Dogra
Akash is Arnav's cousin. They consider each other as brothers though. Akash runs the business along with Arnav and abides by his decisions. He is shown as a sensible person. He falls in love with Khushi's sister Payal and ends up marrying her.
Manorama Raizada
played by Utkarsha Naik
Manorama is Arnav's aunt and Akash's mother. She is portrayed as a frivolous person who values money above everything. Her disapproval of Payal's financial circumstances leads to difficulties in her accepting her daughter-in-law.
Nani (Devayani Raizada)
played by Jayashree T
Nani is Arnav's maternal grandmother. She is the eldest person in the house and upholds the traditions of the family. She has immense affection for her grandchildren and dotes on them.
Nand Kis****
played by Karan Goddwani
Arnav's cousin who is visiting from US. He is a happy-go-lucky person who gets his hindi mixed up.
Buaji (Subhadra Malik)
played by Swati Chitnis
She is Khushi's aunt. Khushi and her family stayed with her after moving to Delhi.
Garima Gupta
played by Pyomori Mehta
Khushi's mother or rather adoptive mother.
Shashi Gupta
Khushi's father or rather adoptive father. He got paralyzed when he came to know about the truth of Shyam . Shyam tried to beat him to death as he came to know his tricks. But he was saved luckily
Plot
Khushi Kumari Gupta (Sanaya Irani) is a girl from Lucknow who was raised by her uncle Shashi (Sanjay Batra) and aunt Garima (Pyumori Mehta) after the death of her parents. She is chirpy, flamboyant and the life of her family. The show starts on the day of her sister Payal's (Deepali Pansare) wedding. Circumstances lead Khushi to end up at the Sheesh Mahal, where she meets Arnav Singh Raizada (Barun Sobti). Arnav is an arrogant, obnoxious and unkind business tycoon who owns AR, the company which was having a fashion show at the Sheesh Mahal. After Payal's wedding is cancelled, Khushi, Payal and Madhumati (Abha Parmar) move to Delhi. There Khushi gets a job in Arnav's company and meets Shyam (Abhaas Mehta), who starts living with Khuhshi's family as a paying guest. After eventually quitting her job, Arnav's sister Anjali (Daljeet Kaur Bhanot) hires Khushi to tame Arnav's westernized girlfriend Lavanya (Sana Khan) into a traditional Indian girl, whom Nani (Jayshree Talpade) can accept. While working at Raizada Mansion, Khushi and Arnav become much closer and learn to understand each other. Meanwhile, it is revealed that Shyam, their paying guest, is actually Anjali's husband but due to circumstances caused by him, Khushi gets engaged to him. When she finds out about Shyam and Anjali, she breaks all ties with him but does not tell the Raizada family because by then Arnav's cousin Akash (Akshay Dogra) had fallen in love with Payal. Payal and Akash get engaged, much to the chagrin of Akash's mother Manorama (Utkarsha Naik). The wedding brings NK (Karan Goddwani), Akash's cousin, who flirts with Khushi and causes Arnav to become jealous. During their wedding, Shyam continues to pursue Khushi leading to Arnav seeing them and thinking that they are having an affair. To prevent any problems, Arnav rapidly forces Khushi to marry him much to the shock and horror of both their families. Khushi, unaware of the reason they married,. .  
Arnav: 
Jab tum mere paas hoti ho...to tumhare dil ki dhadkanon ke saath saath.....mere dil ke      dhadkanen bhi teez ho jaati hai... Hamari dhadkane ek ho jaati hai....jo tum mehsoos karti ho.....jo mein mehsoos karta hoon........
Khushi:
Hamari dhadkanen...
Arnav:
Ek ho jaati hai
rabba ve plays.......................
Khushi lets a tear fall down from her right eye.When another tear is about to fall from the other eye,Arnav wipes it off.
Arnav then lifts her up but then he changes up his mind and makes her sit on the poolside,keeping her hand on his chest..khushi tries to release it but he denies.he then slowly kisses her on her forehead.khushi says that this is their first kiss after marriage. Arnav then gives a side smile with one cheek muscle jutting.Anon there was a  silence. Arnav kept staring at Khushi and the pool side water reflection falling on both their faces made them look so good.Both were lost in the world of love.Then a sudden ticklish sensation in his lower stomach made him feel something new.He had seen many girls in his life and that too as a suave businessman he had a lot of exposure.He had been to so many places from getting a degree in Harvard to attending Business meeting in various places nothing proved his existence but khushi.... 
He then felt frisky. He is usually an expert when it comes to hiding his emotions.But he couldn't stop this time.he then soothed her hair.It made Khushi vellicate. She tried to convulse but she couldn't.She had never even touched a man in her life before and something was in Arnav which made her feel fortified and retort to every sinew of his. Arnav couldn't help but he then made her to stand up.He kept staring at her while doing so.khushi looked discombobulated.She didn't know what was in there for her next.He then promptly lifted her and khushi insufflated with her eyes closed.Every touch of his made her to retort him back.He then walked her inside the bedroom still gawking at her. Khushi looked so hot.He then stowed her on the bed.He locked both the poolside and the bedroom door.He then quickly looked inebriated.Both were intoxicated by bhaang and also because of each other. Khushi looked agleam for Arnav as he was also addled.He then smooched her on her forehead,then her left cheek and then her right.khushi wheezed on every flurry of him.khushi then catechized him.he looked sagaciously at her.she knew what was coming for her,she knew what is going to happen,yet pretended to be oblivious as she wanted him to first take charge.he lowered his face partly closing his eyes.khushi closed her eyes tightly but still wanting it.Suddenly,there was a knock on the door.it was Anjali.
Anjali: chote darwaaza kholiye..neembu achar laayi hoon.
Arnav then fulminated the time.Where had di been few minutes before.. Is this the right time to be called for ameliorating the "bhaang ka nasha"...?Khushi and arnav steadied themselves.He then unlatches the bolt and opens the door a bit wistful.
Voting: (Total Votes: 45)
Nov 3, 2017
Love is Arshi (By Nitty_Arshi) (Thanked: 55 times)
hi guys....Thank you soo much for your thanks,votes and comments....Here continues my story...
Anjali beams at Arnav...she asks "chote...where were you i was searching you and Khushiji"
Arnav replies"nothing di I was just tired!" in a sloshed manner. Anjali says"okay the....." but gets interrupted seeing khushi and notices her red cheek.She gives a side shy smile and asks mischievously "Khushiji are u also tired?i think u r tired of chote". Anjali remembers Arnav saying in Flashback "Kisi ko ye janne ki zaroori nahin ki agar hum akele hote to kya karte."Anjali snickered .Arnav then says in a dreamy voice "Haan di"..Anjali says"OMG chote.....this bhaang has got you ludicrous.Here,everybody else is done with the neembu achaar except u two.That's why I came upstairs.Don't forget to eat it."Anjali first thought of staying to see them eat . But then thought that Bhaang ke nashe mein toh Chote Aur achhche lagte hain and she went hoping to see them like this always. Arnav then gets inside and asks Khushi to eat it.Arnav is abt to eat but before that he says "I want to say something to you Khushi"Khushi says " Haan boliye na.."(ya tell me).But Khushi had started eating the lemon.Then Arnav didn't say anything further and started eating the lemon.They both felt acrid.Then Khushi stood up suddenly and went near the poolside and saw the Bowl filled with red water.She went to clean up.Arnav felt a slight headache and stared here and there anticipating. Khushi asks Arnav "Do you remember anything?".Arnav replies "No..Tumhe?"(you).Khushi Flashbacks everything and replies "No".
TV ROOM
Everyone assembles in the TV room to watch the holi video.Anjali announces that she has recorded everything today and shows everyone the videotape of the holi party when ArSHi apply colour on each other and how they get bhangified
Both are shocked seeing this. Anjali draws a contrast on how Arnav never used to play holi, drink bhang and dance but now he does. Arnav gets annoyed but Anjali continues pulling his leg and showing everyone what all ArShi did when they were high. Anjali says whenever they're high, they say whatever is there in their heart and this further shocks them.
ArShi Room
Khushi enters and asks "you said you wanna say something to me.What was it?"Arnav gets a bit panic-stricken and says "I said that I didn't remember anything right?".Khushi then asks "why did you drink bhaang then?".Arnav gets angry and says "Stop asking me silly questions.." .Khushi too gets angry saying "What silly questions?when you need to know about something I am answerable.But when I ask somethig then its silly..right?Okay fine this is a silly question..But what abt the marriage?? the six months contract??Its not a silly question right? because as a temporary wife I ought to know about it.....!I am tired of all your denounces!why did you blackmail me on the marriage?why did you say that you won't allow jiji to get married to jijaji if i disobey?why did you forcefully made me wear the sindhoor and mangalsutra of your name?why am I Mrs.Arnav Singh Raizada all of a sudden?I want answers now....!".
Arnav's face turns red with rage.He fumes with anger saying "How dare you! How dare you raise questions to arnav singh raizada?"
khushi takes a step forward to come in front of him and says"kya kar lenge aap?"with her hands folded. Arnav now got his anger engorged and retorted holding her hands and pushes her to the end of the wall.
Arnav replies "Kyunki tum bekar ho..Tum se baat karna bhi bekar hai....tum mere jawab ke laayak nahin ho...you deserve every pain"(because you are waste.Its a waste of time talking to you.you are not worth my answer) Khushi fumes in anger and tears fell like waterfall without blinking.She says "ab samjhi yahi baat to us waqt aap kehna chahte the"(now I understand.this is what u were trying to say that time).Arnav released her hand in a shock about to say no..but he camouflages it.He further adds "5 mahine aur kuch din uske baad tum aazad ho jaogi...tumhe kya laga? Ek arnav singh raizada jaisa insaan tujh jaisi ladki ke chakkar mein pada rahega,din raat tumhare qayalon mein apna neendh udayega? agar aisa hai toh abhi kaan kholke sunlo Tum pyar karne ke liye laayak nahi ho. aur..."
(5 months and some more days then u'll be free..what did u think?A person like ASR would fall for a girl like you,wasting his sleep day and night? If this was it then listen to me opening your ears tou are not worth loving..and...)
Khushi jeers saying "bas!hum aur nahin sunna chahte..hum aapse koi sawal nahin poochenge..Khush?"(enough!I don't wanna listen more..I won't ask you any questions.Happy?) with that she turned and bestirred out of the room about to lament bt not in front of him.while going out she sees shyam smiling dexterously. Khushi tried to avoid him but he impeded saying "Arnav ka jawab toh naa sahi par mere sawal ka jawab toh aapke sawaalon ne dey diya!"(Not Arnav's question answers but you have answered my questions through your questions.) Khushi blazed at him saying "I am warning you now!Don't you dare come in between me and my husband..."She further adds presumptuously "shaadi se pehle toh aapke taraf se sirf anjali di hamere beech thi par abhi toh mera aadmi bhi hai!kya karenge aap?Ek to pati patni ke niji baatein chupke suna aapne, yeh sunke aap mujhe dhamki dene ki koshish mat karna!"(before marriage only anjali was between us but now there is my man too.What will you do?you heard personal conversation of husband and wife.Now don't try to threaten me) Shyam still smiles slyly..Khushi leaves the place.Behind was Arnav listening to this conversation in a trauma both in anger and a new eminent feeling for his wife. Shyam's smile fades away seeing Arnav.Arnav comes to him and says "suna tumne?ab hum dono ki shaadi ho chuki hai...shaadi ke baad woh bhi badal gayi hai...Ab toh tum kuch bhi nahin kar sakte..."(did you hear that? we both are now married.she changed after marriage.Now u can't do anything).With that arnav snorts and leaves the place. Shyam says to himself mischievously "dhamki dena toh maine ab tak socha bhi nahin!!!"(Till now,I don't even have an idea of threatening")
Dinner
Everybody assembles in the dining table.khushi serves chappati to arnav with a sad face.Arnav stares at her.He remembers how badly he had treated her.he then remembers how khushi confronted shyam and starts feeling illustrious about her.He tries offer an helping hand.But she denies.He cursed himself for being very bad to khushi but he wouldn't budge to ask sorry .(ego Raizada...)
Bedroom
khushi is sleeping outside.The scene between shyam and khushi disturbed arnav the whole night.
How khushi said "mera aadmi"(my man).How she glared at him saying not to meddle in between them. He stares at her thinking of her reply to shyam as well as the terrace scene where he caught shyam hugging khushi. His mind wavered between the two scenes.How did Khushi say such a thing to shyam if she had feelings for him?Did she really change after marriage or was there something else missed? He was perplexed with the thought that khushi had retorted shyam back for his sake.He had talked about their relationship with Shyam but till now he had never asked to Khushi about it.He suddenly realized that there is something which he didn't know.A truth that is well concealed. He thinks of asking Khushi about it the next day.For now its better to make things stay at rest.His head was paining as if it would burst anytime.He kept both the pillows on his ears and went to sleep.
Nov 5, 2017
Love is Arshi (By Nitty_Arshi) (Thanked: 57 times)
Hello guys,thank you all for your votes, comments and thanks. I plan to thank you all individually but since I am working on my plot as well as my personal work I could't do so.I am reading all your comments and am also taking suggestions from it. Apologies. You might find this update to be a bit similar to that of the serial. But trust me there's something really good coming ….So this was needed.
In the morning, Khushi wakes up. The yellow rays of sunlight incident on her face make her smile a bit. As she is afraid of Darkness,on the contrary she likes all kind of lights. The yellowish colour of the sunlight makes her feel bright and fresh. She then winds up her quilt and her pillow, comes inside the room and draws the curtain, meanwhile Arnav wakes up as light falls on his face and gets up. He sees Khushi and tries to open his mouth about the previous day events but Khushi flouts him. He then decides to deal with her later. Her anger was reasonable. He then went out for jogging. Later when he comes back to his room, he sees his dress on the bed. Khushi had kept it for him without a word. He tries to Talk with Khushi But instead she goes out calling for Lakshmi (the goat).Arnav doesn't like Khushi ignoring him. He tries to talk to her at least an eye lock word do things. But Khushi never gave away the chance for it. In the dining hall, she kept serving others and then ate her breakfast without even noticing him. Arnav was little taken aback. He then leaves for office with akash. Payal asks maamiji to taste the halwa made by her. Mamiji tastes and snorts saying "this is similar to aata".(wheat flour mixture) Payal gets upset. Naani notices all this and says "Manorama,laghat hai bhang ka nasha to aapse hata nahi. Ab tak aap bhang ke nashe se naahi utare ho ihliye aapko halwa bhi aata jaisan lagat hai ."(Manorama I think you still are in a drunken state.so that's why even halwa for you looks like aata..)
Anjali and Khushi giggle. After winding up the table,Anjali,Nani and mami goes out. They ask Khushi to join them but she denies. Khushi remembers the harsh words said by arnav.She bursts out into tears infront of raizada's temple and vents out her anger to devi maiyya "Arnav ji was right I am not worth loving.That's why you took away my parents early.I cannot maintain any relation for a long time. When I was 8 years old you took away my parents,now within few days you separated me from my amma bauji, now after 6 months I will be separated from my husband and that too a person who hates me the most.Every girl has a dream about how her man would be.I just wished having a person who loves me. But here I have a person who says that I am not worth loving."
Khushi moans crying.Shyam meanwhile clears his throat and says"sorry Khushiji…sorry for everything.." Khushi wipes her tears and tries to move away.He says "I will give you all the answers for your questions."Khushi stops then closes her eyes.he adds "I know the reason why saalesahab married you." Khushi looks at him aghast . "But before that you must forgive me for what I have done and promise me not to tell Anjali anything".Khushi says"it's a waste of time talking to you..U say sorry and do the same mistake again and again."Shyam says "but think this time you are getting benefitted. Arnav is not going to open up the reason to you no matter how much ever you try.So it's a do or a die situation.."
Khushi says "tell me, what the hell do you know?"
Shyam tells everything from the beginning.When he ends Khushi's face was appalled.She says "how dare you do so such a thing.How dare you fill contagion on Arnavji's mind. Who asked you to lie him saying even I am interested with a snake like you."Khushi was about to slap shyam but then she sees Anjali coming inside with nani and maami. Shyam says that" I already said that I am sorry for what I have done.Then why would I come and tell you the truth on what happened".Khushi says "I don't believe you". shyam says"but….." Khushi stops him saying"I don't want to talk anymore…" and goes away. Shyam smirks.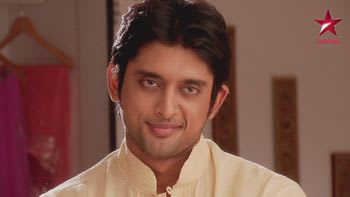 In the evening when Arnav comes back home,he eats seeing Khushi's eyes red and couldn't do anything but feel sorry for her.Payal makes Akash comfortable and he responds her in a loving manner.
They both notice them and share an eyelock. How things should have been and how things ended up between them.Arnav remembers their moments and time spent with each other.How he felt weak on that Diwali night and was forced to kiss her, How he felt when he saw Khushi in rain, how he felt when he slipped and fell on her while she was placing rangoli colour on the floor. Then khushi turns away. Then they see akash and payal going to their room with hands on each other's shoulders. Akash talks sweetly to payal and she blushes reciprocating him.
ArShi also go to their bedroom. Arnav says "Khushi….mei.."(Khushi….I..)Khushi gets hurt when he tries to open the poolside door. She wails in pain as a big brown spot comes in her hand..Arnav quickly gestures her to show her hand but she denies saying "I deserve pain right? This is what I deserve.."Arnav was about to say something but stops thereby.She further adds "I know why you married me"Arnav looks shocking at her.She says "I came to know today that you thought me to be sooo cheap…Do u think I am this cheap?you believed his words?ek baar… agar ek baar aapne mujhse pucha hoga ki mere aur shyamji ke beech kya hai.Well, even if u haven't asked me how could you think like that?? you wanted to know how I feel about him right? toh suniye! Uss aadmi se judne se pehle hame MAUT MANZOOR THI"
(once...atleast once you could have asked me what was the relation between myself and Shyam... you wanted to know how I feel about him right? then listen...before being his possession I would accept death)
Arnav looked appaled. Khushi says all the truth to him.Arnav holds her saying "why didn't you tell me before?"But then his face changes suddenly and he pushes her away saying "I don't believe you!".Khushi says "what I have said is the truth."arnav says "I heard you saying to Shyam about leaving Anjali"Khushi cries saying "I asked him to leave because he was not worth for her…he was not worth her love and care..just leave it .what I've said now is the truth".They keep arguing.
Meanwhile Shyam on the other side was listening to their conversation as usual. He smirks seeing them fight.He calls up Anjali,Nani and Mami saying that everything is not going well between Arnav and Khushi and asks them to come upstairs.They listen to their argument. They hear Arnav saying to khushi "tum jaise choti Haisiyat ki ladki log aise hi karte hain".( girls from low status do like tis only). With that naani bellowed "chote!!!!"Arnav and Khushi are shocked seeing the whole family .There, nani reprimanded "I was listening to everything,how dare you talk like this?". Arnav doesn't seem to care. She says "Is this the way you talk to people?She might come from a poor family but that doesn't demean her values. Whatever, she is now a raizada's bahu,your wife".(daughter in law).
Nani says to Khushi "It's been a long time since you have been to your mother's place. Both of you go there for 2 weeks so you can have some change ".Arnav interrupts "par na…".(but...)
Nani snaps and says "par war kuch nahin..Its final and I don't want any more sound in the house. Understand?".(no if's and but's )
Khushi and Arnav nod their head. So everybody cleared off. Shyam was a bit taken aback since what he had intended didn't happen. But he had something more vital to concentrate than this. What was it?
What was Shyam planning to do? Why did Shyam himself say the truth to Khushi?Why did he tell everything? Was there something waiting to be bared? Why didn't he blackmail khushi in exchange instead asked an apology to her?
Nov 6, 2017
Love is Arshi (By Nitty_Arshi) (Thanked: 31 times)
Precap. Uncleji asks Arnav "where is your wife? She is a very sweet girl.She had danced that day with everyone so well...".Arnav was about to answer and Khushi comes walking with a baby bump holding her right hand on her stomach..she comes to Arnav walking slowly. Arnav has his mouth wide open.....
Nov 8, 2017
Love is Arshi (By Nitty_Arshi) (Thanked: 67 times)
Hello guys!! How are you all?Thank u all for the 100+ thank you and 3500+ views. Today, the track will be an interesting and a long one… scroll down and enjoy.Don't forget to hit the thank you button.
Arnav thought of asking payal whether what Khushi had said was true regarding Shyam. Then he thought about Anjali and made up his mind not to discuss about this matter for few days. Already his head felt like bursting. He badly needed a proof to expose Shyam. He is a vakhil and would know all ways and loopholes to escape. A proof that could make Anjali herself throw him out of the house, a proof that could make him believe that Khushi was innocent. He was perplexed by the thought whether he must believe Khushi or not. Arnav decided not to meddle in this topic for few days as it needs careful planning.
Next morning, Arnav wakes up and sees khushi packing bags for both of them to depart for buaji's house. Arnav denounces the time. He thinks "how can I adjust in buaji's house and that too with this pagal..? Better I'll make a plan to get rid of this place." He raises his eyebrow. Khushi and Arnav get ready and go down to eat. All are in the dining hall. Nani asks whether all packing is done or not.Khushi says yes. Arnav has his phone nearby and keeps seeing it.
Nani asks "chote… eat your food. At least forget your work while eating." Arnav answers "no nani I am waiting for an important call from aman and.." Suddenly his phone starts ringing, he answers "hello…ya aman…but……can we postpone it?.....oh no….don't worry I'll take care."
Akash says "any problem bhai…?"
Arnav says "remember the client from Nainital? Where I was supposed to go a year before and…" Anjali interrupted saying "Khushi ji also came with you that day right?" everyone gives a shy smile. Arnav says "di…plz"
Anjali says "ok baba..sorry."
Arnav continues saying "They have scheduled it tomorrow so I have to go there by 12.00 pm."
Akash asks "what time is the meeting? Can I join you bhai?."
Arnav replies "at 1.00 pm and no I'll manage. They said this time they want it to be held without fail." Completing this he glares at Khushi. Khushi catches what he had intended.
He further says to Nani "I think I won't be able to join Khushi at gupta's house so let her go there alone.." Nani says "no need chote if Khushi has to go then she must go with you, finish your meeting and then you both go there.."
Arnav looks shocked and says in a disturbing manner "par nani….."
Nani says "no chote I don't want to hear anymore. It's my order ." Arnav looks flushed. They all clear up after eating.
Shyam meanwhile looked fidgety and roamed here and there.
Anjali asks" what happened Shyamji why are you so restless?"
Shyam answers "nothing Rani Sahiba just that I am wondering about a client's profile."
Anjali says "offooh you keep thinking about your office everyday come, it has been a long time since we have spent time together.."
Shyam says "par..Rani Sahiba.."
Anjali interrupts "aapke bacche ki kasam." (promise...In the name of your baby)
Shyam says" Achcha baba…hum aatein hain.." (okay okay I'm coming)
With that, Anjali drags him smiling.
Arnav is in his room looking tensed.Khushi gave no notice of him. She took some of her clothes outside for the next two days. Arnav asks khushi to sleep in the bed but she denies. He tried to force her but stops thereby not wanting any drama again.
Next morning, he wakes up and sees the most beautiful yellow colour. Not the sun rays but something which beat even the rays of sun. It was Khushi looking in the mirror wearing a beautiful yellow colour saree combing her wet hair. For a second Arnav had thought of being a right royal husband of Khushi. He keeps ogling at her. He saw her hips looking so beautiful. But then he remembers having a meeting and goes to the washroom he takes one glance at her. Khushi got up so early. Khushi goes down and takes the puja thali.
Nani asks "Khushi bitiya ka hui gawa?why you woke up so early today.?" (What happened you woke up so early)
Khushi answers that she has to go to temple today.
Nani says "eat and then go na.."
Khushi says "no nani I have to go now itself I'll eat after coming back."
Nani says "par..bitiya you didn't eat well yesterday so you might be hungry."
Khushi says "nani I'll manage."
With that she hurried from the place for some peace. Khushi was so upset with the recent days happenings. She thought to go to the temple for some solution.
She goes outside and sees two cars parked parallel. She just went and sat inside a car. The door opened so she thought the driver might have gone somewhere nearby and saw the keys placed in the car with handbrake.Suddenly, she felt dizzy and just laid flat unconscious in the car. Arnav was outside talking with Aman in his Bluetooth. He then checks the car's boot space to check if Khushi is there like she was that day. He let out a moment of relief and sighed. He gets another call and quickly goes to start the car.He thereby checks the petrol too as last time Khushi emptied the petrol. It was full. He then starts the car and the car vroomed.Meanwhile the driver in the other car thought that maybe Arnav had decided to drop Khushi so he went to park it in the shed. Arnav didn't notice Khushi and kept talking in the phone. Then suddenly he sees Khushi in the back seat of the car laying flat.he is shocked. He says "Khushi…Khushi answer me dammit..!". But Khushi laid unconscious on the back seat. Arnav gets down,opens the back door and goes to Khushi and wakes her up by beating her cheeks. But Khushi doesn't get up.
He sprays water on her face and she murmers "Arnavji…Arnavji". Arnav's eyes popped up.
He remembers once waking up Khushi during the nanital trip when she got ill.She had murmered Amma and buaji.
But now he realises that Khushi has an important place for him in the heart. He felt a word of proud on her. He gestures Khushi to wake up. Khushi wakes up and he makes her drink water.
Arnav asks Khushi "tum theek ho?"
Khushi says "yes".
Arnav asks her "How did you come here ?"
Khushi says "I was about to go to the temple but I think I got in the wrong car."
Arnav says "I think I won't be able to drop you back this time, I am getting late for my meeting."
Khushi says "I'll take a cab".
Arnav says "no need..you are not in need to go home like last time.Remember? we are married now. You are my wife now. Your parents won't be worried about you. Come with me."
Khushi stared at him for his words. Arnav couldn't help she looked the most beautiful today since morning and words came out from his mouth automatically. They had an eyelock.
Khushi says "I'm hungry".
Arnav says "how are you supposed to find a hotel near this forest, we are out of the city." Khushi says "remember the dhaba we went I think it might be here only somewhere nearby."Arnav says "Khushi I am getting late..Okay only if you promise me not to take a long time there by talking to people."Khushi says nothing. She doesn't feel like saying thank you or sorry to him after had happened. Arnav parks the car and they both walk.They both go and see the washroom where Khushi's clothes was stolen last time. How she had to wear the dress of the girl who had eloped. Both see each other and turn away. They see the Dhaba from far off. Khushi says "I'll come you keep going".Arnav says "what will happen if you faint again?".Khushi says "I won't aap jaake baithiye".
Arnav walks to the Dhaba and sees the same old couple who were there last time. He sits in one of those seats. Uncleji asks "boliye kya chahiye?"( tell me what yo u want)
.Arnav says "another person is also coming..how are you paaji? Remember me?".Paaji says "hoi tu vahi hai na chocolati pati?". ( hey u... that chocolati pati(he used to call him by this name.))Arnav says "I guess so".He comes out and hugs him. Auntiji sees them and welcomes him happily. Uncleji asks "Where is your wife?She is a very sweet girl .She had danced that day with everyone so well…"Arnav was about to answer and Khushi comes walking with a baby bump holding her right hand on her stomach.
She comes to Arnav walking slowly . Arnav has his mouth wide open. Uncleji and Auntiji are so overwhelmed seeing her. They both kiss her together.
Auntiji asks "haai meri bachchii tu maa banne wali hai..".( hoo..chid you are going to become a mother)
Uncleji says "koodi aaj tujhe free khaana milega". (you'll get a free meal daughter)
Khushi becomes very happy. Arnav who could't understand all this wondered in awe. Khushi gives her order. They both go and prepare the food.
Arnav says "Khushi ye sab kya hai?".(What is this Khushi)
Khushi doesn't answer him.
Arnav says "answer me dammit."
Khushi says "remember we are married a year before for them so…"
Arnav says "sso? ".
Khushi says "so since it's an eloped love marriage I must be pregnant by now for."
Arnav answers "what the….Khushi ye sab karne ki kya zaroorat hai? Aur love marriage hone se 1 year mein pregnant hona zaroori hai kya?"(what the Khushi....what is the need to do all this?? and is it necessary to get pregnant after a 1 year love marriage)
Khushi says "dekha mein kitni smart hoon".( see..How smart I am..)
Arnav slaps his forehead.
Uncleji and auntyji come and ask them "aap dono ne us din ham sabse jhoot bola naa..( you both lied that day right?" ) Khushi and Arnav are appaled..
They say to them "The girl who had eloped that day was caught 2 days later, both there parents had an argument and went to the police station. But nothing could be undone so they had to marry them officially. Now even that girl is also pregnant. Aap ne us din jhoot kyun bola?( why both of you lied?)
Khushi says "sorry Auntiji,sorry uncleji.My clothes were stolen by her to avoid any further questions and confusion I had to lie..and...".
Uncleji says "oye koi baat nahi koodiye….tu khaana khale bachche ki liye dho guna zyada khana padta hai.."( no worries daughter you need to eat twice for your kid) Arnav lets a side laugh.
Khushi starts eating. Arnav looks sagaciously at her.She looked so beautiful in the yellow saree. He looks at her neck feeling tempted. Her free layered hair looked so pretty and suited her well. Arnav smirks and says to Khushi "Khushi, tumhe nahin lagta ki ye dhaba ek time machine dhaba hai??" ( don't you think this dhabha is a time machine dhaba?)
Khushi asks "kya?"(what?)
Arnav looks at her and says "humne jo jhoot bola wo sach ho gaya. Last time jab hum yahan aaye the tho we were married for them. But see now, it became true. Ab tum pregnant ho to kal ko ye sach bhi ho sakta hai.." (What we had lied became true.When we came last time we both were married.But see now, it became true. But now you are pregnant, this might also become true tomorrow)
Khushi's jaw dropped hearing this. Arnav smirks.
He further adds"you have to make this true since you have already cheated them by telling a lie. Now you have no other option but to make your lie true." He couldn't help himself he was supposed to be angry with her but here he is teasing her.
Khushi says " Aisa ho hi nahi sakta…….hum hone nahi denge". (this won't happen...I wont make it happen)
Arnav says "yeh drama karne ki zaroorat bhi nahin hai..tumhi kehti ho na ki Devimaiyya kuch bhi kar sakti hai…".(This drama was not needed....it's you who'll say right? Devimaiyya can do anything)
Khushi says "I don't want to talk to you ".
With this they finished their breakfast and they left and waved bye to uncleji and autiji. They say "Agli baar bachche ko saath le aana….".(Come with your child the next time)
They both leave the dhaba.
Khushi asks Arnav to wait since she has to get rid of the fake bag and goes to the same washroom. Arnav says "kapde sambhalke…"(take care of your clothes).Khushi gives him a glare.
He adds "Jaldi karna I've got meeting in Nainital…".(change soon..)
Khushi comes back and when they both try to depart,a set of goons come and attack Arnav.A goon comes and says to Arnav "that day you beat me hard right? Ab dekh mein kya karta hoon…."(see what i'll do now) With that he beats Arnav, he couldn't escape. Khushi was anguished seeing him in pain. She shouts "Arnavji…Arnavji".
One of the goons sees her and say "look this girl looks soo beautiful…her saree….her eyes….her nose…..her mouth…..her neck…".He could't continue more.
He was now beaten up by Arnav massively. A new set of goons were visible from far off and were approaching them. Arnav knew he could't manage all of them. He holds Khushi's hands and says "Runnnn..". They both keep running. They try to find their car but couldn't do so. They had lost their tracks. They keep running.
Khushi pants and says "Nahin…..aur nahin hum thak chuke hain…". (no.. not more i've go tired)
Arnav says "No Khushi u can't give up they are coming after us..".
They hide behind a tree and Khushi hugs him tightly dreading. Arnav realizes that he is holding her bare waist. He stares at her closed eyes. The sound of goons then distracts him. He looks at them behind the tree. Twilight was approaching suddenly it starts to rain heavily. All the goons wondered what to do. They had come to the inner part of the forest.
One of them said "Its raining and its getting dark they are not really important for us…they are not worth our search…come on… lets go".
With that everyone goes away. Arnav and Khushi let a sigh of relief. Arnav checks his phone and it doesn't open, he cursed. Khushi is still hugging him. Arnav looks at her and gestures her to release. Khushi releases looking here and there. It was heavily raining outside.
Khushi says "Ab hum kya karenge…..?".( what are we going to do now)
Arnav puts his five fingers on her mouth and said "shhh….."
They both were very close and that too in the rain, it made Arnav uneasy. Arnav says "lets keep walking we can't stay in this rain like this..".
Arnav was holding her wet hands. It made him feel a slight tickle on his lower stomach. He felt like pulling her and taste her lips. After a five minutes of walk, they see a hut obscure. Both let a sigh of relief. They both get inside.
They see no one inside. It was a store room for farmers to store the haystack. Arnav wonders whether anyone would come at this time and that too in this weather. Arnav locks the door. The hut had three to four lamps.
Closing all the windows he blames Khushi saying "Again,….. Again…., I have missed a meeting just because of you..tumhe andaaza bhi hai ki ye deal kitni important thi hamare liye..?" (do you even have any idea how much this deal was important for us?)
When he closed the last window saying "aur..tum…" (and.. you...)he turns to her and that's it…
He was completely lost.
Khushi was drying her free hair. With the yellow colour saree and the yellow colour of the lamp light, he could see her transparent. This made him randy.
He keeps gawking at her. Her hip curves were visilble along with her inners, her milky white complexion. That's it, it turned him on completely.He started approaching her. Khushi notices him and is puzzled. She looks at his eyes and senses him peering at her.
He takes his step one by one approaching her. Khushi's heartbeat increases fast. She starts panting and takes step backwards. He is is coming forward and she is going backward. She finally hits the wall. She tries to escape but he catch hold of her. She tried to convulse but she couldn't.Khushi is shivering because of her drenched dress as well as his effect on her. He nears her and near and near just half an inch between their lips and near and that's it. Khushi felt his lips on hers. She wheezes and then retorts him by keeping both her hands on his head and smooches him passionately. They kiss for a long time. Then Khushi releases gasping. Arnav hides his head under her neck and breathes. Every breathe of him made khushi shiver. His touch made her feel protected.
Khushi looks at him saying "Arrrnnnavvji…..".
He gawks at her and lifts her promptly. He walks her and makes her stow on the hay. He kisses her forehead, then her nose, her mouth ,her neck,and she turned,he undid her blouse and her saree and saw the most beautiful creature god made.(If god exists for him).His mannish firm touch made her respond to every gesture of love made by him .They were lost in the fury of love……
Precap:
Khushi cries and bellows at Arnav "kal mei maa ban jaaongi toh….?" (What if I become a mother tomorrow?)
Nov 17, 2017
Love is Arshi (By Nitty_Arshi) (Thanked: 49 times)
Hello guys how are you all doing? Thank you to Medsuper, Vasuarshi, Kpoonam ,Tparviz, Londoner, arshigeet , Lily30 for your warm comments. Will promise to write more interesting updates. Sorry all for the late update.. Ok Ok Lets go to the update...
Filtered rays of sun from the holes of the window railings fell on someone. Oh its not one but two of them. Khushi and Arnav were on top of each other sleeping serenely. They both had a wry smile on their faces but in a positive way. Suddenly Arnav woke up as the light fell on him. He then saw Khushi having a slight smile on her face. He rubbernecks at her beauty. He soothes her hair. She susurrates "Arnavji....".
Arnav gives a coy smile. Khushi Wakes up and Arnav appears from obscurity to clear view. He gives her a smile. But Khushi's face suddenly went dread stricken. They both hurriedly wore their dresses. It became dry and the climate also was warm.
Arnav asks "Khushi..... tum theek ho..."(Khushi are you allright?)
Khushi yells suddenly "theek?? Theek?? Hum kaise theek ho sakte hain..?"(alright alright how can I be alright?)
Arnav asks in a puzzling manner "par Khushi.....Aisa kya hua ki tum aise react kar rahi ho???...Hum shaadi shudha hain aur....". (But Khushi what happened which made you to react in this manner. We are married.)
Arnav curbed. Then something hazy came to his mind but he was unsure about it.
Khushi said in a teary eye "par hum shaadi shuda sirf kuch mahinon ke liye hi hain..." (we are married just for some months)
Arnav's head was struck with a hammer of senses.
He then blurted "THE CONTRACT.............!!!!"
He then realized the blunder he had made. Khushi yells at him "Aapne aisa kyun kiya...Jawab dijiye hume Arnavji...."(why did you do like this. tell me the answer) Arnav looks appaled at her.
Khushi continues saying "Aapne humare saath bahut galat ki hai.....hamari Zindagi barbaad ki hai aapne. Chidiya ki tarah main ud rahi thi par aapne hume ek sone ke pinjare mein band kar di...Aur ab, aapne hamaari izzat ke saath khela" (you did very wrong to me...you spoiled my life. I was flying like a sparrow. But you have locked me in a golden cage. now you have played with my respect)
Arnav fumes and clutches Khushi's hand tightly and says "izzat?? Izzat ke baare mein to tum baat karo hi mat. Kyunki tumne apna izzat kab ka kho liya tha Khushi kumari Gupta Singh Raizada..Shyam ke saath us raat chath pe........"(respect ?? don't talk about respect because you have already lost your respect Khushi kumari gupta singh Raizada..that night in terrace with Shyam..."
Khushi interrupts and says "That was not my fault. How many times do I have to say that he had forced me and.."
Arnav disrupts saying "But this time it was not a force and It was your fault too...!" Khushi realizes. Arnav continues saying "you were not forced or you were not drunken..right?? so u also share the same fault.. Now why do you make a drama?..and by the way to be honest u triggered me yesterday night.so I couldn't control myself."
Khushi says "you don't accept your mistakes right??? It might sound so casual to people like you but for us it's not. Agar aapki bhasha mein sunana hai toh suniye. This is a contract marriage and remember the terms and conditions? I must be pure(a virgin) after 6 months when I reach my house. But now what'll be the remedy??"(If i have to tell you in your language then listen..)
Arnav says "already Shyam ke baare mein sochte sochte mera sar phoot raha hai. Ab yeh nayi musibat. Par Khushi why didn't you stop me before itself?
Khushi had no answers for this. She remained subtle. She knew something was there in him which made her weak. No matter what, how much ever she controls herself, she couldn't do so. His touch made her feel cosseted. No matter how much ever she tries to stash her feeling inside her heart. She can't control it. A feeling that comes like a rain unstoppable. A feeling that can't be controlled like the weather. Khushi thinks "isko mein kya naam doon?". (What shall I name this one?)
Khushi changes the topic saying "I don't know what you will be doing, I want..."
Arnav says "but why do you make a mountain from a mole? We'll deal the matter after 5 months"
Khushi gets angry hearing the word 'deal' was this a deal to him. Doesn't he experience the same feelings as she had for him. Was this just "an experience with Khushi" for him or is he more prone to these kind of deals before? Thoughts made her angry.
Khushi cries and bellows at Arnav "kal mein maa ban jaaongi toh???" ( What if I become a mother). Arnav looks appaled by this thought. He had never thought about this.
Meanwhile at shantivan...
Everybody is worried thinking about Khushi. Maami comes back home with payal and says to Nani "phati saadi...abkka..abbkk..Khushi bitiya toh kahin ka nahi dikhkhat hai..I asked the priest and he says that Khushi doesn't come to mandir often these days like she comes before." (Khushi bitiya isn't visible anywhere)
Nani hears this and she is shocked "kuchh toh gadbad hai...Khushi nowadays seems happy from outside but she is not.. I sense this. Ab chote toh Hameesha aisan hain par Khushi bitiya toh panchi ki tarah udti firti thi".(something is wrong.Khushi nowadays seems happy from outside but she is not..Chote is always like this but Khushi used to fly like a bird)
Payal says "naani, woh isiliye kyunki woh bahu hai ab toh usko thoda shaant rehna hai na." (nani that's because she is now a daughter-in-law and she must be calm)
Mami interrupts saying "No Back anshwers khoon Bhari taang... in sab ke liye abhi time naahin hai. Pahile uu pata lagao ki khushi kahan hai..."(We don't have time for all this..first find out where Khushi is...)
Anjali keeps a bowl on the table and asks akash who was decending the stairs,
Anjali asks "Akash why isn't chote back Akash aur Khushiji ka kuch pata chala...hey bhagwaan mujhe bahut chinta ho raha hai. Donon ka phone band aa raha hai" (Akash do you know something about Khushiji...Oh god I am getting worried. Both their phones are engaged)
Akash says "pata nahin di main bhi try kar raha hoon..."(donno sister, I am also Investigating it)
Nani says "Don't worry Anjali Bitiya Khushi might be in guptaji's house.."
The telephone rings....
Payal picks up "ji maa.....Haan sab theek hain....Khushi wahan pe hai kya....ohhh (face dulls)...kuch nahin maa woh ghar pe nahin hai toh socha ki kahin us din ki tarah wo wahan hai ya nahi........nahi woh mandir gayi hogi shayad......haan khana khaake gayi.....haan kha liya.......mein baad mein baat karti hoon aapse.." Payal places the phone..
(yes maa....ya everyone is fine here....is Khushi there..ohhh(face dulls)..Nothing to worry mom she's not at home so I thought that She might be there like the other day....no she might have gone to the temple...ya she went after eating...Ya I ate...I'll talk to you later....")
Everyone heard her and she says "Maaji, Naaniji,woh". Nani says panic stricken "Humne sab suna". (we heard everything). She sits down with a thud.
Arnav and Khushi remain silent perplexed about the thought. They had not kept any security before as they didn't know that this would even happen between them,they didn't know that this would end like this. They were lost in the world of love and didn't realize what this trip had for them. Suddenly, Arnav's phone started working as a flash came from it. He books a cab from the place where network was available and surprisingly the hut was located in the maps. It said 20 min away.......Arnav looks shocked as he couldn't believe this....
Meanwhile in shaantivan....
Shyam looked fidgety and is in ArShi's room examining the cupboard with papers in his hands. Anjali asks "kya kar rahe hain aap...kya hai aapke haath mein?" ( what are you doing.... what's there in your hand??" blow!!!! Shyam says "Kuch nahin Raani sahiba woh mere client ka case hai dekhiyenaa..."
( nothing Rani Sahiba this is my client's case...see) He just pretended to show her to avoid further gaze on it. He continued "bas wahi dekh raha tha....Aur mujhe thoda shanti chahiye thi toh socha ki saale sahab aur khushiji ke kamre mein mile".( I was just examining this ...that's it, I needed some peace thought I could get it here )
Anjali says "you are very selfish......wahan khushiji aur chote missing hain and here you are busy with a third person's profile...!".(There Chote and Khushiji is missing)
Shyam says "parr rani sahiba...."( but....) Anjali goes away from the room. Shyam follows her keeping the papers inside his long pocket. He goes behind her to persuade her.
He says "offoh Rani Sahiba. aap chinta karenge toh bachha bhi chinta karega.. Hamari nanhi si pari ko udaas mat kijiyega."( If you get tensed then our baby will also get tensed...don't make my small fairy sad)
He further adds placing both the hands on Anjali comforting her" Khushiji shayad Arnavji ke saath gayi hongi remember jaise last time hua tha??"( Khushiji might have gone with Arnav like last time) Anjali's mood thereby changes a bit and he hugs him.
Akash gets a call from a client and talks for about 15 minutes. He turns back to Naani looking pale. Nani asks with a sad face, "Kya chote ne bhi meeting miss kar di...?".(What..chote also missed the meeting)
Akash answers " Nahin naani balki aisi koi meeting hui bhi nahin....!". ( no naani but there was no such meeting). Everyone is shocked. He adds "Maine abhi abhi us nainital ke client se baat kiya. Woh hamare hal chal pooch rahe the....Aur bola ki aisa koi meeting unhone rakha hi nahin.."( I had just talked to that nainital's client...He was asking about us generally.....and says that he had not organized any meeting recently.) Everyone looks panic stricken.
Nov 17, 2017
Love is Arshi (By Nitty_Arshi) (Thanked: 52 times)
Akash further adds "Payal can you just bring me that file which I was probing yesterday."
Payal says "ji Abhi layi." (yes. i'll bring it in a jiffy) Payal goes to take the file and she hads it over to Akash.
Akash says "Hmmm..Nani Ab toh mere qayal se yahi lagta hai ki Bhai kuch aur reason ke liye Nainital gaye hain..."(Nani now I think Brother went there for some other reason)
Everyone's mouth drops. Mamaji says "Par bitwa...(but son..), Arnav had got a call from Aman and we all had noticed it . Then how can this happen??" Suddenly Anjali gets a call and says "haan Chote......" (yes chote...).Everybody looks at her direction apprehensively. Anjali says "Chote is coming back..And Khushiji is with him...." Everybody lets a sigh of relief...Shyam's face changes. Anjali says "see, you were right Shyamji. Chote was with Khushiji..".
2 hours later.
The door bell rings .Everyone assembles the hall anxiously. Hp opens the door and they see Arnav and Khushi standing. Shyam sees Khushi's beauty and admires her cheaply. Arnav gives him a glare. Shyam turns his face away. Nani asks "Chote where were you both? We all were worried about you.."
Arnav says "Abhi nahin naani..(not now) We both'll bath and then tell you all what happened."
Anjali says " chalo Khushi you can use my bathroom.." Shyam looks at her slyly. Arnav sees this and says "di I'll come Khushi can use our bedroom's one.." He sees Shyam with disgust. Khushi is unable to walk upstairs. Nani sees this and panics. She comes near her but Khushi hesitates and goes backwards. She asks Arnav to gesture her in front of everyone.Everyone gives a wry smile. Shyam looks on. Arnav smirks at Shyam flaunting his possesion (Khushi of course).His wife was meant for him only, she was not an open book for others. Arnav helps her in ascending the stairs. He gives another glare to Shyam and that glare was enough to echo his words
"I am warning you....stay away from her..."
with that he held Khushi's hands and the other around her arm and swayed her towards their room...
Khushi says " you said right we will act as a happily married couple in front of everyone...don't mistake these gestures as something else...." Arnav walks away without saying a word. Both of them freshen up.
Arnav comes out in a towel in Anjali's room and takes the dress which she had neatly kept on the bed. Shyam was also sitting there.
Arnav glares at him and says "Not your shadows bt I won't even allow your eyes to look at her..."
Shyam gets up says "saale sahab but these drama will only be for 5 months or less after that.."
Arnav says "After that I will tell the truth about you to everyone..What were you thinking ? Do you know the actual reason why I married her..?"Shyam looked inquisitive. Arnav adds" I married Khushi only because of my di..." Shyam looks on.
"when di and her kid are safe I will throw you out of the house....jitna paisa enjoy karna hai utna abhi se enjoy karlo..(Enjoy your heart out with our money now itself) because you won't get a chance to even think about this in jail". With that he points a finger on Shyam. Anjali enters the room and says "areee saale aur daamad ke beech kya ho raha hai....tell me what you both were talking.."(What's going on between the two brother in laws)
Shyam says smiling at Anjali "nothing Rani Sahiba I was just telling him that the client's work will not end in six months but will take more than that..but saalesahab says soo..." he smirks at Arnav. He retorts him a glare.
Anjali says "offfoh.... you both are always working soo hard that even at home you talk about work." She adds "chaliye chaliye....Breakfast is ready.." She curved both her hands on their shoulders and swayed them across the dining room. They see everyone assembled in the hall. Khushi is weraring a simple salwar and looked complacent. Everybody sits and they start eating their lunch. Nani says " Chote now tell me where were you both.."
Arnav gives a look to khushi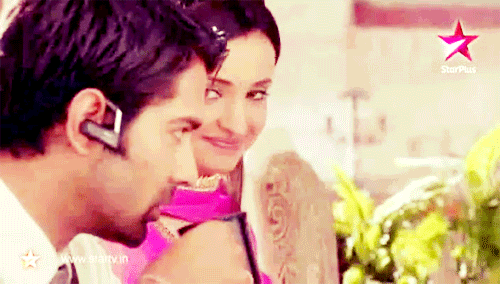 and says all that had happened except about the drama Khushi made at the dhaba..and the night...
Everybody's mouth were wide open. Maami says in her squeaky tone "arre.... we must hand over those goons to the police. How dare they would even touch our bitwa.." Anjali says "chote.. your hand is hurt..Let me see." Arnav squeaks in pain.
Anjali says"oooh sorry sorry sorry... wait I will bring the band aid..." Arnav says " no need di you first eat..." Anjali says" par chotee..." Arnav interrupts saying " no di Khushi will take care of me you first eat.." Everybody looks at each other giving a shy smile. Akash continues saying" Achcha bhai... I got a call from that client and..." Arnav's face changes and he adds "he says that there was no such meeting held..Where were you then going bhai??" everybody's eyes were piercing on Arnav. Khushi looks shocked at him..Arnav looks at her for answers but then noticed everyone giving them a wry smile. Mamiji bursts out to laugh. Nani smiles and tells them " if you both want to go alone then you can tell us and go na why make these stories...." Khushi says " par naani.." Anjali says " koi baat nahin khushiji... you both first eat.."(No problem Khushiji). khushi and Arnav both think what others were thinking actually came true. They were spending time with each other. Khushi feels embarrased and thinks about yesterday's incident..
She feels uncomfortable and goes away from that place..Nani says "Dekho how she is feeling shy..".
Everyone laughs. Payal clears the table and everyone relaxes at the hall. Nani tells Arnav "you both must go to gupta ji's house tomorrow.." Arnav looks shocked. Nani adds "shashiji and garimaji are both very happy to welcome you. Khushi bitiya I think packing was over that day itself". Khushi nods yes.
Meanwhile in PayAsh's room
Payal is drying her hair in front of the mirror. Akash hugs Payal from behind and says "Payalji you look soo beautiful."Payal gives a shy smile. They both look into the mirror and share an eyelock. Akash says "Imagine how our child will be." Payal turns red. He adds" what Payalji are we not going to have kids..I first want a girl..who looks just like you but her nature will be like her father....and her..." Payal says "Akashji....aap bhi na..." Akash says "what aap bhi na?? Today or the next day we both'll become parent's right? " Payal blushes and says " but we got married now only right? We have not also been to honeymoon yet..then.." Akash says"aaah yes honeymoon... yep when Bhai goes to guptaji's house we are on our first honeymoon..." Payal shocks "Kya....?"(what?) Akash says "...to Aviemore, Scotland..." Payal says " Par Akashji..." Akash says "Bye sweetheart...." with that he gestures her a flying kiss and goes out.
Arshi's room
Khushi asks Arnav "aapne jhoot kyun bola?"( Why did you lie?) Arnav remains taut and didn't reply anything to her. Khushi goes on saying "AAp shayad itne cheap honge ye hamne soch bhi nahin" ( I didn't think you were this cheap). Arnav looks on. Khushi says "you might have planned these before itself. You made this happen. You wanted to have an experience with me.." Thats it Arnav got angry .Khushi was about to leave but..
Arnav says "You know what Khushi, If you still have that incident in your mind, we can very well do that again." Khushi looks Shocked. He further adds "main Gupta's house mein rehna nahin chahta tha so that's why I called my friend in Nainital who was very much interested to see me. But I didn't know that naani remained this much persistent that I must also join you."( I didn't want to go to Gupta's house). Khushi looks shocked and said "I know Mr.Raizada all you need is money......you won't get this comfort in Gupta's house so it's better that we stay here. I can reason Naani " Arnav says " it's not needed I have decided to go... I'll manage.." Khushi looked stern at him. Arnav leaves for office. How cruel he is..Doesn't listen to anyone out there.
Anjali gets a call and beams keeping the receiver. Shyam asks " What happened Rani Sahiba you look very happy today. Won't you share your happiness with me?" Anjali says " I wish I could but it's a surprize".Shyam says " bataiye toh sahi ..." ( just tell me na) Anjali says " arre....Its a Surprise but chote won't be there day after tomorrow na? Naani is soo strict on it..."
Her face drops. Shyam says " but at least hint me what happened.."
Anjali says "Someone special is coming day after tomorrow...."
Nov 18, 2017
Love is arshi. (By Nitty_Arshi) (Thanked: 16 times)
hello everyone...I have also modified with translations. check this out....
Nov 18, 2017
iss war ko kya naam doon? (By Nitty_Arshi) (Thanked: 42 times)
Hello friends and folks out there thank you for the 200+ thank you's and your valuable comments. Let's get to the update.
In the morning Hari praksh takes the suitcases downstairs. Everybody assembles the hall. Arnav and Khushi take Aashirvaad(blessings) from Nani. Payal and Khushi hug each other. Arnav hugs Akash and Anjali.
Anjali cries and says "Chote be back soon".
Arnav says "Di don't cry like a child. I am only going to Khushi's house for some days, I am not going to stay there forever. Bt ya I'll miss you"
Mami says "Arre Arnav you still have time to change your decisions. You won't be comfortable in gupta's house and the food is also...."
Nani shouts " Manorama! Know what you speak before....Shut up." Manorama remains silent with a sulk. Khushi cries and says bye to everyone.
Payal asks "arre Khushi you are going to our mother's place. Why are you sad ? you must be happy na."
Khushi says "I don't know why jiji may be because this place has become more important for me nowadays and I feel this to be my home than our mother's place."
Nani says "Arrre bitiya this is your home. After marriage all the daughter-in-law's house comes a daughter's house. It becomes their abode bitiya. Now don't cry."
With that she hugs Khushi.
Shyam gives a smirk saying "Saale saahab Khushiji ka Khayal rakhna..."(Take care of Khushiji Arnav..).
Arnav was about to retort him back. But Khushi holds him. Arnav couldn't believe this . He actually liked her action. She gives a glare back to Shyam. Arnav was seeing all this. He thought was she acting or was it real. They didn't talk much and they both went and sat on the car waving all of them good bye. While driving Arnav and Khushi remained silent. Arnav brakes the car suddenly.
Khushi says " I didn't do anything wrong. I didn't even talk while....."
Arnav interrupts saying "your house. "
Khushi sees Buaji, Amma ,Bauji in wheelchair waving at them. Khushi asks Arnav to park the car Happyji's Garage. They all take Aarthi of Khushi and Arnav and gladly welcomes them in. Arnav sees 5 table fans near a seat in the dining table. He is shocked.
Garima says "nothing bitwa you might feel sweating so that's why we made this arrangement."
Arnav says "thank you " and has his seat with a discombobulated face.
He felt himself flying away from Guptaji's house straight to Shantivan due to its intensity. He starts eating but could't find anything special. In fact it all tasted so bad for him. He felt like leaving the place as soon as possible. He then leaves for office from gupta' s house.
Meanwhile in Shaantivan...
Shyam opens the locker in Arnav's cupboard fretfully and gets a paper. He lets a cold fury of laughter and hastily closes the door properly without being noticed by anyone. He lets out a cold fury of laughter. Someone from outside Arshi's room sees this and is shocked..
Who can it be???
The person notices this and doubts him. But the person had only seen him laughing not his action before. The person goes away. Meanwhile Akash and payal discuss about their Honeymoon plan .
Payal says "Akashji we must first ask permission from di and Naniji before booking the tickets."
Akash says "offoh Payalji... we are now married we must take our own decisions by now."
Payal says "No Akashji I will only agree if Nani and di agrees."
Akash snorts and goes to the hall. He sees Nani and Anjali together.
Nani tells Anjali "Don't worry Bitiya Arnav and Khushi will be back soon.We both had planned this for their happiness only na."
Akash asks "Nani myself and Payal are planning to go Aviemore. So I was just asking the permission..before booking the tickets"
Nani replies " Thank god you asked before itself Akash. I'm afraid you cannot go now. Akash and Payal's face dull.
Nani continues " because Anjali bitiya says someone special is going to come tomorrow morning and imagine if you both also go then who will be there in the house to take care of the person. who will play with them? Whom Will the person have their company with."
Akash asks "Who is it naani...?"
Anjali says " anhaan its a surprise you see yourself tomorrow."
Akash and payal go to their room. Akash says "Dekha... It's just because of you....! If we would have booked and informed them..."
Payal interrupts saying "then they would have us to cancel it.."
Akash looks shocked at Payal. Payal adds "Akashji if Nani says not to go then there is some reason behind it..Don' t worry we will surely go one day or the other.."
With that she hugs him..
Akash could't believe this and says "Wow Payal I thought that you are a shy person. But now you have started talking back at me, giving me answers. Donno what you'll do next......" Payal hides under his chest due to shyness..
In Gupta's house...
Arnav comes back from office late and Garima opens the door. He brings 4 -5 workers with AC instrument on one of them's hand. Garima asks " what is this Bitwa ?"
Arnav says "Nothing Aunty I just wanted to fit AC in Khushiji's room. I Can't sleep without Ac".
Garima says " tell me the rate and I will..." Arnav says "no worries Auntyji I have paid them prior.. you carry on your work I'll take care.."
Khushi is shocked seeing all this. She asks "What's happening?"
Arnav says "Ac so I can sleep peacefully.." Khushi asks " par Amma.."
Garima says " don't tell anything beta Whatever Arnav feels like let him do so."
After Ac is installed, Arnav gives them money. Garima asks Arnav to eat dineer.
Arnav says "no Aunty I have already eaten" Everybody eats dinner except Arnav who was in his room working.Buaji asks "
Bitiya I think Damaadji didn't like the food."
Khushi says"No buaji.. He usually eats his dinner in office.Nothing like that.."
Khushi feels a bit worried .They wind up. Khushi gets inside the room.
Arnav says " I'll sleep down and you'll sleep up".
Khushi says "ya very well you'll have the bugs bite you..".
Arnav Asks in a shocking manner "bugs??,do you also have bugs in your house.."
Khushi answers "not bugs, but mouse ,rats..," Arnav says" ....bas bas we both'll sleep in bed".
Khushi places a divider. They both doze off to sleep.
In the morning...
Arnav wakes up and feels weight on top of him. It was Khushi who was shivering in cold. She kept hugging him tightly...Arnav has a smile on his face..He remembers their special night in Nainital. He tries to let go but Khushi doesn't release him. Arnav says " Khushi..."Khushi wakes up but doesn't release him. She says in a shivering voice "I'ttzzz vverry cccold" Arnav smiles and turns off the Ac with the remote nearby. Khushi hugs the blanket and releases him. she hides herself under the blanket. Arnav gets ready.
Meanwhile in shaantivan everybody assembles the hall eagarly waiting for the special pperson..
Mami and mamji asks Anjali "Where is the person we are eagerly waiting to see the person."
Anjali says " bas thodi der... mami look here he comes..." Everybody have their faces on the doorside...It was
Everybody shouts "NK....!!" he comes and hugs everyone.....
Nov 21, 2017
episode 8 (By Nitty_Arshi) (Thanked: 58 times)
Nk comes and hugs all . Akash gives him a punch.
He says "di we were all perplexed about who was actually your special person. But this is just a normal person here.....!"
Nk glower hearing this.
He says "What did you say??AM I just normal to you all"
Mami says " haan Babua you just look normal to us . Anything happened?" (yes son)
Nk scowls. Everybody laughs. Anjali says putting an arm around him "Arre why are you all after him? He just came now. He looks soo tired. Nk bhai go and freshen up. You might have jet lag. "
Nk says "excuse me everyone....." He goes to Akash's room.
Akash says "Aree where are you going?"
Nk says "to your room..to our room...if you need a remainder."
Akash says " if you need a remainder I'll say that now I am married and...". He caresses his head looking down. Everybody laughs.
Nani says " Arre Nk what you forgot huh? Your Akash Bhai is married now, you can't stay with him. Payal bitiya won't allow you.."
Payal says "Koi baat nahi nani He can stay with him for a day or two.."(no problem) Akash frowns and gestures her to keep quiet.
Nk says " see Naniji... It's just a month and see your grandson. He can't stay without Payal for even a minute..." Everyone giggles. Akash hides his face. Mama says " Enough of all these. Now go and change first." Nk says he'll go to the room at the top of the Raizada's house. Shyam is shocked to hear that and says ghastly "ahmm....Nk you can stay in the guest room. By the way it's in the ground floor. If you need anything you'll be attended soon and every time we cannot go uptairs."
Nk says " no problem jijaji If i need anything I'll be coming down.."
Shyam looks frightened.
Nk goes upstairs. Everyone clears of. Nk is in his room bathing.
Shyam comes to the top room and checks the cupboard randomly. He gets tensed and checks very fast. Nk asks " jijaji what are you doing?"
Shayam has his eyes oogled and answers" Nothing nk I am searching my files here.." Nk asks " oh you keep your files here huh?" Shyam gets a file and is happy. A paper falls down inside the cupboard. He says to Nk " haan nk... sometimes I need to work alone....I won't get peace as in this room. Most of my belongings are here... I can't work with peace in my room. You Know about Rani sahiba. She keeps asking me to take care...and I won't get my concentration if she is there."
Nk says in a teasing manner " aaahann jiju even you get distracted "
Shyam says " After marriage everyone gets distracted soon... You'll know when you get married." Nk pouts.
Shyam says " if you a red file named F611 anywhere please bring it to me." Nk says " Allright jiju." Shyam goes away half smiling. He thinks if any other thing was left behind as he does't want anyone to know what he is upto. The person who saw Shyam with cold laughter saw him wondering.
Arnav is in his office wondering about Khushi and Shyam, He thiks of their night in Nainital. He thinks " What had happened to me? Why did I take this move?" he bangs the wall with his fist.He thinks about their marriage and Khushi's words if she becomes a mother.
Meanwhile in RM
Anjali is cutting vegetables in the hall. Nk comes and sits beside her having his arm around her.
Nk asks Anjali " Di why are you worried?" Anjali says "Chote and Khushiji are in Guptaji's house." Nk says " blow!! That's why I thought something is missing. I totally have forgotten about them. When will they come back?"
Anjali says "2-3 weeks I guess."
Nk says "gosh!! will he come here atleast to meet me..."
Anjali says "No Nk bhai nanni had strictly informed him not to come here in between."
Nk says "woah.. I am not going to wait for them to come here...I'll go now... I badly want to meet Khushiji. They can't come here but I can go there. Di are you coming?"
Anjali says " no"
Nk says " Why ? nannav will be happy seeing you."
Di says " no. Let them come. You go and meet them."
Nk says" As you wish di.."
In gupta's house
Arnav comes from office looking tensed. Khushi is laying on her bed . Arnav goes inside the room and notices Khushi's eyes moist. Arnav tried to ask her but repressed himself. He sits on the studying table and works in his laptop. Khushi gets up and closes the door.
He then heard Khushi's voice " Arnavji I want to talk to you."
Arnav replies "tell me..." still his eyes on his laptop.
Khushi weeps saying " I haven't got answers for my questions.."
Arnav says " U already Know right? You yourself said that day that you know the truth why I married you "
Khushi says with tears " no if I become pregnant then?"
Arnav looks at her keeps silent.
Khushi says with anger "Answer me Mr. Raizada!!! If I become pregnant then what will be the solution for the kid ."
Arnav remains mum.
Khushi says "do you want the child to be fatherless."
Arnav's heart itched. Khushi bellows saying "you might provide the child with money but do you want him to grow like you??? Do you want the child's surname to be Gupta's just like your surname..What should I do to..."
That's it..!
Khushi found herself close to Arnav.
Arnav gives her a death glare with moist eyes saying "You should Abort it!!! If you become pregnant then you must abort it"
Khushi is stunned hearing this. Arnav goes away hiding his tears.
Khushi is petrified by his answer. HOW COULD HE???
He is sooo stone hearted. That was their last conversation.
Nk comes inside and beams at everyone. He meets Khushi and Arnav. he says"Nannav mera bhai how are you??". He hugs him. He hugs Khushi "khushiji...! Everything is good right? how are you.." Khushi fakes a smile saying "Fine". Nk stays there for an hour or two and leaves waving them bye. He says "Come soon to Rm.."
Next morning
Arnav wakes up. He sees Khushi applying oil on her head. He sees her but turns away remembering yesterday's incident. He goes outside. After some time.
Khushi is standing at the corner of the room eating some puffs.She didn't wan't any attention so she preferred being alone. She was so engrossed in her thoughts about the previous night. Arnav comes inside talking in his phone " ya Lavanya...everything is fine here...Khushi is also good...and" he slips and falls on her. He holds her shoulders and looks down what made him fall. But Khushi keeps eating as she was lost in his words "abort it". Khushi senses some weight and moves back holding her puffs in her mouth. She gets shocked seeing him but continues eating as if nothing had happened. While she had moved back Arnav has his hands on the wall blocking her. Khushi notices this but ignores. He now looks at her eyes and says "sorry". But then realizes what had happened. He releases his hand. Garima and buaji made fun of them. Khushi gestures what. But then goes away without any expression. Khushi was actually standing like a stone without any expression or an eyelock. Arnav realizes what he had said the previous night. But is not ready to budge. He says "Lavanya I'll call you later.." With that Arnav goes to the office.
Shyam is speaking to someone outside in the streets of Raizada mansion.
"ya you'll get back your money Raj. Whom do you think I am?"
Raj says " whoever you might be I need my money as soon as possible."
Shyam says clutching his collar "I am the son-in-law of the raizadas." The person looks shocked. He adds "do you want to check???" He drags him near the gates of RM and the watchman gives him a salute saying "Good morning sir". He bowed in front of him. Shyam nods. Raj says" Sir leave me. I am sorry. Don't tell this to ASR." He leaves the place running to his car. Shyam gives a smirks saying "This is what I want to say not to tell this to ASR. But see you yourself gave me the way..."
The person behind a tree watches this scene too.
3 weeks goes on like this.
Its evening
Arnav comes from the office and sees a lot of guests in the house. Garima says" come here beta...."
Arnav comes near the guests. Everybody looks at him. Garimaji says "see this is my second son in law. But my daughter is first bahu for their family" Arnav folds his hand and greets them all. Other ladies gossip. Arnav goes to his room feeling uncomfortable. He asks Khushi about all of them. Khushi says " I am going to stay here for another week" Arnav asks "what??? WHY????"
Khushi says " It's my childhood friend's marriage. So I have to attend."
Arnav says "it's okay we can attend from RM. Are you planning to stay here the whole life."
Khushi replies "yes after 4 months I have to stay here for the whole life.." Arnav looks on and continues "But now we have to go to Rm" Khushi says " If you want you go I am going to stay here.." Arnav pulls her clenching her hands and says " You have to come with me Khushi Kumari Gupta Singh Raizada!!! Anyways you will always stay here after 4 months. You won't get a chance to be at RM again" Khushi says "Arggh you are hurting me Mr.Raizada Leave me.."Arnav leaves her and adds" We are going tomorrow morning...". Khushi cries faints. Arnav notices and catches her. He calls Garima and buaji. Buaji asks " What happened ?? Khushi!!!" Arnav immediately lifts her to the bed and gives her water. She wakes up. He calls the doctor but Khushi whispers to him "don't show fake love Mr.Raizada". Arnav feels frustrated and leaves the place. Garima and Buaji attend her. Garima cries saying" Khushi lets call the doctor bitiys.." Khushi says "No Amma I am fine. It's just that I was doing a lot of work which made me tired. So I think that's why I fainted." Buaji says "but still bitiya we'll call the doctor..and.." Khushi curtly replies "No need I'm fine now.." and glares at Arnav who was looking at her through the window. He goes away.
That night both of them have their backs facing themselves. Khushi wonders how her life would become..Arnav remembers his cold words how could he even say that... He didn't know what would happen in between. A marriage without interest, a child if born without love. He then tried to sleep...
Thank you so much Lily30, Tparvaiz, Kpoonam,Arshigeet, Candie , Prajakta_k:They don't have any plans about it right now . But hope so in the future...
Souzankamar: you're welcome..
Disclaimer: The views expressed above are member's views and this website does not comply with it. The views expressed may not be factually correct. Incase of any issue please contact us/report it to us.