OS: Why was it always me?
Dec 14
OS: Why was it always me? (By Spriya) (Thanked: 59 times)
Nuzzling her cheeks from back I stood behind her plastering her to the wardrobe.
"Arnavji, Is this your lost shirt?" She asked showing me a shirt without even reacting to my ministrations.
Instead of answering, I rounded my arms around her petite waist before pulling her to my bare chest. She gasped, forming three O's as if I was romancing her for the first time.
"Ar...na..vji...What are you doing? Leave me" She shuddered like a new bride even now. Some things will never change.
"Why? Don't you know what I am doing?" I replied resuming my previous work but this time attacking her neck.
"But someone will come, I didn't lock the door" She stated through her uneven breath which already undoing my knots.
"I locked" I gasped letting my lips to travel on her face. She closed her eyes, with partly opened mouth, her left hand automatically rounded my neck and settled on my scalp massaging in own accord in perfect places.
"Do you remember what day is today?" I asked separating my lips from her skin for a brief time.
"No..." She replied in trance entwined her right hand with mine across her clothed navel.
I was disappointed but quick enough to regain myself before leaning and blowing air in her ear. Her toes curled, her hold on mine got tighten, her heart once again thudded like it was running in a marathon which I can feel through her back.
"It was the day when a name called happiness fell on my arms for the first time" saying this I let my lips linger in her ear.
Swiftly turning around, she circled her arms around my neck shrieking "Really. It's been two years"
I blinked my eyes in acceptance while she gave a full-blown smile which lits my whole day and a warm feeling settled in my heart.
"Wah...Laadgoverner remembers the date of our first meeting too" She chirped making me groan hearing the content.
"Khushi..." I whined pulling her again. She came crashing on my chest "Arnavji leave me..." she wriggles in my arms.
"Never.." Letting my breath fall her face I inched my face close to her too close that our lips are millimetre apart and our front plastered to each other. She circled her arms around my waist closing the remaining gap.
Thanking stars for not sending an intrusion I closed the gap between our lips. Before i could deepen it we heard someone's shriek only to get parted hastily.
"What the!!" I was annoyed than anyone can imagine.
"Nanheji..aap? Do you want anything?" She asked coming out of embarrassment.
Damn, that Nk! But I locked the door. Travelling my eyes throughout the room I realized I forget to close the poolside door. ****!!
"Nannav...Kadoos in romantic mood..Naughty..Naughty..By the way, where's your shirt?" He asked cheekily destroying my mood.
Why he have to shriek after seeing us? Can't he leave silently without interrupting us?
"Leave...Whatever you want ask later" Without waiting for his reply I dragged him outside.
"Nannav chill... Ok continue your romance, I'll not tell this to anyone" He winked making me irritated if I was not already.
Closing the door on his face, calming my anger I turned. There she stood placing her hands on either side of her hips with anger pout on her face. Wahh...My lady is hot even in anger too.
"Khushi come here. You know I hate to leave the work in the middle" I tried to act nonchalant albeit knowing she'll not cooperate with me to finish the unfinished.
"What was that?" She tried to act rude.
I shrugged snacking my arms around her waist.
"Pchh... What will he think?" Seeing her twisted mouth I couldn't help but place a sounded kiss on her cheek. Her eyeballs popped out it's sockets like the first time.
"Wait for me tonight" Throwing a wink at her flushed face I put on my shirt.
While she stood blushing for few minutes, before running fluttering like a butterfly.
Pagal... Muttering I kept my wallet while, the door flung open. In a blink, i felt my cheeks wet.
"I'll wait for you tonight" she giggled placing one more kiss as interest before exited blushing simultaneously.
A smile adorned my face, these days I smile a lot. All thanks to my wife, my angel, my happiness.
Throughout the day I was busy with meetings, presentations but never failed to ring her. She's my breath. Rushing all the works as soon as possible I reached home earlier than usual.
"Khushi...Khushi" Like in a cue I heard her reply.
"Haan... I'll be in a minute" Loosening my tie I marched upstairs planning something.
Within few minutes she arrives with my coffee.
"Khushi stay with me...Where you are going?" I asked took hold of her refreshing black coffee.
Not giving enough time to acknowledge she pinched my cheeks "Like a good boy, you stay here. I'll be back soon"
"I am not a boy, I am a man khushi. Shall I prove it" Her rounded eyes did prove she catches the underlying meaning.
"Only few hours..." I don't know that few words of mine going to affect me in big time.
Waiting like a maniac from past hour after decorating the whole room with scented candles and flowers I measured the length and breadth of the room for an umpteenth time.
It's been two hours since di dragged Khushi all the way to her room saying she need help.
What must they be doing? It's better to call khushi. Thinking this, I went to di room only to get shocked. Di, payal and khushi were sleeping hugging each other in the bed while aakash was engrossed in laptop rubbing his neck time to time.
"Aakash..." I called him in a miffed voice.
He smiled nervously "Bhai we were planning for a picnic and they slept just like that ordering me to book a resort.."
'What could I do after that' Gulping my anger and cursing the fate I wished him night before marching to our room. Folding my palms under my head using it as a pillow in the recliner I sighed in despair glancing the decorated room. Once again it got wasted.
History repeated. Like earlier times, this decoration too went in vain.
The very first time this room was decorated when we're married on the base of hate that I couldn't use that beautifully decorated room along with my beautiful angel. How much I hate that shyam for that. More than him it's my fault of not trusting my angel when I claimed to love her. It's my entire mistake to fall into shyam trap hurting khushi in process. Still, I couldn't bring myself to forgive my own self. Sighing I remembered how beautiful she looked in red and green lehenga sitting on my bed for the first time. If it was another time I could've ravish her.
And second time without any decorations, both credit and debit go to shyam. Even in untidy which is nowhere equal to my cosy room, our passion was at peak. That was the day I slipped out of my facade hearing my heart. If only the goons didn't interrupt...But that day proved how much we desire each other...How much we suffered in the name of hate not able to enjoy the love we had.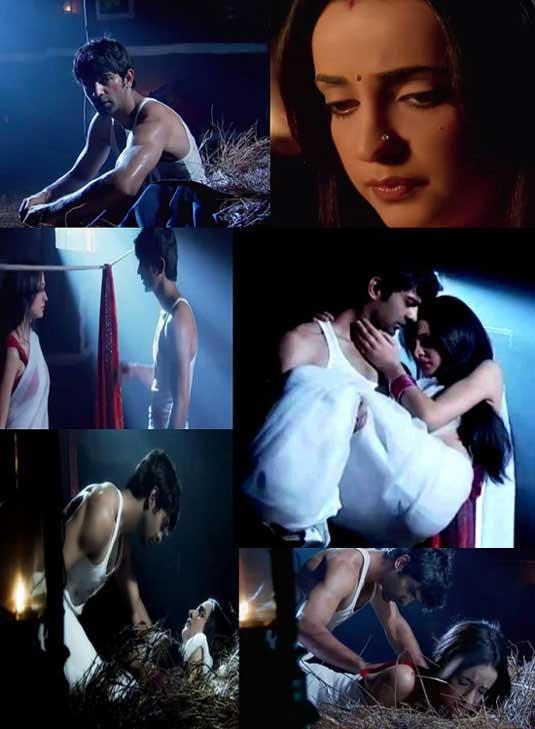 After all the miseries, I finally planned to fulfil our relationship. With my own hands, I decorated the whole room for the second time. And that was the third time we can't fulfill it due to khushi's principles.
She looks eternal with her rose petal lips and red cheeks matching to her dress.
One good thing happened, I confessed my love which was hard to express. First time I declared my love at gunpoint but that day in full senses with a tinge of disappointment on not taking our relationship to next level. Even then the decorations remain vacant.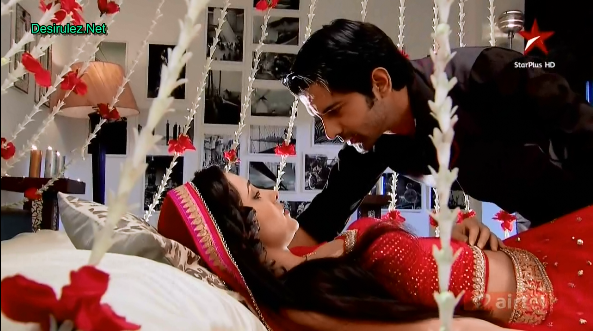 Third time when this room was decorated for our wedding night, that scoundrel has to put the camera in our room. How cheap was that? I couldn't even want to imagine what would've happened if I didn't notice the camera. And once again the scented candles and flowers didn't serve the purpose.
It's our goodness that bachelor party turned out to be a beautiful night.
I sighed once again seeing the decorated bed waiting for us to explore it, if only she stayed back.... Today also no less it was untouched again like earlier times.
Every time I decorate this room it went unused. Something had to be done..
How much I desire to take her, here and there? ****! Couldn't they plan on some other day? Whenever I step into the home everyone will be busy in their own work. Thinking everyone to be busy when I start to spend some quality time with khushi, they'll always disturb me as if I was visible only at that time.
It's time to kidnap my wife to farmhouse!
Why was it always me? Khushi's devimaiyya...
_____
Just tried Romcom. I don't know how it turned out. Hope it was good enough to read..
Silent readers at least press the Thank you button or comment only if you LIKE guys...
Disclaimer: The views expressed above are member's views and this website does not comply with it. The views expressed may not be factually correct. Incase of any issue please contact us/report it to us.