you are my love
Jan 13, 2018
you are my love (By Angle_Arshi) (Thanked: 29 times)
part 1 Arnav,anjali,nk and akash they are childhoods friends and staining same home and they are never leave anyone alone and helping to each others they are good friends. Arnav is carefree man he want to married love marriage he ia waiting for his angle he only shares his feeling only with anjali One day beautiful evening time they are walking on the roadside laughing and talking happily when they are going to crossed roadside arnav got call Arnav : you all are go I will come after answer this call Akash : on come soon And they are crossed the opposite road and turned look back and saw the scene taken they are breath that scene arnav talking on the phone and crossing the road without notice car is coming opposite side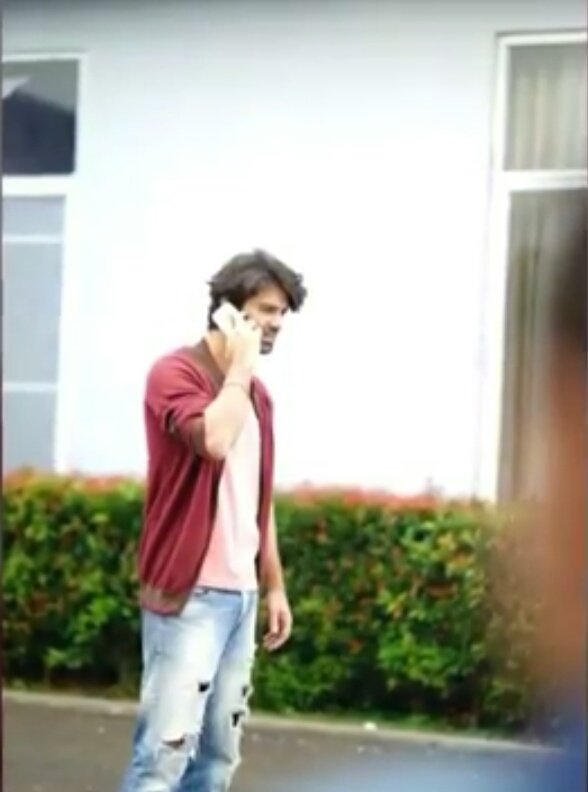 they are screamed Arnav look up when he is going to turn and look back he feel sudden pushed and rolled to other side CONTINUES..... comments...
Jan 14, 2018
you are my love (By Angle_Arshi) (Thanked: 31 times)
He feel suddenly someone pulled and rolled on the road he was on top of the person he can feel the person breath on him he slowly look down the person and get shock he never saw most beautiful girl in his life he just thought that second she is my angle and my life I will never let her go that girl lying on the floor and breathing heavily that girl no one that girl is khushi slowly she open her eyes and meet with arnav eyes lost in his eyes they still lost in each others eyes anjali,nk,akash they had run to him and call arnav. arnav and khushi broke their eyes lock arnav khushi look up and try to get up but again arnav fell on khushi. Khushi winch in pain then she keep her hand on her hand on her head and notice some wetness on her hand when she look and saw blood arnav also saw that and get scard and worried he quickly get up and help khushi to get up Then anjali ask are you ok your head is bleeding come let's go to hospital Khushi : no... No.... I am k it's little hurt Arnav : no.... This is not small hurt come let's go to hospital Khushi : no it's OK Arnav : no you get hurt because of me you save me I can't leave you like this Khushi thought little and say k fine I will come with you Anjali : OK then let's go to hospital first They went to hospital CONTINUES........…
Jan 15, 2018
(part 3 )you are my love (By Angle_Arshi) (Thanked: 40 times)
They are went to hospital
Doctor clean khushi wound khushi winch in pain arnav saw that and get worried and angry.He shout doctor to clean slowly not to hurt her
He can't see her in pain when she winch in pain he also feel the pain
anjali,nk,akash they are shock of arnav behace they are never saw arnav behave like this
Doctor: ok i am sry i will try to do slowly without hurting her
Doctor cleaned her wond and take out injection for khushi. Khushi saw the injection and get scared arnav saw that and he asked
Arnav : are you ok ? what happened ???
Khushi : nothing ... no nothing is ok ( she turn to doctor and asked ) why are you taking injection
doctor
doctor looked arnav and khushu and said this is was for your wound it's will make your wound try quickly
khushi : no.. doctor i don't need any injection
then doctor turn looked arnav for help arnav sign to doctor to put injection when he is talk with khushi
Arnav : are you scared for injection
khushi said with in baby face
khushi : no... no.. i am not scared who say like that ???
Nk : but you are acting like afraid for injection
when they asking why khushi is scared for injection that time doctor slowly without khushi unaware he put injection
Doctor : down
khushi : what down ???
Doctor : your injection
khushi : what when you put injection i am not feel any pain t thought that is will pain
arnav,anjali,nk and akash they are laughed
khushi got to know she buresh out the truth she feel shy and embarrass and she made baby face
arnav looked khushi like awww.... so cute he want to pinch her cheek but he control himself
Continues...
Jan 17, 2018
(part 4) you are my love (By Angle_Arshi) (Thanked: 42 times)
Doctor say to khushi you take bed rest just three or four day,don't do any work,t will right description of medicine,take care
khushi nods her head
doctor left the room,that moment went silent,anjali thought to broke the silent
Anjali: thank you for saving our friend arnav ( khushi looked arnav and whisper arnav....... ) by the way
i am anjali you are ???
khushi: hey... don't thank to me, this is my responsibility,my mom always say when someone in danger we wan't to help them,i did that (they so happy khushi talk like that)
anjali introduce nk,akash and arnav when she introduce arnav,arnav khushi get in eyes lock,anjali saw that and smile and thought arnav finally found his angle,angali went near to arnav and she shake his shoulder and bring out khushi and arnav in dream world
Anjali : where are you staying we will drop you in your home?
Khushi : no.... thanks i am new to this city,i am here see my best friend but i can't see her
Akash : why ? what happened?
Khushi : someone stole my handbag,so i am lost her address and phone number,so now i wan't to
search job and for staying place after i will search my friend
Anjali : then you can stay with us and join on our company
Khushi : no..... thanks,you don't take trouble
Akash : no...... we are not think it is trouble it's our responsibility you saved our friend
arnav feel so happy he can daily saw khushi near him,they argument and khushi finally say ok and they feel so happy.
Continues.......
Comments.......
Jan 18, 2018
(part 5) you are my love (By Angle_Arshi) (Thanked: 32 times)
Arnav left the room and went to meet doctor,doctor say to arnav how to take care of khushi wound,he thanks to doctor and come out and went to khushi room ward,he open the room door and went inside and saw khushi laughing.he lost in her laughing
anjali saw arnav was standing in enter,anjali call arnav,arnav come back from lost inthought
Anjali : (teasing smile) arnav you can come inside
arnav smile shyley to anjali and get inside the room,he come near to khushi and anjali and he saide let's go
khushi nod her head,anjali and arnav help khushi to get down from bed
Khushi : thank you (with smile)
Anjali & arnav : ur welcome (with smile )
Arnav : come let's go
they went to car parking arnav took driving sit akash front sit and nk,anjali and khushi took car back sit,arnav fix windscreen and looked khushi from windscreen and he start the car
continues......
comment...
Thank you for yours comment.........
Jan 20, 2018
(part 6) you are my love (By Angle_Arshi) (Thanked: 30 times)
arnav stop car in front of home,he and akash,nk and anjali get down from car,when he saw khushi going to get down he went near to khushi and give his hand to khushi,first khushi looked arnav and hand again looked arnav with smile in face she gave her hand to arnav ,first arnav thought when she not give to him her hand she don't like this but next second when he saw khushi gave her hand to him he feel so happy he take her hand and help to get down,khushi get down the car and look around ans saw beautiful home
khushi : this is your home
anjali : yes but now this home also yours because you're now our friend
khushi : but
nk : yes anjali is right
arnav in mind :my friends thinking you are now our friend to us,you are not my friend khushi but you are my angle you come like angle and save my life and you are my love when i saw you that second i am fell love with you my angle
akash broke arnav thought
Akash : come let's go
they went inside home anjali made khushi to sit in living room arnav sit beside khushi,then hp come there and ask what they are want to drink
anjali : khushi he is hariprakash our maid (khushi say namaste to him he also reciprocate to her) khushi what you want to drink tea or coffee
khushi : i like to drink black coffee
nk : woow....... arnav also like black coffee
arnav glare nk
khushi look arnav and gave smile arnav also smile to her,hp come with tea and coffee and gave to them and left the place to make dinner,they are sitting living room and start to drink coffee and charting
suddenly akash,nk said they are have some work they will back again and they left the place anjali also said she will go and kook what hp is make for dinner
khushi : i am also come with you
anjali : no... you stay here i will come back quickly you not along here you talk with arnav ok i will back quickly
khushi nod her head khushi feel so nervous. when she meet with arnav eyes her heartbeat so fast she don't know why never happened like this
arnav khushi don't knoe what to speak sometime arnav thought to broke the silent
arnav : khushi
Continues...
comment...
Feb 4
( part 7 ) you are my love (By Angle_Arshi) (Thanked: 35 times)
arnav : khushi...... He call her in husky voice...
Khushi heartbeat are beating so fast she thought oh... No now my heart is going to stop hey devi mayya! raksh karna then she slowly look up
Arnav : thank you so much arnav said with smile
Khushi : thanks for what..? Khushi asking with confuse face
Arnav : because you save me today na... Arnav said
Khushi : oh.... It's OK arnavji... Khushi said with smiling on her face
Arnav : arnavji...... He ask with confuse, no one call him like this before, all ways arnav, asr like this but this is new to him, he like khushi call him this way, he thought to ask why she is call him arnavji,She not you call his friends like this?
Arnav : why are you calling me arnavji, call me arnav like my friends calling me
Khushi : no... I will call you like this only, I don't know why but I like to call you arnavji, if you have any problem I am call you like this she ask with sad face
Arnav saw her sad face he don't like that. he want to see her cute smile face so he immediately said
Arnav : no... I am not have any problem in fact I like the way you call me .
Khushi gave a beautiful cute smile to him. He want to see the smile on her face forever.
Arnav : now how are you feeling, are you have any pain he ask with concern
Khushi : I am OK I feel little pain, If I wake up, this pain will be gone
Arnav : what..? You have pain, come You go and rest
Khushi : wait arnavji calm down .i have a little pain only
Arnav : are you sure
Khushi : of courses she smile to him
Arnav : you will not talk that much
Khushi : no... I will talk too much, I am just talking bit because of you
Arnav get shock
Arnav : why
Khushi : because I feel pity for you, if I hurt you ear, I am non stop talking she said with Pouted on her lip
Arnav try to control his laugh But he can't control and he brush out laugh. Khushi first get shock why arnav laughing like this then slowly admiring arnav laugh. She thought when he laugh he is so handsome.
Arnav control his laugh
Arnav : if you hurt my ear,it is OK I don't any problem
Khushi : no... I don't want to hurt ..., I will never hurt you in my life...
Arnav look khushi with lot of love....... He also thought I will also not hurt you .....
Apr 26
( part 8 ) you are my love (By Angle_Arshi) (Thanked: 31 times)
Anjali and khushi sleeping in same room, She doesn't even have a heart to send her to sleep alone in the room, If she needs anything in midnight after their took dinner and arnav and anjali gave the medicine to khushi and anjali and khushi and come and slept on anjali room, in midnight anjali wake up hearing some murmuring sound he look beside and saw khushi murmuring in sleeping anjali on the light lamp and turn to khushi and start to call her
Anjali : khushi... Khushi.... She Patting her cheek and call her many time but khushi not open her eyes she murmuring something , she thought to call arnav so she quickly get up from the bed and run out
Anjali went to arnav room and start to knocked the door and call out him loudly arnav wake up hearing anjali loud voice and he get up from the bed and wear his slipper and went near to the door, he open the room door and saw anjali was standing near the door look worried and Tense
Arnav : what happened , why you here in this time " he asked with care and worriedly
Anjali Without giving any answer pulled out from his room with her and She is took him her to room , arnav again asked " what happened Now where we going " anjali suddenly stop walking and turn to arnav and said with tensely
Anjalin: arnav I don't know what happened to khushi suddenly she murmuring something in her sleep I try to wake up her but she not opening her eyes pls arnav come and see what happened to her"
Arnav : What .. ? He get shock hearing this and he screamed in fear
he don't want to lose her she is his angle to him ,He quickly run to room anjali also following him with worried and saw khushi lying on the Bed and murmuring something in her sleep and he quickly went near to khushi and sit beside her and he try to wake up her and he patting her cheek and called her but she not opening her eyes he feel her body little hot and he try to anjali and said
Arnav : anjali I think she having fever her body hot , please call the doctor quickly
Anjali nod her head and took her phone and call the doctor to come to her house and sit beside other side of the bed and she look arnav and she saw one thing in his eyes that scared to lose her she know he loving her so much , this love first sight love
**************************************
The doctor came and tested her and put injection for her fever
Doctor : I am now putted injection to her and the injection make her fever minus now she feel sleep peacefully and she need rest and healthy food because she little weak , if you need anything call me now I will took my leave " and he went from there
Arnav stand beside khushi and look at her angle face with worried face.
Anjali saw this and she said " arnav you go and sleep, I am here only na.. I will look her, if I need anything I will call you "
Arnav : no anjali I will also stay here he said he don't want to go
Anjali : arnav Listen to me a little bit , you and sleep I will take care of her " and she patted his cheek
He look khushi and thought something and he look at anjali and said " OK , if you need anything call me OK "
Anjali nod her head
Arnav look at khushi ones time and he went from there with heavy heart he don't want to go from there he went to his room and fell on the bed and thought " how khushi was innocent she come to his like angle he want to Protect her from in this dangerous world, he can't lose her any cost in his life and he whisper to himself " Get well soon khushi " and fell sleep
Jun 17
( part 9 ) you are my love (By Angle_Arshi) (Thanked: 20 times)
Next day morning akash and nk come down after getting ready to go office. Anjali keeping brake fast on the table and akash and nk come and sit in their chair...anjali start to serve the breakfast to akash and nk and she also sits with them then aksh look around and he asked
Akash: anjali where arnav and khushi...
Anjali : akash I think arnav his getting ready and khushi is sleeping...
Akash : what happened to arnav anjali... Even one day arnav will not be late for work but today he late... He will go to his own office at the correct time...na
Nk : ha what happened to him he ok na...
Anjali: he is fine nk . yesterday might night khushi got a fever, I try to wake khushi up but she didn't wake up. I don't know what to do so I went and wake him up... After that the doctor came and put injection for her fever and he said tomorrow she will fine... Now Khushi sleeping maybe She will wake up in a sometimes....
Nk: what Khushi not well ( he asked shocked )
Aksha: why you did not call us
Anjali : akash that time I don't understand what to do... That time only one person comes to my mind that was arnav... Ha.. You know one thing, yesterday night I saw some worried in eyes,scared to lose something. He so worried for khushi I never saw him like this... I think he fell in love with Khushi....
Akash : ys we also saw him how he worried for her... Even a girl he does not look back but today he fell in love
Nk: arhhh arhhh ( he clears his throat)
Anjali and akash stop talking and looked nk with a confusing look what happened. Nk showed it with his eyes, look there. They saw the direction,where Nk showed them... Their shock to see arnav coming down wearing formal dress...
Arnav comes to them and said: good morning
Anjali, Akash and Nk said: good morning arnav
Anjali: arnav You have not gone to the office today ( she asked with confused )
Arnav pulled a chair and sit beside Nk and said: No... Today I don't have a mood to go
Anjali, Akash and Nk: Oohhhh ( with tease )
Arnav thinks what happened to them.when he going to ask he heard the soft anklet sound he turns and looks at the stair direction. His eyes went widen,his heartbeat starts to beat fastly. he saw Khushi coming down wearing white churidar. She was like an angel coming from heaven.
He wants to hold her in his arm and never let her go from him. He never feels like. This all new to him but he like this... Hearing Khushi voice he comes from his lost in thought
Khushi comes near to them and said: good morning everyone
All: good morning
Anjali gets up went to khushi and said: come khushi... Come and have your breakfast and she made her sit beside and start to serve the food
Arnav: khushi are you ok ( he asked with care)
Khushi gets shocked She didn't expect a sudden question from arnav
Khushi : haaa I am fine, now I feel ok.... ( she doesn't know what happened yesterday night because of the unconscious )
Anjali: ha khushi are you ok now ...yesterday night you scared me...you got fever suddenly I try to wake up you but you didn't wake up. I don't know what to do so I call arnav for help...
Khushi look arnav and both their eyes meet her heart her jumping in the joy she doesn't know why happening like this but this feeling new to her... Here arnav condition also same...
************************
After breakfast done, Akash and Nk went to the office. Arnav is staying home. Anjali and Khushi sitting in the hall and watching TV...and HP his went bazaar to buy kitchen think
Arnav was in his room... He suddenly he heard Khushi laughing sound... Her laughing her like hear to music to him... He gets up from his bed and went near to the staircase ...he saw the sense it made him smile like an idiot... It was Khushi laughing heart out ...
He standing near the staircase and lost in her laugh...
But one person saw this and smirked... He doesn't know he catches buy someone views ...because he lost in his angle laugh...
***************
Thank you so much dears who are comments and gave votes....
Jul 24
you are my love (By Angle_Arshi) (Thanked: 19 times)
In poolside
Arnav watering his plant. Anjali came in and she goes near to him standing beside him and crossed her hand over her chest. Arnav looked up and raised the eyebrows
Arnav: What?
Anjali shook her head: Nothing. Arnav I'll have to ask you one thing.
Arnav frowned," What? "
Anjali: arnav... I'm coming straight to the point, tell me the truth, Do you love her?
He doesn't know what to say. Then Anjali again asked
Anjali: arnav I know, You love khushi... I saw how you look at her and We saw a affection in your eyes.
Arnav took a deep breath and said," yes Anjali I love her... I can't see her in pain, I never felt this, this all new to me"
Hearing this, Anjali so happy. She hugs him and said
Anjali: I am so happy, Finally, you've found your angel ( and she broke the hug )
Arnav gave a smile and said," But..but I don't know whether she loves me or not "
Then she said," don't worry.... Your love is true then Absolutely you will gets her. Now come let's go down"
Both of them went down
*******************
They looked around in confused, where she went, she was here only, then suddenly where she went.
Then anjali saw HP is coming from outside. Anjali and arnav went near to him.
Anjali : HP did you see khushi?
HP : ha I was saw, She was standing in the garden.
Arnav: thank you HP, you can go and do your works.
HP went from there. They both went out. They are saw khushi staring in the garden and smelling flowers with a smile on her lip. Arnav again lost in her cute smile. Anjali look at khushi and arnav. She saw arnav who was lost in khushi. She shook her head and pinch arnav arm.
Arnav winch in pain," Ouch! " ( and he look at anjali and asked) Why..? you were pinching me
He caressing his arm. where now anjali pinched
Anjali : Bring you to this world from your dream world.
( said with a teasing smile )
Arnav glare at her and said," stop teasing me"
Anjali : OK...OK.... I didn't say anything, Come let's go and we will see your angle.
They both are went.
*********************
Khushi suddenly realized, Someone is behind her. She immediately looked back and saw arnav and anjali standing behind her. They both came to her.
Arnav : khushi what are you doing here, You have to rest.
Khushi: wo wo I am fine now,I am come here to get some fresh air.
Anjali : That's good, Boring inside the house. Being out is felt nice... ( she pulled arnav and khushi hands and Sit on the grass)
Arnav and khushi also sit beside anjali. On the right side of khushi and on the left side of arnav and they just started to talk. They are don't know how time went
Arnav lost in khushi cute talk.
******************
Evening akash and Nk , they came home from the office. Everyone was sitting in the living room and drinking tea.
She suddenly said that," Can we go out for dinner?"
Nk : wow... Good idea
Akash: yes this is a good idea, Arnav...( turn to arnav and asked) What do you say
Arnav : ya this is a good idea, Let's go out and ( then looks khushi and said ) spend some time. Their eyes met
Rabba ve... Rabba ve.....
When arnav look at her and said spend some time. She felt like she was taking ice bathing, Her body start to shivering... Every time that his eyes see her. She feels like something is happening in her stomach this all new to her. But she like this feeling.
Arnav... He want to sink in her hazel eyes fully... When he see her eyes, He felt like his all pain are going. He thought," She should be in my life, I want to show the world how much I love her. I want to tell her that I love her so much But before that I want to knows that she loves me or not. I don't know about her, If she had loved somebody else" his eyes went widen and he He shouted loudly," NO.. NO.." and Immediately he gets up from the sofa.
Others looks him with confuse, They are Wondered , and suddenly what happened to him. khushi also looks at him with widen eyes.
" arnav are you ok, what happened..? Why are you shouting like this," anjali asked
Arnav looks at khushi and said," ys anjali i am fine"
Akash : are you sure?
Arnav : yes ( and he looks at khushi,who looking with a confuse face)
****************
Thank u so much who r gave votes & comments. Pls give ur votes and comments. I like to read ur vommemts. Thank you
Disclaimer: The views expressed above are member's views and this website does not comply with it. The views expressed may not be factually correct. Incase of any issue please contact us/report it to us.