Aap Mujhe Achche Lagne Lage - 2
Mar 6
Aap Mujhe Achche Lagne Lage - 2 (By Angel23) (Thanked: 224 times)
Prologue..
She's simple and innocent girl..
He's rude and arrogant for the world, but an obedient and loving man for his Family.
She put a smile to the world when inside she's deeply hurt.
He shows his anger to others for tiny mistakes, when inside his heart is as soft as possible!
She struggled to get what she wants in life without support of anyone..
He reached where he is, because he had his family as his support.
She's hated by her family..
He's loved by his family..
She means nothing to her family..
He means everything to his family..
She's scared to meet new people..
He scares the people who meet him..
Her smile is fake to the world..
His smile is true to his family..
....
She's waiting for her a man who will take her away from her evil family.. from her pain!
He's waiting for the girl who would be able to love his family as much as he does!
****************************************************
"Khushi.. where's Khushi?" asked Ratna, who came to the kitchen with a tensed face as she looked through the kitchen trying to find her loyal employee. Khushi, who works as cook in their mansion. It's her part time job, as she needs money to pay her college fees. Ratna especially appointed her for this job, because from all the people who wanted to get this job at Raizada's mansion, she was the one who badly needed it, and Ratna felt an instant connection with this girl, she is honest and does her work perfectly, never gave them a chance to complain.
"Ma'am.." HP came running to her help, "Do you need something?"
"Where's Khushi? Did she finished preparing all the dishes? Chote must be coming by now, and I want everything to be done in time for him, my son is returning after 6 years.. he shouldn't point out any mistake on anything, be it his food, his room, all the arrangements for him has to be perfect.. got that?" said Ratna.
HP knowing how his ma'am is, just smiled a little and nodded his head.
"Everything is done ma'am, you don't need to worry.. Arnav bhaiya won't complain about anything you do for him! And Khushi didi also has already cooked everything, she just left now.." said HP.
"She left? I asked her to wait for her to see my son.." said Ratna shaking her head.
"Ma'am she said she needs to study for exams.." informed HP.
"Okay.." sighed Ratna, and checked what Khushi cooked, she smiled seeing that Khushi did as exactly told her to.
"Khushi never fails to impress me.." thought Ratna with a smile.
A man stood outside a huge mansion, as the driver quickly removed his bags from the car and headed inside in hurry.
The man shook his head in disbelief staring at the decorated mansion because of his comeback, he knows his great family is behind this, but he never asked for all this! A simple welcome is enough, now this looks like a wedding is taking place inside.
As he started walking towards the gate, the guards stood straight greeting him, and he just nodded his head, nearing his home!
But an obstacle came on his way, more clearly a girl who bumped with him and he held her by her waist to prevent her from falling.
She clutched his shirt from his back, and hides her face on his shoulder shutting her eyes tightly, the fear of falling was still there.
And he just stood still holding her waist protectively, now knowing what to do further.
1. Console her? NO, he doesn't even know how to do that! But his heart wants to; only his mind is reminding him that she's just a stranger!
2. Push her away? NO, it's would be such a rude behavior from him and his heart doesn't feel like doing so, but his mind his convincing him to.
Not wanting a war between his heart and mind, he cleared his throat gaining the girl's attention. She quickly, took a step back and looked at him fearfully.
Gosh! The moment, she gave him the privilege to see her face clearly, forget his heart and mind's war.. He forgot even about this world! He was completely speechless by her beauty..
"I'm sorry sir.." she said gulping, and clutched her duppata with her both hands.
"Khushi didn't ASR reach yet??" came a voice from inside, to confirm whether it was him or not.
Khushi looked around then behind Arnav, with a frown on her face making Arnav smirk at her, she's searching for him only!
She turned back and shouted, "Nahin.. Lavanya ma'am.."
"Do you even know what ASR means?" he asked huskily, Khushi looked at his side, first time she's hearing his voice and it made her feel goose bumps.
Khushi thought for a moment, and then nodded sideways, "I don't know about ASR sir, I just know ABC!"
"ASR means Arnav Singh Raizada!" he said putting his hands on his pockets, he passed from her walking to his house.
Khushi widened her eyes in shock, she just wanted to hit herself for committing such a mistake! Why couldn't she think with open mind? Ratna ma'am son name is Arnav and they are Raizadas. So it's obvious his name is ASR! She turned to him, "I'm sorry sir.."
Arnav stopped on his tracks, and looked back at her, "It's okay!"
Their little eye lock broke because his family came to him cheering, his mother hugged him so tightly as she let her famous tears of happiness flow from her eyes, he took blessings from her and his father, next was his siblings, who just jumped on him taking him to a suffocating group hug, then he hugged his crazy Mama and Mami and touched their feet, he walked to his 'Cool Nani', and as she denies him from touching her feet, he hugged her tightly "What's up Sweetheart?"
Nani giggled and hugged him tightly, continuing her 'Cool chat' with her grandson, unlike their emotional family, Nani is really the happiest and coolest member of this mansion, making him wonder how can his mother be like the typical 'Kabhi Khushi Kabhi Ghaam'?
Khushi stare at them with moist eyes, how she wished she also had a family like this one. They love him so much and it's clearly seen that they missed him a lot. The smile, tears, the little fights to get his attention first, the never ending question being thrown to him, the hugs and kisses. Oh she wished to return home and being received with this, but unfortunately, this wasn't on her fate!
His eyes landed on two new figures on his house, he raised his eyebrow in confusion and to which his mother came to clear this confusion running on his mind.
"She's Lavanya and her mother Dolly.. don't you remember them?" Ratna asked.
"Okay.." he answered in disinterest, then his eyes traveled to HER again, "Who's she?"
Lavanya pouted seeing that he didn't even look at her properly, while her mother consoled her.
Ratna looked behind and saw Khushi standing immobile there, she smiled "Khushi.. she's Khushi, she works here as a cook, you have to taste her food beta.. you will love it!"
"Khushi.." he whispered with his eyes fixed on her, writing her name on his mind.. or heart
with a permanent marker.
Note: - Although Arnav is ASR for others, he will not behave like ASR for his family (as I already mentioned) and for Khushi :).
- There's no villain from Arnav's family. Only Lavanya and her mother, and Khushi's family.
- I couldn't help but write this one, but as I already have two stories to write, this one won't be updated regularly..

- Will update HTHS soon..
Thank you.. and please comment!
Mar 7
Chapter 1 - 'The families' (By Angel23) (Thanked: 207 times)
At night..
Arnav woke up after a deep sleep, he went to the bathroom to freshen up. Sometime later, he walked out of the bathroom and raised his eyebrow seeing Lavanya on his room.
"What are you doing here?" he asked in a serious tone.
"Ji.. Ma is calling you downstairs to have dinner.." said Lavanya walking near him, in a seducing manner.
"OK.." Arnav replied plainly, "Next time, knock the door before coming in my room.."
Lavanya bit her tongue thinking, "Oh no, I wanted to impress ASR and he got angry with me, I shouldn't give him a chance to complain next time.."
Arnav seeing her standing still, gave her "LEAVE" look.
"We're waiting for you ASR, come soon.." she smiled, and left from there.
************************************************
Khushi walked out of the bathroom, she sat on the bed and opened her books to study for a while.
"Hey girl.. who will serve dinner here?" her mother, Garima shouted.
She closed her books with a sad sigh, and went to the kitchen to serve the food for them. Garima glared at her, "You stay all day outside, and come back home only to stay in your room? Are you forgetting our favors on you? You're just an orphan who would be begging in roads by now, but it's only because of the great persons we're that you have a place to sleep, what to eat and is studying on college now, otherwise.. leave it, don't forget what we did for you okay, and now you have pay back all we did for you.."
Khushi nodded her head fighting back with her tears, Garima left the kitchen cursing her.
"Is everyone dead on this house? I'm hungry, is there someone to serve food to us?" shouted Shashi angrily sitting on his chair.
"That good for nothing girl is serving now.. Have patience ji.." Garima sat beside him.
Khushi came to them, she served for Shashi, Garima and Buaji.
"Hey.. did you saw Payal today? How's she?" asked Garima excitedly.
"She's fine Amma ji.." replied Khushi looking down.
"And why are you getting sad about it? Now I see it, must be jealous of our Payal who got married in Raizada family, this city most rich family and they're high class people unlike you, who just works there as a cook!" said Garima laughing at Khushi's face.
"She must be hunting for a man there to get married and match to our Payal.. bechari (poor girl), you're only destined to work for my daughter!" said Garima glancing at Khushi.
"Shashi tell your wife to not cross her limits! And to never forget, if Khushi is a middle class girl, so is Payal. The fact Payal married to a rich man, doesn't change anything!" said Buaji.
"Jiji you're arguing with us because of this orphan?" Shashi asked in disbelief. Khushi shut her eyes tightly, she couldn't bear to hear more insults now, so she just left running to her room.
"Khushi is this house's daughter as Payal is for us, stop shouting she's an orphan every now and then.." Buaji said angrily.
"And let me just remind you both, that Payal didn't marry with a Raizada! She married Aman Mathur, who is with them for many years and works in AR, he's also an orphan who's treated like a SON for Raizada family.." Buaji said, she stood up and looked at both with a sharp gaze, then went from there.
"See how's she jealous of your daughter, every time reminding us that Payal didn't marry with a Raizada! So what, Aman beta is like their son, so that makes him a Raizada itself.. but no, she is just jealous because she never had a child. I tell you ji, your sister and Khushi are behind our daughter's happiness.." said Garima pouting.
"Haan, I don't know what's wrong with Jiji that she's always defending Khushi and put Payal down.." Shashi sighed hard.
Buaji knocked the door of Khushi's room for the third time, "Sona open the door.. please!"
Khushi was crying bitterly on the floor, she wasn't on state to face Buaji now, she nodded sideways, "Buaji go to sleep, I'm fine.."
"You see I didn't eat, and right now I'm standing with two plates for both of us. If you don't open this door, I'm going to keep BOTH back in the kitchen.. I will sleep HUNGRY Sona.." said Buaji.
Khushi quickly wiped her tears, and ran to open the door. Buaji got in smiling, she sat on the bed.
Khushi sat beside her, Buaji wiped her face with her sari's pallu, "Sona you shouldn't cry .. you're a strong girl.."
She started feeding Khushi with her own hands, while Khushi stare lovingly at her. If she's bearing everything Shashi, Garima and Payal did to her, it's only because she had Buaji by her side. She was just two years old, when Buaji brought her to this house, her real parents died in a car's accident near Buaji's neighborhood and when no one accepted to take her, Buaji took her. As she grew up with Payal she imitated the way Payal called the family members, she used to call Garima as Amma, Shashi as Bauji and Madhu as Buaji, little did she know that Shashi and Garima didn't like her and never accepted her wholeheartedly, they always ill-treated her when Buaji is not around. She realized herself that her mother is this woman feeding her right now, but as a habit that grew with her, she calls her Buaji.
"Why are you staring at me like that?" asked Buaji smiling faintly. Khushi smiled a little, and hugged Buaji tightly.
Buaji widened her eyes surprised with this sudden hug.
"You need to study now.. hain na?" asked Buaji killing the silence in the room. Khushi broke the hug, and nodded her head.
"Good night Buaji.." she said smiling. Buaji caressed her head, and went from there.
*********************************************************
Raizada mansion:
Early in the morning, Arnav descended the stairs and saw his mother having a cute moment of romance with his father, Raj.
She was feeding him breakfast smiling shyly, while his father was enjoying his mother's pampering, only both were at the breakfast table, others were still sleeping otherwise his mother would have never done such stunt in front of the family, little did they know their son wakes up early in the morning also!!!
"Good morning Love birds.." he almost screamed purposely with an innocent smile on his face, making his mother gasp shocked and his father look at his side startled.
"Arnav beta tum.." she said, and he ran from there to the kitchen, "I didn't see anything.." he shouted back, making his parents blush.
While he entered in the kitchen, his eyes landed on a beautiful sight, 'Khushi' cooking something with all her attention on it.
Mar 8
Chapter 2 - Sorry! (By Angel23) (Thanked: 211 times)
"Good morning.." he said as he stood near her.
Khushi got frightened, she was so engrossed in her work that she didn't realize someone else presence in the kitchen. She got so disturbed with his presence, that she tried to do everything at the same time, arranging her hair, adjust her salwar kameez and handle the cooking part also.
Arnav noticed this raising his eyebrows, if he's ASR and can't handle two meetings at the same time, then how could she even try to do three of them??
As a result, the rolling pin fell from her hand, making an irritating sound heard in the silent and peaceful kitchen till now.
Khushi got more nervous, she looked at him with fear in her eyes that he would scold her more now, first she did the mistake of not knowing the name of the owner of the place she works, and now the belan fell because of her.
Arnav bend to pick it for her, "I'm so sorry.. I disturbed you!"
He said and gave the rolling pin back to her, but Khushi nodded sideways with a crying face.
"I'm sorry sir.." she said clearly nervous, he knows he scares people but to this extent? He never wanted to scare her, in fact he said "Sorry" for the first time to an outsider. And he talked politely till now with her, but yesterday and today also she has the same frightened face to him.
"Why are you saying sorry?" he asked in calm tone.
"Sir sorry.. woh.. it . yesterday.. I.. didn't know your name.. and.. today.. it wasn't purposely sir.. I'm sorry.. it fell on your feet.. I didn't want to hurt.. you sir.." she said stammering.
"It's okay.. really!" he said smiling faintly, "I'm not angry.."
She blinked her eyes staring at him as if confirming from his expression if he was really not angry with her.
And he kept staring at her innocent face.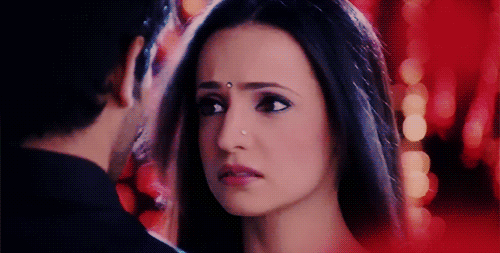 Rabba vee.. Rabba vee..
Khushi extended her hand, asking for the rolling pin back, staring meekly at him.
Arnav was still lost in her, he failed to see her asking through her eyes for her rolling pin back.
"Sir..how will I make roti?" she asked still fearing him.
"What?" Arnav frowned not getting from where 'Roti' came to this conversation?
"I'm sorry sir.." she said, scared of his reaction.
"Stop saying Sorry for every damn single thing!" he groaned.
"I'm sorry sir.." she gulped taking a step back, then realizing she said it again. She went running away from there.
"Khushiiiii.. Wait.." Arnav shouted, then sighed staring at the rolling pin on his hand.
************************************************
At the breakfast table..
"Aman right?" asked Arnav staring at Aman, who sat with them with another lady beside him.
"Yes.." Aman said smiling.
"Ma talked a lot about you when I was studying in London.." said Arnav.
"Aman is like a son for us, he's been working in AR for many years here and he's the person I trust the most there.. You will also like to work with him beta.." said Mama patting Aman's shoulder. Arnav nodded his head, "When he already gained my family trust, then I'm sure we'll be great friends!"
"She's his wife, Payal.." said Anjali who noticed Arnav staring curiously at the lady.
"Oh, you're married!" Arnav said surprised.
Aman smiled staring at Payal and nodded, "Yes, I just got married recently.."
"So sweet! Even I wish to get married asap now.." commented Lavanya glancing at Arnav.
"You will find a handsome and rich man for you my sweetheart! Just like Arnav son.." said Dolly smiling.
"Mom there's no one like ASR.. He's incomparable.." said Lavanya praising him, she looked again at his side to see if he was hearing what she thinks about him but he wasn't even looking at her. His attention was on someone else! She followed his gaze and found Khushi placing the food on the table. She frowned.
Arnav was watching her every move and capturing her face features on his mind.
She came to his side, and placed a jug containing juice on it.
Arnav took kheer bowl to serve, as staring at it he couldn't control anymore. He loves kheer and he could taste this one also, as it is sugar free.
Khushi snatched the bowl from his hands making him frown, (his frown made her repent for what she did now), as he saw it's her. He calmed himself.
"You can't eat this sir.." she said.
"What? Are you mad Chamkili? He's ASR and he can eat what he wants to in his house okay.. You're no one to stop him.." Lavanya glared at Khushi, she snatched the bowl from Khushi's hand and pushed Khushi aside.
She smiled to Arnav and was about to serve for him, when Arnav showed his palm asking her to stop with a serious face.
He took the kheer from her hand, and gave it back to Khushi's hand. She gulped wondering what is he going to do with her. Is he going to punish her?
"Why can't I eat this?" he asked.
"Woh.. this is for Ratna ma'am, she is diabetic and this is sugar free kheer especially for her.. so.." Khushi explained looking at the floor.
Ratna smiled, "Khushi it's okay. He also eat sugar free kheer, Chote has diabetes also like me.."
Khushi looked at Ratna shocked to know this. Arnav smirked while Ratna smile nodding her head confirming to Khushi.
"Can I eat now?" he asked eying to the bowl on her hand.
Khushi gulped staring at him with a crying face, "I'm really sorry sir.."
"Say how many 'Sorry' you want later, now please let me eat.." he said.
Khushi quickly handled the kheer to him.
"Did you hear it Chamkili? Now next time ask him, instead of ordering him OK! I don't know how a cook has the courage to stop ASR!" Lavanya said rolling her eyes.
"First you learn how to knock the door of others before getting in their room, then teach her OK?" Arnav said frowning.
"ASR.." Lavanya looked at him surprised, he scolded her in front of everyone making her so embarrassed right now.
"Chote I asked Lavanya bitiya to go to your room and call you for dinner.." said Ratna.
"I'm saying Sorry from her side Arnav son, you see she was so excited and nervous to meet you in real that she did a mistake.. From the time she heard you're coming back, she was only talking about you.. she follows your every step, she's your number one fan!" said Dolly.
Ratna smiled staring at Lavanya, "Indeed Chote, if there is someone who keeps talking about you here, it's Lavanya bitiya.."
Lavanya blushed. While Arnav rolled his eyes with 'Whatever' look.
He tasted his kheer that would become cold, if he keeps listening to their talks.
"Who made this kheer?" he asked.
"Why Chote? Isn't it good?" Ratna asked tensed.
Khushi clutched her duppata, she was the one who made it.
"It's the best kheer I've had till now.." Arnav said surprised that someone in this world could make better kheer than his mother, "I wish to kiss the hands of the person who made this!"
Khushu hipcupped hearing the last sentence.
"Maine nahin banaya hai.. (I didn't made it)" Khushi said quickly.
Everyone looked at her with who's-the-cook-then look. Arnav smirked.
"Toh kisne banaya hai? (Then who made it)" he asked.
Khushi pointed to HP, "HP bhaiya.."
HP gave her when-did-that-happen. She pleaded him with her eyes for him to accept it.
He just nodded his head for her sake.
And mischievous Nani took the opportunity for some masti, she signaled HP to show his hand for Arnav to kiss.
HP nodded sideways with a crying face.
Nani glared at him, and he quickly extended his right hand in front of Arnav.
Arnav gave him a look, "What?"
HP gulped, "Bhaiya woh.. kiss!"
Arnav glared at him, "Spare me HP!"
Everyone burst out laughing, and Khushi giggled softly.
Arnav didn't fail to notice it. After having his breakfast, he stood up and looked at Ratna.
"She's really the best cook Ma.." Arnav said and glanced once at Khushi, who looked down immediately.
"Wow.. Bhai praised someone in his life.." said Akash with a shocked smile.
"Am I dreaming?" asked NK with wide eyes. And Anjali and Shyam giggled hearing their conversation.
Lavanya didn't like it, Arnav praised Khushi, a mere cook and scolded her! She felt humiliated right now.
Dolly glared angrily at Khushi, she looked at Lavanya.
"You must cook better than Khushi!" said Dolly.
"What mom? I don't even know how to cook, how will I cook better than Chamkili?" Lavanya frowned, irritated with her mom.
"We'll spoil her food, and will order something delicious from outside and then you just say you cooked it.." Dolly whispered in her ear. Lavanya smirked.
Khushi went to the kitchen, and behind her was Payal, who acted like doing a bahu's duty.
"Don't fly too high OK?" said Payal standing beside Khushi with a smirk on her face.
"Jiji.." Khushi said only to be cut by Payal.
"Don't call me Jiji, call me Mrs. Mathur or Raizada! And what I was saying, don't even think just because Arnav ji praised you, means he liked you.. You're never going to trap him.. Khushi! You're just a middle class girl, who has no rights to even look at him.. You don't have an idea of who he is! You're no where near him, and by praising your tasteless food he just did a favor on you like we did to you.." said Payal.
Khushi looked at her with teary eyes.
Ratna came there and Payal acted like she was washing the plates.
Ratna smiled and patted Khushi's cheek, "Thank you Khushi.. I'm so happy that Chote liked the food, his room and our new house (Earlier they lived at Sheesh Mahal, then changed to RM).. I was so worried, he wouldn't like the decorations or the dishes we eat, but he's happy.. That's all I wanted, my son to like everything we did for him.."
Khushi smiled, "You don't need to thank me Ratna ma'am, this is my job only.."
Payal rolled her eyes hearing it.
"Ma I'm taking Arnav sir to AR.." said Aman who came in the kitchen.
"Kya? No, this boy reached yesterday and today he wants to work..really media said right, my son is a Robot.." Ratna frowned.
Aman and Khushi giggled.
"Aman let's go.." Arnav came to the kitchen, putting his phone on his pocket.
"You're not going anywhere.." said Ratna, putting her hands on her hips.
"I'm going, I'm tired of staring at your faces since yesterday!!" said Arnav making a boring look.
"Aww.. What kind of son are you?" Ratna opened her mouth in disbelief.
"If I stay here, then Di will start questioning me how's London, what you did, what you used to eat, to wear, what works you had and blah blah blah, then NK is one mental patient who needs hospital asap, he will drive me crazy if I stay near him, then Mama and Mami will not let me rest with their fights.. Nani is behind me to know who's my girlfriend in London, when I already told her that I don't have anyone in my life, only she's my girlfriend.. Then you will keep me asking, how are you beta? You want something? Do you want to eat? Do you want to watch TV? (Ratna's mouth shape formed a big O), then that Dolly Bolly whatever aunty is always talking about her daughter in front of me, and I cannot even ask her to stop, and last but not the least her own daughter La.. La..what's her name?"
"Lavanya..Chote you're impossible!" Ratna widened her eyes. Khushi giggled, covering her mouth with her palms, she looked so cute while doing that. It made Arnav, Ratna and Aman looked at her amused.
Mar 15
Chapter 3 - She can't lie! (By Angel23) (Thanked: 204 times)
Khushi stopped laughing and felt awkward that they were looking at her as if she was an alien, "Sorry.." she gulped nervously.
"Control yourself Arnav.." he said to himself, shutting his eyes tightly. He was really getting annoyed with Khushi's sorry for everything she does.
"Let's go Aman.." he said in order to escape from hearing her "Sorry", or else he would really shout at her for repeating sorry many times.
Aman nodded his head, while Ratna fumed at him for not hearing her words. Arnav glanced at his mother, he came near her and kissed her forehead, "I will come soon my daughter.. don't worry, will not stress myself.."
"Aww.. am I your daughter?" she asked raising her eyebrows, "You're my son Mr.Raizada!"
"Nani is my girlfriend, so you're my daughter na!!" he winked at her, making her laugh and shake her head at her crazy family.
Arnav left from there with Aman, contented by seeing a smile on his mother face.
Khushi was admiring their relationship, "Sir is really lucky to get a mother like Ratna ma'am, she love him so much.. I wish Amma also felt the same for me!" she thought.
"Ma.. we should leave to Mandir too.." said Payal smiling.
"Oh yes.. let's go!" said Ratna, "Bye Khushi.."
"Bye Ma'am.." Khushi smiled and resumed her work, she really like to work in this place, all family members were good and friendly with her unlike in her home, whom everyone treat her like a slave except Buaji.
*******************************************************
After praying in Mandir, Mami, Nani, Anjali, Lavanya, Ratna, Dolly and Payal were shopping.
"We're in shopping Raj ji.. you can join us to have lunch later, bring Chote and Aman with you too.." said Ratna.
Raj was about to accept, but Aman and Arnav nodded their heads in negative.
"I can come, but your babies don't want to.." said Raj smiling sheepishly.
"Babies.. seriously Papa! We're in office.. what if someone hears you calling me like that!" Arnav rolled his eyes, he really hates to be called a 'baby' by his parents, but since he's their younger son, he gets this type of treatment. While Aman just giggled.
Raj sent a flying kiss to him, Arnav widened his eyes.
"Okay, then ask him to go home and rest.." said Ratna pouting, to which Raj passed the information to Arnav.
"Better home than shopping!" Arnav murmured, and shifted his attention to his laptop, and Aman joined him.
RM:
Khushi helped HP in carrying some boxes to the guest room, while going upstairs she passed from Akash and NK who were lazily on the couch.
"What's the best thing in life?" asked NK to Akash.
Akash smiled relaxed, "Entertainment.."
"Then?" NK asked.
"No work!" Akash said.
"Acha?" Khushi came near them, her both best friends. Usually she talks less with everyone, but these both never leave her, and since they're so good, crazy and friendly she became their friend in no time.
Akash and NK giggled.
"No work means no money, then how will you get entertainment then?" asked Khushi.
"But how fun it would be if we didn't work still we receive money for not working!" said NK with a mischievous smile, Khushi laughed.
"But it would be boring, hain na?" Akash said with a boring look. Khushi nodded, "That's true, it wouldn't be fun to just sit at home and enjoy every time.. the money you get with your hard work, makes you satisfied and proud of yourself!"
"I really wish to have these beautiful thoughts like you Khushi.. but in my mind, there is only pa..pa..party!" said NK showing his dance moves.
"You should be working as a DJ then!" a voice interrupted their conversation, Khushi quickly composed herself as she recognized the owner of the voice who makes her feel goose bumps just by his husky voice.
NK sat straight, and bit his lips, "Nannav.. weren't you in office?"
"I was, you weren't.. can I know why?" asked Arnav raising his one eyebrow.
NK made a crying face, then looked at Akash to save him. But Akash buried his face on his newspaper, leaving NK to answer Arnav alone.
Khushi felt pity for him, even she got scared the way Arnav asked to NK. She knows how he's rude and arrogant to his employees in London, but she never thought family would also receive this treatment from him.
"I had fever Nannav.." said NK avoiding to look into Arnav's eyes.
"Really?" Arnav asked crossing his arms, and raised his eyebrow with a smirk.
"Haan.. ask Khushi.." NK said pointing to Khushi. She widened her eyes, glaring at NK for putting herself in this situation.
Arnav looked at Khushi, NK joined his hands with a pleading look begging Khushi to save him today.
"Is that true?" he asked to Khushi.
"Ha..haa..haan.." she stammered, clutching the boxes on her hand.
"Haan?" he raised his eyebrow. Khushi gulped, she thought she was caught lying, which was true. Her innocent face didn't let her lie clearly, and a smart brain like Arnav could easily see that.
Khushi's eyes turned moist, she was about to cry when NK intervened, he couldn't see her crying for no fault of hers.
"Nannav.. I lied! Actually I didn't want to wake up today, that's why I told to Di that I wasn't feeling well and won't go to office.." said NK.
"Okay, your salary will be deducted for sure!" said Arnav.
NK gulped, "Aa gaya Nannav to torment my home-sweet-life!" he murmured looking away.
"And yeah, next time ask someone who can lie to save you!" he said glancing at Khushi. Khushi looked down.
"I'm sor.." before she could complete, Arnav raised his hand, showing his palm in Dadi's style.
"DON'T.." he said, "I will soon get headache if I listen to your Sorry mantra everyday.."
Khushi step backwards, she was going to escape from him otherwise he'll also deduct her salary, and now that she's irritating him with her sorry, he would surely take some action. She stumbled on her way, and was about to let the boxes fall.
Arnav wanted to help her, but NK reached first.
"Thank you.." she whispered to NK with an innocent full of sugar smile, to which Arnav got jealous that he didn't got this from her, instead it's always her frightened look he get.
"You're welcome Jalebi (Khushi's nick name for NK).." NK smile, pinching her cheeks. She went from there upstairs, after glancing at Arnav, who was kind of lost.
NK was about to go too, but Arnav called him.
"Come here.."
NK came near him, holding his cheeks, "You're not going to slap me, right Nannav?"
Akash laughed, Arnav ruffled his hair, "I'm not going to deduct your salary.. you know but I like discipline.. you also know that!"
NK held Arnav's chin, "Aww.. how sweet you're Nannav!"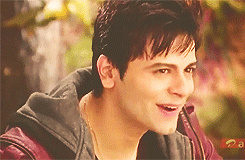 Arnav glared at him, NK left him quickly then smiled: I know Nannav.. promise I will go to office everyday with you!
He side hugged Arnav, and Akash rushed to join the hug.
"Oh my God.. you both are becoming emotional like girls in this house.." said Arnav rolling his eyes in disbelief.
Akash and NK quickly broke the hug, making yuck faces.
"We and girls.. bhai.. how can you even think like that?.. I will never beat Ratna aunty emotional scene.." said Akash.
"My son is coming home after 6 years.. I'm so happy that I can't even say.." NK acted like Ratna.
"Don't talk bad about my mother.." said Arnav smirking, actually Ratna was just behind them and he acted like he was defending Ratna and trapped his brother's.
Ratna stand behind both, and twisted their ears. Both scream in pain.
Arnav chuckled.
"Aren't you both ashamed you're talking about Ma like that?" asked Lavanya frowning. She was siding Ratna, to impress Arnav.
"What the.." Arnav frowned, "Before she was your Ma, she was Ma for both (Akash and NK).. Ma knows they're kidding.."
Lavanya almost fainted, she failed to impress him and every time he seems to be getting more angry with her.
"I was also kidding Arnav.." she giggled embarrassed.
"One can't lie because of innocence, and other can't because of evilness!" he thought, his eyes landed on Khushi descended the stairs counting each one.
His lips broke into a smile, and Lavanya thought he was smiling because of her.
Thank uu so much for the comments and so many likes in the first updates itself.. I'm really so happy!
Dipanwita- Hey dear.. I'm not angry with you, it was your POV and I completely understand that..
Hope I worked on that..
Mar 16
Chapter 4 - A smile for him! (By Angel23) (Thanked: 197 times)
Dolly's room:
"Mom just look at this ****y dress I bought.." Lavanya showed the dress to her mother, excitedly.
"You'll look gorgeous in this Lav, leave Arnav every boy will fall for you!" Dolly said smiling.
"But I just want Arnav Mom!.. He has to be mine, I didn't work hard to impress this family all these years to not marry him.. I will soon be Mrs.Raizada!" said Lavanya dreamily.
"For that you'll have to start impressing Arnav also, not only his family!" Dolly hit Lavanya's forehead, breaking her thoughts of marrying Arnav.
Lavanya pouted, and rubbed her forehead, "Mom! What do you think I bought this dress for? To make him fall for me, for my beauty!"
*********************************************************
"Khushi.." Anjali called her.
"Ji Anjali ma'am.." Khushi went near Anjali obediently.
"Can you please call Chote to have lunch? He's in his room, I have to help Shyam ji, he's calling me.." Anjali asked.
Khushi nodded, she went upstairs her heart was beating faster; she will have to talk with him! He's so scary, he might devour her inside the room.
Reaching in the room, the door was open and she just got inside forgetting to knock it as she really scared of Arnav, she just wanted to do the task Anjali asked her to and leave immediately.
"Sir.." she gulped, looking around searching for him.
"Yeah.." Arnav answered, as he walked out of the bathroom wiping his face with the towel on his hands.
He noticed Khushi standing there, then looked at the door side, "When did you came?" he asked to know if he made her wait for long or not.
Khushi followed his gaze to the door, she realized she didn't knock the door and yesterday he scolded Lavanya for this reason.
Khushi looked at him with teary eyes, "I'm sorry sir.."
"Hmm..why don't you just start calling me like that? My name for you from now on, is 'I'm sorry sir'.." he said sarcastically, "Whenever you will say this, I will know you're calling me only.."
Khushi started crying more, "I'm really sorry sir.. I'm not doing this purposely.. I'm always doing something wrong but I don't want to.. first I didn't know your name, then that day my rolling pin fell on your feet, it hurt you sir.. I lied to you today because NK asked me to, I wanted to save him that's why I lied, but you caught me sir.. now I got in your room without knocking.. I know you hate this sir you even said to Lavanya ma'am yesterday, but it was a mistake.. I didn't do this purposely, please believe me.. please don't deduct my salary, I need it to pay my college fees.. please sir!"
Arnav was shocked, when did he got angry with her for all these things? And from where did she thought he would deduct her salary?
Seeing her cry bitterly, he walked to her and put her hair aside gently, she closed her eyes still sobbing. He wanted to wipe her tears with his thumb, but Khushi stepped back, perhaps in fear of him.
"Khushi stop crying.. I won't do any such thing with you, and I've said before I'm not angry with you.." he said.
"You will not deduct my salary sir?" she blinked her eyes innocently.
Arnav nodded sideways, "No, I won't.. you want me to write this somewhere and sign on it?"
"Nahin sir.. your word is enough!" she said nodding sideways vigorously.
She looks so cute!... He thought.
"Sir Anjali ma'am called you to have lunch.." Khushi informed him, wiping her tears.
"Okay.." he replied, keeping the towel on it's place. Khushi was about to go, when he called her.
"Khushi.." she heard his husky voice and turned to him.
"As for entering in my room, only you're allowed ok! Don't let anyone else, especially La..La.. (he forget her name again).. La..whatever " Arnav tried hard to remember Lavanya name, then give up.
"Lavanya ma'am.." Khushi replied.
"Let's keep it Lazybones.. it will be easy to remember.." he said. Khushi wanted to laugh out loudly, but she controlled herself.
Lavanya watched this standing at the door, she fumed in anger, "Arnav knows this Chamkili name and doesn't even remember mine! He called me Lazybones!!"
"Let's go downstairs.." he said, "I can't wait to taste your delicious food 'Kitchen Queen'!" he smiled faintly, a smile that rarely comes out when he talks with strangers, but with Khushi is different, from the very first he saw her, he liked her so much, he doesn't fell like to scold her, his heart only wants to pamper this girl, but why? Why is he feeling like that towards her? Why only HER? And the opposite happens to Lavanya, just a sight of that girl and he get irritated, hearing her nonsense, and her trying to act sweet is really annoying for him. Sweetness from Khushi comes out naturally, while with Lavanya is just fakeness. He knows that, he's very smart when it comes to judge the person and what they're in reality.
Khushi blushed when he praised her food, she never felt so happy when someone praised her cooking skills, hearing this from the great ASR, was a big thing for her. *******************************************************
Khushi kept the dishes on the table, and informed Ratna that she was going. Arnav came there, "Ma.."
"Haan beta bolo, you need something?" she looked at him.
"I.. we'll talk later.. attend Khushi first.." Arnav said, and stood there to hear their conversation.
"Good luck Khushi for your exams, I'm sure you'll will top like always.." Ratna kissed Khushi's forehead and went from there as she was being called by Raj.
"Good luck.." he wished her. Khushi smiled, looking down and went from there.
"Gosh.. Cuteness overload!" he thought smiling, and walked to the dining table.
"Arnav.. LAVANYA will serve for you today.." Lavanya bend and said on his ear, and then took his plate, smiling brightly.
NK and Akash laughed silently, as she said her name as she's talking about someone else, little did they know that she's doing this for Arnav to memorize her name.
"God!.. Cuteness overdose.." Arnav thought, annoyed with Lavanya's acting.
"Are you reminding yourself your name Lavanya bitiya?" asked Raj clueless; he raised his one eyebrow in confusion.
Lavanya smile embarrassed, while everyone laughed. Dolly glared at Lavanya for being stupid like this.
*************************************************************
At night..
Ratna sat with Arnav on the couch, leaving Raj with Anjali. Shyam, NK and Akash sat together on another couch, Nani was with Lavanya, Dolly and Mami.
"It's night dear.. are you comfortable with this tight dress, make up, jewelry, all this?" asked Nani in disbelief staring at Lavanya, she looked like someone who is ready to go out now.
Lavanya gritted her teeth, it's tenth time Nani is asking her this, with a tight lipped smile she replied, "I'm comfortable Nani ji.."
Nani shrugged and nodded, "This generation kids!"
"Ma, did you notice Khushi? She isn't like the new generation kids, she's different and simple girl.."said Raj smiling, "Kitni acchi bachi hai (such a good girl).. It's rare to find girls like her nowadays.."
Arnav who was boringly checking his emails on his phone, was all ears now to what his father was talking about Khushi.
Nani and Raj kept on talking about Khushi and letting Arnav know how she is, while Lavanya felt insulted.
***************************************************
Khushi returned home all tired, and as usual instead of letting her study, she had to clean the kitchen and serve everyone dinner, then hear taunts because Payal gossiped with Garima, that Arnav said he wanted to kiss the hand of the person who cooked today, she had to hear insults from them and they warned her to stay away from him, as Arnav would never look at her with other intentions, he would always see her as a maid.
She went to her room with tears in her eyes like always, like always she was blamed for everything. She didn't had a reason to smile, and the one she had today (Arnav praised her), even that little happiness they snatched from her.
Mar 18
Chapter 5 - Cutiepie crying! (By Angel23) (Thanked: 223 times)
"Sona tell me na, is Arnav Singh Raizada handsome?" Buaji asked mischievously, staring at Khushi who was making tea for her.
"Buaji.." Khushi whined, "What should I tell you?"
"What you think obviously? I hear a lot about him in news channel, he is number one fashion designer in London, you know that? And his fashion house, AR is in top ten list in India as well as London. Girls are mad about him, everyone wants to meet him and you're so lucky you're working for him.." Buaji said excitedly.
Khushi nodded her head, "Lucky I'm.." she whispered, thinking that despite not knowing his name, irritating him with her "sorry", then enter on his room without knocking, lying to him for NK, he didn't scold her at all. He was a different person for her, and not what she used to hear with his family or the way the world portrayed him as. How can many people say the same about him, and only she felt he isn't the rude and arrogant ASR? Is he just like this in front of her? And why only.. Her?
"The girl who will marry him, will be very lucky.." Buaji commented, taking her tea from Khushi's hand.
"And that girl will not be your beloved niece.." Garima walked in the kitchen glaring at both.
"And why not?" Buaji asked angrily. Khushi signaled her to keep quiet and not discuss early in the morning, but it was too late. Buaji wouldn't stop now that Garima provoked her.
"Because she isn't worth him!" Garima said with eyes spitting fire at Khushi.
"And who are you to say that? Even Payal isn't worth Aman, but she married him. Didn't she?" Buaji shouted.
"Buaji don't.." whispered Khushi with moist eyes.
"My Payal isn't an orphan like this girl, she is beautiful and intelligent..that's why she got a man she deserves!" said Garima proudly.
"The truth is right in front of your eyes which is something you will never accept, Khushi is beautiful in her way, she is beautiful from outside like Payal is, but she's more beautiful from inside, she has a good heart unlike Payal. That's the reason this girl never raised her voice on you, because despite all wrong you did to her, she still see you as her mother, she still respects you, if I was in her place maybe I wouldn't tolerate all this. And about intelligence, then let's not even speak about this, all your efforts to make her stop studying failed, because she top student in her college. And what you said? My Sons isn't worth ASR, then today I'm saying Sona will get married to ASR or someone even better than him!" Buaji said.
Khushi widened her eyes in shock, at the last statement of her Buaji.
Rabba vee... Rabba vee..
Garima fumed in anger hearing this and left from there. Buaji smirked victoriously.
"Buaji why? Did you even realize what you said? I will get married to Sir.. Did you drink bhang today or what?" Khushi complained with moist eyes.
"I'm not drunk Sona. But my heart says that there will come a man who will take you away from all this pain you're bearing from no fault of yours.. And I really wish he's ASR!" Buaji smiled wiping her tears with her palms.
"Amma ji is saying right, I'm not worth of Sir.. I will never get married to him or anyone of his class.. I just want a good and honest man for me, someone who will care and love me a lot.." Khushi said closing her eyes.
"Khushi you never know what will happen in future.." said Buaji.
"I've to go now..see you later.." Khushi said, walking to go.
Buaji held her hand, "You didn't answer my question.. Is Arnav Singh Raizada handsome or not?"
Khushi gave her "I'm getting late" look.
"I won't let you go before you answer me!" Buaji smirked.
"Sir.. (Khushi gulped thinking about him, his sharp features, his half smile, his ****y smirk, his chocolate dark brown eyes, his husky voice that makes her feel goosebumps..) is handsome.." she said shyly.
Buaji smiled, and let her go. She went running outside, she never looked at other men like this, she never felt the need of having a boyfriend like her friends in college, she only wanted waited for her Prince Charming. She never had crush on anyone in college. She is surprised at herself, she noticed too much of her sir, than her colleagues in college.
*************************************************
Raizada mansion..
"ASR.. I'm top model of whole Mumbai.. There isn't anyone on who doesn't know who Lavanya Kashyap is.." said Lavanya walking behind him.
Arnav was talking over the phone with one of his business clients and Lavanya was running behind him blabbering nonsense. Till now he kept quiet bearing it, but she just managed to wake up the monster inside him.
"JUST SHUT UP DAMMIT.. Can't you see I'm talking over the phone?" Arnav shouted on top of his voice, his eyes darkened in anger.
Lavanya screamed in fear, she ran and hide behind a pillar.
While Khushi who just reached now, flinched standing in the living room. She got so scared of his anger, she start crying uncontrollably.
Arnav turned to her, "Dammit.. It's all because of that Lazybones, now this Cutiepie is crying because of me!"
"We'll talk later.." he said to his clients and kept his phone on his pocket, then rushed to Khushi.
"Khushi.. why are you crying?" he asked then mentally scolded himself, of course it's because of him she is crying.
Lavanya clutched her chest, trying to calm her heart that was beating faster.
Khushi stepped back, wiping her tears with her palms, she cried more.
"Stop crying! I wasn't shouting at you.." he said calmly, he couldn't believe from where did he got the patience of dealing with Khushi.
Khushi didn't stop, she looked at him, "You're very bad.. You can't shout on a woman like this.."
"I'm sorry.." he said to her!
Lavanya who was watching this, burned in jealousy. He scolded her, he should be calming her, saying sorry to her but he's more interested on Chamkili.
NK reached there, he raised his eyebrow confused but got more worried seeing Khushi cry.
"Jalebi what happened? Why are you crying?" he cupped her face.
Khushi didn't say anything, just sobbed glancing at Arnav.
"Nannav scolded you?" NK asked, making her look at him.
"Shh.. don't cry Jalebi.. you don't look good crying.." NK said, caressing her cheeks. NK kept whispering sweet nothings to Khushi and at last she smiled.
Arnav didn't like this, he left from there silently.
Later on, Khushi served them breakfast.
"You will see now Chamkili the consequences of coming in between me and Arnav. Today he scolded me, and instead of saying sorry to me.. He apologized to you, who are you ugh?" she thought angrily.
Arnav sipped his coffee, it had sugar on it. He spit it out angrily, "What the.. Who the hell put sugar in my coffee?"
"Kya? Khushi I informed you Chote is diabetic and you should be careful about his food.." said Ratna in scolding tone.
Khushi looked at them confused, "Ratna ma'am I'm sure I didn't put sugar in Sir's coffee I swear.."
"Then who put it? HP was in market, and only you were in kitchen Chamkili.. Admit your mistake, instead of acting innocent.." Lavanya glared at Khushi.
"This is what happens when you pamper this kind of girls Ratna! See now, instead of admitting her mistake, she's refusing to accept.. What you want Arnav beta to think? That we, his family did this? We would never do something to prejudice his health okay! Confess it, you only put sugar on his coffee.." Dolly shouted on Khushi.
Khushi stared at Arnav with teary eyes, she nodded sideways as if saying to him she didn't do anything.
"Khushi would never do something like this.." Arnav said in ASR tone, with his eyes fixed on her.
"Why not?" Lavanya looked at him in disbelief.
Arnav raised his one eyebrow with, "You dare to question me" look.
Lavanya looked down frightened of him.
"That girl who refused me to eat sugar free kheer because she knew she made it especially for Ma because Ma has diabetes, I refuse to believe she could do something like this even by mistake!" said Arnav.
Khushi looked at him with her big hazel eyes in surprise, he defended her!
"I also believe Khushi didn't do this.." said Raj.
Lavanya and Dolly looked at each other praying not to be caught.
"And Dolly aunt.. I never want to see any worker of AR, be it HP, Khushi or anyone getting insulted like this.." he said, "I hope I'm clear about this.."
Dolly nodded her head nervous, whole family was for a time numb, seeing ASR in front of them right now, and not Arnav.
Arnav left the table, and went upstairs to his room.
Khushi took his coffee cup, and went to the kitchen sadly.
"I should make another coffee for sir.. He didn't even eat anything!" she thought.
**********************************************
Arnav's room:
Khushi reached in his room, she stood in door and saw him talking over the phone.
"If I knock the door, then sir will scold me like he scolded Lavanya ma'am.. It's better I wait here only.." she thought and kept waiting there.
After some sixteen minutes, Khushi was tired of standing there with the tray for him. She wanted to call him, but was afraid he would shout on her.
"Chamkili what are you doing like Statue there?" shouted Lavanya gaining Arnav's attention.
Arnav stopped talking, he turned behind and saw Khushi standing at the door. She was looking cute, with half sleepy eyes and managing the tray on her hands.
Then it struck on his mind, that she was waiting for him.
"I call you later.." he said and hang up the call.
"Come in.." he said to her, Khushi was startled by his voice and Lavanya's voice.
She entered on his room, and showed the tray to him. It had his toast and coffee.
"Sir.. your breakfast!" she said.
Arnav took a look at it, then nodded sideways, "I don't want.."
"Then you will surely want this ASR..special snacks and juice for you!" said Lavanya as she walked in with a bright smile.
Arnav gritted his teeth, "OUT.."
"How many times I've to say to you to knock the door before getting in?" he asked angrily.
Khushi gulped, staring at both silently.
"But ASR.. I brought your breakfast.. You didn't eat anything downstairs.." she said looking down, faking tears which didn't affect Arnav.
"Who asked you to bring it? I didn't right?" he replied irritated.
"You didn't ask this Chamkili also, but she brought it.." Lavanya pouted.
"Leave.. (Lavanya looked at him startled).. I said leave dammit.." he shouted.
Lavanya ran away from there, Khushi also prepared her legs to run away from his room.
Arnav was quick, he held her hand stopping her.
Khushi looked at him frightened, her eyes got moist.
"Please.. leave me.." she murmured softly.
"I won't hurt you!" he whispered, keeping the eye lock between them.
Rabba vee.. Rabba vee..
He left her hand, then took the cup of coffee on the tray.
"Are you scared of me?" he asked sipping his coffee.
Khushi nodded her head innocently, making his heart ache that she feels that way. She's one of those person, whom he want to be Arnav with, not ASR. But he can't help it with Lavanya, and she witnessed his worst side today, that's why she's thinking he would behave same way with her.
"But I never shouted at you!" he said.
Khushi nodded again.
"You see Lazybones irritated me, that's why I scolded her.." he explained, "Not because I'm rude and arrogant ASR everyone keep saying.. But I'm also short tempered, if anyone does something I don't like then I will surely scold them.. But not with you, I will not shout at you! You're so good for me to do that.." he confessed.
His phone rang, Arnav was so engrossed in her that he picked the coffee cup and put near his ear.
Khushi start laughing out loudly staring at him, she pointed to the cup.
Arnav realized what he did, he looked at the cup then at her laughing. He smiled a little embarrassed.
********************************************
Khushi went to meet Ratna in her room.
Ratna handled to her salary, which Khushi took it saying "Thank you ma'am.."
"You know Chote is satisfied with your work, he asked me to increase your salary this time.." Ratna smiled, "You're doing a great job, it isn't easy to impress my son!"
Khushi looked at Ratna surprised, "Sir?"
Ratna nodded smiling. Khushi too smiled, she went from there and wanted to thank Arnav, but he already left for office.
Mar 24
Chapter 7 - I will come only with her! (By Angel23) (Thanked: 196 times)
Early in the morning..
"Hello hi bye bye.. party party today.." Mami smile in glee. She excitedly handled her bags to Mama, who glared at her and kept in the car.
"Two bags are you mad Manorama? We're just going to sleep one day in farm house and you're taking two bags as if we're going to London!" Mama scolded her.
"One for my makeupwa and other for clotheswa! Stop irritating me.. hello hi bye bye.." Mami pouted.
The family laughed out loudly at Mama's face.
"ASR.. do you want me to help you?" asked Lavanya caressing his shoulder, with her hand seductively. Arnav shoved her hand harshly, glaring at her, "NO, I know how to help myself.."
"Oh my god, there's no space in the car.. Lavanya dear, how will you go?" Dolly said widening her eyes, then smirking she looked at Arnav's car, "Arnav beta Lavanya will go with you, what say Ratna?"
Ratna nodded smiling, "Haan, Lavanya bitiya go with Chote.. in this way, both will get to know about each other and be friends.."
Arnav frowned, he didn't want to go with Lavanya. NK and Akash noticed it, but he was the only one who had all empty space in his car.
Lavanya happily opened the car's front door. But Arnav quickly threw his bag from the window to the front seat. She looked at him confused.
"You will sit at the backseat Lavanya.. my bag is my companion at the front seat!" he said sarcastically.
"But… ASR.." she frowned.
"You want to go with me or not?" he asked raising his one eyebrow. Lavanya nodded quickly, and sat at the backseat unwillingly.
"Not a problem ASR.. on our way, your bag and me will change our seats.." she smirked thinking.
"Oh no.. there's a big problem.." said Ratna placing her palms on her head. Everyone looked at her curious to know what big problem she was talking about.
"Relax guys.. there's just a small problem.." said Raj knowing how his wife reacts for smallest problems. Everyone laughed.
Ratna pouted. Arnav walked to his mother, he side hugged her, "Batao (tell) us what's the problem? Your son will solve it to you.."
"Khushi! She will cook for our party hain na. Her food cannot be missed there, and she won't be coming home today, it's Sunday na.. who will go and pick her?" Ratna said.
"I will…" Arnav said in such a fast and furious mode, as if someone would take this chance of him to see her.
"Nannav let it be.. you don't even know where she lives, I know I will go and pick her up, then we'll go together to farm house.." said NK getting on his car with Akash.
"NO.." Arnav frowned, "I will go and pick that Cuti.." he wanted to say 'Cutiepie' in front of everyone, but then realized what he was going to say and kept quiet.
"But bhai NK is right, you will not know where Khushi's house is, we'll go and pick her.." said Akash.
"Just give me the address and I will go!" said Arnav in ASR tone. Akash shook his head at his brother's stubbornness; he messaged the address of Khushi's house to Arnav.
*********************************************************
"Dammit.. NK explain clearly.. should I take left or right?" Arnav asked talking with NK, while he was driving and looking around.
"Left ASR.." said Lavanya trying to help him.
"You shut up, because of you I took a wrong way.. when you don't even know where Laxmi nagar is, why did you open your mouth?" Arnav scolded her, she bit her lips embarrassed. She just wanted to take an opportunity to have a talk with him, but never she had stepped in Laxmi nagar, and she didn't even had an idea how to go there.
"Nannav take a left.. no .. I mean right.. yeah right.." NK said all confused, by Arnav's talks, sometime he was talking with him, then scolding Lavanya. And in between all this, he himself forgot about the directions.
"What the.. with you I will go to Australia and definitely not Laxmi Nagar.." Arnav stopped the car harshly, and leaned on his seat sighing hard.
"But Nannav.." NK pouted, "I told you let me go and pick Khushi.. you denied it.. we can do one thing, you go to farm house, we will take a U-turn and pick Jalebi now.."
"I will find Khushi's address NK and will pick her.. you go to farm house, I will come now only with HER.." Arnav said determined. Lavanya felt jealous that Arnav was giving importance to Khushi.
"OHKAY.. Don't bring Jalebi instead of Khushi stating that you brought Khushi just because I called her Jalebii.." NK giggled.
"Shut up Monkey.." Arnav frowned hanging up the call. He opened his car door, and wanted to ask someone about it.
"NO ASR.. don't leave in this place.. there must be thieves here.." Lavanya said frightened.
"What the.. there's no one here.. I'm not going far.." Arnav gritted his teeth, he walked out of the car and asked a lady, she explained him well unlike Lavanya and NK. He thanked her and returned to the car.
*******************************************************
They reached in Laxmi nagar, Arnav parked his car and got out to look for Khushi's house. Lavanya stayed in the car, making disgusting faces at the place where she was, she hide her face with her duppata, so that no one sees her there and make it a breaking news tomorrow.
Arnav asked some people near him about Khushi, they said they don't know. He walked more, and kept asking about her, but they didn't seem to know her. Now he was tired, he wiped the sweat beads forming on his forehead with his handkerchief.
"Khushi didi said she will come to teach us dancing later.. she is making tea for her mumma and papa..." shouted a little girl to another.
"Let's play till then.." the other girl replied. Arnav walked to them, they got scared seeing a tall man in front of them and side hugged each other tightly.
Arnav smiled, he knelt down and patted both cheeks, "Relax.. I'm your Khushi didi's friend.."
"Uncle you know our Khushi didi?" asked the girl.
Arnav nodded his head, "And I came here looking for her only.. where is she?"
"Is Khushi didi playing hide and seek with you?" the other girl asked giggling.
"Haan, yeh tumhari Khushi didi bhi na.. I'm always looking for her and she's always disappearing like.." Arnav said.
"Like bhoot (ghost)?" asked the girl laughing. Arnav smiled, "Maybe!"
Khushi widened her eyes, as she heard them talking about her when she came looking for the girls to start their dance lessons after serving breakfast to Garima and Shashi.
The girls widened their eyes more seeing their Khushi didi, "Khushi didi is here.." both screamed and escaped from there running leaving Arnav alone.
Arnav bit his tongue; he knew she was just standing behind him. He stood up and and turned to her, faking a smile.
"Actually I was looking for you only.. And end up getting engrossed in their talks, they're cute!" he said, caressing the back of his hair embarrassed.
"Do you need me for some work sir?" she asked, nodding her head.
"Yeah, actually Ma organized a party for my comeback in our farm house and she wanted you to come to cook for it.. she forgot to inform you yesterday.. I came to pick you.." said Arnav thanking her for not touching the "ghost" topic now.
"I need to inform my parents about this, can I go? I promise I will not take time sir.." she pleaded cutely. Arnav nodded, "I will accompany you, I had tough time finding your house.. now I need to know where it is.."
"Sir.. it's better you wait in the car, this place is not for you!" she said staring at him sweating like hell.
"I've no problem with the place, your presence is enough for me to stay!" he murmured the last part. Khushi didn't hear it, she just nodded taking him to her house, then it struck on her mind, that Shashi and Garima won't like to see her with him, she will have to hear their insults again but then she can't say to Arnav to go back, it would sound rude. He's her sir, and she cannot say anything against his wishes.
As they reached inside, Garima and Shashi were shocked to see the great ASR in their house. They immediately took Arnav from Khushi and made him sit on the sofa. They ordered Khushi to bring a juice and snacks for Arnav.
Buaji greeted him with a smile on her face, "Namaste..". Arnav smiled, he walked to her and bend to take her blessings "Namaste Aunty..". Shashi and Garima got jealous that Arnav didn't took blessings from them.
"Madhu how can you let Arnav beta take blessings from you? Don't you know who he is?" asked Garima purposely to make Madhu feel embarrassed for letting Arnav touch her feet.
"No matter what I'm or where I've come from, she will always remain elder to me, it's my duty to respect her.." replied Arnav, not liking the way Garima spoke to Madhu now. He doesn't know why, he didn't feel good vibes from these both.
Khushi smiled faintly, she liked the way her Arnav sir behaved with Buaji.
************************************************************
Khushi opened the car's door at the backside; Arnav closed the door making her look at him startled.
"You will sit here.." he opened the door of the front side, taking his bag and handled it to Lavanya. Lavanya looked at him with wide eyes and her mouth in big 'O' shape.
Thought Khushi felt bad that she sat at the front seat and Lavanya ma'am at the backseat. She had to obey Arnav's words.
She closed the door, and Arnav noticed her burned hand, he was shocked. He took her hand, Khushi got scared, she tried to pull her hand off Arnav, but he didn't let her.
"What happened?" he asked softly, caressing her wounded hand with his fingers and blowing air on it. Khushi hissed in pain, closing her eyes.
Mar 27
Chapter 8 - Arnav sir! (By Angel23) (Thanked: 165 times)
"Woh.. I burned my hand while making tea.." she said staring at his fingers caressing her hand, just by hearing his voice she get goose bumps, now he was touching her! She felt butterflies on her stomach now, she was not able to seat quietly on her seat.
Arnav noticed her doing strange things, sometimes looking around avoiding to look at him, then playing with her duppata, then rubbing her nose or her forehead. And now she was staring at him, as soon as his eyes met hers, she looked away embarrassed.
"Are you okay now? Does it hurt a lot?" he asked feeling pity for her. He doesn't know why, he doesn't want this Cutiepie to feel any pain.
"It's fine sir.." she said assuring him, keeping her hand back.
"When we reach home, I will apply ointment on your hand, ok?" he said.
Khushi stare at him, she doesn't understand why her Arnav sir gives so much importance to her, she is just a mere cook and he's the King of Fashion industry. Why would he care for someone like her? Why is he different with her? Why she feels treated like a family by him?
"Shall we go???" Lavanya asked sarcastically, rolling her eyes. She's tired of seeing this Chamkili being treated like this by ASR, when she's doing all the efforts to impress him.
"Do you think I will stay here Miss Lazybones?" Arnav asked her, with the same sarcastic tone. Lavanya pouted hearing him call her Lazybones.
Khushi giggled softly, she hide her lips with her palms to not show Lavanya that she was laughing, but it was late, Lavanya already saw her expression and glared at her.
"How dare you laugh at me Chamkili??" asked Lavanya angrily. Khushi stopped laughing and looked at her with fear in her eyes.
Arnav looked at her with a dangerous tone, "She's not Chamkili! Call her by her name.."
"But even you called me Lazybones ASR, why can't I call her Chamkili? I'm just kidding like you're…" Lavanya giggled nervously.
"That's because I can call you and her by nicknames.. not you!" Arnav said.
"Then you have a nickname for her also na? Tell us!" Lavanya smirked, she thought Arnav would say some funny name and she would get the chance to laugh at Khushi's face.
"Bhoot.. Sir will call me bhoot (ghost) now.." thought Khushi staring curiously at Arnav to hear her nickname by him.
"Cutiepie!" Arnav said smirking, and then started driving. Khushi stare at him surprised, while Lavanya fumed in anger.
"Kya hua? Didn't you like it?" he asked looking into her eyes.
Khushi looked away, staring at the window side she blushed deeply. Her cheeks turned to red matching a tomato right now.
*******************************************************
At Farm house..
"Wow.. Nannav how did you find out Khushi's address?" asked NK shocked, sitting on the couch of the living room with everyone.
"I'm ASR and nothing is impossible for me!" he said shrugging his shoulder, with attitude. Khushi looked at him in awe.
Lavanya was drooling over him, she smiled dreamily, "My man! .. oh my god.. I will die!" she thought.
"Khushi here's the list of food you have to cook for the party.." said Ratna handling a list to Khushi, but Arnav took it. Ratna looked at him with questioning eyes.
"Ma she can't cook, she burned her hand while making tea.." said Arnav. Khushi nodded sideways, "No, I can cook.. it's nothing sir.. I'm fine now.."
"See she's saying she's fine now.." Ratna pointed to Khushi.
"But Ma she's lying! I know even feeling pain, she won't tell us anything. But we have to understand her situation also.. she's hurt and I'm not going to let her cook.." he said.
"But now how will our guests taste her food? I specially wanted Khushi to cook for our party.." Ratna said sadly.
"Ratna ma'am don't worry.. Your guests will taste my food only, I'm fine and I can cook.. really.." Khushi intervened.
"To hell with this party.. you're not going to cook until your hand gets fine!" he said frowning.
Raj was surprised seeing Arnav so possessive about Khushi, he was fighting for her!
"But sir.." Khushi said only to be cut by him.
"I don't want to hear a word against my decision KHUSHI!" he said with a sharp tone, she gulped and looked down.
"There's no problem then.. my darling will cook today!" said Dolly pointing to Lavanya. Lavanya widened her eyes.
"Hain na Darling?" asked Dolly smiling warningly to Lavanya. Lavanya nodded smiling, "Of course.. I can cook better than Cha..(Arnav glared at her).. Khushi.."
Raj giggled silently along with Akash and NK, who knows better than both that Lavanya can't even make a good cup of coffee, then cooking is far from that. She never faced the kitchen till now.
Ratna didn't seem convinced, but nodded her head agreeing to it.
"I have one idea.." said Akash not wanting to taste Lavanya's food, "Khushi can instruct HP how to cook and he will follow her instructions.."
Khushi nodded her head, then looked at Arnav seeking permission through her eyes. Arnav nodded, blinking his eyes.
Lavanya sighed in relief.
"But Lavanya can also cook her part na.. in this way, she will be helping!" NK said naughtily, "Nannav never tasted her food na!"
Lavanya glared at NK, then walked to Arnav smiling, "Of course NK.. I can cook especially for ASR, he will never forget my handmade food.."
Arnav gave her a oh-really look.
"I've another great idea!" Raj said smiling.
"What?" everyone asked.
"Since today is Sunday.. we can have some fun in the kitchen also, why only Khushi and Lavanya? Let's divide two teams who will cook the dishes mentioned on the list.. and then the team whose food taste better, becomes winner!" said Raj cheerfully.
"Awesome!" Akash smiled, "Wah uncle.. you're growing old but intelligent.." Raj pouted and everyone laughed.
"Lavanya choose one person.. you want in your team.." said Anjali smiling.
"Mom!" Lavanya chose. Dolly walked to her and pinched her arms harshly, "Why didn't you choose Arnav beta?"
"Aww.. Mom I need you na! How will I cook without you?" Lavanya cried in pain.
Now it was Khushi's time, she looked at everyone thinking.
"Jalebi will choose me only.." NK said excitedly, since he's Khushi best friend. He was sure she would put him on her team only.
Arnav was jealous hearing this, now that Khushi would choose NK, he was sure to be in Lavanya's team which was equal to a nightmare. Not interested anymore on this game, he leaned on the couch making a boring look.
"Sir.." Khushi said. Arnav's eyes lit up in happiness, he looked at her amused.
Rabba vee… Rabba vee…
"Kaun sir? You call every men sir here Khushi bitiya.." said Mama rubbing his forehead confused. Arnav's face fell again, this means she could be calling his father, mama, Shyam, or anyone.
"Woh… Arnav sir!" she said clearly this time. Lavanya glared at Khushi, she wanted to kill Khushi right now for choosing Arnav.
Arnav walked to her happily, he was in her team!
Payal frowned, "Khushi what you're thinking will never happen.. Smart woman! You're trying to trap Arnav ji, so that you also gain my status.. no matter what happen, you will never get him!"
Thank you for the comments.
@Lazydoll- I'm so sorry, you had asked last time about the title translation.. I only forgot it.. it means I have started liking you.
@Chamkililaadgoverner- Aman does not stay in RM, but he often visits the family and works in AR. He treats Ratna and Mami as his Ma and he is a positive character. Akash is Mama and Mami's son. NK is their cousin, as shown in the show only. Arnav and Anjali are siblings, and children of Ratna and Raj. But all of them treat Ratna like their ma, that's why Arnav said to Lav, that she was their Ma before she was for Lav.
Mar 27
Chapter 9 - The start of Dhak dhak!.. The start of a new relationship! (By Angel23) (Thanked: 178 times)
Khushi's team - Arnav, NK, Akash, Nani, HP, Raj, Mami,
Lavanya's team – Dolly, Ratna, Anjali, Payal, Aman, Shyam, Mama.
"Whom should I choose now Mom?" asked Lavanya to her mother. Dolly whispered to her, "Your sasuma, who else?"
"Ratna ma" Lavanya smiled, Ratna walked to them, she pinched Lavanya's cheek smiling.
"NK.." Khushi said, and Arnav rolled his eyes. NK jumped to them joyfully, "Yaay.. we'll win this cooking competition.."
"Anjali di.." said Lavanya. Anjali walked to them and both hi-fi, then Khushi chose Akash and Lavanya, Payal.
"Who will I choose now?" asked Khushi to Arnav, Akash and NK.
"My girlfriend.." Arnav said.
"Nani.." Khushi said nodding her head. Arnav was surprised as to how she memorized he calls Nani as Girlfriend, and didn't even asked him who was he talking about. Nani walked to them and she side hugged Arnav smiling, "You're a good boyfriend ahn! You didn't leave me alone.."
"How can I leave my ****y girlfriend with others? You will be with me wherever I go!" he said.
"Acha! Then why did you leave me and went to London? Don't you know how much I missed you?" Nani pouted. Arnav hugged her more tightly, resting his chin on her head, "Sorry my Girlfriend.. will never do it again.."
Khushi smiled warmly staring at them, they share an amazing bond.
"Choose my hubby!" Payal said smiling, Lavanya nodded while the girls in their team laughed making Payal blush.
"Aman.." Lavanya said. Khushi chose HP, then Anjali also asked Lavanya to choose her husband, Shyam.
"Choose Raj uncle.." said Akash. Khushi chose him, and Raj came to them sighing in relief, as he reached near them, he whispered, "Thank God, I'm on a winning team!"
The team giggled hearing him, making the opposite team stare at them with curious eyes. Mami went to Khushi's team as she does not get well along with Dolly, and Mama went to Lavanya's team.
*********************************************************
At the kitchen..
Team of Khushi was waiting for Arnav, who left the kitchen saying he will come back in a while. And Lavanya's team already started cooking the dishes.
Arnav came back with first aid box, he stood near Khushi.
"I didn't forget that I've to apply ointment in your hand, and only then we'll start the game! Which you're not allowed to cook only give instructions to us and we'll do the rest.." he said.
"Sir.. I can apply it myself.." she said trying to snatch the box from his hand. Arnav tightened the grip on the box, Khushi meekly kept her hand back knowing she won't have the strength to fight with him.
Arnav took her hand and start applying on her wound gently, blowing air on it time to time.
"Is it hurting?" he asked glancing at her once, then back at what he was doing.
Khushi nodded sideways innocently. He didn't see her face as he was staring at her hand, so thought she didn't reply, "Hmm???? Tell me if I'm hurting.." he asked again.
"Na..Nahin.." she replied. While others watched this scene amused, for Ratna it was more shocking. Since childhood, Arnav was never someone who would pamper or have patience to console someone; he only had this soft side to her and Nani.
Payal and Lavanya were angrily watching the scene.
****************************************************
While cooking the kitchen was a big mess, on one hand Khushi was not allowed to touch or help in anything by Arnav, and instructing the boys to cook was a terrible experience. As for Lavanya's team, she was trying to put her hands on everything, to show Arnav that she can cook but was just spoiling everyone's hard work.
"Sir.. NO!" Khushi almost shouted seeing Arnav ready to put the lentils on a pan with water to boil without washing them.
"You need to wash the lentils first.." she said. Arnav was like 'Really?' with a boring look, he went to wash it. Khushi smiled and went behind him, "Let me do it sir.. you're tired now!"
"No.. I will wash it.." he refused immediately, "You go on, what should I do next?" he asked.
Khushi explained him, and together they cooked Dal as their first dish.
"Oh God.. kitchen is not for me! Handling AR is more easy than this.." Arnav mumbled, caressing his back all tired as if he would die just by cooking dal.
Khushi giggled, "Sir it's easy.. you just need practice then you will cook even better next time.."
"Acha? You will teach me again?" he asked smiling.
"Haan.. I can teach you again anytime you want.." she said. NK called her and she went to help him. Arnav clenched his fist, "One day I will kill this NK yaar.. I started making her feel comfortable with me, she even started talking with me and he had to come in between us right now.. Couldn't he wait for more time? He's really a Monkey.. Donkey.."
Arnav cursed NK from inside.
"ASR can you give me sugar?" asked Lavanya coming near Arnav, she was purposely doing this. Arnav stepped back, seeing that her body almost collided with him.
"Mami she's asking for something.." Arnav called Mami, then glanced at Lavanya, "Mami will help you in anything you want.."
Saying this he escaped from there, and went behind his Cutiepie. Khushi was also coming to his side only, walking in hurry she didn't see him already coming. She bumped with him, and fell on his chest. Arnav held her by her arms, securing her to not fall.
Rabba vee.. Rabba vee..
She could feel his heartbeats, and that made her heart beat more like his was, their Dhak Dhak started! He was wondering why his heart was beating so fast and loudly, that even he could hear it. And she was scared of this new feeling developing in her heart..
Gayu - yes they know it, they just don't know that Guptas don't like Khushi.
Mar 29
Chapter 10 - Beautiful and Innocent! (By Angel23) (Thanked: 213 times)
"We finished!" shouted an happy Raj with a victory smile.
"We also finished.." Ratna said smirking.
"We're winners Ma unlike your team.." Arnav smirked side hugging his father.
"Don't show us your so called attitude okay, we can also be winners!" Anjali hugged her mother from behind smiling.
"We're not showing attitude, we know we are the best!" said Raj smirking with Arnav.
"I want to see your best when you don't have me to help you with the breakfast, to choose your clothes, to iron it, your tiffin.. don't forget all that!" said Ratna crossing her arms.
Raj bit his tongue embarrassed, then Anjali and Arnav laughed at them.
Khushi smiled watching them, they're such a perfect family and the situation and atmosphere of this family is very different from hers. The fights are so cute, while in her family they're ugly ones, one is their financial situation, then her studies, then Garima and Buaji don't get along well, then her parents hate her. Everything is complicated for her.
"Let's see then who's the real winner.." said Lavanya interfering in the between them. She stood hugging Ratna with Anjali. Ratna caressed both, Anjali and Lavanya's cheeks smiling.
"I don't know how Ma handle this girl.. God, If I was in her place I would have kicked Lazybones away from me.." thought Arnav, irritated with Lavanya's overacting, it seems no one notices her overacting other than him, why does he only feel irritated with her presence, while others behave normally? How can they handle a person like her? He thought.
"I'm so excited to know who's the winner.. also to see if you boys could do it well!" whispered Khushi to NK, with her eyes twinkling in happiness.
"Of course, we are winners only because of you Jalebi.. you taught us how to cook perfectly!" said NK smiling.
"Haan! Now I know what to cook when I'm hungry and HP is busy!" said Akash smiling, then glared at HP standing beside him. HP pouted, "But Akash bhaiya you only feel hungry at 2 am when I'm sleeping already.."
NK, Khushi and Akash laughed silently staring at HP who was making faces. It's Akash daily routine to eat HP's brain and irritate him.
Arnav watched them feeling jealous that Khushi is laughing with them and talking openly, while with him she's always shy and silent. Even though today he managed to make her talk with him, but after sometime she would go back to her normal.
They called few servants to taste the food and choose what they thought it was best. After discussing among themselves, they decided the winner and looked at the family anxiously waiting for the answer.
"We like this one!" they pointed to Khushi's team dishes.
The boys shouted in victory, while Nani and Mami hi-fi. And Khushi was standing from far watching them with a smile on her face.
Arnav stare at her smiling faintly, to which she reciprocated with a shy smile.
Lavanya sat on the chair upset that she lost; now how would she look at Arnav's face. While Shyam and Aman were consoling their wives, and Ratna was smiling watching the relationship both Arnav and Raj share, they were always like this, friends and she loves to see them in this way. Her family means her life, if they're happy then she would be, that's why she didn't feel upset that she lost.
************************************************************
At night..
Khushi stood worriedly in the gate, thinking it was late in night and she won't find any rickshaw this time to take her home.
Arnav was talking with few guests at the poolside outside the Farm house, when he noticed her leaving. He excused himself and went towards her.
"Khushi.." he called her and she turned to him.
"What are you doing here? Where are you heading to?" asked Arnav staring outside the gate.
"Actually I want to go home, but I don't think I will find any rickshaw here to take me home.." she said, clutching her bag in her hands.
"It's late now Khushi.. why don't you stay here and tomorrow I will drop you?" he asked hoping her to accept.
"No sir.. I can't.. I will go by myself.. I can manage.." Khushi said worriedly, she walked to go. Arnav held her hand.
Khushi looked back at him, their eyes met.
Rabba vee.. Rabba vee..
"Listen to me Khushi.. you will not find any taxi nor rickshaw this time. I'm telling you that tomorrow I will drop you, just call your parents and inform them.." he said.
Khushi nodded sideways she was actually scared of Garima, she knows she will hear a lot if she stays here, "I've to go home.."
"What happened Chote?" Ratna asked nearing them, she stood with a confused face.
"Ma Khushi wants to go home now, you see the time! It's too late and not safe to walk alone now, if she even finds a rickshaw there's a possibility he might be drunk or whatever.. I'm telling her that she can stay here and then I will drop her tomorrow.. " Arnav said.
Khushi looked down.
"Haan Khushi.. listen to Chote, he's right only besides you're our responsibility now. Chote will make you reach home tomorrow safe and sound ok?.." Ratna said, "And you also stayed here whole day helping with party preparations, and now only the party started and you're talking about leaving.. you can join us in the party, don't leave now.. stay here with NK, Akash, Lavanya, everyone.." she smiled.
Khushi smiled a little, she was about to deny again but Ratna interrupted her, "I don't want to hear no from you, otherwise I will call Payal here now to convince you to stay.."
"Payal kyun?" Arnav frowned.
"Payal is Khushi's elder sister.." said Ratna.
"Really? It didn't feel so.. you both don't even talk to each other here, I would never imagine you both are sisters.." Arnav said. Khushi looked at him sadly, then looked away.
Arnav noticed the change of expressions on her face; he already doubted something was wrong here. First he didn't got good vibes from her parents and he only like Buaji, who seemed a simple and sweet woman and now the fact that both are sisters but don't even behave like that. Nor they look or talk with each other, it seems like they're strangers.
"No, you don't need to call her Ratna ma'am .. I will stay.." Khushi said. Ratna smiled in victory, "That's how I like it.."
She left from there, followed by Khushi. Arnav stayed there lost in his thoughts about his Cutiepie.
*********************************************************
"I'm so happy you joined us Khushi.." smiled Anjali happily as she held Khushi's hand warmly. Khushi also smiled.
Payal was furious to know that Ratna and Arnav asked Khushi to stay and join them in the party, while Lavanya was jealous that Anjali was giving more attention to Khushi than her. Anjali is very fond of Khushi also, but she doesn't get time to talk with Khushi daily but she often hears her cousins, NK and Akash praising Khushi always, and like this she started liking her. But as today she got a chance that Khushi isn't working and she can spend time with her.
"Di.. come na, let's dance only girls!" said Lavanya pulling Anjali to her. Anjali stood still holding Khushi's hand, "Wait Lavanya.. we'll dance later.."
"Khushi come with me.." she said pulling Khushi with her upstairs. Lavanya fumed in anger, "I need to do something about this Chamkili now, first she stole ASR's attention from me, now Di also.."
*************************************************
Anjali's room:
Anjali took from her closet, one simple and beautiful red sari, she handled to Khushi smiling, "This is for you, wear it now for the party.."
"Nahin Ma'am.. I cannot accept it.. I'm fine dressed this way.." Khushi politely refused.
"Okay I admit it you're beautiful with your dress also, but I want you to wear this one.." Anjali said stubbornly. Khushi tried to deny her, but Anjali wasn't going to take NO as an answer, she pushed Khushi to the bathroom with the sari and locked it from outside, asking Khushi to wear it only then she would open the door.
Khushi sighed in defeat, she looked at the sari and ran her fingers over it admiring it.
Some minutes later Arnav entered in the room, staring at his Di smiling at the door of the bathroom.
"Di what are you doing here?" he asked, "Papa is asking for you.."
"I'm waiting for Khushi to change her dress.." said Anjali, "She wasn't accepting it, so I locked her in the bathroom and asked her to change, now you will see how beautiful is she going to look with that sari.."
"But Di it's wrong to .." he was about to scold his sister for forcing Khushi to change her dress, when Khushi walked outside of the bathroom, he became speechless. His attention went only to her, his eyes were stuck on her, she was looking so beautiful and innocent like an angel!
Khushi looked away uncomfortable with his gaze on her. She was wondering what's wrong with her look that he couldn't stop staring at her. Is she looking ugly with sari?
Disclaimer: The views expressed above are member's views and this website does not comply with it. The views expressed may not be factually correct. Incase of any issue please contact us/report it to us.