MADLY IN LOVE WITH MY LOVE!!!
Jun 18
MADLY IN LOVE WITH MY LOVE!!! (By Arshidreams1) (Thanked: 87 times)
PROLOGUE
SOMEWHERE IN LONDON
A huge building stood called ZARA INDUSTRIES which was one of the top fashion industries all over the world with its branches across the globe!!
10.00A.M
The heels made sound with the floor and suddenly the office fell in to complete silence with each step the beautiful 24 years old lady took who was wearing a red and black bodycon dress which reached just below her knees which emphasised her curves at the right places with her hair left open she looked nothing but model with those hazel eyes and fair complexion she had already got the attention of new male employees who had joined the previous day...she walked straight in to one cabin without even responding back to the good mornings thrown at her on the way with her secretary John behind her talking to her about something.
KHUSHI'S DRESS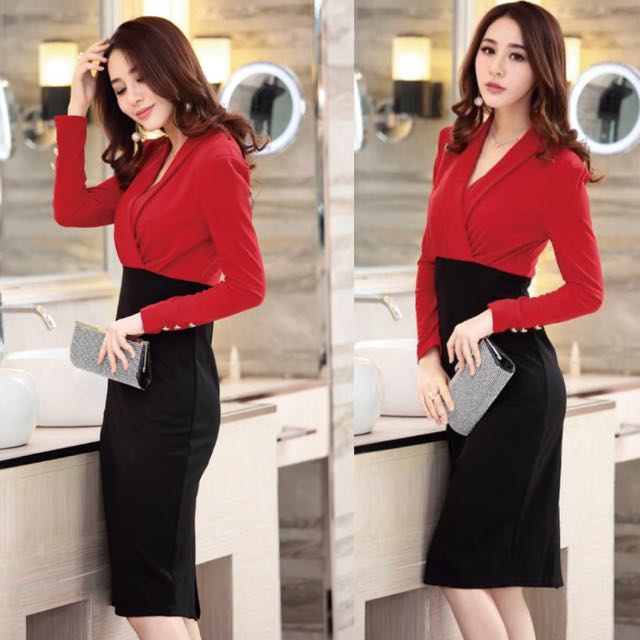 New Employee who was unaware of anything as she was not there yesterday when his interview took place he asked the person sitting next to him in a low voice...
NEWGUY:Hy...who is she??Model??
Employee:(laughing)Model??She is the sole owner of Zara Industries inherited from her dad Shashi gupta and she is our Boss Khushi Gupta...
NEWGUY:She is so pretty isn't it??
Employee:(smiling)If you don't want to get kicked out on the first day itself then don't tell this to anyone...and don't keep staring at her like that...she has eyes on her back too she hates laziness and she will not think twice to fire anyone who doesn't complete the job given or wastes their time!!Like now how you are doing...
New employee could only gulp thinking that how such a pretty lady could be so strict not wanting to be shown the door on the first day he resumed his work .
Khushi Gupta entered in to the cabin with John tailing behind her with giving the details of today's meeting and her appointments...
Khushi(sternly):Fine then send Miss Ria inside the cabin ...and get the contract papers of the Mexican deal that we closed yesterday...
John nodded his head and left knowing 1 minute delay would evoke a devil inside her
Ria came praying to GOD hoping that her boss mood was fine so that she doesn't eat her alive!!
Ria(stammering):May i come in mam...
Khushi(sternly):Stop Stammering and get in ....
Ria(scared):You called me mam??
Khushi(sternly):Yes I had to because I didn't have a choice because of the blunder if you have created...
Ria:(confused)Mam??
Khushi(angrily):How could you design so revealing dresses for to be moms it is the first time we are designing maternity clothes and you are hell bent on ruining it. The main point here is to make them feel comfortable in those clothes not the other way round...
Ria: Mam I thought....
Khushi(sarcastically):Please spare me with your thinking Miss Ria I had clearly given you the inputs about the designs and how we need it...I want you to change the designs immediately ...
Ria :Mam I thought it would look attractive on them!!....and...
Khushi(shouting):For Gods sake..you are not designing a dress for a new bride to seduce her husband ....its for a mom....Just do as I say or else the door is that way...understood??
Ria :(gulping)Ok mam...
Khushi(sternly):Now leave!!
John came immediately with his phone in his hand...making Khushi look at him confused....
John(worried):Mam call from India...Aman Mehra is on the line....Its an emergency!!
Khushi took the phone thinking what was the emergency that Aman had to call her now..!!
ON CALL
Listening to Aman's words she stood up from her seat...shocked..
Khushi(shocked):What are you saying Aman?
Aman:.....................................................
Khushi(angrily):And you are saying to me now??were you dead when it happened??
Aman:...............................................................
Khushi(angrily):I don't care...You do know that I can kick you out as well right??
Aman:..................................................................
Khushi:(sternly)Fine send me the details....I will be there as soon as possible............................
Khushi hungs up the call.....
Khushi:John get my private jet ready to go to Delhi and ask Alena also to join ...now....
John left immediately calling the people to make arrangements!!
Khushi(softly):I hope your fine Arnav!!!
Somewhere in INDIA in some news channel
REPORTER:It is said that the business tycoon of India and UK the ASR has met with an severe accident last week which was kept under the wraps till now has come out due to his sudden absence from office for a week. It is also said that ASR has lost his eyesight due to the accident and has major injuries on his hands and legs and is out of danger.But the AR board members have called the emergency meeting tomorrow to take decision about who would be next managing director of the AR GROUPS due to ASR's condition.
APOLLO HOSPITAL
AFTER 2 HOURS
A man was lying on the bed with his eyes, legs and hands bandaged sighed helplessly when a tear made way through his corner of his eye....
ASR(teary):I wish you were there with me Khushi........
Somewhere at the same time
LONDON
INSIDE PLANE.....
Khushi looked outside her private plane as it took off...
Khushi(softly):I am coming Arnav...please be fine....
Jun 19
SOULMATES??? (By Arshidreams1) (Thanked: 96 times)
CHAPTER 1
The plane landed around 10.30 P.M at night in the helipad of Gupta mansion in Delhi.....Khushi came out of the plane and called the number...
Khushi:(sternly)Ya...Aman how is he now??
Aman:.....................................................................
Khushi:(sternly)Okay....I'll be there in the hospital in 30 minutes make sure the press and media doesn't have the idea about it!!
She ends the call...
Khushi:Alena is my car ready??
Alena:Yes Mam....
Khushi(sternly):Inform John to mail me the details about today's major work in the company...
Alena:Ok...mam....
With that Khushi sat behind along with Alena...moving towards the APOLLO HOSPITAL....
Soon the car entered the gates of the hospital with Khushi getting down from the vehicle and Alena behind her...
Aman was waiting near the entrance waiting for her to come.....as soon as she came he went near her...
Aman:Hello...mam
To which Khushi just nodded her head....
Khushi: Lead the way Mr Aman!!
Aman led her the way where Arnav was present.....and stood outside the room indicating Khushi about the room....
Aman:He is sleeping now under sedatives...and...
Before he could continue she raised her hand asking him to stop....
Khushi: You and Alena stay here....
Aman:Okay Mam.....
Khushi went inside slowly looking at Arnav who was sleeping with his body and eyes bandaged she went and stood next to him looking at him ....she caressed his head and held his hand in her's....
Khushi(softly):Like I promised I will be there whenever you need me Arnav...don't worry....everything is fine...because I am here now!!
She sighs and goes outside where Aman and Alena was waiting for her...
Khushi:I want to meet the Doctor who is handling.....Aman..
Aman:Ok...mam Please come with me!!
Khushi: Alena I have asked John to send you the details about AR just mail all the board members that for tomorrow's board meeting I will be attending from ASR's side....
Alena:Ok...mam...
Aman and Khushi went to meet the Doctor who was handling him...and enters inside the cabin
Doctor: Hello Miss Khushi...
Khushi shaking her hands with him...
Khushi:I think Miss Gupta would be fine!!
Doctor: As you say Miss Gupta!!
Khushi:I wanted to know about the patient MR ARNAV SINGH RAIZADA...
Doctor: His both eyes are completely injured because of the accident and he has major fractures in his right hand and he might have to use crutches for few days..till he recovers..!
Khushi(sighs):What about his sight??can we do any operation to regain back his eyesight??
Doctor:Yes we can but we have to wait for 4 more months as his eye nerves are completely damaged first we will have to give medications for that and then only we can operate him!!
Khushi:Fine....Thankyou...
With that Khushi and Aman comes out of the cabin!!
Khushi:(sternly)Aman first of all empty this entire floorI know this is VVIP ward but still I want all of them shifted to other floors or different hospital...I don't want any security loop here...in 24 hours....and get 2 people from the security to stay near the entrance of the ward in formal clothes to make sure the people entering inside,it may be nurse or doctor or any staff for that matter...make a list of people whose entry are required and restrict others entry no matter whoever they are....and finally get a set of people from your security team and make 3 levels of security starting from the entrance of the hospital so that none from the media or the paper get to know what is happening here....and finally I want your PR manager to meet me tomorrow sharp at 12 as he had done a fabulous job in handling the media....
Aman stood gaping at her with the way she was throwing orders at Aman he had thought only his boss was like that but here she was even worse..!!
Aman:Ok....Mam...
Aman stood there...looking at her...
Khushi:What???Get back to work!!
When she left the hospital it was 12.30 A.M she left to her Gupta mansion .........
She reached Gupta mansion by 1.15A.M and asked Alena to retire for the day in the guest house situated next to Gupta mansion...
She opened the mail and went through all the details of AR and about the contract papers and board members so that she could handle them well tomorrow!!
So finally she went to her room and took bath and slept at 4.00A.M
7.00A.M
Khushi got up and skipped her daily exercise today and went straight to washroom to get ready and leave for the hospital and then to AR...
8.30A.M
The media stood outside shouting and screaming to get inside the building but today the security stood like a shield not even letting them know what is happening inside...making them all frustrated...
Next they saw 2 black audi entering inside the gates of hospital when security hurriedly opened the gates for them which surprised the media wanting to know who was this person who was given so much importance from the security!!
Media people took their cameras out to capture the person who had come giving such entry to the hospital where ASR was admitted..
While they all kept looking for the person to get out from the car The stunning lady in v necked black shirt and black formal pants with white blazer over it got out from the car she had her aviators on but with the glasses on anyone could tell she was a stunning lady just by looking at her attire and the way she carried herself ..she just gave one look at the media who were shouting from outside and then started moving inside with her PS....
Khushi's dress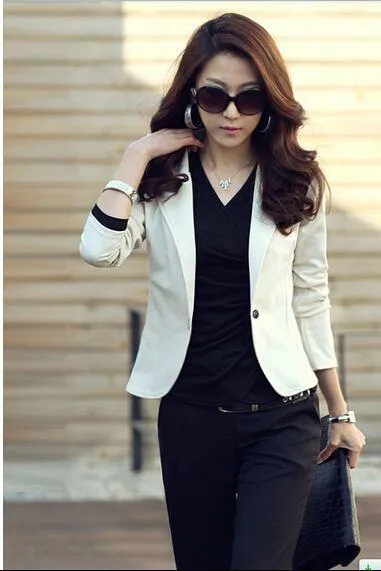 As she entered the patients and staff kept looking at her to see the beauty in front of them and the way she filled the atmosphere with her authority and presence. Last night hardly people were present when she reached hospital but today she was welcomed with all the admiring glances seeing at her!!
Khushi entered the floor where Arnav was there but frowned seeing some make up covered lady outside Arnav's room....
Aman came near her as soon as she came ......
Khushi:How is he??
Aman(worried):Mam...sir...he is not been listening to anyone from yesterday he doesn't even let anyone go near him nor have his food or meds so forcefully yesterday we had to sedate him so that he can sleep...now also he is asking us to not touch him and leave him on his own!!
Khushi(softly):Typical Arnav!!
Aman looked at her confused...seeing her murmuring...
Khushi:I'll go and see him...
Aman(fumbling):Mam...are you sure??
Khushi raised her eyebrows challenging him to repeat again!!
Aman(gulping):Sorry Mam....
Before she could enter in to his room who was shouting on top of his voice from inside some female voice stopped her....
Voice:Excuse me??You cannot go in like that!!
Khushi(smirking):And who are you to tell me that??
Voice:Arnie's girlfriend!!!
Khushi chuckled listening to her....and looked at Aman for explaination
Aman: Mam she is Sheetal Kapoor...sir's girlfriend....I mean...
Khushi:You mean to say plus one right??
Sheetal glared at her...for saying so..
Sheetal:(glaring)Listen Miss...I don't know who ever you are but Arnie will not allow anyone inside....
Khushi:(sternly)Mr Aman i guess you don't like the job so you are allowing plus ones to the private ward of ASR even though I had clearly mentioned about it...
Aman could only gulp seeing her glaring at him
Then thinks of something turns smirking at Sheetal....
Khushi(smirking):Oh..then lets do 1 thing Miss Girlfriend of Arnie since he is shouting at every one not letting anyone go near him why don't you go inside and convince him for that??what say???
Sheetal(stammering):I can do that....he will listen to me...
Khushi(smirking):Okay then....Please ....
She opens the door for her where the nurses and doctors were scared to go to him as he was throwing all the things when they went near in his frustrated...state...
Sheetal went inside gulping and touched his shoulder...
Sheetal(softly):Arnie!!
ASR(angrily):With that she brushed her hand just bushed her off using his hands and pushed her not thinking anything else...
Sheetal went and fell on the floor hitting her forehead to the side of the table making a injury on her forehead......
Khushi could not hold back a chuckle seeing her state......but Arnav ears perked up with the familiar chuckle that he could recognise wherever he was!!
He turned towards the direction from wherever he heard the sound!!
ASR(surprised):Khushi??Are you here??
Khushi smiled a rare smile at him....
Khushi:Yes Mr Arnav Singh Raizada...I am here....lets get back to your bed now...enough of drama!!!
Khushi came near him and held his hands in hers and guided him to the bed and made him sit properly as both his legs and hands were injured but still he was stressing it more!!
Aman stood with mouth "O" seeing his ruthless boss listening to Khushi Gupta like a child and doing as she asks him and a injured Sheetal's condition was no less...seeing them like this!!
Khushi looking at all the doctor and nurses staring back at them...like they were some alien!!
Khushi:(sternly)Aman escort Miss Sheetal Kapoor out and make sure she doesn't enter again here...is that understood??
Aman:Ok mam...
Sheetal went out clutching her forehead thinking to deal with this lady later....
Khushi(sternly):Doctor I will take care....you all can leave....
Doctor and Nurse left the room....
ASR:Khushi??
Khushi comes near him..holding his hand...
Khushi(softly):I am here.....
ASR(teary):I.....
Khushi(softly):Shhh...its okay remember you are ASR right??I know you need no help or sympathy and I am here to just be with you not anything else..I had promised that I will be there whenever you need me right??So I came....
ASR(softly):But....
Khushi: Come on ASR...lets make you more handsome than you are already okay??
ASR(confused):What are you saying??
Khushi(chuckling):I meant lets clean you up like wash your face okay??
Khushi went and got a towel and cleaned his face using wet towel ..making sure not to touch the bandage on the eyes....
Arnav was sitting like a obedient child letting her do whatever she wants...
ASR(softly):You had to come only because of I am injured right??Not because...
Khushi(sighs):Arnav!!We had decided we will not talk about that.....right??
ASR(sighs):Okay.....
Khushi: Take care I will go to your office...and handle the board meeting...okay??
ASR:Hmmm....
Khushi(confused):Don't you want to know what I'll do in the meeting....??
ASR(smirks):If you have forgotten I know you better than yourself Miss Gupta....
Khushi smiles
Khushi:I agree....I will be sending 2 boys to clean this room and a male nurse to help you taking bath I don't want to hear any complaints from him....is that clear??
ASR(irritated):Fine....
Khushi:Good!!Bye....
Khushi leaves....
ASR(softly):How much I wished you were here with me because of me not because of your responsiblity!!
Jun 19
MADLY IN LOVE WITH MY LOVE!!! (By Arshidreams1) (Thanked: 77 times)
CHAPTER 2
Khushi got in the car and asked the driver to head to AR along with Alena and asked Aman to stay back in the hospital as his presence will be needed in the hospital....
INSIDE CAR
Khushi:Alena I think you should head back to London and send John here as you have to work with me late nights and you are the bride to be in few months so I don't want to give you so much stress...my stay would take longer than i thought...
Alena:Mam its fine...
Khushi(sternly):Do as I say Alena...just make sure you handle dad there okay???
Alena: Sure mam....
Khushi:So how did they respond to your mail??
Alena:Mam according to our sources Mr Thyagi who is one of the board member might not vote for you and the other one could be Brajesh Kapoor who are not willing to accept you as the new CEO....
Khushi(thinking):Interesting!!!let's handle them...
Alena smiled knowing her boss way of handling things...
Soon they car reached in front of the AR and Khushi got down from the car with Alena following her......
The board room had all the board members waiting for the new CEO or to take necessary step for it...
As soon as Khushi entered never had they expected to her to look like this as she was very private person ....who never came in front of media
She came and took her seat along with other board members when all were looking at her curiously...
Khushi(raising her eyebrow):Shall we??
Mr Khanna:Yes Sure Miss Gupta....as you know ASR has suffered from major injury and has become blind so...
Khushi(sternly):Sorry to interrupt you Mr Khanna...but ASR has been injured and lost his sight temporarily...blind and losing his sight has a difference you see...so the actions that we take will also be back until ASR comes back in his form...So I would suggest you to look it that way than thinking that he is left the company...
Mr Khanna:Oh..yes Miss Gupta....We will look in to it...but we can just not accept you like that Miss Gupta!!
Khushi(smirking):I think I run a million dollar Business Mr Khanna..I think i know how we work on that right??
She looks at Alena...
Khushi(sternly):Go ahead!!!
Alena: Good morning Gentle men....
She hands the copy of paper to each and everyone present on the table...
Alena: Well these are the power of attorney papers of ASR which states that in case of any injury or health issues Miss Khushi Gupta will be responsible for all the financial and legal decisions concerned to him and his company...
The board members started looking at the papers and discussing about it...
Mr Shetty: The papers are fine Miss Gupta but there is also a clause in our company agreement that in case of situation like this the new owner who has to be appointed should have at least 9 members vote of confidence out of 10...
Khushi: Ya I very well know that...Mr Shetty....So shall we start ??
Mr Jaiswal: But we don't have one board member now...
Khushi(sternly):Are you serious??You people call for the board meeting urgently and one person is missing...how possible is that??
Suddenly the great Sheetal Kapoor comes inside the room as if she own the place...Khushi gave an irritating look looking at her......
Sheetal came and smirked sitting in the chair....
Khushi(confused):Who is this??As far as I know that place is for Mr Brijesh Kapoor...
Sheetal(smirking):Well I am Sheetal Kapoor Brijesh Kapoor's daughter...who is one of the board member.................
Khushi(smirking):Well I am afraid Miss Kapoor that board membership cannot be taken just like that on hierarchical basis so...can I see the legal papers saying that he has transferred the ,membership to you to his daughter If i am not wrong??
Sheetal(irritated):But what is the need of that??He knows this!!
Khushi stood getting up...from her seat...looking at all
Khushi(sternly):Well then let's take a vote of confidence tomorrow only if Mr Brajesh Kapoor comes or Miss Sheetal Kapoor legally proves about the membership...I cannot take a vote of confidence from a person who does not even know the "B" of Business
With that she leaves the room with others looking at her surprised for just ending the meeting on her terms however they all agreed to meet tomorrow and asked Sheetal to prepare papers for that or to ask her father to attend the meeting...
Khushi who was walking to ASR's cabin was stopped by Sheetal...
Sheetal(angrily):What do you think you will be the CEO??
Khushi(smirks):I don't think Miss Kapoor...I know ...that I am the CEO...
Sheetal:(smiling)Don't dream so high Miss Gupta...me and Mr Thyagi won't vote for you so technically you cannot become the CEO....!!
Khushi:(gives a lop sided smile)wait and watch Miss Kapoor you' ll get to know....
Khushi goes inside Arnav's cabin and calls a number...
ON CALL
Khushi: Alex...what's the status??
Alex:.......................................................
Khushi:(smirks)Fine...keep an eye on him and make sure the file reaches him itself....at 6.00.pm sharp...
Khushi ends the call....
After lashing out on PR manager for not handling things Khushi went to hospital to meet Arnav.....
Khushi goes inside Arnav' s room to find him sleeping...she goes and caresses his hair...because of her touch Arnav gets up...
ASR(softly):How did the meeting go??
Khushi(sighs):It went well...apart from your girlfriend Sheetal Kapoor....
Arnav tries to get up so she goes and helps him to sit...
ASR(softly):She is not my girlfriend Khushi....and you know that too...I can never have a girlfriend when.....
Khushi: There is no need for you to give any explaination Arnav...but couldn't you find someone better for your parties??
ASR(sighs):She was the best I could find here!!!
Khushi(chucking):Then I must say You have a terrible taste!!
ASR:I didn't have a choice than choosing her than with whom I wanted to be!!You too know that!!
Khushi:Hmmmm
ASR: Khushi there was no need for you to come...I mean i don't need anyone's pity or help I can handle...everything...I don't like depending on anyone for anything...i feel so irritated and angry because I can't do anything on my own now!!
Khushi(sternly):For the last time ARNAV SINGH RAIZADA don't speak like a child I am here to make you independent nothing else nor Iam showing any pity...got that??
ASR(sighs):Okay....
Khushi: I have asked Aman to finish the discharge formalities..we'll take you back home because staying here is making you more mad than you actually are!!
ASR(chuckling):Ok....Mam...
With that Khushi along with the help of Aman made him sit in the wheel chair and took him to RM......
Soon they reached RM and Khushi pushed his wheelchair taking him to his room....and entered the room by entering the password......
Khushi(surprised):You still have the same password??I thought you might have changed it...
ASR: Never in my life!!!
Khushi looking at the room.....
Khushi:I don't know why you like black???Your room is like a black and black and black.....ya there are some whites in between but still.....
ASR(smirking):And I don't know why you like white so much??I feel like I am entering a kids room when I enter yours!!
Khushi:(glaring)Don't!!Don't even try that!!
Arnav could nothing but chuckle at her....
Khushi: Okay...let's get you to bed...
With that she helps to lie down ....and turns to leave....
ASR(confused):Where are you staying??
Khushi:(smiling)Gupta mansion yesterday but from today In RM in the room that you designed for me in all white!!
ASR:Khushi you don't have to do this!!I mean...
Khushi: Arnav you know I won't stay back even if you ask me after 4 months right?? So just let it be...or are you saying that I don't have any right on you??you want Sheetal here...??
ASR(shocked):Oh...no!!why would I want her...okay I am sorry....
Khushi(smiles):That's good!!!Sleep for a while and will watch a new horror movie once you wake up!!!
ASR(sadly):Khushi You know I cannot watch now!!
Khushi:Oyee hello...so much drama is not needed okay??You can atleast listen and give me a company....!!
ASR(chuckling):Sitting with you and watching horror movie is equal to sitting with a devil itself as you will be only screaming most of the times scared than them!!
Khushi(glaring):Shut up!!that was before not now!!Bye sleep now...
Khushi leaves closing the door...
ASR(softly):I know you want me to be comfortable than reminding me about my eyesight...and forgetting it...but Khushi these moments will only add painful memories once you leave after I get back my eyesight!!why don't you understand Khushi??That I want you with me always than just for 4 months ...I wish I could make you understand how much you mean to me...and how much I LOVE YOU!!I hope you understand one day!!!
ARNAV'S BEDROOM....
Khushi's bedroom in RM
Disclaimer: The views expressed above are member's views and this website does not comply with it. The views expressed may not be factually correct. Incase of any issue please contact us/report it to us.