Ye Dhadkan Pyaar kiiiiiii.................
Aug 28
Ye Dhadkan Pyaar kiiiiiii................. (By Lakshmilovesarshi) (Thanked: 20 times)
Anjali- what don't you love any girl.......really??? but chote
Arnav- di please stop this drama yes I don't love any girl because I don't trust in love. I will never love any girl. this love is really waste of time . ye dil dhadkan connection sab bakwaas hai. Arnav Singh Rayisada will never fall in love with any girl
In other Side
Payal- means you believes in love right kushi
Kushi- ha di I believes in love ...ye dil dhadkan connection it's really great na....but my story come to end before it's starts hena diii....
payal-(sadly) Kushi.....
Voting: (Total Votes: 28)
should i continue this story
Vote
Aug 28
Marriage and destiny (By Lakshmilovesarshi) (Thanked: 22 times)
PART 1
A girl look like 18 sitting infront of the mirror .she is in bridal dress.A lady around 50 entered in that room
the lady - Kushi bittiyaa
Kushi looked her
kushi - maa.. aap
Garima
kushi
garima came near to kushi and put her hand on kushi's cheek.
Garima - you look so beautiful today bitiya.
she put some kajal on kushi's ears
Garima- kisi ka nazar na lage
Kushi took blessings from her amma
Garima- beta what happend why are you looking teansed don't you like this marriage beta
Kushi - nothing like that maa but i don't know what happens to me.i feel nervouse
Garima hit kushi's head playfully
Garima- pagal every girl will feel same like this on her marriage day so don't get nervouse
Voting: (Total Votes: 24)
Aug 29
Marriage (By Lakshmilovesarshi) (Thanked: 19 times)
Kushi- par maa..
Garima- Kushi....( they heared some sound)lo groom and his family also come...get ready meri bachi
she leaves from there.
kushi (in her mind)- hey devimayya I don't know what to do. Today I'm going to become someone's wife,someone's bahu. par I don't know I don't feels anything for him.maybe it will take some time......hey devimayya to be with me like always
The groom were arrived.All people were busy in treating them
Voting: (Total Votes: 25)
Aug 29
Marriage and destiny (By Lakshmilovesarshi) (Thanked: 14 times)
The groom were arrived.All people were busy in treating them.
Panditji - Sasiji it's time for shaadi so please bring bride and groom here
Sasi - [to groom] beta come and sit here[to garima] bring kushi here
Garima- ji
She leaves from there
on lady- hey sunantha Kushi bitiya's still 18 na then why sasi doing her saadi now
sunantha - may be he think Kushi also elope with some one like his elder daughter
lady 2- ha ha you are right.you know one think Pushpa now nobady knows where is she.is she alive or not
Sunantha - but poor kushi she is only 18 years old na and she need to leave her parants so early that too ek Armywale ke Saath
Lady 1- ha you are right.look groom Aagaya
groom
Sasi- Rudra beta yaha baito
Rudra-ji uncle
he sit on mandap waiting for kushi.Some time later she also come with Garima and some other womens.she sit besides him and looked him but he didn't face her.it make her more teansed.pandit started to chanting mantraas.
Pandit -beta now tie this mangalsoothra on her neck and put this sindoor on her forhead
Rudra- ji
He did the same what panditji said and they did Saath behre.
Pandit- now the marriage is over you two take blessings from elders
they took blessings from elders
Sandhya[ Rudra's mother]-Sadha suhagan Raho.Now you need to take care of him kushi
Kushi nodded her head slitly
Sandhya- come it's time for widaai.they did all Widaai ritual.Kushi cried holding Sasi and Garima.they also cried
kushi and rudra entered in the car and the Groom's family also leaved
It's the time for Grihaprevesh
Kushi and Rudra come to Rudra's home with his family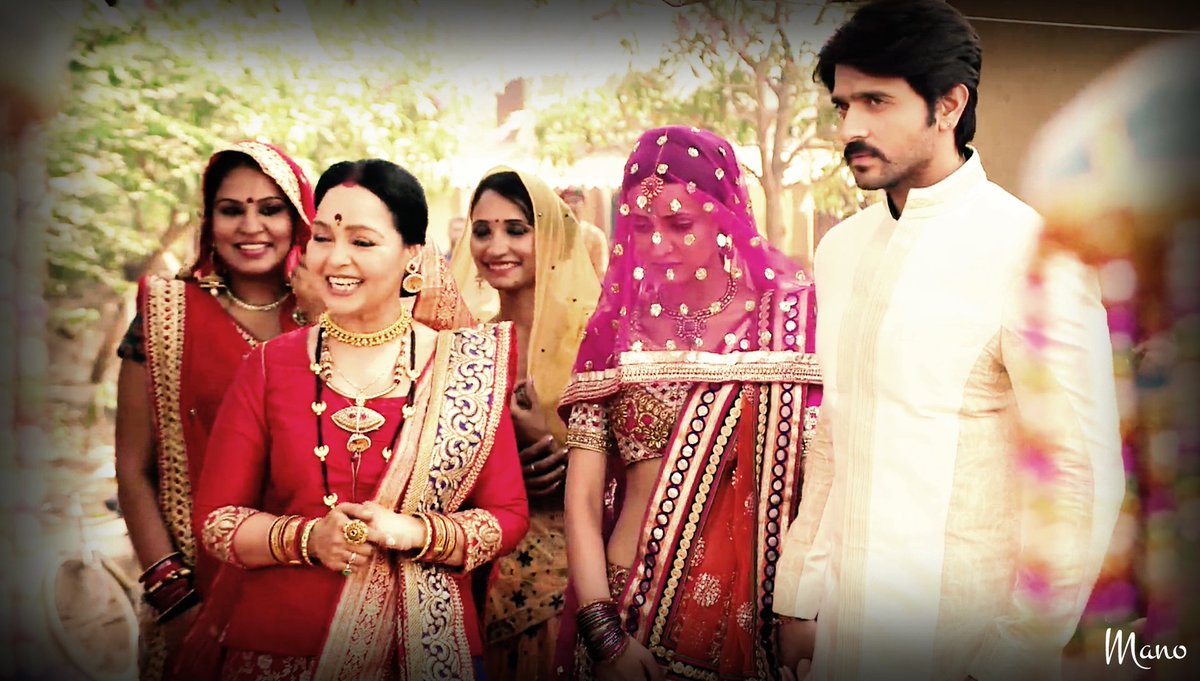 SAndhya did Kushi's Grihaprevesh and all rituals correctly.Kushi is still nervouse about her new surroundings and for her husband Major Rudra Prathab Ranawath
Kushi - [in mind ] now i become mrs.Kushi Rudra Prathab Ranawath.but why he didn't look me? is he behave nice to me or like a cruel Armyman? no no Devi mayya please be with me
Night
Rudra's sister and Bhabhi took Kushi to Rudra's Room
Bhabi- Kushi not scared of anything.it may cause some pain but don't worry
Kushi- pain ? but i dont have any chot
Babhi smiled her innocence
bhabi- Kushi woo...aaj aapka aur Rudra bhaisab ka Suhagraath haina ..isiliye woo...mein...
Kushi- tho Suhag raath pe pain hotha hai kya
Bhabi woo....i.....
Rudra's behan- Roshni bhabhi bas .we are infront of bhai's room now he will teach kushi bhabi [to kushi] Kushi bhabi this is bhai's room.get in
they leaved from there and closed the door from behind.Kushi looked the room it is beautifully decorated using the flowers
She heared door locking Sound .She turned and looked door side.it was him her Husband the Great Major Rudra Prathab Ranawath.she looked him.his hot gaze make her more nervouse.he come close to her.she turned otherside.he come closer to her and stand behind her.it make her more nervouse.
he kissed on her cheek it make her to hold her Saree more tighter.then he picked her and put on bed and come top on her
it make her more nervouse and she tightly close her eyes.he bent down to kiss her on her lips
tic...tic...
Suddernly they hear a door knocking sound.so he leave her .Kushi get up from bed and make her saree ready.he looked her and opened the door
Aug 31
Toota Bandhan (By Lakshmilovesarshi) (Thanked: 26 times)
Rudra opened the door. he saw his mother there
Rudra - what happened Maa? is any problem?
Sandhya- woo...waha ..Jai.
Rudra - Jai ..here but why?
Sandhya - He said ,you need to go with them now
Rudra - what?....Maa you go I will come now
Sandhya left from there.Rudra looked Kushi and said
Rudra - Kushi wo base se aaya hai.come we need to meet him
Kushi - ji
She also left with Rudra.
On hall
They two reached the hall .Kushi looked everyone .Roshni, Sameer(Rudra's Brother) , Sandhya, Mayoori(Rudra's sister),Ashok (Rudra's dad) all were presented there.Other than family members two another men were presented there. they two looked like Army men's.
They Salutes Rudra.
jai- congrats Sir and Bhabhi
Jai - sir wo.. Border par issue his so Sir Said to you come back as soon as possible. Because of that he sent us.we need to go now sirRudra - Now?
jai - Yes sir
Ashok - what ??Now are you mad jai. today was his marriage. then how can he come
Jai - Uncle woo....
Rudra - Dad this is my duty ( to jai) I will come now you two wait here.(to kushi) Kushi come
She looked him and nodded yes
Rudra's Room
Rudra - I am sorry Kushi I need to go now
Voting: (Total Votes: 23)
do you like the update
Vote
Oct 15
Judhaaiiii (By Lakshmilovesarshi) (Thanked: 23 times)
Rudra - Kushi I need to go now. I know you feels sad because of me but it's my duty.do you understand what I said
Kushi just nodded head as yes
Then he packed his things and they went to downstairs
In downstairs
Sandhya did aarathi and put teekha on his for head.He took blessing from elders
Sandhya(crying)- come soon as possible beta.bhagvaan kare tuje meri umar mil jaye
Rudra - ha maa I will come as soon as possible .don't cry now
He wiped the tears of her
Rudra ( to Kushi) fake care of your self
She nodded her head
He kissed her for head and leave from there with jai
After a week
Kushi is doing puja in her sasuraal .all raanawath family were presented there expect Rudra
After doing pooja she started to distribute prasad to everyone suddenly the poojatal were fell down from her hand and the sindoor which kept on the taal were fell down
Sandhya (shockingly)- sathyanaash what's this kushi ?are you blind?? Don't you know it's not good for our family??? I don't know ye konsi abshakun aanewala hai ab

Rudra's dad - are Sandhya leave it.its just a mistake na
Sandhya angrily looked him so he kept quit
Sandhya (to kushi) - now why are you standing here like a dumb go and make break fast
She nodded her head and went from there with roshni
In kitchen
Kushi is cutting vegetables and roshni is making dough for breakfast
.
Roshni- kushi where is your mangalsuthra
Kushi- ha what babhi
Roshni - wooo kushi your mangalsuthre is missing where is that if maaji see this anyone can't save you from them.
Kushi checked her neck and saree
Suddenly it fallen from her saree
Roshni took that from floor.it was broken
Roshni- kushi look its broken
Kushi- what
Roshni - ha look
Kushi- hey devimayya what is this first wo thaal now this mangalsuthra
Roshni- kushi don't worry
.turn I will tie this
Suddenly they hear a sound from hall.they two go there
Oct 17
Judhaaiiii (By Lakshmilovesarshi) (Thanked: 29 times)
In hall
Sandhya is crying like hell .all are presented in the hall .they all were look like something bad happened there
Roshni- sameer what happened
Sameer(in sad)- wo campse phone aaya dha.
Roshi- ha tho bolo what happened
Sameer- there had a bomb blast in base camp and Rudra is there in that time and now the got his...
Sameer paused a minute and said "we need to go there"
Roshni looked kushi .she don't have any emotions in her face
She just stood like a numb
She can't believe what she hear
Her husband is no more
He died in a bomb blast
Her chain of thinking disturbed by Sandhya's words
Sandhya (crying)- mera betaa.... How can he leave me like this ..I told him na please resign this job now look...
She cried loudly
Roshni and mayoori supported her to sit.they were also crying
Kushi- maa
Sandhya (angrily)- don't call be like that , we don't know which chudeel entered my house.because of you today my son faced this.konsi badkismathi hai tu
Kushi's eyes filled with tears
Roshni- maa ...is mein uski kya galathi hai
Sandhya- tu chup kar ...mera bachaa.....
Next day Rudra's body were come and they all did his funeral
Sandhya (to kushi)- ab tu ye sajna savarna ****o and (giving a white saree)wear this.
She removed kushi's sindoor and mangalsuthra
Garima(to Sandhya) - jiji if you don't mind can we take Kushi with us
Sandhya- nhi...she can't come with you.now she is my son's widow and we can't not allows that
Garima- but jiji
Sandhya- I said na and ha now all rituals are over I think you two can leave now
Garima's face got paled
Garima- ji jiji
They leaves from there
Mayoori- maa why didn't you allowed her to go with garima aunty
Sandhya- because of her my son died I will show her now .,.you don't know how i will deal with that chudel
Disclaimer: The views expressed above are member's views and this website does not comply with it. The views expressed may not be factually correct. Incase of any issue please contact us/report it to us.