Big News: Barun Sobti-Sanaya Irani starrer Iss Pyaar Ko Kya Naam Doon is back on Star Plus
Jan 5
Big News: Barun Sobti-Sanaya Irani starrer Iss Pyaar Ko Kya Naam Doon is back on Star Plus (By Telly_News) (Thanked: 11 times)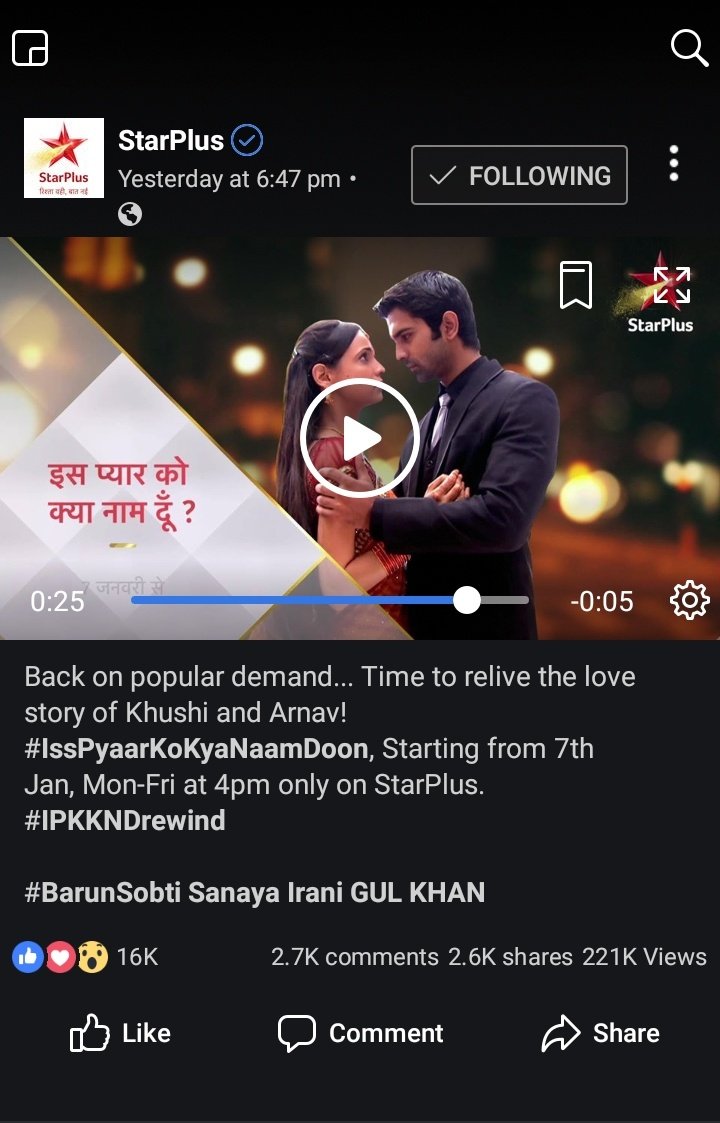 This is what you call one helluva news.
At a time when television in India is churning out one show after another without leaving much imprint in minds of its audiences, Star Plus, the GEC, has decided to bring its one of the most successful shows, Iss Pyaar Ko Kya Naam Doon, back in its airtime schedule.
This Gul Khan produced magnum opus starring TV superstars Barun Sobti and Sanaya Irani will re-air at the 4pm slot from 7 January on popular demand, a development which Star Plus confirmed via its Twitter handle.
The news has thrown admirers of the show, which runs into quite a number, in a state of extreme bliss.
By IWM
Jan 5
Iss Pyaar Ko Kya Naam Doon is all set for a rerun and the fans are sure excited (By Telly_News) (Thanked: 4 times)
Barun Sobti and Sanaya Irani's Iss Pyaar Ko Kya Naam Doon went on to become the audience favourite in a very short span of time, and even today, the fans go gaga over the chemistry that the two shared as Arnav and Khushi. Even though Iss Pyaar later on, became a franchise, and while the second season did not have either of them, the third season with Barun and Shivani Tomar failed to work with the audiences. And ever since, all the fans have been wanting is for the two of them to come back together.
However, while we did see them reunite once again for a digital version of the show, it wasn't enough for the fans. None the less, fans can rejoice as the channel seems to have at least given in to their demands and brought the very first season back on television. Though this isn't enough, let's just say something is better than nothing, isn't it? Starting next week, the channel will rerun the first season of the show, and if the comments are anything to go by, they are excited.
Meanwhile, Barun will soon be seen in ALT Balaji's upcoming web series, The Great Indian Dysfunctional Family, and is also working on yet another web series, Sanaya will soon be making her Bollywood debut with Vikram Bhatt's upcoming film, Ghost. While both the actors are busy with their upcoming projects, amidst all the happy news, this sure is a great piece of news, isn't it?
By Pinkvilla
Jan 5
Promo.... (By Telly_News) (Thanked: 1 times)
Disclaimer: The views expressed above are member's views and this website does not comply with it. The views expressed may not be factually correct. Incase of any issue please contact us/report it to us.