OS- Grand Finale of Mrs. India.
Nov 23, 2012
OS- Grand Finale of Mrs. India. (By Suparnasetu) (Thanked: 63 times)
It was the grand finale of the competition Mrs. India. The hall was filled with audience. Arnav was also there, sitting in the front row in VIP section as the sponsor of the show. The show was about to start. Arnav was remembering the events of last few days. Khushi is in the top 3. Before that Arnav and Khushi challenged each other many times. At that time he always wanted to win. But this is the first time he wants to lose. At home they were normal but at show they were formal. Still now no one knows that Khushi is his wife. No doubt she is talented. She learned everything very swiftly. Khushi told Arnav not to help her in the show. But Arnav didn't keep the word. As he was the sponsor of the show so all the dress of the show was from AR. Knowing that she would never wore the short dress so he always sent a saree or churidar or lehenga for her. Every day he was present there at the show so that he could keep an eye that no one could say anything to her. Today he is expecting that Khushi was the winner and he could tell the whole world that she is his wife. Even though if she doesn't win he will tell all that she is his.
On the other hand Khushi was in the backstage getting ready. She saw all the models were also getting ready with their short dress and a load of makeup. Today's theme was red. She was wearing the red saree which one she wore during the calendar photo shot in AR. She knew Arnav purposely sent this to her. She wore it and thinking about Arnav. She came out of Terence hearing that host was calling her. She was in top 3. Others were Natasha and Amrita.
Then it was the time of cat walk. Everyone outside was waiting for the participants to come out. At first Natasha came out with a red strapless knee length dress. Then after the ramp walk she stood at the corner. Then Amrita came with a red gown and did the same. At last Khushi came out with her natural beauty. Seeing her Arnav once again fall in love with her. After her walk Khushi went in the row near the others.
Host: Thank you everyone. Now it is the final round. The question answer round. The rule is there are the names of the questioner in the box. You have to pick up the name and tell on the mike. Then the questioner will ask the model to tell something on some selected topic. Time is 2 minutes. Ok. Now start.
Then she told a girl to bring the box to them. At first it was Natasha. She picked up a piece of paper and it was Mrs. Judge. She was asked to give a speech on her carrier. She did well. Next one was Amrita and her questioner was Mr. Judge. She was asked to tell about her family. She also did well.
Now last but not the least it was Khushi. She prayed to her Devi Maiya and pick up the paper . She opened the paper and her eyes became widened.
Host: So who was there?
Khushi: ( Looking at Arnav) Mr. Arnav Singh Raizada.
Hearing his name Arnav smirked.
Arnav:( Holding the mike)Ready????
Khushi could understand that something is fishy. She knew after today's event Arnav will disclose about their relationship to all. She could understand that Arnav is no more ASR now she is Arnav. So she has to act as Khushi here. Thinking this she smiled.
Khushi: Ready.
*******************************************************
Guys I know it is horrible. I'll update the next part tomorrow. So wait till tomorrow.
**********************************************************
Nov 23, 2012
OS- Grand Finale of Mrs. India. (By Suparnasetu) (Thanked: 104 times)
Arnav: Tell something about your husband.
Khushi was thinking what to say him about him. She took a deep breath and was about to start when Arnav Again interfered.
Arnav: So you have nothing to say about your husband.
Khushi: I have a lot. But I don't know what to say in these 2 minutes.
Arnav: Say what you fell.
Khushi: Ok. About him the first thing I can tell that when he becomes angry his anger can be seen on his nose and his only word is 'What the'. But he loves me a lot. I am here is just only for him. No he didn't encourage me. He tried to stop me come here. Not that he wanted to keep me in four walls. He even gave me a respectful place in his office. He didn't want me to come here as he thinks I am too naive to do this. But then he gave the approval. I asked him not to help me as I wanted to come here by myself. So he didn't help me directly but helped me indirectly. And I am thankful to him for that.
Host: Thank you Mrs. Khushi. So Mr. Raizada are you satisfied?
Arnav: More than that.
Host : Now the time to declare result. We are taking 5 minutes to confirm the result. So please wait for that.
Silent occupied the hall for these 5 minutes. Nobody was talking except two. Arnav and Khushi. No not face to face. It was the heart to heart connection. Arnav looked at Khushi with an assured smile. Khushi also smiled back.
5 minutes passed
Host: Now the most waited time. The time for declaring the name of Mrs. India. For declaring the name and giving the prize I would like to call upon the sponsor of the show Mr. Arnav Singh Raizada.
Arnav got up from the seat and headed to the stage. Host handed over the mike and the envelope containing the name of the winner to him. He took the envelope with a shaky hand. He was damn tensed. He opened the envelope. Everyone was looking at curiously. On the other hand Khushi was calling her devi maiya constantly. Her prayer was interrupted by Arnav's voice on the mike. She saw him smiling.
Khushi:( to herself) Laad governor. I am dying with tension and he is smiling. Seems like he won the challenge. I didn't won the competition.
Arnav: Good evening guys. I know you are eagerly waiting for the result. I was also waiting. But I am not waiting now as I got the result. So I decided to create suspense. When I was coming the show outside the hall the media was asking some question to me about my marital affairs. I didn't answer. Now I think I should give them the answer now. Yes I am married. I met her at a fashion show. No she is not a model. She went there by mistake and my people thought that she was the model. So they pushed her on the ramp. As she was new there she slipped and I caught her. I thought that she was from rival company so I locked her in a room. Then I let her go after a long time. For that her sister's marriage broke. So she started to hate me. And I stated to hate her. After that she shifted to Delhi and got a job. Fortunately and unfortunately it was in my company. I decided to make her life hell so did she. But she left the job for some reason. Yes It was my fault. But my family liked her a lot. So she was again hired by my family just to train lavanya my ex gf so that she can be a perfect daughter in law in my house. By this time my brother and her sister fell in love with each other. marriages were fixed. But just before the engagement I and Lavanya decided to break up. After that the preparation of my brother's marriage was going on. In this time I and she came so close to each other. But at the day of marriage a MU created between us. So I forced her to marry me in temple by blackmailing her. But After few months I understood that it was not her fault at all. So I decieded to marry her will all the rituals. Now we are happy couple. We love each other madly. She is a very simple girl with her own value, tradition. Thats why I love her. She never changed herself for me. She never tried to use my name in her path of success. Still now she is up to something. But she told me not to say anyone that I am his husband. But I think the purpose is finished. Today I am proud of her.
Reporter: Who's the lucky girl?
Arnav: No I am luckier. And I would proudly declare her name. She is none other than the Mrs. India of 2012 Mrs. KHUSHI KUMARI GUPTA SINGH RAIZADA.
Suddenly there was a pin drop silence in the hall. After sometime everyone understood that the name of the winner is declared and the hall was filled with clapping sound. Arnav went to Khushi who was still in shock and brought her in the front.
Arnav: Khushi, I told you before. Today I am again telling that you have capability and confidence. I am really proud of you.
Saying this he hugged her. She hugged him back.
Host: Really it was a shocking news for us that Khushi is none other than Mrs. Arnav Singh Raizada.
After that Arnav handed over the prize to Khushi. Then Mrs. India of last year came and gives the crown to her.
Host: So Khushi Do you want to say something?
Khushi: I am very happy today not that I won the prize but that I took it from my husband.
Mr. Judge: So Mrs. Raizada. I appreciate your moral. Yes you are right. If you use Mr. Raizada's name then it would be easy for you to win the competition. You did it by yourself. Congratulations.
Arnav and Khushi: thank You.
Saying this they looked at each other and hugged. Media was busy at clicking the pictures of this beautiful couple.
***************THE END**************
Disclaimer: The views expressed above are member's views and this website does not comply with it. The views expressed may not be factually correct. Incase of any issue please contact us/report it to us.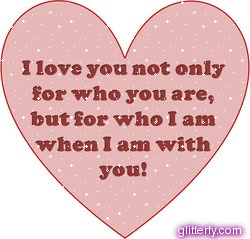 "None but ourselves can free our minds."