ASYA FF: Preme Kahani Hai Mushkil
Aug 16, 2013
ASYA FF: Preme Kahani Hai Mushkil (By Dixiej) (Thanked: 433 times)
AUTHOR'S NOTE:
This FF continues on beyond the first page … in fact it's up to page 13 (Chapter 137) by now! Do check out the other pages too and let me know your thoughts on the story.
Imagine this FF scenario after the scene in the show when Zoya is all packed and just about to leave for New York (April 2013) because she believes her father is dead.
"I should go back," she'd said the night before. "Kuch kahaniyaan kabhi poori nahin hoti hain, Mr Khan."
As she leaves her room, she hears Asad's voice in the "Mat jao Zoya" video on her laptop. Reluctant to leave herself, she suggests a coin toss as the ultimate decider. Asad manages to fool everyone, except for Tanu, that the coin fell in favor of Zoya staying back in India. Zoya goes to his room to ask about his confession in the video, he denies it, and she plays it back for him on her phone. Embarrassed, he does his usual "Voh, actually, main" routine which doesn't convince her.
FAIR USE: Almost all of Zoya's shayari in this FF is from the Zee TV show, "Qubool Hai." I wouldn't know how to write shayari!
I have blatantly inserted scenes and some dialogues from the show into my narrative. This is purely in homage to a show and characters that I fell in love with, and I want to give the show's writers and creatives full credit.
My FF takes us into an alternate Asya universe from that point mentioned above: "Mat jao Zoya."
Readers may notice the inclusion of pictures from the show. I'd like to acknowledge fans who've edited these graphics; I know nothing about these skills! I hope I'm not infringing on any copyright. If readers want to let me know about any copyright violations, then please leave a comment as well as information about the creator; I would love to give credit to these dedicated and masterful fans.
A lot of the stills are from the KaBhi twitter account hosted by @janicemoraes31. And a few others are from Forum 32. The gifs have been created by a diverse number of Asya fans who I'm indebted to.
Aug 16, 2013
PART ONE: Jab Pyaar Kissi Se Hota Hai (By Dixiej) (Thanked: 284 times)
Chapter 1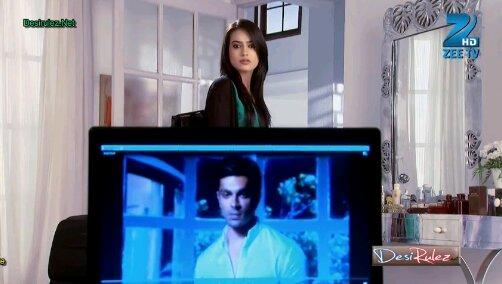 Typical Mr. Khan, she fumed, after she came away from his room seething with frustration.
Allah miyan what's wrong with him? Runs hot and cold. Kabhi haan, kabhi na.
Confused man!
She paced in her room in agitation.
"But why do I want him to own up to his feelings?"
Shut up, Zoya! Stop playing coy. You know why.
She sat down on her bed and watched the video again. With her thumb she gently touched the screen when his face appeared.
"Actually, main khud ko express karne mein utna accha nahin hoon."
Ya think, Mr. Khan?
But she smiled.
"Itni si chhoti si baat tumse nahin keh pa raha hoon."
Tumse?
Never had he said 'tum' or 'tumse' before.
It was always the icily polite, "aap."
For the hundredth time, she marveled at how torn he looked; the hesitation, the look in his eyes when he looked straight into the camera, the intensity in the tone of his words …
"Main nahin chahta ki tum jao."
Everything added up.
It had to.
The realization sent shivers down her spine.
He does really want me to stay back!
I always called him emotionally challenged, and yet this video says so much.
He does feel something for me! He even said Zoya! Usually he hides behind "Ms. Farooqui."
But was it love that he felt for her…?
She felt a jolt in her heart.
Could it be? She hadn't dared to admit this to herself but didn't she feel the same about him? Wasn't it that love with a capital 'L'? The ishq wala love, that Najma and she were discussing once?
That racing of her heart each time she ended up in his arms …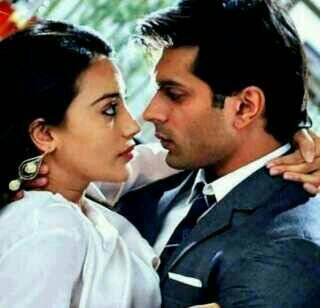 When he danced with her on Valentine's Day? When he held her at the farmhouse? And countless other times when he rescued her, heck even when he glowered and yelled at her? She had never challenged another man so.
She shivered feeling that punch in her gut.
C'mon, I even felt jealous each time he showed affection and concern for Tanu!
I totally meant it when I told him that I've come to rely so much on his strength, "when I'm in trouble, I think, Mr. Khan sab theek kar denge!"
Her mind replayed some of the most intense moments she had shared with him. How he had come at just the right time and fought for her safety when Akram had forcibly tried to marry her, his fury at the injuries they'd inflicted on her, his reluctant protectiveness during the Mangalpur fiasco, how he had helped her find information about her father and been a pillar of strength and support when he told her about his death. He brought coffee for me … listened to me about Abbu and Ammi, my fear of fire … and now this … and lying about the coin being heads when it was really ...
He does care!
She hugged the phone to her, hopeful and confident.
"Kash, main keh paata …"
Aap kyun nahin kehte hain, Mr. Khan?
Mr. Khan, please sab theek kar dijiye.
Please say it!
All afternoon and evening, Zoya stayed in her room agonizing over her feelings for him and feeling elated yet scared about the possibility of him reciprocating those feelings. At the dinner table Najma chattered on, not noting her accomplice's quiet pensiveness.
Zoya couldn't take it anymore. And she wasn't the kind to dwell for too long over thinking things. She made decisions swiftly and she stuck to those decisions, whatever the consequences.
After dinner, she resolved to talk to him. She ran through several rehearsals in her head.
"Aap nahin kahenge. So I'll say it, for both of us …"
No. That hardly sounded like a confession of love. I don't want to nag or guilt him into confessing his love for me. Jeez, Zoya!
There she had said it, the L word.
Yes, I do love Mr. Khan!
She giggled and tried again: "Mr. Khan, this is equally hard for me to say. But if I don't, then we'll never be together …"
Hmm. Much better.
How about …?
Enough! She didn't need lame rehearsals to delay the inevitable. The words would come. She was not Zoya Farooqui for nothing!
She barged into his room without knocking. He was on his settee at his laptop, and looked up in exasperation.
"Ms. Farooqui, how many times do I have to tell you about knocking first?"
In her usual fashion she ignored his irritation and the way his hand crept up to his forehead to squeeze the bridge of his nose.
"Mr. Khan," she said softly.
He went still.
There was something in her tone, the texture of her breathy voice ... the way she hesitated, that alerted him to something bothering her. She looked eager, yet timid. She had spoken too softly, not her style.
"Umm ... Mr. Khan, I want to talk to you about something."
He couldn't believe that she of all people was having a hard time saying outright what she wanted to say. Never before had she prefaced her speech with words seeking permission. Usually, she bulldozed her way in and yelled at him, or picked a fight, and even pronounced him an insensitive se*xist from the seventeenth century.
Oh boy, this was going to be something big. He just knew it.
Ms. Farooqui, and nervous about saying something? That's new.
His heart missed a beat, but he said nothing, just gazed at her intently.
" I ... I know that I call you emotionally challenged all the time ..."
Oh god, here she goes again, he sighed.
He couldn't take his eyes off the pulse in her neck, or her unsure lips.
"But ..."
Hmm, more hesitation? This should be interesting, he wondered. But his heart flipped and bounced around erratically in his chest. His eyes were drawn to her agitated fingers, twisting and squeezing nervously.
"I now realize that you're an intensely private person and … and as you said in the video, I know now, that you have a hard time expressing your emotions. I'm sorry that I taunted and nagged you about it."
That damn video! But an actual apology from Ms. Farooqui!
He couldn't tell where this was going. But he sensed a difference and shift in her. He knew that something momentous was coming, she was leading up to something big because he'd never known her to be so tongue-tied, or be so careful about the choice of her words. Her agitated hands were a blur now.
He still said nothing.
Zoya began to panic.
His brooding silence was intimidating.
Allah Miyan … ?
She felt the blood rush to her face.
Allah miyan, am I doing the right thing, she wondered for the millionth time.
Gripping her hands tightly, she plodded on, "but I am not like you. I … I am open about my feelings."
Her nails dug into her palms, and she clenched her eyes shut as she swallowed, "I ... I like you a lot."
Her voice broke, "... and ... and I hope that I never have to leave. I want to love your mom and sister as mine and be a part of your family."
She ran out of his room and into her own, slammed the door to lean heavily against it.
Good job Zoya, she mentally patted herself on her back. Not bad at all.
At least now there is nothing unsaid and unheard between us anymore. Now the ball is in his court. He can either be alone with his best friends "Tehzeeb," "Tameez," and "Lihaaz" or he can tell me how he really feels. She giggled at her wit and then sighed.
Zoya hugged herself tightly and re-lived some of the moments of closeness between them, how he was always there to catch her from falling, how they tended to be lost in each other's eyes when they got so close. Mr. Khan, please!
But he won't say it, a voice whispered in her head. He is not the type, it insisted more loudly now. Look how long it took him to say "mat jao Zoya!"
A grim idea stuck her numb, and her smile evaporated.
What if he doesn't feel the same way about me?
She remembered that moment in the farmhouse when they had come inside from the rain and sat side by side on the sofa. She still got warm and gooey all over thinking of those beautiful words he's said, so passionately:
Agar aap mujhe itni napasand hain, to mere khwabon mein apke saye kyun?
Agar aap mujhe itni buri lagti hain, to kyun meri tanhayiyon mein khalal deti hain?
Kyun mere andheron mein roshni ban ke aati hain?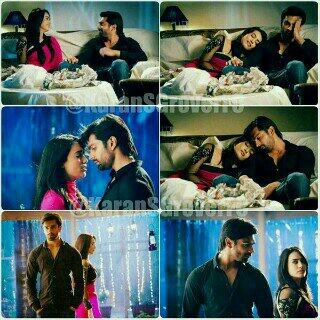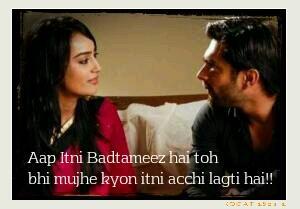 See? "Mere andheron mein roshni?" Of course he feels the same way about me, he said so himself.
He wouldn't have got me that cheesecake when I was feeling so low that day, or helped me find out about Abbu and deal with his death, or even been so romantic and such fun at Holi.
He's saved my life, taken care of me. And then in the video he was so clear about wanting me to stay back!
She hugged herself.
But what if all he feels is pity?
No!
And then she remembered the rest of their conversation from the farmhouse.
"Khwabon aur hakeekat mein bahut fark hota hai.
Main apne jazbaaton mein nahin bahunga.
Aap mere liye acchi nahin hain. Aap kabhi bhi ek achhi bahu ya acchi biwi nahin ban saktin.
You are a misfit."
And she was devastated.
Oh god!
All other memories came flooding back: how he detested the way she dressed, or when she argued with him. How her messiness seemed to always put him on edge.
How he had yelled at her about the gas cylinder, bailing her out of jail, the cricket match, Najma's wig … the attack on Phuphi! The list was endless.
And so was her misery. She nearly gagged on the horror.
That is why he hasn't ever said anything, and never will.
Oh my god, I'm so stupid.
He still thinks I'm interfering and irresponsible, childish and insolent … that I nearly killed his family with that gas leak. He thinks I'm a bad influence on Najma. He dislikes my wearing jeans. He thinks me unladylike and loud, badtameez and …
"Aap misfit hain … kabhi ek acchi bahu ya biwi nahin ban sakteen."
She sobbed.
He even hit me when he thought that I'd endangered Phuphi's life. And although he's apologized for that, his opinion of me has barely improved!
Allah miyan, Zoya what's wrong with you?
You stupid, dumb girl!
She flashbacked to yet another favorite opinion of his regarding her:
"Aapko rishton ki ehmiyat nahin pata hai!"
He would never want to be with someone like me! He said so that day, that no matter how he feels, he would never give in to his emotions. It wasn't that he was emotionally challenged, it was that he looked at emotions and love as a sign of weakness, something to be resisted. And feelings for a woman like me? I'm nobody, illegitimate, and representative of everything he detests in women. He likes women like Tanu, well-mannered, highly accomplished, demure and conservative.
Even Phuphi was talking of how everyone used to say that Asad and Tanveer should get married.
And even if he does feel something for me, he'll fight these feelings to his dying breath.
She broke down.
Oh my god! she wept.
I can fight his silence, but not his prejudice. He likes me but hates himself for liking me.
I'm so stupid.
Why am I always so impulsive? So blind? Why did I have to go and make such a fool of myself?
She thought about going back to his room, but stopped herself.
How can I ever face him again?
She paced in her room and then decided to take the coward's way out by texting him.
"Please ignore all the stupid things I said. I'm sorry for being so inappropriate."
She broke down after sending it.
He is right about you.
You are such an idiot! No self-restraint, no sense of decorum. And you just confirmed every negative thing he thinks about you.
Zoya Farooqui, you deserve to be miserable.
"Aap misfit hain …"
Misfit.
______________________________________________________________________________
Jo Bheji Thi Dua, Woh Jaake Aasman Se Yoon Takra Gayee, Ki Aa Gayee Hai Laut Ke Sadaa
Chapter 2
In his room, a shocked Asad still stood in the same spot, blitzed and rooted to the ground. He thought about what she had said. His mind churned.
But his heart thumped and rejoiced.
I want you to stay forever with me … with us too. I just can't say it so openly because I don't have your courage … Ammi always did say that I over think things.
He was surprised by how clear his mind was about his feelings though.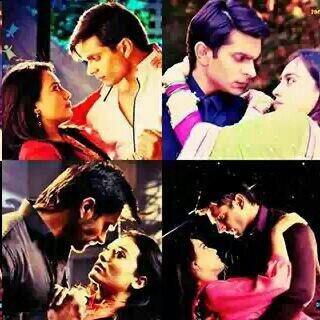 All these months of awkward and silent attraction, the strange pull he felt each time she laughed or pouted or bristled in anger at him. He thought of how, so often these days, he would like to provoke her by his strictness or seriousness just to see her eyes widen in response and then stab him with their glare as she retorted, "oh really?" The feel of her in his arms that night when she'd nagged him about dancing? The vision of her in a saree? What were the words he'd said to her that day … mere khwabon mein aapke saye kyun? The jolt he'd felt when she said, "aap bhi toh dekhne waali cheez hain na Mr. Khan!" The way she called him Mr. Khan. Only once she'd called him Asad, and hadn't he yearned to hear his name …? He had certainly loved pranking her at Holi!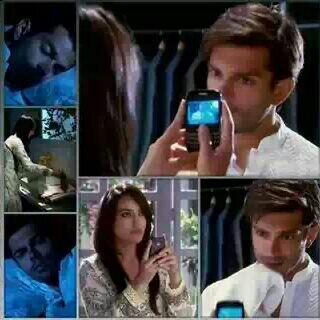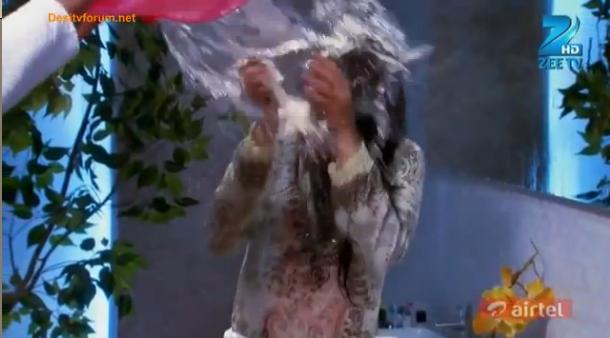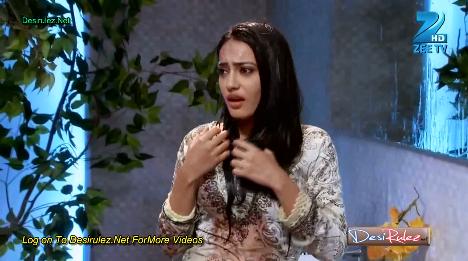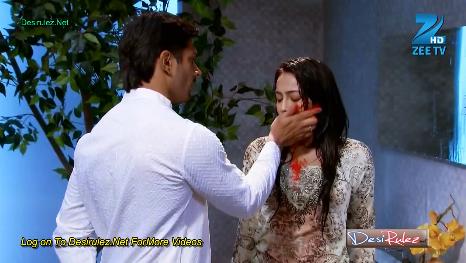 Had it really been love all along? Love …?
If not, then what was that "mat jao Zoya," video plea all about? Why couldn't he bear the thought of her leaving? Why pretend that the coin toss had been in favor of her staying back in India? Why not admit that when he had seen her injured at the bus accident site, and fallen into a dead faint in his arms, his heart had stopped cold. Admit it, you can't bear it when she's in pain. When you hit her, the cut she got, the anger you'd felt course through you when you saw her bleeding at Akram's house. When that bas*tard had slashed her hands ...
Asad ran his hand through his hair in agitation.
He hadn't even realized the camera was still recording last night. Having recorded his real message to wish her luck for the trip and her life, he had turned around and stared into the heartless night. It had seemed darker, the sky more starless.
When Zoya had showed the video to him this morning he'd been so embarrassed.
And terrified that she knew how he really felt about her.
Somehow he'd stuttered his way out by pretending to be angry and impatient just so he could get her off his back.
He had sighed in relief when she stormed out of his room.
But she had just stormed right back in.
He grinned.
Only Zoya!
Asad remembered the first time he'd seen her at the dargah. He had been a man bewitched. Her tears that day had affected him so strongly.
Those tears were his own. He had flinched when she wiped her cheek. Was it because he had seen the dark bridal mehendi on her hands?
He hadn't been able to take his eyes off her.
He had wanted to wipe her tears away, rest her head on his shoulders, and promise her that she would never cry again. The intensity of his emotional attraction to her that day had staggered him. But their next few meetings had thankfully erased that powerful tug.
Or so he thought.
She had been insolent and defiant, and he'd tried to put her in her place. But she'd given her own back.
And then a few days later, he'd found her in his bed.
Asad glanced at the bed.
His heart hammered and hands fisted.
He crashed on the settee, holding his head in his hands.
Zoya! Why can't I get you out of my head?
He stretched out, hands behind his head now.
Truth be told, he still couldn't bear to see her cry, and ached to hold her whenever he saw her with her father's music box.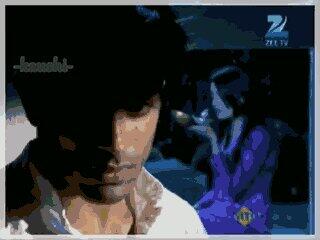 When she had broken down at her father's gravesite, he wanted to crush her in his arms and hold her till her soul was mended. And his.
He still remembered it so vividly.
When he had looked up that day at the dargah to find her gone, he had felt a hollow sense of unexplained loss.
And now he had the chance to ...
His phone pinged, and he looked at the sender's name and smiled fully. Tracing her name with his finger, Asad opened it eagerly. He read Zoya's text with a sinking heart.
No! Please, it wasn't stupid at all! I was stupid for not saying anything.
He felt terrible that his reticence and unfounded fears of hurt and betrayal were making her doubt herself. He needed to talk to her, to tell her ...
He started to go to her room and ran into Tanu just outside his room.
"Jammy, can I talk to you about something really important."
Asad looked longingly towards Zoya's room, but then sighing said, "sure."
"It's private, can we go to your room? I'll bring badaam milk which you used to like so much."
"OK."
He walked into his room, but not before looking back at Zoya's closed door for one last time impatiently.
Tanu had already prepared the milk. All that was needed was to slip something into the glass.
"I'm sorry, Jammy. But this is the only way out for me."
She carried the tray into Asad's room.
The door closed.
Zoya was miserable in her room. She sat on the floor by the bed, unconsciously hugging herself close.
Please ... If you saw the text, come tell me that I'm not stupid, or a loser. Tell me that you do think I am good for you and your family. Please! Tell me I'm not a misfit.
The misery multiplied with each ticking second.
How am I going to face him tomorrow? Stupid idiot! What were you thinking?
She kept looking toward door; her tears fell, and she rocked herself.
In his room, Asad listened distractedly to Tanu, surreptitiously looking at the time as it got later and later into the night. Tanu talked of rebooting her life and starting over. Could he help her?
"Of course, whatever you need." Just hurry up, please!
She urged him to drink the milk and started to monotonously drone on about her business plans and to rebuild her life here in Bhopal with his support.
Because she felt so close to his family.
He nodded vaguely in agreement.
He began to feel disoriented and sat down heavily on the bed. As he tried to put away the half-drunk glass of milk, she coaxed, "oh, you don't look so well, Jammy. Drink up, and you'll feel a lot better."
Not wanting to create a fuss, as well as speed the meeting along, he did. He hoped this would get her to finish sooner so that he could go talk to Zoya, take her in his arms ...
But why was he feeling dizzy ... ?
He collapsed on the bed.
Next morning found Zoya asleep on the floor of her room, curled up in a ball.
Asad woke up in his bed with a terrible headache. He looked down at himself groggily and saw that he was undressed. Surprised, he turned to the side to see a naked female back. Wide awake now, he jumped up in alarm.
God knows why he thought or hoped it would be Zoya, but he tried to shake her awake and almost yelled at her.
How could she send him that text and then do this ...?
The woman turned.
It wasn't Zoya.
He was shocked and dismayed.
"Oh my god, what happened?"
Hastily she covered herself up and promptly burst into tears. Through loud sobs she told him how they both got carried away when she started to cry last night and he tried to console her.
He couldn't process her words.
His head felt woolly; it pounded.
Carried away? What the hell was she talking about?
Her wails were grating on his shredded nerves.
What? How?
"What's going to happen to me now? I'm ruined. How could you do this to me?"
He tried to calm her down, mortified and panicked. Why can't I remember anything? What is happening? How did …?
"It'll be OK. It's not the end of the world. Just please stop crying."
She lashed out at him, "it may not be for you, but it's the end of the world for me! I'm damaged goods now. Already I'm all alone in the world. And now this," she continue to wail.
Asad's eyes widened. He winced. The bright light hurt. He was in a state of utter panic and horror.
"Please don't worry. I'll take care of it. I won't let anything bad happen to you." Just please don't cry or talk.
She screamed, "how? How will you take care of this? What if I get pregnant? How will I raise the child all on my own? Will you marry me and make this right?
He felt shame and resentment bubble up and choke him. No! Never! But taking a deep breath, and with a heavy heart, he ceded all hope and signed away his miserable life away, "yes, I'll marry you."
She hugged him through her tears and he held her awkwardly, hollow with complete horror and self-disgust.
Squeezing his eyes shut, with images of Zoya swirling through his mind, he silently pledged, "I'm sorry Zoya."
At breakfast Dilshad and Najma bustled around the kitchen. Zoya was in the background trying to smile as Najma nattered on. Act like nothing's happened, she kept reminding herself.
An hour at a time.
A day at a time.
It can't get any worse, can it?
In the bright light of the morning, she had felt that may be she hadn't completely ruined everything. She could fake some cheer and may be make a joke out if it. She could pretend that she was pulling his leg, he could frown in disapproval, and she'd tease him with that dumb sher of hers, "kab kahenge Jahanpanah six packs …" Oh god, you stupid, dumb moron!
Thank you Allah Miyan! At least she hadn't said, I love you!
Tanu came in smiling, and Mr. Khan trudged in after her with a heavy tread. Zoya's heart dropped. Them coming out together like this from his room, her dressed so traditionally, just the way he likes … Zoya's eyes fell to hide her shame.
Asad's eyes hungrily sought her face. She did not meet his gaze, but he noticed shadows under her eyes and felt a pang.
Everyone sat down except for Zoya who lingered at the counter behind Asad, cutting fruit.
Good mornings were exchanged.
Tanu excitedly proclaimed, "Khala, there is some good news to share!"
Asad swallowed hard, and looked crushed.
"Jammy aap sab se kuch kehna chahte hain. Hai na Jammy?"
Asad was annoyed at Tanu. They had not discussed telling everyone. He had hoped that they could discretely wait and find out if she was pregnant first, before deciding and announcing anything. He sensed Zoya behind him as he prepared to crush her.
He looked up at Dilshad and stuttered, "woh, Ammi, actually ..."
Tanu's lips thinned in annoyance.
She hadn't worked this hard to have him hem and haw about this. She knew that he wouldn't be able to get the words out, and also that his woebegone expression would contradict his words even if he was able to slur them out somehow.
"Jammy and I have decided to get married," she declared with contemptuous glee.
There was a muffled gasp and clatter behind him that only he heard.
The evidence of the end of Zoya's world was quickly covered up as cheers of joy erupted from his mother and sister who rushed to hug and embrace the two. An emotional Dilshad blessed them and bustled about to ward off evil spirits.
As Najma and Dilshad continued to excitedly ask Asad how and when, a simpering Tanu walked up to Zoya, "Zoya. you're so quiet. Aren't you happy for us?"
Zoya wiped her hands on the apron and said in a soft, strangled voice, "of course, I am just shocked. Congratulations."
She hugged Tanu and blinked several times. As she parted from her, she said after clearing her throat:
"I hope you both will be very happy. Allah aap dono ko mere hisse ki bhi khushiyan de de."
Asad's eyes stung as he looked away.
Zoya removed her apron and told Dilshad that she was expecting an important call from Jeeju about her visa and that they should carry on without her. She fled to her room, raced to the bathroom, and fell down to the floor sobbing.
She stuffed her fist into her mouth to silence herself, biting down hard on her knuckles.
After breakfast, Dilshad was cleaning up and looked closely at the apron; she saw some bloodstains.
"Arre, where did this blood come from? Oh, Zoya must have cut herself when she was cutting the fruit. Allah! This girl is so clumsy!"
Asad heard this and went to his room, closed the door and leaned against it. Tears of fury and self-loathing now streamed down his face. Images of Zoya's tortured face swam before his eyes. He took out his phone and re-read her text. He remembered how she had looked when she said those things to him. He had come so close to telling her about his own feelings.
And now a door had slammed in his face forever.
Seeing her dash to her room made him want to run after her to tell her that none of this was real and that he loved her and only her.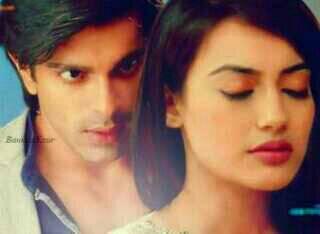 Now you admit that you love her?
Fool!
He balled his fist, close to smashing it through the glass.
He needed to go a few rounds at his punching bag ...
After a long cry, Zoya tried to compose herself. Looking in the mirror, she gave herself a pep talk.
Stop this crying. You can't let anyone see you like this. What if Phuphi found out? Do you want to dim her happiness? Then just man the hell up Zoya Farooqui! Allah miyan, please give me the strength to bear this. And please don't make me mess this up any more.
She reeled as a new thought squeezed her heart. What if Mr. Khan had already proposed to Tanu before she had gone in like a blundering baby rhino and blurted her heart out? No wonder he didn't say a word! Oh god, Allah miyan, what have I done? What was I thinking?
You weren't thinking you stupid idiot! she chided herself for the fiftieth time. How could you even think that he'd like … love … someone like you? Zoya Farooqui, have you forgotten who you are, what you are? A nameless, fatherless nobody! A scarred, defective misfit!
And that set her crying again.
Splashing cold water on her face, she tried to rationalize her miserable way out of a mess she had created. Tanu will be right for him. She is exactly what he wants in a life partner, someone who is good around the house, so capable, someone who has the values and cultural upbringing that he holds important. They've known each other for years and been best friends. This is the right thing. She will be good for him and take good care of Phuphi. Be a big sister to Najma. Phuphi also loves her like a daughter.
And me …? You would have never been good for him. "Aap sirf ek mehman hain …"
She remembered what she'd said to him yesterday, and burst into tears all over again, all resolve forgotten.
I should go back.
Leave.
Now.
Zoya splashed more water on her face and carefully applied make-up to cover up the evidence of her crying. She squared her shoulders to walk out into the living room.
Mr. Khan had left for work and Phuphi, Najma and Tanu were in there making plans.
"Oh, come Zoya, help us. There is so much to be done. They want to get married as soon as possible," Dilshad gushed.
Zoya, came up and said bravely, and much too brightly, "Sure Phuphi! Aap sirf shaadi ki taiyari par dhyaan dijiye, I'll help in any way I can."
Dilshad happily embraced her and said, "you are so sweet."
The three of them talked excitedly about the colors of dresses, flowers, menu, decorations, functions, themes, etc.
Suddenly Zoya felt left out, excluded from a charmed circle that she'd never be a part of. She saw Tanu looking at her and plastered a smile on her face.
"Zoya, what do you think would be the best color on me," asked Tanu sidling up to her.
"Umm," she pressed her fingers to her lips to keep them from quivering.
"All colors look good on you, Tanveer. Aap designer hain, aap ko behtar idea hoga. I just know jeans and tops."
She rubbed her palms down her thighs self-consciously.
"Lekin tab bhi, kya khayal hai apka?"
With hands tightly gripped, Zoya offered the first color that came to mind, "Green?"
She closed her eyes. In Mangalpur she had worn a green bridal dress.
She swallowed.
"May be red?"
"Lehenga ya sharara?"
Nails digging into her palms, drawing fresh blood from her earlier wound, Zoya stammered, "umm, dono hi aap par acche lagenge, I'm sure."
"Arre Zoya, aap ke hath se to khoon beh raha hai. Here, let me help you bandage it."
"Thank you, I'll take care of it. It's a small cut, no big deal."
Getting the first aid box, Zoya quietly dressed the wound.
"Phuphi, if you don't need me right now, main thodi der bahar ho kar ayoon?"
"Haan beta, but come back soon. Bahut sare kaam hain. So much to do. So many lists to make …"
Zoya left to go to the dargah.
___________________________________________________________________________________
Mujhe Yunhi Karke Khwabon Se Juda, Jaane Kahan Chhup Ke Baitha Hai Khuda
Chapter 3
Once at the dargah, she sank to her knees and wept silently. Please Allah miyan! Give me the strength and don't let me make a bigger nuisance of myself.
This had become a litany.
Please give me the strength to accept your will and not ask for something I don't deserve.
I should have left then.
I've made such a stupid mess of things. I should have never come to India. Aapi was right.
Ayaan was there too. He had promised Ammi to drop off donated supplies. Seeing Zoya, he remembered the first time he had seen her. Exactly like this, crying softly. What was bothering her? He had to find out. Somehow he had never found out why she was crying that first time. Having got to know her over these past few days, he was surprised at her tears. She didn't seem the type to cry. She seemed so bindas and chilled out. Must be something terrible.
He waited for her to leave, and just like the last time, he chased after her.
"Zoya, what happened? Why are you so sad? Is everything OK?"
Zoya tried to smile and deny it.
He persisted, "tell me if you think of me as a good friend."
She told him that she was missing her father.
"Is he in America?"
"No, he passed away a long time ago," she murmured with lowered lashes and walked away with her head bowed.
At work, Asad couldn't concentrate.
He was constantly haunted by Zoya's memories, her expressions, that silly shayari … But most of all, her face this morning when she found out about his damned engagement. Her nonsensical sher from not too long ago, arrested his thoughts:
"Jahanpanah six packs, kab kahenge mujhe koi mil gaya,
Jahanpanah six packs, kab kahenge mujhe koi mil gaya
Woh pyaar mein girenge, aur bolenge, Oh no! Mera ghutna chhil gaya!"
She had been so determined then to suss out Ammi's assailant, and to prove him dead wrong about his father. She hadn't given a thought to putting her life on the line for his Ammi. So fiercely loyal to Ammi's faith in Mr. Rashid Ahmed Khan's innocence! Even he had not supported Ammi then. And Zoya had stood up to him and his rigid principles.
No one had even stood up to him like that ever before. And that too for his family. Fighting with him about Najma first, then Ammi.
He squeezed his eyes in bitter remorse.
The terrible words he'd said to her about her character, her parents, her upbringing!
He slammed his fist on his desk.
She must have cried in her room this morning hiding her pain from everyone. Before leaving for work he had glanced longingly at the closed door of her room and wanted to walk in and gather her in his arms, and kiss her tears and self-doubts away.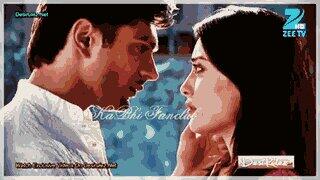 He paced in angry frustration and pain.
I wish I had told you much sooner how I feel about you. You were right. I can't express myself and am emotionally challenged.
I wish I could turn back time.
Ayaan called and told him that he'd just seen Zoya at the dargah, and that she was really upset.
"Bhaijaan, she was crying like the last time."
Asad remembered her crying the first time he saw her at the dargah last year and covered his face in anguish.
"I didn't know that her father had died. She said that she was missing him and that's why she was crying."
Asad told him of Zoya's reason for coming to India in search of her estranged father and how they had only recently found out about her dad's passing.
"Oh my god, I didn't know," said Ayaan. "How can she look so happy and be so chirpy, and yet carry around so much grief inside her."
Asad kept quiet and closed his eyes. You don't know the half of it.
And this time she was crying because of me.
Back at home, when Zoya returned, Najma excitedly told her that they had decided to take the previously-discussed road trip to Ajmer Sharif.
"Such fun, no? Hum sab saath saath itni masti karenge. Gaane gayenge, yummy dhaba food khayenge. Make sure you pack right away. We leave tomorrow morning."
At the dinner table that night, everyone was making plans for the trip and the wedding. Asad and Zoya silently looked down and toyed with their food.
"Zoya, aap kyon kuch nahin bol rahin hain," asked Tanu archly. "Don't you want to go to Ajmer Sharif?"
Asad looked up at Tanu, slightly annoyed. He seemed to detect a cruel streak in her lately.
Dilshad interjected, "nahin, nahin, that can't be. Road trip ka idea to Zoya ka hi tha. She's the one who suggested it in the first place!"
Zoya gripped her fork and knife tightly. She smiled gamely and said that she would love to go and had always wanted to go because she has heard so much about Ajmer Sharif's spiritual power and healing. She had heard about the place from Jeeju and Aapi who had visited a long time ago.
"Ajmer Sharif ka bulawa aaya hai," Dilshad said to her and she smiled, nodding her head.
She bravely joined in the banter asking Najma what clothes she would be taking and what shopping they would do there, and Najma took over the conversation. When the conversation faltered, she asked how long it would take by road, and again everyone jumped in to answer her question and make more plans. How long would they be there for?
Where would they stay?
What would the weather be like?
Asad stole a look at her. Only he could see that she was covering up her lack of real participation by posing neutral questions.
He saw that she was barely eating and that her eyes were bright with unshed tears. He also saw her tightly gripped and bandaged hands and how she was barely holding on to her self-control.
He pushed his plate away unable to swallow a single morsel.
Later, Asad turned to Dilshad and said, "Ammi please make sure that you pack your medicines. In fact we should talk to the doctor about what precautions to take during the trip." She had just barely recovered from the shooting.
"Don't worry about it. Zoya's organized all my medicines and I already talked to the doctor today. I'll be fine."
As everyone was leaving to turn in for the night, Zoya cleared her throat and said soflty, "Mr. Khan?"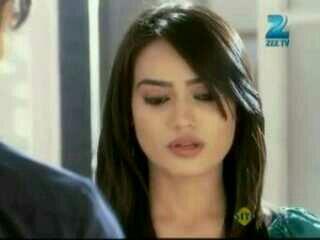 He turned around quickly at the sound of her voice to look at her. She was twisting her hands again.
Without meeting his gaze she said, "umm … please remember to take your anti-allergy injection."
Dilshad burst out, "yes, Zoya is absolutely right! You are really careless about your health, Asad. If Zoya hadn't found the injection that day in your room, I don't know what we would have done."
She shuddered with remembered horror. Any longer, and he would have gone into complete anaphylactic shock. Thank god for Zoya!
Asad nodded and walked away.
In his room Asad walked toward his closet and opened the drawer to pull out the epi-pen so he wouldn't forget. He noticed her earring and the coin that Zoya had childishly insisted on using to decide whether she would stay back in India.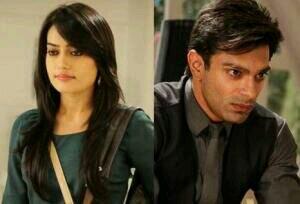 He also recalled how, for the first time yesterday, his heart had intuitively made the decision to lie about the result so that she wouldn't leave for New York.
He had never lied before. It had felt so right.
He had pretended to be angry at her bizarre pranks, but now Asad knew how happy he was then.
When he had seen her hug Ammi, and Ammi give her a fond kiss, he knew that he had wanted that moment to last forever and that he had found the girl who would love Ammi even more than him.
He bent to caress the earring, but stopped.
Had it only been twenty four hours since she'd told him how she felt? In just one day he had turned his and her world topsy–turvy. How did they go from him struggling to stop her from leaving India, to losing her forever? He sat on the bed and held his leaden head in his hands while images of Zoya's face danced in his head, taunting and plaguing him for his silence and cowardice. Again.
Mujhe maaf kar dena Zoya.
This had become his own tortured litany that he whipped himself with every waking moment.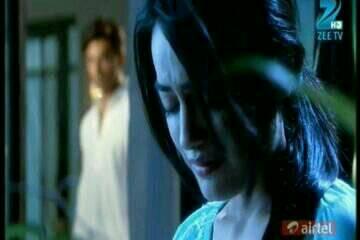 Songs in Titles:
Jab Pyaa Kisise Hota Hai (1961) "Jab Pyaa Kisise Hota Hai"
Shanghai (2012) "Duaa"
Patiala House (2012) "Kyun Main Jagoon"
Aug 16, 2013
PART TWO: ... Dard Sa Dil Mein Hota Hai (By Dixiej) (Thanked: 280 times)
Main Hoon Gumsum Tu Bhi Khamosh Hai
Chapter 4
The next morning, everyone was packed and eager to set off.
Asad told Dilshad that he'd invited Ayaan to join them. Ayaan stepped out from behind the SUV and grinned at them while ruffling his messy hair. Dilshad smiled and patted his back. She loved how the brothers were so close to each other despite the rancor between the two families.
They set off with the men in front and the women in the back. Zoya and Najma were in the third row.
Soon they left the city behind and were on the highway.
Fields and tiny towns whizzed by. Any other time, and she would have been glued to window exclaiming and squealing at the zipping merry sights. But not now. Now those sights seemed blurred and fuzzy through the veil of unshed tears.
Zoya plugged in her earphones to watch the video of Mr. Khan asking her to stay back, "mat jao, Zoya."
Asad, meanwhile, had been trying to steal glances at her in the rear view mirror, but was unable to get a clear view even after adjusting it several times. He could just barely see the top of her bowed head.
He sighed in frustration and remorse.
Soon a bored Najma piped up, "let's play antakshari. It'll be fun."
Almost everyone groaned, but Ayaan liked the idea and soon had convinced everyone to join in.
Najma and Ayaan high-fived.
"Tanu aap, Asad aur Ayaan Bhaijaan ki team mein hongi, and me, Zoya and Ammi will be in the other team."
They sang some of the most common songs that one remembers by default when this game first starts. Zoya and Asad joined in only when prodded by others.
Najma's team got "Ha" and she started singing "Hum tum, ek kamre main band hon."
All, except Asad, joined in.
He looked away and remembered that time they were handcuffed in Mangalpur. Finally working together as a team they had managed to escape from their captors and find shelter at the ridiculously-named, Apna Dhaba. But they were still handcuffed to each other.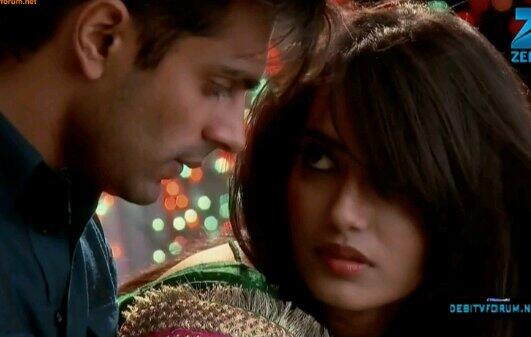 At night on the stairs he had forgetfully moved too quickly to his right, and she been dragged helplessly across his knees, her face mere inches from his. It could have been just the two of them in the whole wide world. They had been so close. One inch more, and he could have feathered her reddening cheek with his lips.
And then later at night, in the room they had been forced to share, he must have yanked his hand in his sleep. And she had fallen on top of him tumbling into his arms jolting him awake. Her hair had spilled over their faces creating a curtained off private world in which only the two of them breathed while gazing into each other's startled and heated eyes.
He could feel her racing heart and—-
Both those times, and so many other times too, there was always such a crackle of awareness between them. His eyes and hands had lingered longer than they should have. How easy it would have been to turn her over that night and tuck her soft body under his, bury his face in her neck and—-
Even then he had to have known that his mind and body had never reacted this way to any other woman. When he had feared her lost forever in that forest of despair, his heart had clearly told him what it wanted as he prayed for her life.
Why hadn't he listened to his heart then?
Coward!
When Najma's song ended at "Ya," Ayaan started to sing, "ye raat bheegi bheegi," while lightly strumming his guitar.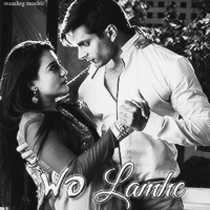 And this time Zoya remembered the night at the farmhouse and their sensuous dance while it rained. That night had been so magical. She'd never felt so happy, so delirious, and so in love.
For the first time, Mr. Khan had allowed himself to open up before her and been playful and flirtatious. Allah miyan, he had actually laughed and teased her! Had they really danced together? She could still feel his caress on her chin and how her breath had hitched when he had brushed his knuckles against her lips. She had completely surrendered her heart that night when he had held her hands in his against his chest. The drizzle had added a veil of heated privacy as their bodies had swayed against one another.
His reluctant confession that night … those words had melted her heart.
And then the next day, everything had changed.
She squeezed her eyes shut and a tear escaped. She quickly dashed it away and joined in the song.
Much later, Ayaan was driving and Hindi songs continued to play on the radio. They heard some caller request the song "bol na halke, halke" from the film "Jhoom Barabar Jhoom."
Najma squealed, "ooh, I love this song. It is so romantic, isn't it Zoya? It's one of my favorite Rahat Fateh Ali Khan song! I know it's your favorite song too."
Zoya said yes softly, ducking her head and letting her hair cover her flaming face.
This time Asad, pretending to be asleep, relived their heady dance that night. It was still a blurry memory but he could vividly recall the sensation of holding her warm and soft body in his arms and swaying to some unheard music. This was the song he thought he'd heard. It couldn't have been real. But it felt so real.
It had steamed that night.
It was the first time he had seen her in a saree and she looked stunning with her hair still damp and that dimple still flashing.
He remembered her spinning in langurous circles around him and how he had tried to catch her floating palla but she'd gleefully escaped his grasp, laughing up at him and mocking him for not being quick enough. When she had turned her back to him his breath had caught at the sight of her bare back with two flimsy strings holding her blouse together. One flick of his wrist to tug at them, and he could have rained a thousand open-mouthed kisses, tasting the rain on her exposed skin. What would her skin feel like against his? What if he was bolder that night and scooped her into his arms, carried her inside and made love to her all night?
He shook his head to get a grip on his flyaway thoughts. Hollow desire and searing regret rippled through him.
They made many stops along the way.
Zoya mostly stayed quiet, and close to Dilshad and Najma. Najma's excitement and constant chatter helped cover her misery.
Sometimes.
But she would pretend to be immersed in her iPad or stuff her ears with her headphones when Najma mentioned mehendi functions, shaadi songs, weddings, waleemas and honeymoons. She didn't want to pretend that she had a headache. Phuphi and Tamatar would fuss and then she'd die of embarrassment because Mr. Khan would know why she was faking.
"Zoya, we have to make a list of songs! It'll be such fun!"
When her voice became steadier, Zoya would get Najma diverted by talking about Ranbir Kapoor, his upcoming film and how they'd watch it when they returned home.
"And we still have to watch Aashiqui 2," Najma gushed.
Ayaan rolled his eyes, "chick flick," he muttered. His sisters and Humaira too would go on and on about that one.
"The songs are so nice, na? Here," she grabbed Zoya's iPad. "Let's play some of them."
Oh god! Not that one. Please, please Tamatar, Zoya screamed silently. Because I'll really burst into tears right here, right now.
"No, let's listen to some peppy songs. How 'bout Badtameez dil or Balam pichkari?" she asked Najma who eagerly agreed.
Ayaan noticed something being off and grilled Asad about it, "what's going on with Mona darling? Why is she so quiet? Do you think she's still thinking about her father?"
Asad turned his face away and shrugged.
"C'mon Bhaijaan, I know that you don't like her, and think that she's a goofball, like me, heh heh, but she's not all that bad. Remember how she kidnapped me from the hospital so we could meet?"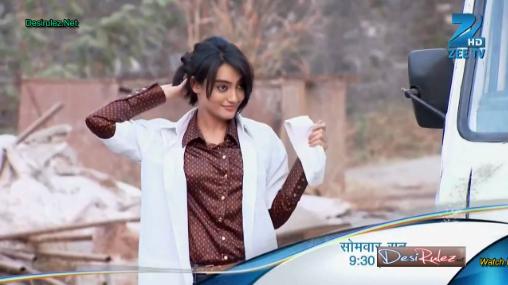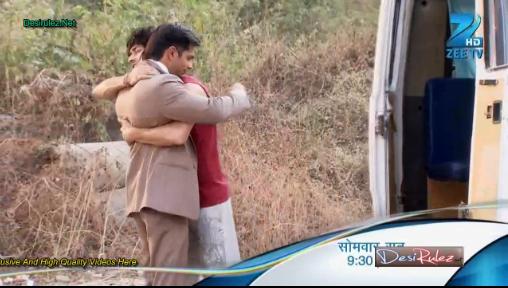 Asad swore under his breath and kicked a stone away savagely. How had he forgotten that? Zoya had seen how upset he was about being forbidden to visit Ayaan at the hospital and she'd promised him a surprise …
"Aaj ke baad tum Ayaan se kabhi nahi miloge!" Ammi had said. She had known he'd be devastated but also that he wouldn't disobey her.
And somehow Zoya had sensed his ache …
"Maine kaha tha na ki mere paas aapke liye surprise hai! Aapka surprise ambulance mein hai … Aap ek baar ambulance khol ke dekhiye. Aapko aapke har sawaal ka jabaab mil jayega. Come on, Mr. Khan! Jayiye!"
It had been the best surprise of his life ...
They were soon back on the road. This time Dilshad sat in the passenger seat, while Ayaan slept in the third row and Zoya was at the window. Najma was fast asleep with her head resting on Zoya's shoulder. Tanu too slept.
Asad could now see her face clearly in the rear view mirror as he drove. He stole glances at her as she stared listlessly out of the window.
Zoya was exhausted. She couldn't bear the plugs in her ears any more. Her hands hurt. And that permanent lump in her throat just wouldn't budge let alone slide down.
The song, "Ajeeb dastaan hai yeh" came on, and Dilshad exclaimed, "Oh I love this song."
She increased the volume and started softly humming along with it.
"Kisi ka pyar le ke tum, naya jahan basaoge,
Yeh shaam jab bhi ayegi, tum humko yaad a-ogey."
Asad sharply looked up into the mirror and saw tears streaming down Zoya's face as she hastily wiped them. He swerved to avoid a car as he rushed to quickly switch the radio station.
Dilshad asked crossly, "why did you do that, I was listening to it?"
"It was boring. I want to listen to the news."
Zoya made a strangled sound and Dilshad turned around and asked with concern, "are you OK, do want us to stop, Zoya?"
With her face averted Zoya nodded a yes. As soon as Asad pulled over, she rushed out and ran a little distance behind the car. She fell to her knees on the side of the road and sobbed uncontrollably.
Dilshad exclaimed, "oh the poor thing is carsick, let me take some water for her."
Asad stopped her with a hand on her arm, "Ammi, aap baithiye, I'll do it."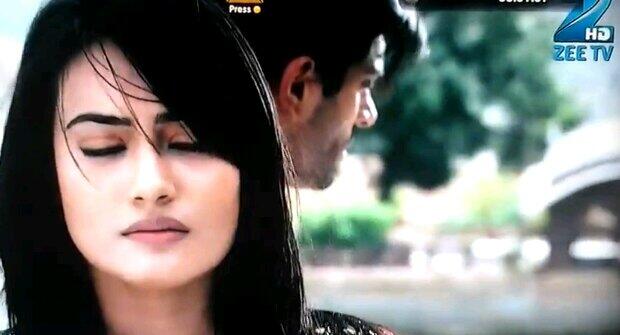 He walked up slowly after her. She felt someone coming and started to choke back her sobs.
Asad placed his hand on her shoulder and offered her the bottle of water. She took it from his hands, and turned away to splash cold water on her face. She took a sip hoping to wash the taste of ashes from her mouth.
He offered her his handkerchief and she shook her head no.
"Zoya, please" He whispered hoarsely.
He wanted to hold her hand and beg her forgiveness on his knees. If only he could pull her into his arms, kiss her tears away, and promise to keep her smiling all his life. He thought again of her tears at the Dargah when he had first seen her. This time he was responsible for her tears and lost smile. His heart squeezed and he clenched his fists helplessly.
That's all he could do these days besides lashing out at himself silently for being the biggest fool in the world who had blindly gambled his life away. He saw her wipe her face hard with her hands, push her shoulders back and stalk proudly toward the car, a queen ready for the guillotine.
He looked forlornly after her.
In the car, Zoya shut her eyes and couldn't help but play back his words to her right now. He had sounded just as tortured as he did in that video. She knew he felt guilty and that splintered her soul even more. She didn't want him to feel guilty because of her. She didn't want him to feel sorry for her.
Why, Allah miyan are you making this so hard? Why can't I accept that he's not mine, never was. His words and eyes hold me back but his actions scream that he doesn't see me as someone worthy of being a part of his family.
And don't actions speak louder than words?
She dug her fingernails into her palms to punish her dumb heart.
Song in Title:
Talaash (2012): "Jee Le Zara"
_______________________________________________________________________________
Mere Saath-Saath Chal Raha Hai Yaadon Ka Dhuaan
Chapter 5
The next morning they went to pay their respects and offer prayers at the Dargah at Ajmer Sharif. Everyone was modestly dressed with their heads covered as they moved toward the inner sanctum.
There were crowds of pilgrims from all over the world, milling about, praying, chatting, chanting, and tying sacred threads by the millions.
Vendors sold sacred chadors, flowers, sweets, and other offerings, holy men called blessings and duas as they brushed passing heads with peaco*ck feather clusters.
Families and loners bustled. There were sick and elderly on crutches and in wheelchairs. Kids darted about and bumped heads, young married couples with hopeful faces murmured prayers …
Incense smoked and perfumed the air; hope and despair collided and rubbed shoulders.
The men and women separated to offer their prayers and seek blessings.
Najma, Dilshad and Tanu later moved on to tie their threads on the elaborate lattices groaning under millions of wishes and hopes.
Asad, still hyper aware of Zoya and her torment, noticed from a distance that she was just holding her thread and looking at it in a daze, but not tying it.
A little boy slammed into her, nearly knocking her off her feet. She bent and smiled at him. He was being pushed around by his older siblings and complained that he wanted to tie a thread too. He had dropped his, and no one was willing to give him another one. Zoya gave him her thread and he tried to unsuccessfully tie it, but he was being bumped around by the crush of bodies. His tiny fingers were uncoordinated.
Laughing now, she helped him by picking him up in her arms so that he could get closer and have better access. But he still fumbled and she tried to help him, but couldn't.
Asad's knees went weak at this sight of a smiling Zoya with her head covered, holding a squirming child. He stepped up and guided the boy's hands to help him tie the thread.
Once done, Zoya put him down and he happily scampered away.
Zoya was about to walk away when he offered her his thread. Not meeting his gaze she shook her head. "No thank you, it's OK, " she said softly, and walked away to wait for everyone to be done.
Slowly he walked to the lattice and tied the rejected thread. Through the intricate mesh, he gazed at her receding back and bowed head; the distance yawned between them.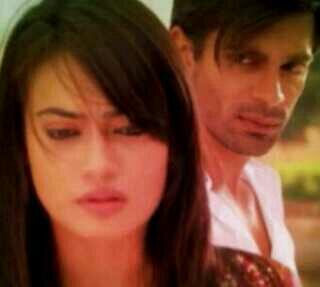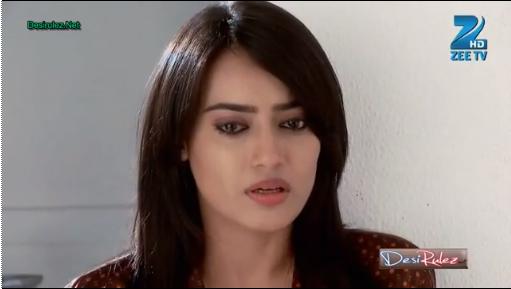 After dinner, back at the hotel, everyone lounged in the plush suite, discussing the trip to the holy site as well as upcoming wedding plans. Zoya busied herself by scrolling her cramped fingers across her iPad. She had to hold it together or she'd lose it and ruin everything. She tried concentrating on her breathing to distract herself. In … out … in … out ...
But Tanu's hawk eyes weren't fooled. She deliberately began to bait Zoya. Sharp that she was, she had noticed something deeply unresolved between Asad and Zoya. The usually giggly and annoying Ms. New York wasn't in her element and Jammy wasn't scowling or being critical of her. How was it that no one else had seen both of them being miserable.
"Zoya, what do you think about marriage? Maine suna hai ki aap apne nikaah se bhaag gayin theen."
Every one looked at her in horror as an angry Asad started to interject.
But Zoya spoke up, softly, yet firmly. "Yes, you heard right. I wasn't ready for marriage. I panicked ... aur mujhe koi aur rasta nahin soojhha, to main bhaag gayee," she owned up miserably.
Taking a deep breath, she continued, "my method was wrong, I know that. May be I am irresponsible and don't think about consequences. I seem to act first and think things through later … I'll always regret that I hurt Aapi terribly, but not that I ran away. He was not a good man."
Dilshad and Najma nodded in agreement. They knew about what had happened and how they had nearly lost Zoya.
Her self-condemnation slayed him. No, you aren't irresponsible, Asad wanted to yell. You did the right thing! I was irresponsible for trusting Akram and forcing you to apologize. Asad recalled with growing fury how he had reached Akram's house just in the nick of time to prevent the forced marriage. He remembered how his heart had stopped at the sight of blood on the side of her mouth.
Asad felt the rage and shame rise in him once again.
How dare that man drug her, beat her, and force her to get married to him?
Thank god he'd gotten there in time, or god knows what would have happened. He would have never been able to forgive himself. His fists clenched and he very nearly smashed a vase through the window.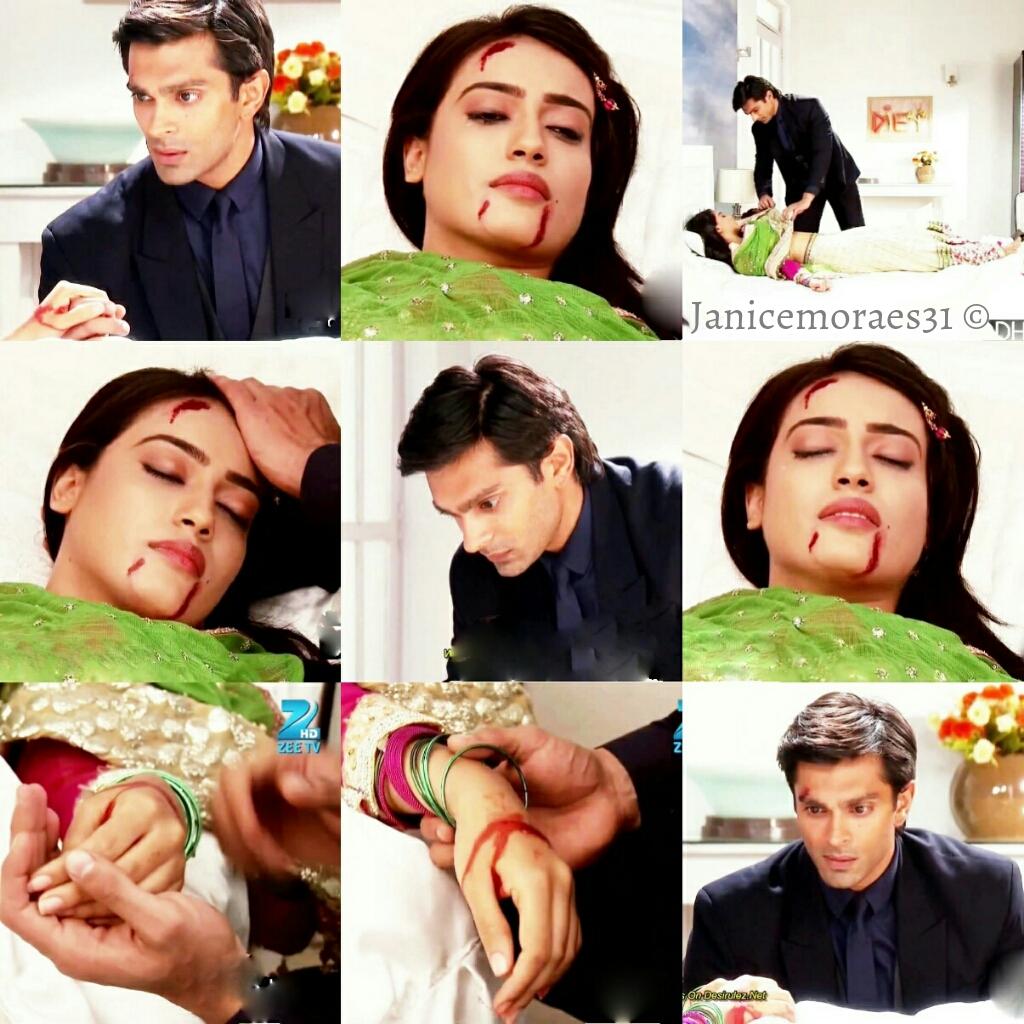 But seeing Zoya's bent head, her hair screening her face once again made his anger evaporate.
Shame and dull loss replaced it.
He hadn't yet apologized to her for that incident. Despite her reminding him that he owed her an apology. How could he? He didn't know how to. Asad still shuddered imagining how Akram and his cousins had kidnapped her, drugged her, and beat her up. What if they had …?
And he had bullied her into going, self-righteously demanding that she do the right thing. Is that what she was thinking too?
She was. But not the way he feared.
"Qubool nahin hai," he'd said for her. He hated her, and yet he'd come to her rescue. Even later in Mangalpur … He had risked his life for her so many times. What if something had happened to him? What about Phuphi and Najma? Yes. She was irresponsible.
For her, it was yet another reminder of how he must think the absolute worst of her. She had been mad at him for that Akram incident then. But now, she wished she could just curl up and die.
"You're a misfit," he had said a few weeks later.
"Aap kabhi bhi ek acchi bahu ya biwi nahin ban sakti," he had reiterated.
He was right.
She cleared her throat dislodging the painful lump that had formed, and not succeeding completely.
"Umm … Mr. Khan?"
He whipped his head around eagerly to look at her.
I'm so sorry for being a total jerk. Please forgive me, he wanted to say.
"I never thanked you for saving me that day. Thank you."
He hated himself even more.
But he couldn't pull his eyes away from her face. Her angry words that he always judged her character by her wardrobe, slashed him. She was right. He had let corrosive prejudice blindside him. And the irony was that when he'd finally realized his folly, he'd also blown his chance of ever being with her. He lowered his gaze. Meanwhile everyone else joined in saying that yes, Zoya was right about the importance of love and dignity in a marriage.
Tanu was miffed.
Ayaan looked unusually thoughtful and sad.
But then he said, "Aap kitni himmatwali hain Zoya. I don't think anyone else in your place could have done that. Chahe who shaadi ke kitna bhi khilaaf hota, chup chap, samaaj ke darr se, 'qubool hai' bol deta."
Asad looked up sharply at him and sensed that there was something bothering Ayaan. He had never seen his brother this serious, or as contemplative before.
Later, when both brothers were in their room, he asked Ayaan, "what is going on, why are you so tense about something?"
Ayaan tried to brush it off, but Asad persisted, "I know you very well and know that something is wrong even before you know it. I can tell that something is eating you up."
Ayaan chuckled ruefully, "I could say the same for you. For a man who is engaged to be married, you don't look so happy."
Asad ducked his head and said sternly, "we aren't talking about me. Ayaan, tell me, what's bothering you? You've never hidden anything from me. It's got to be something big."
Ayaan sighed and then reluctantly told him about being pressured to get married to his uncle's daughter.
Asad urged him to tell him everything.
Ayaan recounted the conspiracy to trap him and Humaira in his bed when his brother was away in Mangalpur. And then how, for a price, he had said yes to this engagement with a girl who loved him, but whom he only care for as a good friend.
Asad was able to connect the dots.
"That is where you got the money to pay off that corrupt police officer?"
Ayaan said nothing.
Asad started to pace the floor.
"This is all my fault. If I had allowed Ammi to pay off Hassena bi that day, then this wouldn't have happened."
He knelt in front of Ayaan, "I'm so sorry. I didn't know. I wish I could have done things differently and spared you this pain."
Ayaan shook his head saying, "it's not your fault, Bhaijaan. But now that I've given my word I will follow through even if it kills me."
Long into the night, as Ayaan slept, Asad tossed and turned.
There are so many things he would have done differently today.
Why had he been so rigid and so smugly blind?
He glanced at Ayaan. Both of us are silently chafing against being forced into loveless marriages. Yet Zoya fought against being forced into a marriage against her will. How difficult it must have been as a girl in a new country to make that choice that neither of us are able to make?
He got up to pace angrily in the limited space in the room.
Why did this have to happen?
Why didn't I …?
He stopped in front of the wide plate glass window. Knuckles gripping the window-frame tightly, he stared sightlessly into the black night for a long time.
Meanwhile, Zoya was in the bathroom of the room next door that she shared with Tanu. She looked at herself in the mirror and upbraided her reflection, "just snap out of it and get over this. People are starting to notice your being too quiet. Don't let Phuphi find out about your stupid crush! Accept what you can't change, and don't let anyone find out about this. Stop this moping and get over yourself already. C'mon, Zoya, you're a strong girl! You can do this. You have to do this. You must!"
Song in Title:
Shanghai (2012), "Duaa"
___________________________________________________________________________________
Tujhse Naaraaz Nahin Zindagi, Hairaan Hoon Main
Chapter 6
Next day in the car, Asad noticed Zoya smiling and talking more, and making an aggressive effort to participate in the activities and chatter. He heard her babbling non-stop about inane things and with a pang knew that this too was a façade. She didn't want anyone to notice her heartache or ruin the trip.
His heart wrenched as he thought of the thousands of times he had yelled at her calling her inconsiderate and selfish.
He remembered the time he nearly said, I hate you, and his cruelest words to her, "accha hua khuda ne aapse apni ammi chheen li, kyunki aapko rishton ki ehmiyat nahin hai."
His fingers clenched on the steering wheel.
There was just no way he could make up for the terrible things he had said and done to her. He was still awed at how she never held a grudge and forgave so easily. He would never forgive himself as easily. Once after a bitter fight, she'd actually smiled at him as he continued to scowl at her. "Main zyada der tak kissi se naaraz nahin reh sakti. It's not in my nature. Jaiye, aapko maaf kiya!" Every day he learned a new facet of her, and felt chastened for judging her and misreading her. Just because she wore jeans and came from the US, he had stereotyped and humiliated her. She was right about him being judgmental.
He deserved to suffer for his behavior, but she didn't deserve this.
Everyone soon got tired of Zoya's incessant yapping and Dilshad crossly told her to go sit up front with Asad so that she could keep him awake while he drove. Zoya froze, but nodded her head in silence, and settled in the passenger seat armed with her iPad.
She swallowed several times and fiddled with the radio stations.
Finally, taking a deep breath, she said to him with bent gaze. "OK, Mr. Khan what should we talk about or do to pass the time? You know what, aapne 'Dil Chahta Hai' dekhi hai? No? Then main apko apni favorite movie ki story sunati hoon."
He had seen that film, and liked it too. But he let her tell the story and just listened to the texture and tenor of her voice. She got more and more animated as the story developed, and even decided to play the songs from the film.
Najma and Ayaan joined in gleefully.
Tanu rolled her eyes.
But Zoya's voice started to falter as she got closer to the romantic scenes between Akash and Shalini. Shalini's attempts to get him to accept that love was real and worth reaching out for made her squirm in embarrassment now.
Thankfully Najma and Ayaan had really gotten into this as well and started to narrate that part while speaking over each other.
Najma said, "C'mon Zoya, it's time to play 'jaane kyun' at this point."
While Zoya fiddled with the iPad to find and play the song, she ducked her head to hide her blush.
Asad too remembered the time she had walked in on him in the bathtub while he (badly) whistled "jaane kyun."
He swore softly.
Zoya heard him and shriveled up inside.
Thankfully the song ended and Ayaan started to act out the cult proposal scene. He recited Akash's romantic words to Shalini, loud and clear with the exact expressions. Zoya looked away and Asad looked straight ahead unblinkingly. Zoya thought about that scene in the film and imagined Mr. Khan on bended knee. She shook herself and pasted a smile on and clapped with the others when Ayaan finished with a flourish.
After the story was done, she said, "OK, how about a cricket quiz now?"
Najma screwed up her face in distaste, but knew that her Bhaijaan would love that. She settled back quietly.
Zoya tapped on her iPad and after a few minutes began asking trivia questions which he tried to answer distractedly. Ayaan kept blurting out wrong answers from the back, and both she and Asad kept correcting him. Neither could forget the time when she'd challenged him to a trivia match on cricket and won. While he had acted annoyed then, he had been impressed with her knowledge and passion for the game. Both remembered his hateful words after she and Najma returned from the match he'd forbidden them to go to; she cringed, mortified, Asad kicked himself for his repeated assault on her character.
Tanu did not look happy at all, but congratulated herself, "no matter what you do Zoya, Jammy is mine now."
After they ran out of cricket questions, Zoya started to read news headlines from her iPad but that got boring real fast. Then she hopped to Bollywood news and Najma sat up and chimed in about celebrity gossip.
As her energy started to flag, Asad reached out and handed her his water bottle. She gulped down the water thirstily and seeing her head thrown back, throat exposed, he again remembered their return from Mangalpur after their harrowing escape. She had looked so vulnerable, so beaten. Even then he wanted to hold her, but he had resisted, choosing only to wipe her face and tuck her hair behind her ear.
He told her softly, "why don't you rest now and may be take a nap. I'll be fine, you don't need to feel obligated to entertain me."
She looked into his face as he looked straight ahead and quickly lowered her gaze. "I'm sorry, I'm being annoying." There was a barely discernible tremor in her voice that only he caught.
"No, please don't think that." He tried to reassure her.
From the back Ayaan quipped, "Zoya we haven't heard any of your shayari for so long."
Her eyes stung in mortification.
In painstaking clarity, every playful sher of hers against Mr. Khan played on a sick loop in her head.
"Ruhani sukoon aur dil mein chaiyn hona chaheye,
Ruhani sukoon aur dil mein chaiyn hona chaheye,
Aapka naam Asad nahi, chairman hona chaheye."
Humsafar na baniye, humein akele ki aadat hai
Zubaan ko mishri na banayiye, humein karele ki aadat hai.
"C'mon Mona Darling, how about some bad shayari?" Ayaan clowned and urged.
Any other time, Zoya would have jumped down his throat and mocked his own shaayari as lame. But today she just smiled tragically saying she could only do so spontaneously and not on demand.
"Nothing is coming to me right now. I'm sorry. Besides, Raabert you can't force genius. It just happens," she tried to assert haughtily. Only Asad saw her hands gripping each other tightly.
"Accha, main ek line bolunga, then you complete it."
He recited a line and Zoya, for the first time fumbled, at a complete loss for words.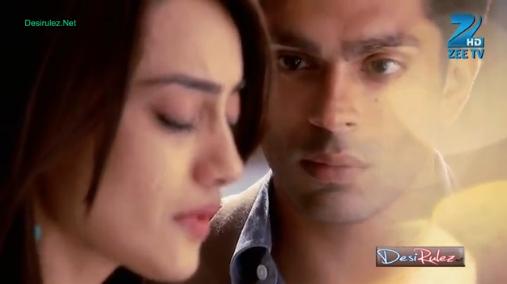 Asad tried to cover up her silence and visible discomfort by saying, "stop this silliness. I don't want to hear any bad shayari."
Ducking her head, Zoya turned to Tanu and offered, "I am beginning to feel sleepy, may be you can come up here and keep Mr. Khan company."
Tanu agreed eagerly and after a brief stop, they both switched places. Tanu tried to start a conversation by referring to past experiences from their childhood, but Asad was distractedly looking at Zoya in the rear view mirror. Gratefully he noticed that she had put on her ear plugs and was leaning back with her eyes closed. He saw her lips quiver. Her hand came up to cover the telltale sign of her torment. But not before he'd seen her throat move as she swallowed several times. His hands clenched impotently on the steering wheel yet again.
Reluctantly, he returned his attention to the road while listening to Tanu and answering in monosyllables.
__________________________________________________________________________________
Songs in Titles:
Jab Pyaa Kisise Hota Hai (1961) "Jab Pyaa Kisise Hota Hai"
Talaash (2012): "Jee Le Zara"
Shanghai (2012) "Duaa"
Masoom (1983) "Tujhse Naaraaz Nahin Zindagi"
Aug 16, 2013
PART THREE: Tum Ek Haseen Ho Lakhon Main (By Dixiej) (Thanked: 282 times)
Tootata Kyon Nahi, Dard Ka Silsila
Chapter 7
After Ajmer it was decided that they would stop over in Jaipur.
Najma was excitedly talking about jewelry shopping with her mother as they discussed the wedding functions.
"Ammi, you have to decide on the date of the sagaai soon."
Tanu preened.
Asad looked up sharply at Zoya in the rear view mirror. Thankfully she had her earphones on and probably didn't hear this discussion.
"Oh and once we are done with shopping, can we please go to Chokhidaani? My friend went and said that it's beautiful. Please Bhaijaan," Najma pouted prettily.
They soon reached the famed city. After checking in and freshening up at the hotel, they went to a reputable jewelry shop recommended by Dilshad's friend. The women were soon engrossed in designs, and oohed and aahed at the diamond jewelry.
Asad and Ayaan rolled their eyes and sat by themselves on a settee.
"This is so boring," said Ayaan.
"Just wait," said Asad, "when you go back home, they'll drag you around like this too."
Ayaan shuddered.
"Chaliye na, Bhaijaan, we'll go sit in the car, crank up the AC and jam on my guitar."
Asad almost refused but liked the idea and decided to give in. He glanced at Zoya and noticed that she was not really interested in the jewelry either. She was tapping away on her iPad, headphones stuffed in her ears, and only looking up when Najma dragged her attention to admire some piece of jewelry. How had he never noticed her simplicity and lack of adornment? He hadn't seen her shop for clothes or jewelry and trinkets with the same enthusiasm as Najma. Even on the trip so far, she'd mostly bought souvenirs and gifts. He shook his head. Just more proof of his blindness to her true nature and what he had truly lost in the process.
He walked up to Dilshad to tell her that they were going to the car.
"No," she insisted, "you have to stay, so that we can pick out the engagement rings."
He clenched his fist and mentally slapped his head. Looking over at Ayaan, he spread his hands helplessly, and morosely sat down by Dilshad.
Knuckledragging and with slumped shoulders, Ayaan walked over too, and sat by Zoya peering over her shoulder to see what she was up to.
She slapped the cover shut and glared at him.
Thank you Raabert!
She couldn't bear to hear any more talk about engagement rings. She had blocked out the sound. But wasn't able to do the same with the sight of boxes of rings spread out before Phuphi and Tanveer. From the corner of her eye she had spotted Mr. Khan come and sit next to Phuphi and her heart had stopped.
Ayaan grinned and waggled his eyebrows at her.
"Secrets? I am going to find out what you're hiding!"
"Impossible," she snorted her voice almost not quivering, "you'll never be able to figure out my password."
Asad heard this exchange and was immediately reminded of the day he and Ammi had walked into the house and saw a big mess in the kitchen. Ammi had been upset, and looking at the mess a muscle had ticked in his neck. He was furious for Ammi's sake. Trying to figure out the cause of it, they had been surprised by Zoya popping up like a jack in the box from behind the counter.
Her chirpy announcement that she was baking a cake for Phuphi had brought a smile to Ammi's face on the day that she was most sad. Zoya had then walked over to her propped-up iPad on the dining table, equally messy with dry flour all over the surface, to find a recipe for chocolate sauce.
"Oh, yeh toh sleep mode mein chala gaya. Wait."
And then the strangest thing had happened.
She did a little jig, waved her arms about rhythmically, and sang, "la, la-la-la, la."
And they heard a similar sing-song response in a cartoon voice come from the iPad.
Both he and Ammi had looked at each other and then at Zoya quizzically.
And in her inimitable style, she had c*ocked her head to one side and said, "mera password hai" as though it was the most natural thing in the world.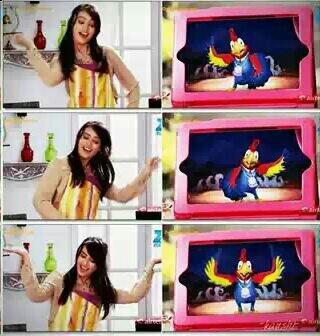 Ammi had smiled more and almost laughed, while he had mentally rolled his eyes and clutched his forehead in annoyance.
Why did he think she was annoying then? Why couldn't he see that she had helped to bring joy to Ammi at her darkest moment of despair?
She was right.
He had always been too judgmental.
And now everything was over.
He sighed heavily and Dilshad looked up at him. She had noticed that he had been tense and distracted of late. She stiffened and glanced at Najma and Tanu trying on different rings.
Her thoughts raced.
What is going on? Why is Asad so moody and silent? He is not as hyper about Najma's safety or correcting her every two minutes about being too chatty, he isn't even getting annoyed with Zoya or trying to control her. In fact Zoya is behaving strangely too.
She looked more closely at her son who was frowning at Ayaan and Zoya who were bent over her iPad, heads together. He didn't seem happy or content with the decision to marry. What had made him take this decision?
Najma broke into her thoughts. "Ammi what about this one?"
Dilshad no longer had her heart in it.
She shook her head and abruptly said, "actually, I already had a ring made for Asad's sagaai a long time ago. We'll use that one. Let's go."
Najma reluctantly returned the ring to the salesperson.
They left, to Ayaan and Asad's relief, and Tanu's dismay.
She had hoped that khaala would buy the ring that Najma had shown her. It was the latest design and she didn't really trust that the ring she would have to wear would be as stylish.
Ayaan and Najma had decided that after shopping they would spend the evening at Chokhidaani.
Dilshad found it strange that Asad was allowing both of them a free rein, and not objecting to any of their giddy plans and schemes.
She said, "I am tired. Why don't you drop me off at the hotel and then you all can go."
Zoya and Najma wouldn't have it. "No, you have to come with us."
But Dilshad held firm.
They reached Chokhidaani after dropping Dilshad at the hotel, and Zoya was enchanted by the place. The smells and sounds, the décor, the colorful costumes, and camels and elephants were just like the India she had seen in travel brochures. She ran ahead of everyone, whipped out her iPad and started taking pictures. At the entrance they saw beautifully decorated earthen pots in front of a rustic thatched hut and a charpoy. Both Ayaan and Najma urged everyone to pose for a family photo. Zoya took a few shots of all four of them.
Then Ayaan said, "OK Mona darling, you come and I'll take a few shots."
She handed him her iPad and went to sit by Najma.
Ayaan finished taking the photographs and then holding her iPad aloft gloated, "yes, now I can see what you were up to."
Zoya charged after him.
He held the iPad aloft as she unsuccessfully hopped around him in circles trying to grab it out of his hands. Ayaan, being taller could keep switching it back and forth from one hand to the other driving her insane as she pouted, screamed, threatened and grabbed at his arms.
Ayaan was lapping up this attention and playfulness.
"Raabert, I'll kill you," she panted, face red, as she wiggled and tried yet again to retrieve the iPad.
"Arz kiya hai...," started Ayaan.
"Ayaan!" he heard a stern voice, and looked at his older brother sheepishly.
"Give it back," commanded Asad crossly.
He was not liking the sight of Zoya in such close proximity to his baby brother who was deliberately baiting her by holding her precious iPad out of reach.
Ayaan complied reluctantly.
Damn! Bhaijaan always ruined his fun with girls. Zoya slapped his hand when he returned it.
Najma found all this very amusing and asked Zoya, "when will you ever tell me the story behind Raabert and Mona darling?"
Ayaan leaped in and putting his arm around his little sister, began to animatedly tell her about "Operation Laal Rumaal," and how that failed dismally because their Bhaijaan, Akdu Ahmed Khan, and he waggled his eyebrows at Zoya devilishly, was always over-prepared.
Zoya just didn't have the heart to hear this. Too many painful memories resurfaced. She wandered over to look at a folk dance performance not too far away. She took more pictures of women in colorful folk costumes dancing on broken glass and the edges of blunt swords without drawing any blood!
Ayaan continued, "and then we had to execute 'Operation Pyaasi Aatma.'"
Najma was helpless with laughter when he told her how he had worn a white sari and wig and stood in the middle of the road with a burning candle to delay Bhaijaan so that he couldn't testify at court the next day. And for his pains, bhaijaan had given him a resounding backhanded slap, which had hurt for days after.
He massaged his cheek, stuck out his lower lip playfully, and made puppy dog eyes at Asad who hit him upside the head and then ruffled his already unkempt hair.
Then Ayaan told Najma how he had locked them in the farmhouse that night.
She raised her eyebrows in amazement.
She couldn't get over how Zoya and Ayaan were still alive after tricking Bhaijaan like this.
Bhaijaan was obviously getting soft. He wasn't even nagging her too much during this trip. The engagement must agree with him, she thought.
Tanu, however, sniffed and felt left out of all the merriment. Her ears pricked at the part when she heard of both of them spending the night together in an abandoned farmhouse.
Asad's aloofness was grating on her and she resented how he kept looking at Zoya with concern.
"This has to stop," she murmured to herself. "High time Ms. New York went back to where she came from."
Everyone enjoyed the camel and elephant rides, Tanu was the only one to decline. Zoya had been reluctant initially. It didn't seem right to treat animals this way. The camel looked stoic, but the elephant's sad eyes just tugged at her heart. After the ride, she had stroked its trunk and patted its cheek with the Mahaut's permission. But she had to smile when he told her its name: Anarkali.
So cute!
She cooed and murmured silly assurances in Anarkali's ginormous ears.
Asad watched from a distance, smitten and bereft. Tanu had complained of her feet hurting so he was giving her company as she rested on a nearby bench.
He dragged his eyes away form Zoya's slight figure dwarfed by the elephant.
He had to stop this. It wasn't right for him to pine away like a tragic Majnu. And at least Majnu had the guts to tell his love that he loved her.
What was done, was done.
He better get his act together and start to focus more on Tanu.
Ayaan and Najma were having the most fun of all.
And by now, Zoya too was getting into the spirit as she and Ayaan traded insults and shayari. Ayaan hooked his arms with her and Najma and strutted around like a peac*ock. Zoya gave him a side kick and fled giggling as he bellowed like a bull and charged after her.
While Asad was relieved to see Zoya's spunk and smile return, he was not liking that Ayaan was getting so close to her. He itched to be part of the charmed circle but felt excluded.
He wanted Zoya to be on his arm, not Ayaan's.
They had hot badaam milk at one of the stalls and Asad almost choked on his, as he remembered that last time he's had some. Zoya almost rushed to his aid but clenched her fists instead.
Ayaan thumped his brother's back with glee winking at a laughing Najma.
Najma dragged everyone to dinner after various stops at jewelry and souvenir stalls.
Dinner was an elaborate affair. The men were honored with tikas and got to wear pagdis as they sat on the floor. They were treated to a huge smorgasbord of Rajasthani traditional foods with generous servings of desi ghee. Servers in traditional outfits ladled spicy foods, condiments and lassi.
Zoya was entranced.
Before eating she had to take several photographs of her food. She even took a video of everyone enjoying their food and of the servers.
Najma put her hand out to block her, "Zoya, stop! Don't you dare take a picture of me while I'm eating."
Zoya grinned and playfully pinched her cheek.
"I love this, Tamatar. I love India. So gorgeous. I'm going to miss it when I leave."
Najma's face fell.
"You can't leave. You have to stay until the wedding at least."
Tanu, sitting next to Najma heard this exchange and rejoiced that Zoya would soon be out of her hair.
Asad heard Najma's aggrieved voice and felt his heart twist.
Suddenly, he couldn't enjoy the meal. With his head bowed, he strained to hear what Zoya said, but he couldn't catch her reply.
Song in Title:
Salaam-e-Ishq (2007) "Ya Rabba"
__________________________________________________________________________________
Noor e Khuda, Noor e Khuda, Tu Kahan Chupa Hai Humein Ye Bataa
Chapter 8
Back at the hotel, Dilshad felt restless. Something was not sitting well with her. She couldn't put Asad's pensive face out of her mind.
I need to talk to him. I should have sat him down on that day itself and had a heart to heart chat with him. But everything just happened so quickly. The announcement, the trip ...
She paced her room. The more she thought about it, the more convinced she became of her instincts trying to tell her something.
Why didn't I pay more attention? I should have talked to him.
When everyone returned, she called Asad on his phone and told him to come to her room after freshening up. She sent Najma to be with Zoya and Tanu since she wanted to talk to her son in private.
He knocked on the door and she opened it to let him in.
"Baitho, mujhe tumse kuchh zaroori batein karni hain."
He alerted to the tone in her voice.
"Kya hua Ammi? Is something wrong?"
"You tell me. I've noticed that since the day Tanu announced your engagement you don't look very pleased."
He ducked his head in misery.
"Nahin, aisi koi baat nahin hai. Aap galat samajh rahin hain."
"No Asad. Don't try to fool me. I know when something is bothering my kids. Just tell me honestly, what's going on?"
He stood up and started to pace the floor restlessly.
His chest burned with unsaid confessions. Self-loathing gnawed at his gut. Every time he closed his eyes, Zoya's face appeared. There were smudges under her eyes. She didn't even make eye contact with him these days. Whenever she was forced to say something to him, she focused on his ear or collar. He unconsciously punched the back of the sofa.
"There's nothing to tell Ammi."
"Really? And that's why you're behaving like a caged and wounded lion right now?"
She sat back in the chair.
"Asad. Do not make me take those filmy kasams. I am not going to let this go till you tell me what's bothering you."
Asad sighed and knew he was beaten. But how could he tell her about what happened that night. How sordid!
He hemmed and hawed, but Dilshad gave him a stern look.
"Enough! No more voh, actually! Tell me. Main tumhe yahan se jaane nahin doongi jab tak tum mujhe sab sach sach nahin bata dete. That's why I sent Najma to Zoya and Tanu's room. You will stay here all night if you have to."
He sat back down on the bed and looked away from her. Running his hands agitatedly through his hair he tried to pacify her by telling her that she always wanted him to get married. Since he'd known Tanu for most of his life, he had decided that she would make a suitable bahu for the family.
Dilshad shook her head. "This was true 10 days ago too. And you always brushed me off when I brought up the topic of your nikaah. Why did you decide suddenly to get married? Knowing you well, I know that you would have asked me first. Why didn't you? Why this rush? Something has changed. I know this in my heart."
Haltingly he told her how he had made the gravest mistake of his life and lost control one night. Now he was only doing what he thought was right.
He hung his head in shame.
Dilshad was aghast. She could not believe that her son was capable of such a thing. For a morally upright and highly principled man who respected women, this would have been impossible. Her Asad? The man who didn't even look at women wrong? Someone who hated his father for what he'd done to his mother so long ago …?
She was too stunned to respond immediately.
Asad looked at her shamefacedly.
"Do you hate me Ammi? Have I completely fallen in your esteem?"
She rushed to sit next to him and held him in her arms.
"Never," she said. "I just can't believe it, that's all."
He held his head in his hands and wept for all that he had done, and not done. His pride and silent procrastination had cost him his love and happiness. He had turned his back on the best thing to have happened to him.
She could not bear to see him like this. This could not be true. She wanted him to marry, but not this way. She hugged him harder and pushed his hands away to hold his face in her hands.
"I refuse to believe this of you. You? A man who has defined his life by hating his father's actions, could not possibly have done anything like this, or hurt anyone. You are always so restrained and self-controlled. Tumne aaj tak kissi ladki ko chhua tak nahin hai, buri nazar se bhi nahin dekha hai! It's impossible. There must be some misunderstanding."
Asad shook his head regretfully.
"No. I don't think so. And now I must make things right."
That night Dilshad could not sleep.
She kept replaying the past few months over and over again in her head. Somehow she had thought that Asad had been showing signs of liking Zoya. He seemed to smile more, even though those were mere half-smiles. There seemed to be nothing between him and Tanu except for friendly concern. They hardly seemed to have anything in common except for memories of their childhood.
But no one could miss the sparks between him and Zoya.
What happened?
Could this be the reason for Zoya's recent silence? She had thought, that Zoya was sad and quiet because of her Abbu.
As sleep overcame her just before dawn, she had made up her mind.
She'd get to the bottom of this.
Next morning at breakfast, Ayaan and Najma were elbowing each other and whispering among themselves.
The other four members of the party were too preoccupied to really pay any attention to these two.
Ayaan cleared his throat to get everyone's attention.
"Badi Ammi, what if we went to Agra from here?"
Before anyone could react, Najma jumped in full steam, "Please, please Bhaijaan, it'll be such fun. I've never seen the Taj and I'm dying to see Fatehpur Sikri. I've heard it's beautiful."
"No, I'm sorry," said Asad in a clipped voice. "I have to return to work. There are important meetings that I postponed for this trip."
As if Ayaan knew that this would be his response, he quickly interjected.
"But Bhai, just take one day more, and then you can fly back from Agra and we can drive back on our own."
"Are you crazy," Asad bit back.
"How can you drive such a long distance? No, this is just not happening."
"But Bhai, Zoya knows how to drive, she and I can take turns."
Before Zoya could say anything, Asad scowled and curtly said, "No."
Zoya bowed her head letting her hair cover her pained eyes. I'm sure he doesn't trust my driving skills. He would never entrust his family's safety in my hands.
She turned to Ayaan and said quietly, "Raabert, I can drive, but I don't have an Indian license."
Ayaan and Najma looked conspiratorially at each other.
"OK," he said to Asad, "you cannot turn down this idea. It is so brilliant and so foolproof. You take the extra day off. In the meanwhile call your driver to take the train and reach Agra by tomorrow. You fly out day after tomorrow to attend your precious meetings, and he and I can drive the ladies back home."
Najma clapped her hands and pleaded with Mr. Khan.
"Please bhaijaan, this is the perfect solution. You can't say no. We may never get such a chance again. And I'm sure Zoya has never seen the Taj Mahal before. Have you Zoya?"
Avoiding Asad's gaze, Zoya shook her head.
"See? You have to say yes." She folded both her hands placatingly, "please, please, PLEASE, Bhaijaan!"
How could he withstand this onslaught? He glanced at Zoya's bent head and took the decision.
"OK."
"Yay!" shouted Ayaan and Najma pumping their fists in the air and high fiving. Other diners looked at their table indulgently.
Dilshad sat back in her chair and sighed. She no longer wondered why Asad was letting his arm be twisted by his brother and sister. She had also seen Asad and Zoya's pained faces when Najma had gushed about the Taj being the most romantic place on earth. This solidified her resolve. While she had hoped they could go home as soon as possible, she couldn't resist Najma and Ayaan's obvious glee.
May be this is a blessing in disguise, she thought. It'll give me more time to observe Asad, Tanu and Zoya closely. Allah, help me guide my children to happiness. Let their lives not be shadowed by doubts and crushed dreams. Asad has seen too much pain. He's taken such good care of me and Najma. Don't condemn him to a lifetime of more pain. He deserves so much more. Reham kar mere bachhon pe, mere Maula!
Song in Title:
My Name is Khan (2010): "Noor e Khuda"
___________________________________________________________________________________
Himmatein Ataa Karo, O Madadgaar, Maula
Chapter 9
At the Concierge Desk, Asad got the information about routes, distances, and the time it would take to reach Agra. He wanted them to be in Agra at least by that evening not wanting to drive at night. He called his office to reschedule some meetings, book hotel rooms in Agra, and have his driver reach there at the earliest.
His shoulder and neck muscles felt stiff. As he rotated his neck and stretched his arms, he felt a hand on his arm. He turned to see Tanu, and his hopeful and tentative half-smile slipped.
What was he thinking?
Zoya never ever tried to touch him the way Tanu always tried to cling to him. For all his harsh words regarding her lack of manners and etiquette, Zoya, despite having been born and brought up in the US, was never touchy and feely with him or even Ayaan. She constantly hugged Ammi and Najma but never once tried to stand too close, or touch him, or hold his hand. The one time she had held his hand was to bandage it when he had cut himself. She seemed to intuitively sense people's personal boundaries and balance it with her genuine warmth and compassion.
And, like an ass, he had made fun of her lack of boundaries and limits that night.
"Aapko apni hadein nahin pata hain," he had mocked her.
He half groaned in despair and self-loathing as every past word and action came to haunt him. How could he have been so blind and such a fool?
"Kya hua, Jammy? I know, your shoulders must be hurting after such a long drive. Yeh Ayaan aur Najma bhi, kaise bacchon ki tarah zidd kar rahe the. Why insist that we go to Agra? Aakhir humein nikaah ki taiyariyan bhi karni hain ghar ja kar."
He pulled his arm from under her oppressive grip and said patiently, albeit somewhat resentfully, "It's OK Tanu, I'm fine. Aur main Ayaan aur Najma ki khushi ke liye kucch bhi kar sakta hoon."
She made a face. He was warning her, was he? Setting limits.
You'll have to try much harder, Jammy. And even I know, you're too much of a gentleman to not give in to my plans for you.
As he looked away from her, suddenly Asad remembered the day Zoya had hugged him.
His hands fisted.
Heartbroken at not being able to find any clue about her father, she had blindly turned to him for comfort and like an idiot he had taken forever to hold and comfort her when she needed it most. He relived the sense of her soft body quaking against his as she wept bitterly. That day he had seen her defeated and beaten. More so than the first time at the dargah.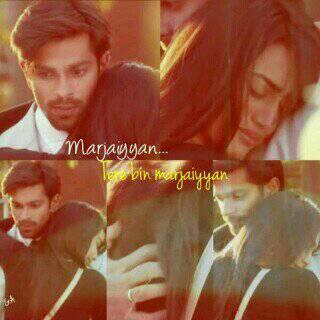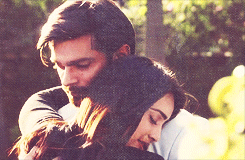 He should have held her closer and tighter to ease her pain, brushed her hair off her forehead and wiped her tears with his thumbs.
He had certainly wanted to.
But that day he had taken far too long to fight against his desire to crush her in his arms, kiss her tears away, and never let her go. She had quickly disengaged herself and looked mortified and apologetic at having come so close to him. He couldn't help but compare her to Tanu and hated himself for not recognizing Zoya's kindness, strength, and integrity, sooner.
Asad moved away to join his mother, and Tanu grimaced as she let her arm fall away from his.
Dilshad noticed this chilly exchange. I have to end this. I will not see my son live this way his whole life. I won't let him throw his life away for a mistake which I still refuse to believe he made.
Mind made up, she felt more cheerful today.
Allah would make things right.
They checked out of the hotel, loaded up the car, and piled in for a half-day's drive to Agra.
Ayaan stretched out and relaxed in the third row so that he could relieve Asad later. He lazily strummed his guitar. Najma turned around to look at him in delight. She was having the best time of her life. She hadn't spent so much time with Ayaan Bhaijaan and loved his playfulness and contrast to Asad Bhaijaan's seriousness. Such a great idea this was. The best road trip ever!
"Play something for us, Ayaan Bhaijaan," she urged.
Ayaan chuckled and said "sure, but I'm not too good. Bhaijaan is much better."
"I know," Najma piped up, "when you're driving then may be Bhaijaan can also play something for us. But right now please, koi accha gaana ho jaye."
Ayaan fiddled with the guitar self-importantly and then grinned and said, "OK, but only if you all join in."
He began with the song "Challa" from the film, "Jab tak hai jaan."
Only Najma and Zoya knew some of the words so they joined him. Even he didn't know all the lyrics. Najma teased him.
Asad was relieved to see that Zoya was beginning to be more involved in Najma and Ayaan's antics. She smiled more these days.
After a few songs that Dilshad had never heard, she told Ayaan to at least play a song or two that she knew the words to.
"Kaun sa play karun badi Ammi?"
"How about this really sweet song, 'uthhe sab ke kadam dekho rum pum pum?' "
But Ayaan hadn't heard that one.
"Oh I know an old song, and it's really fun."
He started singing "Pyaar tumhein kis mod pe le ayaa" from "Satte pe Satta."
Dilshad slapped her forehead and shook her head tragically. But she laughed as Najma and Ayaan belted out the silliest lyrics.
She remembered bitter-sweetly when she had gone to see this film with Rashid. They were newly married then, and Rashid would sing this song in his besura voice later on, just to annoy her.
"The apple doesn't fall far from the tree," she mused.
Ayaan was feeling more playful now.
"Mona darling, can you play the guitar? You are so multi-talented," he kidded, "I'm sure you can play at least four musical instruments."
Zoya smiled and shook her head, "no, Aapi wanted me to learn the piano and I did for four years. And yes, I can play a little guitar."
Ayaan's jaw dropped. He hadn't expected that answer.
Najma's excitement could not be contained. "Ooh," she jumped up and down in her seat, "now you have to play something for us."
Zoya started to protest, but Ayaan and Dilshad too begged her to play a little something for them.
Shyly she said, "I know only this one song well. It's my favorite and I used to think of it as my theme song."
She laughed self-consciously.
Ayaan tried to hand her the guitar but sitting with two other people so closely was not going to work. She hoped that the seating arrangements would deter them and get her out of this mess. But she hadn't known the force known as Ayaan plus Najma. They squeaked and nagged and bleated till Asad had pulled over, and Ayaan had exchanged seats with Zoya.
She was mentally kicking herself for even telling him that she knew how to play the stupid guitar.
With everyone settled in, and the car on the move again, Ayaan and Najma turned around to look at her with twin puppy dog expressions.
And her heart lightened.
She laughed softly. "OK, OK, I'll do it. But I may be rusty. It's been a while. And, you all have to join in, or I'll feel too silly. I don't even know if I remember all the words."
Experimentally touching the strings she tested a few chords and hummed softly. Tentatively first, and then growing more confident, she sang her favorite song that Aapi had told her was also her Ammi's favorite song which she would sing to her as a baby.
"Aaane wala pal, jaane wala hai.
Ho sake to iss me, zindagi bita lo,
Pal yeh bhi jaane wala hai."
Dilshad turned around, surprised and mesmerized. She loved this song too! In fact, it was on one of the cassettes that Rashid had made for her.
Zoya's soft voice floated above them. It broke and caught in some places, but brought a smile to everyone's faces.
Asad's heart sank.
He thought about her earlier words, "I used to think of it as my theme song." Had his indecisiveness and fears done even more damage? He remembered how that fateful night she had barged into his room to unburden herself, and how she had looked half-timid but still so self-assured.
These past few days he had seen her go completely silent and yet display a tragic kind of dignity and maturity, that a month ago he wouldn't have imagined her capable of.
He took his hand off the steering wheel and pressed his knuckles tightly against his lips. He ground his lips against his teeth unconsciously punishing himself and breathed a heavy sigh. He couldn't believe the irony of how, now that he had admitted even to himself that he fell a little bit more in love with her each day, that they would never be able to be together.
They soon stopped for lunch and found out about a local dargah that though small, was frequented by travellers of all faiths. After paying their respects and offering prayers, they once again took to the road.
Tanu was finding all this feel-good togetherness absolutely suffocating.
She felt caged in the confines of the car sitting elbow to elbow with Khaala and Najma. Once in a while she got to sit up front with Jammy but that was getting to be such a bore. He kept stealing glances at the rear view mirror. She wished she could rip out that thing so then he would at least concentrate on the road ahead. How they hadn't had an accident as yet, she didn't know.
She tapped her fingers restlessly on the armrest and pursed her lips. "Patience, meri jaan, patience. Sabra ka phal meetha hota hai," she consoled herself.
She pressed her palm to her stomach.
Dilshad's eagle eye caught that gesture.
At the outskirts of Agra, Ayaan began ragging Zoya and Najma about stopping for servicing at the local paagalkhana. "Thode screw tight kara lete hain tum dono ke. Do char saal aur acche se nikal jayenge."
Najma playfully slapped at him and Zoya laughed at both of them.
"Bahut jaankari hai, you're speaking from experience right, Raabert? Tumhare naam ka special ward hoga wahan par."
Najma giggled and brushed shoulders with Zoya conspiratorially.
Asad smiled appreciatively looking at both their heads close together in the rear view mirror. There was genuine warmth and affection between Zoya and Najma. He hadn't seen any between Tanu and his sister. What had he done?
And Zoya's love and regard for Ammi was indisputable. She would have taken a bullet for Ammi; she very nearly did. She would have been an ideal bahu and sister-in-law to Najma. He had let himself be blinded by prejudice and outward appearances. While this austere belief system had mostly served him right all his life, when it most mattered, his die-hard principles had bitterly conspired against him. Tanveer may dress conservatively, but Zoya's heart was pure, without malice or spite. She was fiercely protective of Ammi and Najma.
Exactly like him.
With a leaden heart, he watched Najma giggle and give Zoya a sideways hug in the rear-view mirror.
Ayaan and Zoya were still bickering playfully.
He retaliated in mock anger, "Najma, Mona darling ke sar se door reh, New York wale jooyen chhad jayenge."
Still laughing, Najma reached back and swatted his head.
Zoya felt at peace.
In her prayers she had thanked Allah for the time he was allowing her with her new family in India. She had fallen in love not just with Mr. Khan, but his family as well. How often had she felt that Phuphi was exactly like Ammi. And now, she was so grateful to Najma and Raabert for inadvertently melting the ice bands around her heart. They would never know what their playful and unconditional acceptance of her in their midst, meant to her.
For a glorious second, she had belonged.
She looked up, and her eyes collided with Asad's tortured gaze in the rear view mirror. Her eyes misted, and a frisson of heartache hit her, leaving her breathless and weak with longing. Don't look at me like that, Mr. Khan. It reminds me too much of that video, and when I made the biggest fool of myself.
She blinked, but didn't immediately look away. She wanted to let him know that somehow, she would be OK, that she didn't hold anything against him.
Song in Title:
Kurbaan (2009): "Ali Maula"
___________________________________________________________________________________
Aug 16, 2013
PART FOUR: Bhala Pa ke Tumhe Koi Khota Hai (By Dixiej) (Thanked: 277 times)
Kahin Toh Har Lamha Honthon Pe Fariyaad Hai
Chapter 10
By now, even Zoya was excited to see the Taj.
They had just finished visiting Sikandra and the Agra Fort.
The armies of monkeys at Sikandra, Allah miyan!
She and Najma teased Ayaan about the real reason for his wanting to come to Agra: wanting to be reunited with his long-lost ancestors, after visiting with aging relatives at the paagalkhana!
He chased them like a madman at that, grabbing Zoya by her waist and swinging her around in circles as she screamed with laughter, and begged to be put down.
Asad gritted his teeth savagely.
He wanted to grab Ayaan by his collar and shake him. Hard.
He imagined himself grabbing Zoya from behind similarly, and molding her body to his. He wouldn't have cared who saw him as he nuzzled her neck and tightened his grip on her waist promising her more intimacy in private, later on.
Oh god! He raked his fingers through his hair. This trip was a terrible idea. It was making him crazy to see her suffer. And now, when she was actually beginning to emerge from her grief, he was feeling cut off and exiled. And to feel tormented by this gnawing jealousy against his own kid brother? Incredibly foolish!
He glanced at Zoya who by now had found a cute monkey family with the mother hugging her baby to her chest and a smaller monkey following them about.
She eagerly took pictures with her iPad.
Handing her iPad to Ayaan, she pulled Najma into a hug and asked him to take a picture of both of them with the monkeys in the background.
As he tried to focus on the shot, a male monkey came charging out of nowhere, and rearing up his legs, smashed them into Ayaan's backside.
Najma and Zoya collapsed on the ground, laughing hysterically.
Even Asad couldn't resist that sight and wondered if in his jealous stupor he had imagined this.
Dilshad didn't see what happened, but she turned around and looked at the sight before her: Najma and Zoya breathless from uncontrollable laughter, holding their sides, Asad laughing with his head thrown back, and Ayaan looking offended and embarrassed, scratching his head with one hand, and massaging his lower back with the other.
Dilshad wanted to capture this moment forever.
She whipped out her phone and tried to snap shots of all four of them.
Later, when thinking about this scene, Dilshad tried to recall where Tanu was during all this hilarity which felt so right and so perfect. To see Asad laugh like that had warmed her heart and soul.
Capturing the moment on camera had been a silent plea to Allah. Please give me this. Let this moment be forever. It had been a vow to herself and her children. I will make it right.
And she remembered that Tanu had begged off earlier, and wanted to stay in the car because she felt tired. She had noticed lately that Tanu was acting cranky and not as solicitous of her and Najma as she had been in the past few weeks. How had this girl waltzed into their lives and turned everything awry?
Dilshad stiffened.
On the other hand, there was Zoya. If it had been Zoya with Asad that fateful night, she would have never accepted a doomed proposal of a marriage of forced honor. She would have taken equal responsibility, and never bound Asad to a loveless marriage. She would have run away in typical Zoya fashion, but not once entered a marriage where there was no love.
Her heart twisted.
But there was something between Asad and Zoya, wasn't there? They avoided each other. But she didn't miss him stealing glances at her. She kept out of his way, and looked shattered. Whenever Zoya caught her looking at her, she put on a fake smile. But her eyes continued to look like muddy pools of torment.
Allah!
Now, back in the car, she took out her phone to look at the pictures she had taken. She looked closely at a group picture she'd taken of all the kids. Asad and Zoya flanked the others on either side. Asad's face looked grim as he stared ahead, jaw clenched tight. And Zoya stood, shoulders drooping and arms linked with Najma. She wore a slight smile, but it was not the smile that Dilshad was used to seeing on her face. Najma peeked over and grabbed the phone out of her hand to share with Zoya. Ayaan leaned over from the back seat.
Zoya swatted him saying she didn't want his Bhopali lice to get too cozy with her elite New York lice.
A frowning Asad relaxed and smiled.
With their heads together, the three Musketeers, as Najma had named them, peered at the tiny screen and laughed again at everyone's expressions.
Zoya took the phone and quickly sent all the pictures to her account.
She loved the picture of Mr. Khan laughing. She had seen him like that only once, and it was the best memory she had of him, and of them being together.
Najma and Zoya would not let up on Ayaan's encounter with the monkey. "He came to say, 'sup homie, long time no see,' " Zoya joked.
Even Mr. Khan chuckled softly at this and her heart soared.
"No," Najma exclaimed, "he got jealous of Bhaijaan. How dare he flirt with my wife he must have thought."
Asad felt that he could relate with the monkey.
Ayaan roared with laughter at Najma's quip, and pulled her ponytail.
He was so glad Bhai had asked him to join them on this trip. He could see that Bhai too was a bit less tense than he had been at the start of the trip.
Ayaan felt relaxed.
He was able to take his mind off Mumani's constant threats and blackmail, and didn't feel as guilty about Humaira. Although he missed his sisters and the Zingo Hotties Club, he was having a great time with Najma and Mona darling. Mona was quieter than he'd imagined, but still intriguing. She had seemed preoccupied initially, but was sassy as hell as she verbally parried with him and held her own. And getting to know Najma better was an added bonus. Bhabhijaan-to-be, he wasn't so sure of. She seemed a bit cold, but she did seem to fit Bhai's image of a perfect woman, so who was he to say anything.
They parked to go to see the Taj Mahal. They had to park away from the monument and either walk some distance, or take a rickshaw or a horse-drawn buggy.
Najma and Zoya were not interested in a ride. They wanted to explore the dozens of little souvenir shops on both sides of the street.
Dilshad had to be the bad guy since Asad had given up correcting these two.
"Girls," she scolded. You can walk back and look to your heart's content. But right now we need to go together, so that we don't have to wait hours for you at the entrance."
Zoya touched her hands to her ears, and mouthed a sorry to Phuphi.
"Horse cart!" shrieked Najma in delight. "Please Bhaijaan!"
They piled into two horse carts and were deposited at the entrance. Again Asad noticed Zoya linger to affectionately pat the horse. He saw her tip the driver a little extra. But Najma dragged her by her arm and they raced ahead to catch a glimpse of the Taj through the gate.
Dilshad clicked her tongue in frustration. "These girls," she groaned.
Tickets bought, and about fifteen eager tour guides fended off, they all trooped inside the gate and held their collective breaths at the first glimpse of the Taj. Thousands of people swarmed about, tour guides held up mirrors against the gate to show the complete reflection of the monument. People posed on the central marble platform pretending to hold the Taj by its tip.
Zoya's eyes misted as she stood before the most romantic monument of the world.
All clichés fell away.
She could not believe that she was actually seeing it in all its snowy white magnificence. She had always imagined that the color would have dulled with centuries of muck and grime, and decades of air pollution. But it shone milky white as if untouched by time. The manicured gardens around the Taj contrasted with its whiteness. The pool in front reflected its glory.
Around her, she could hear snippets of historical details from guides.
"…minarets aren't at a ninety-degree angle. They tilt slightly outwards, so that if they collapsed they wouldn't destroy the monument."
Zoya peered at the minarets and couldn't really tell if that was true. But it did make a lot of sense.
" …Taj has a vacuum foundation so that the Yamuna couldn't cut through …"
She noticed an elderly khadi-clad gentleman ask his grandson, "Taj Mahal kisne banaya?"
The child innocently replied, "Shahjahan ne."
"No," the grandfather said, "majdoor ne."
Zoya laughed and shook her head. Exactly what Jeeju would say.
She gazed long at the monument without the urge to take a single photograph.
Asad noticed two men leering at her and moved closer to stand beside her while scowling at them threateningly. He rotated his clenched fist.
They slunk away.
She sighed in contentment. This was so right.
"Thank you Allah miyan! For this day, and for all these experiences. Mujhe aapka har faisla qubool hai."
He saw the vestiges of pain lift from her face. Asad too felt his prayers answered, and a burden lift.
Slowly, as if in a trance, everyone moved closer to the main edifice. Najma wanted to pose on the platform and take a picture pretending to hold the Taj from its spire.
Again Dilshad gently explained, "after we've visited the monument."
God, correcting her constantly was exhausting. How did Asad do this all day long all these years?
They removed their footwear, covered their heads and reverently climbed up to the central courtyard. Even Ayaan was serious and quiet for a change.
At one time tourists could venture down below to the real tombs of the sixteenth-century emperor and his beloved wife. But now that had been sealed off for restricted access only.
Asad had managed to wrangle special passes for this hallowed visit, and with an official escort, they descended into the cool and dark underbelly of the monument. They walked down the ramp and came into the inner sanctuary with two plainly appointed tombs. The false tombs upstairs were more elaborately decorated.
A couple of people knelt and prayed.
Zoya loved the simple purity of the site. She could feel the heartbeats of millions of happy and lost lovers from all time, zing through her.
Instinctively, she sank to the ground near the tombs, closed her eyes and lifted her palms to offer prayer. She thought of her parents and her father's gravesite. She thought of how she'd yearned for a family all her life and how she had found her Ammi in Phuphi.
She had also found love.
So what if it hadn't found her? She was here, at the holiest monuments built to love and its power.
She would be all right.
Tears coursed down her face.
Najma and Ayaan looked at her uncertainly. Dilshad too prayed, eyes closed in repose, palms facing heavenwards. She prayed for love and justice, and most of all, for her son.
Asad stood still, charged and evermore connected to Zoya. Her duas rose from his heart; it throbbed in electrified response.
In unison, they offered prayers for healing, strength, and each other's happiness. Neither felt worthy of the other; their wishes for one another curled up like the incense by the eternal tombs of the emperor and his beloved wife.
Song in Title:
Salaam-e-Ishq (2007): "Ya Rabba"
__________________________________________________________________________________
Kahin Toh Dil Mein Yaadon Ki, Ek Suli Gadd Jaati Hai
Chapter 11
The next morning they had planned to visit Fatehpur Sikri. Asad would take a late afternoon flight back home afterwards.
Tanu had had enough of this company, her feet ached, she felt nauseous, and in general, she was just having a bad time all around. She begged off claiming a headache and tiredness. She also hoped to snoop through Zoya's things; they were sharing a room again.
It was hotter today than yesterday, and Najma asked Zoya how she could even bear to be in full-sleeves.
Zoya smiled and said nothing. She held up her water bottle to indicate that she was fine. Though in concession to the heat, she had piled her hair on top in a messy bun.
At Buland Darwaaza everyone gawked at the massive gate festooned with giant honeybee hives, and the steep high steps that led up to it.
Ayaan and Najma scampered up to the top to admire the souvenirs being hawked by vendors on the landing.
Zoya climbed at a more leisurely pace, and often stopped to take pictures with her iPad. She got some good shots of Najma and Ayaan racing to the top framed against the grand doorway. She turned around to get one of Phuphi climbing up.
Dilshad trailed behind everyone, still deep in thought.
Asad climbed the stairs, a little behind Zoya. He just knew that being distracted with her iPad, and given her famous track record, she was a mere step away from tripping and breaking her neck. She couldn't walk straight without bumping into something, or falling over on flat ground; this was a surefire disaster in the making.
And as if it were a self-fulfilling prophecy, he saw, almost in slow motion, her foot catch in a crevice. Her hair flew loose, and her arms went up to balance and self-correct while her hands still clutched that wretched iPad desperately.
"ZOYAAA!" His heart in his mouth, he raced to catch her and did, before she ended up at the bottom in a broken heap of bones.
Holding her left hand in his and her waist with his right hand, he gently guided her on to the step next to him, while she fearfully clung to his arm.
Once she had secured her footing, she looked at him to thank him, and time stood still.
They could not look away from each other's eyes, nor break apart from each other's embrace. His hand on her waist tightened, his head lowered imperceptibly.
A bee buzzed lazily around them and broke their trance.
As they disengaged self-consciously, he felt his temper fray.
"Can't you be more careful and more aware of your surroundings? Have you seen how dangerous these steps are? If I hadn't been there, you could have killed yourself by being so careless."
Heart still pounding from the near fall, and now his closeness, she lashed out too, "thank you very much for once again coming to rescue this clumsy idiot who keeps annoying you like ... like this bee."
Her eyes flashed as she gestured wildly, "what's it to you if I fell? Aapko kya farak padta hai main jiyoon ya maroon? Just stay away from me!"
She saw his eyes widen and nostrils flare; his temper evaporated to be replaced by pain. Asad grabbed her elbow in a vise-like grip, unaware that his fingers were biting into her flesh and that he was hurting her.
He ground out harshly through gritted teeth, "don't ever say that! Mujhe farak padta hai. I pray that nothing bad happens to you. Ever."
And with that he flung her arm away and jogged up ahead of her.
She rubbed her arm where he had gripped her and looked at his receding back through blurring eyes. She remembered when he had said, "if something happened to you I would have gone crazy."
She knew this was yet more evidence of his bipolar behavior, express concern, and then bite her head off the next second.
Do I infuriate you so much, Mr. Khan?
He had called her by her first name again. He always did when he feared for her safety. But then, just as quickly, he reverted to Ms. Farooqui. He did care for her, she knew that much. But he was fighting his attraction for her because he did not see her as fit or worthy of being his life partner.
Zoya half-sobbed.
But then, scrubbing her eyes, she decided that anger would be a better defense mechanism. Otherwise she would just turn into a mushy puddle of self-pity.
And she was done crying.
She would get over this even if it killed her.
Dilshad saw the entire scene unfold, though she was too far below to hear the words exchanged between them. But she did see how he had been following her just a little behind keeping a close eye on her, and how he had leapt to hold her before she fell. She also saw how they gazed at each other and reluctantly parted, much too long after he had safely set her down.
This is it! I was right, she thought. This is what's meant to be. Allah, please help them find their way to each other. Don't give them a lifetime of pain and heartache. I lost my true love, but let my children be blessed with the happiness it brings.
Inside, she noticed the two giving each other a wide berth, but Asad kept glaring at anyone who dared look at her, and periodically glancing over at Zoya who studiously avoided his gaze.
"Steer clear of Jahanpanah six packs Zoya! You don't want to club him to death and cause Phuphi pain, do you?" She gave herself a pep talk.
"What does he think of himself? Sometimes he's so gentle, and then other times he ruins it all by being so mean."
She wished she had used her pepper spray or karate moves on him. So many times she had wanted to clock him for being so ... arrogant and stubborn and … and just plain Jahanpanah. Sheesh!
But when, her visions of vengeance and causing him physical pain, turned to those of her wrapped in his arms, she never knew. She was walking sightlessly toward the shrine in the center of the courtyard, and saw nothing except him holding her close to him, lifting his hand to tuck a strand of hair behind her ear, then brushing his fingers across her cheek. In her fantasy, she felt him stroking her parted lips with his thumb before bending his head to kiss her.
She bumped into someone.
Behind her, Asad raised his eyes to the sky in exasperation, and sighed audibly.
Zoya dug her nails into her palms painfully. "Stop daydreaming of him, khuda ke liye! He belongs to someone else and she's welcome to him. They can live happily ever after as Mr. and Mrs. Tehzeeb and have an army of little tehzeebs and—-"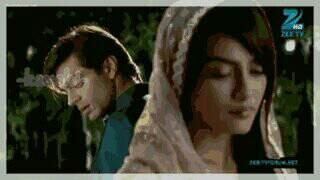 She dragged her dupatta on her head determinedly, and entered the shrine teeming with devotees and tourists. She spotted Najma and Ayaan ahead of her tying sacred threads to the jaali. Ayaan was ogling a group of young college girls and Najma was rolling her eyes.
Zoya sighted a woman untie a thread and bend down to her daughter and tell her, "jab dua qubool ho jaaye, tab kissi ek dhage ko khol sakte hain."
She nearly doubled over in pain. Her eyes, already gritty, smarted.
Oh god, would she ever get a chance to untie a thread like that? May be you don't deserve to undo a thread, Zoya. Allah must be punishing you for saying, "qubool nahin hai."
With a pang she thought back to how alone and heartbroken she had felt at the shrine in Ajmer Sharif, and how Mr. Khan had offered her his own red string.
Enough!
She was much stronger today than that day.
No more self-pity.
Thanking Allah, she decided to honor her regained spirit and new-found resolve by tying a thread of hope and new beginnings here. May be some happy soul would come, years later, and untie it because their dua had been accepted. She was Allah's instrument. She was just paving the way for future pilgrims' fulfilled hopes.
After paying their respects at the shrine erected in honor of a favorite Sufi saint who had blessed Akbar with the promise of an heir, everyone moved to explore the palace, and the exquisitely carved private rooms of the emperor and his queens. They heard snatches of monologues delivered by guides around them. Everyone marveled at the intricate cabinet room for the Nav Ratnas, the tomb of the favorite elephant in the distance, the emperor's raised bed surrounded by a pool that would be filled with itar, the symmetrical gardens ….
The abandoned ghost town was a perfectly preserved slice of history and a testament to an emperor's whim, and his heart's deepest desire. Lingering to read several signs placed around the monuments, Zoya felt a deep respect for, and affinity with the original Jahanpanah.
She smiled ruefully at how she had nicknamed Mr. Khan, Jahanpanah, and then appended the title of six packs to that name, a little later. She blushed remembering him in the bathtub, with his head thrown back, naked shoulders visible above the bubbles. She smiled slightly, thinking of how she couldn't resist peeking at his body from under her lashes and fingers after he had wrapped his towel low on his waist and she had salivated seeing those perfectly sculpted abs.
Had she walked in on him more recently would she have been bold enough to walk up behind him and soap those wide shoulders and then bend to nip his ear teasingly? And then when she moved away to leave, would he tug her hand making her splash into the tub on top of him to feel every inch of his hard naked body under hers?
Her breath caught; the color on her cheeks deepened.
But then she remembered his unsuppressed fury that day at her inappropriateness and complete lack of tameez.
Her smile slipped and blush paled.
Her eyes stung.
She imagined him with Tanu by his side to punish herself for these errant thoughts and daydreams. She would be soaping those shoulders, sharing his bed.
Zoya forced her nails into her palms.
Oh god, when will it stop hurting?
When you leave … an inner voice of reason mocked and incited.
This time Dilshad caught the play of emotions across Zoya's face and her heart constricted in empathy. She thought of the number of times she had caught a glimpse of Rashid with Shireen over these years. She wouldn't wish that kind of pain on her worst enemy.
After a late lunch, they dropped Asad off at the airport and returned to the hotel. Zoya entered her room and saw Tanu sleeping. She moved about quietly and went in to take a shower. Standing under the cold shower she let her tears flow freely. All her tightly held emotions and resolve to stay strong washed down the drain.
Fists to her mouth she thought of how hard it was for her to look at him and wish him a safe flight. She'd opted to look at an imaginary point on his right shoulder and prayed that her voice wouldn't tremble and lips quiver as she said goodbye.
This would be the first time in about six months that they wouldn't be under the same roof. She sank to her knees and let the stream of water beat down on her.
Leave, Zoya, she sobbed. Just go. Get out of Dodge.
She thought of Tanu in the next room. She felt jealous for wanting what Tanu had, and then ashamed of feeling this way.
There's nothing here for you. You're a loser, a misfit. That's why your Abbu never came to get you.
"Tabhi aapki Ammi aap se chhin gayee," Mr. Khan had said.
Ammi!
Ammi!
I'm sorry.
In the bed Tanu heard the shower turn on in the bathroom, and the plumbing groaned.
She smiled as she thought of her day.
"Good idea to stay back and go through Miss New York's stuff."
After returning from a massage in the hotel spa, she decided to try on Zoya's designer perfume and lotion. Then she went looking in her backpack and carry-on bag. She even tried on a few of her shirts, but the jeans wouldn't fit.
In the backpack she struck gold. There was an old jewelry box and Tanu wondered if there was some expensive jewelry in there that she could try on too. But she was disappointed. It just had some old photographs and letters, and a single earring. So dumb.
Bored, she decided to read the letters. They were obviously written by a man very much in love with his wife but lamenting their separation. By the repeated mention of Zoya's name, she was easily able to deduce that these were her father's letters to her mother. And thanks to her conspiracy with Razia bi, Tanu knew exactly who that man was.
Tanveer sat back on the bad and laughed with malicious glee.
Miss New York was grieving for a dead father; Tanu knew that he lived.
Miss New York was pining for a lost love; Tanu had him in the palm of her hand.
She wondered if she should keep the battered jewelry box, but decided it served no real purpose right now. If she ever needed the contents, she could always get them from Zoya's room in the Khan Villa later.
She rummaged around some more, and felt a round bump at the bottom and took out an old music box. She rolled her eyes. It was the one she had seen in Zoya's hands many times when she was moping around in the garden thinking no one knew that she was crying.
She returned everything to the bag and tidied up. She knew that Zoya would never know if anyone had been through her stuff; everything was too haphazardly thrown together anyways.
Song in Title:
Namaste London (2007): "Main Jahaan Rahoon"
________________________________________________________________________________
Mere Sapne Sawaar De, Tainu Dil Da Vasta
Chapter 12
In the plane Asad brooded and agonized over every moment since the day she had told him about her feelings. She had avoided him most of the trip, but today he had felt her pain turn to anger. And for that he was grateful.
A sad Zoya was just not right. A fighting and resistant Zoya was whom he had fallen in love with.
No matter that they couldn't be together. He would cause her pain anyway. He always did.
He thought about this morning and squeezed his eyes shut in shame as he thought how now, he had even hurt her physically. As they were leaving the compound of Fatehpur Sikri, her sleeve had caught and ripped on a rusty nail in a doorway. Everyone rushed to see if she had been hurt, but thankfully she was fine.
Ammi had gently chided her to be more careful, and Zoya had ducked her head as if scolded.
As she adjusted the torn sleeve to cover her arm, he noticed angry welts around her elbow, and remembered, how just that morning, he had brutally grabbed her arm in a punishing grip.
He swore softly.
This incident made him think of all the times in the past when he had held her just as roughly by her upper arms to yell at her or threaten her. He would violently back her into a wall with barely repressed anger.
He remembered how he would almost lift her off her feet, and bring his face close to hers to hurl hurtful words at her through gritted teeth.
He must have left bruises then too.
He had never been so angry, nor been so physically aggressive with a woman before.
God, he was an animal!
Worse, although she stood up to him toe to toe, nose to nose, always contradicting him and crossing swords with him, she never, not once, said what she could, no, should have: Would he have been as cruel if she had family? A brother or a father to stand up for her? An Ammi to wipe her tears and hold her?
No. Not once did she use blackmail to shame him.
Just once she had reminded him of her lack of a parent: When he had gone against Ammi in suspecting Rashid Ahmed Khan of the worst. Zoya had pleaded with him to forgive his father and trust his mother's instincts.
"She's lost her husband, don't make her lose her son too," she had begged.
He had turned his back on her in fury and barked, "Ms. Farooqui, you have no right to interfere in my family matters. Aapko rishton ki ehmiyat nahin hai."
You have no family, he had implied.
You're not family, he had declared mercilessly.
What would you know about fathers or mothers, he had silently broadcast.
He had heard her gasp and known even then that he'd crossed a line. Just like the time when he had cruelly sneered, "isliye aapki Ammi aap se chhin gayeen!" That too she'd forgiven him. How could he have ever said that! And why did she continue to forgive his transgressions?
"At least you have a father to hate," Zoya'd whispered that night before running out of his room.
She had only reminded him of her lack of blood relations or legitimate birth then because she had wanted him to reconcile with his father.
Rishton ki ehmiyat?
Self-loathing coursed through him. Even then he was attracted to her and had used the harshest words as a shield for his emotions. Now, his barrage of bitterness had quietly managed to erode her spirit. He squeezed his eyes shut. Instinctively he had sensed that all her life she had carried the weight of one fear: why didn't her father come looking for her? "Kya main itni buri hoon?" he had heard her whisper when she told him about why she had come to India. And like a fire-breathing ogre he had spent all their time together proving just that: "haan, aap buri hain." His terrible words kept reverberating in his head, "isliye aapki Ammi aap se chhin gayeen."
Asad nearly groaned aloud and covered his face in shame.
Thanks to his relentless rejection of her, he had doomed her to permanent self-doubt. And yet her steady generosity and grace shone through.
He'd left her bruised, she forgave him each time.
He'd scowled and taunted, she smiled or teased him, when, for days after, she must have carried marks of his anger on her arms. Is that why she always wore long-sleeved shirts?
Oh god, how could he have ever thought her selfish or inconsiderate? He was the inconsiderate brute.
A part of him yearned to imagine the marks he would have instead liked to leave on her body with his lovemaking.
But he wouldn't allow his mind to go down that road.
It was wrong.
He made himself think of Tanu.
He felt resentment boil up inside him like acid reflux.
Asad thought back to his conversation with Ammi. Like her, he couldn't imagine doing anything repulsive like that. And why couldn't he remember anything from that night?
He had never felt any attraction for Tanu, just fraternal concern, especially after her factory burned down. How could he have had any s*exual feelings for her as he tried to console her? Why couldn't he recall anything?
The only woman who could make him think sinful thoughts was Zoya, and even though he had held her several times either in anger or to break her fall, and wanted to crush her lips with his each time, he had always stepped back and never acted on his fantasies. When Zoya had hugged him in despair, even then he had restrained himself before gently offering whatever little comfort that he could. If he was so self-controlled with the woman he was attracted to, how could he have done anything with Tanu? He kept thinking why he couldn't remember anything. Had he blocked out his own debauchery?
What if it had been Zoya instead?
His stomach tightened and he felt a flare of desire lick his insides.
"Zoya," he thought drowsily. "I wish it were you I had made love to. I would have remembered every moment."
His mind refused to be reined in now.
He thought of that night when she had nagged him about dancing because he had lost the bet that she wouldn't be able to get any information from the security company about their employees.
Barely awake, he remembered how his heart had knocked in his chest as he'd seen her scared face thinking he was about to strike her again.
Oh god, he had slapped her and she had even forgiven him that!
That night he had instinctively snagged her wrist to stop her from walking away and pulled her to slam her against his chest while encircling her waist with one arm. He couldn't bear that frightened look on her face.
She wanted him to dance, he'd show her that she'd bitten off more than she could chew.
He could still feel her heartbeat and ragged breathing as her hair fluttered against his cheek. He had then twirled her. Their bodies had moved against each other fluidly, as he dragged her against him once more, this time with her back against him.
Her back to him and face so close to his, he could have bent an inch or two and sucked on her earlobe. And instead of holding both her hands in his, he could have wrapped his arms low on her waist pulling her hips against his to let her know how much he wanted her. He would have let his hands wander up to cup her bre*asts to trace and stroke her nipples through her shirt. He would have turned her around in the circle of his arms and lifted her up so that she could wrap her legs around his waist. He'd whisper in her ear how grateful he was for her love of jeans and she would squeeze him closer.
Then he would have carried her to his room to make sweet love to her. She would call out his name. He would love to hear his name on her lips. She had called him by his first name only once, half-delirious from being drugged by that bast*ard Akram!
Or, when he had dipped her, he would have kissed her with enough tongue to make her cling helplessly and breathlessly to his shoulders. And then he would have swept her up in his arms and carried her to his bed, whispering hotly in her ear, "dance isse kehte hain Ms. Farooqui."
He nearly groaned aloud. Oh lord, why had he kept fighting his growing attraction to her all those months? Ammi and Najma could have been shopping for rings for his engagement with Zoya! To fight off the attraction he felt for a woman he loved, and to bed a woman he didn't? How did that even make sense? You stupid jerk! He pounded his fist on the armrest. The passenger next to him looked at him in alarm.
"Sorry," he whispered and excused himself. In the restroom he splashed cold water on his face.
He couldn't stop himself from imagining backing Zoya against the wall in his room and kissing and sucking her lips till they were swollen. Those lips! How often had he felt like tracing them with his thumb? He would part her legs with his knee and thigh, and angle to fit himself just right so that he could drag her leg up over his and grind into her. He would continue to kiss her, nip and lick her throat. Tugging her shirt lose he'd slide his hands in to feel her skin and let his hands trail over her stomach and then her back, before unhooking her bra to catch her bare bre*asts tumbling into his waiting palms. He would look long and deep into her drooping eyes as he stroked her nipples with his thumbs. Whipping her shirt over her head he would dip his head to take her nipple in his mouth and suck till she went completely crazy—-
The flight attendant announced that the plane would land in fifteen minutes. He shook his head as if that could knock the visions out of his head. He brushed his hair off his forehead impatiently, and waited miserably to retrieve his bag.
Back home, the silence and emptiness bit at his heels.
Instead of going directly to his room, he wheeled his bag toward Zoya's room and stood at the door looking in. The bed was not made as tidily as he'd have liked. A towel was slung messily over a chairback. He almost smiled, but pain gnawed at his insides.
He turned to go to his room.
Song in Title:
Love Aaj Kal (2009) "Aj Din Chadheya"
Aug 16, 2013
PART FIVE: Maanga Jo Mera Tha, Jaata Kya Tera Tha (By Dixiej) (Thanked: 278 times)
Na Hai Koi Hal, Dilon Ki Mushkil Ka
Chapter 13
On the drive back toward Bhopal, even Najma noticed Tanu being moody. "Aap bhaijaan ko miss kar rahin hain na?" She asked sweetly.
Dilshad noticed Tanu's fake smile. She looked over at Zoya's lowered lashes as she swiftly turned her face away. She noted her clenched hands and bowed head, and her heart ached for Zoya. She wanted to stroke her head and comfort her: everything's going to be OK. I'll take care of it, she wanted to say.
She turned to look at Tanu and grimaced. Dilshad thought of how Tanu had refused to eat anything at breakfast opting only for dry toast and weak tea. In fact that had been her diet for some time now.
"It couldn't be. Such signs so early? I have to move fast."
The trip home felt long, but was uneventful. Mostly everyone slept due to sheer exhaustion.
Zoya had watched the video of Mr. Khan wanting her to stay back so many times, that her phone and iPad were draining rapidly. Stop it! Stop tormenting yourself. Just delete this. Cut the cord, will you?
Her finger hovered to make a clean surgical cut.
But she couldn't do it. May be tomorrow. One more look.
She sneaked peeks at the pictures Phuphi had taken in Sikandra. She loved this shot of him actually laughing at Ayaan's discomfort. But she felt a pang when she saw the photos of Mr. Khan with Najma, Tanu and Ayaan at Chokhidaani.
She was an outsider. These four would be in many other photographs. Weddings … family portraits … babies … She nearly gagged with the pain that coursed through her. Her eyes stung. She would never be a part of the family that she had irrevocably fallen in love with.
"I better start thinking of flying back home. When we reach Bhopal I'll call a travel agent to get my tickets booked. I can tell Phuphi and Najma that I have to leave early because my visa is expiring. Thank god, I've already bought gifts for everyone from Chokhidaani and Agra."
She hadn't known what to get Mr. Khan though. She had traced her fingers over a miniature sculpture of the Taj, but then removed them quickly as if burned by the stone. Stupid idiot! Don't you dare!
Zoya had finally decided on a simple photo frame. She'd have the picture of all four of them printed up in sepia and give him that. No, probably just leave it on his table. She may never be able to look at, or be near him. She'd made a big enough fool of herself already.
They reached home in the late afternoon, and everyone left to freshen up and rest.
In the evening, Dilshad knocked on Tanu's door. After initial pleasantries, she told Tanu what Asad had told her in Jaipur.
Tanu, shocked and shamed, hid her face in her hands and began to cry. "I'm sorry khaala, I know you must be upset. But Jammy is so kind and upright, that he immediately proposed to me."
Dilshad said firmly, "Tanu, I have decided that in light of everything that's happened, we should go to my doctor and have you examined. If you aren't pregnant, then we need not go through with this wedding since neither of you are in love with each other. I just want what's best for my son. We'll go a week from now to fully confirm since it may still be too early."
Tanu was surprised at Khaala's openness and smarts. Mentally she knew that this was the perfect opportunity to pass off her pregnancy as Asad's fault, but she didn't like the idea of going to Khaala's doctor. And why wait for a week? The sooner they all got the good news, the better!
"I understand Khaala and I agree. But we can go to a doctor that I have been visiting already for when I sprained my ankle. In fact we can get an appointment tomorrow itself."
Dilshad hated Tanu's eagerness. It made her even more suspicious.
"No, I've already fixed an appointment with my doctor. I'll just ask them to reschedule it for tomorrow."
Seeing that she had no way to wiggle out of an appointment with khala's doctor, Tanu agreed graciously.
"I'll just have to put on a darned good show tomorrow," she thought to herself.
Dinner was a quiet affair. Najma was the only one who was talking about the trip and the shopping, food and the historic places.
Asad looked at her indulgently.
Even Najma stopped mid-way, surprised that he didn't tell her to eat quietly.
"Wasn't the Rajasthani food yummy, Zoya?"
Zoya nodded.
Asad sneaked a look at Zoya from under his lashes. She had stopped eating her food with as much relish and gusto as she used to. Sometimes, just the way she threw her head back, closed her eyes, and moaned softly when eating kachoris or pizza, or Ammi's phirni, was enough to make him hard. He forced himself to look at Tanu who looked pleased. His mood soured.
Najma started chattering about the wedding functions, not noticing the change in Bhaijaan's expression. He looked up sharply at Zoya. Once again she was using her hair to hide her face. But he could see her hand gripping the fork by her plate. She was stabbing her thumb pad with its tines. He nearly shot out of his chair. Asad felt trapped. And helpless.
Zoya! Please!
Clearing his throat, he called out, "umm, Ms. Farooqui?"
She raised startled eyes to search his face.
"Could you please pass me the salt?"
"Sure," she whispered, almost harshly.
Biting her lips, she did as he asked. She passed the salt shaker to Najma. He lowered his gaze apologetically, unable to bear the flash of pain and hope in her eyes. But at least she had unwrapped her fingers from the fork. He looked at Najma. She now talked of dieting so that she could fit into the new style lehengas.
Tanu intervened, "Najma, I can help design a dress for you that hides some of your flab and makes you look slimmer."
Najma's face fell.
Asad frowned and looked away, not wanting to correct Tanu for being so insensitive to his baby sister. How could he have missed this? He wondered how he never had any such qualms about shouting at Zoya publicly, even though she had never said anything so hurtful. In fact she had always rushed in to defend Najma or Ammi or take the blame on herself.
He could kick himself for not noticing those things earlier.
"Zoya, will you help me with some fitness training so that I can lose weight more quickly?"
Zoya nodded, not wanting to share as yet her plans for leaving.
She reassured Najma, "yes, we can start tomorrow, but Tamtatar you don't need to lose weight. You are gorgeous the way you are. Girls would kill for those curves."
Najma's smile sparkled, and Asad looked up at Zoya gratefully.
But she was still talking animatedly to Najma, "we can do some stretches and then go for a walk or a run, but it's too hot outside. Yoga? Have you tried Zumba? It's such fun! You'll love it. Or, you know what? We can just put some music on and dance. That'll be more fun."
Najma was completely diverted now.
Dilshad looked at Zoya with new respect and her heart felt full as her resolve hardened, "Please Allah, help me find a way to make this girl my bahu." The urgency was real. Just before dinner Zoya had smiled too wide and thanked her for the trip. "I'll always cherish these moments with you and everyone, Phuphi. These will be my favorite memories of India," she had said. And Dilshad knew. Zoya was bidding farewell.
The next day, right after Mr. Khan left for work, loud music could be heard coming from the Khan Villa.
"Badtameez Dil," "Dreamum Wakeupam," and "Balam Pichkari" kept being replayed while Zoya and Najma danced up a storm.
Zoya felt light-hearted as she wiped her dripping face with a hand towel.
Najma lay, nearly passed out, but grinning, on the floor. "Oh Zoya, that was such fun. We have to do this everyday," she panted.
"You know what we should do next," said Zoya. "A quick shower and then manis and pedis for each other."
"Yay," squealed Najma. "I love you Zoya," she sighed with contentment. "I wish you could stay with us forever."
She didn't see Zoya hide her face in her towel.
At the clinic, the doctor told Dilshad that the results showed that Tanu was indeed pregnant. Before Dilshad could ask more questions, Tanu complained of a headache and tiredness, and announced that she wanted to go home immediately. In her rush to put on a good show, she missed the look that passed between khaala and the doctor.
Back in the car, while she faked exhaustion and dozed, she congratulated herself in preventing khaala from asking questions about how far along she was.
"Now she will have to agree to the nikaah," she silently celebrated peering at Dilshad's somber face slyly.
Song in Title:
Salaam-e-Ishaq (2007): "Ya Rabba
___________________________________________________________________________________
Raah Pe Kante Bikhre Agar, Uspe Toh Phir Bhi Chalna Hi Hai
Chapter 14
After a long bath, Najma felt too sleepy and tired for a mani-pedi session, so she promised to do so after a long nap. It was summer break after all, and it was meant to catch up on one's beauty sleep.
This gave Zoya some time to call around for tickets to NY. Unfortunately, the earliest flight was 19 days from today. She finalized the tickets, making sure that they would not be couriered to this address, assuring them that she would come to pick them up personally.
She re-watched the video of Mr. Khan saying "mat jao Zoya," and wept silently. Falling back on her bed and huggng her iPad to her chest, she thought of all those moments they had shared when it felt that he would nearly kiss her. How many times had she felt his arms around her and looked into his eyes darkening with some untold emotion? What if he had kissed her? She thought of how recently he was much gentler with her. More solicitous even. I don't want your pity!
Why couldn't he love her as much as she loved him?
She wanted him so bad, it hurt.
How much had she negotiated with Allah! Every waking thought. It began with: please don't make me fall in love with him, during their spats and sparring, to: please make him fall in love with me! And now: please don't make him pity me.
Just please, make it stop hurting.
She needed to get out of here. Out of sight, out of mind, must have some truth to it after all.
She sighed. Just one day she had gone without seeing him. She'd hungered for a glimpse of him on their return. But she dreaded the family meals the most. Tamatar would gush about wedding preparations, and her heart would plummet to her heels. Even at the dining table, she felt like a hanger-on. They were all family, and deserved to be at the table. Here she was, intruding on their intimacy. But she would be eternally grateful to Phuphi and Najma! Not once did they make her feel left out.
Well rested after her nap, Najma filled the tub in Zoya's bathroom with hot water, and they sat at opposite ends soaking their feet. Music was playing on the iPad. Najma had rolled up her salwar but Zoya was wearing a pair of short shorts that Najma kept eyeing with envy.
"You look so cute in those," she said for the tenth time. "I wish I could wear shorts but Bhaijaan would kill me."
Zoya had her nail kit laid out on the edge and held Najma's foot in her towel-covered lap to start exfoliating the skin around the nails.
"I know," said Zoya, "If he sees me now, I'll be dead meat. But we'll be done before he gets back."
"Unless he decides to come home early from work."
Zoya nearly punctured Najma's toe with the nail file. Thank god Tamatar didn't notice her red face nor hear her thumping heart.
A teensy part of her wished that he could see her in shorts. She'd want to see him groan in desire and be unable to keep his hands and mouth off her. She imagined him trailing his fingers on her bare legs and thighs while she arched and wiggled with pleasure in his lap.
She continued to dream with her eyes wide open, seeing the shorts discarded on the floor and her ankles over his shoulders as he—-
Najma sighed loudly in pleasure, and Zoya's s*ex dream popped.
It was such fun to have Zoya around, Tamatar thought. She would miss her so much when she left. She wished that Bhaijaan was getting married to her instead. She would have been perfect for him, always standing up to him, and not scared of him at all. Tanveer was kinds boring. But she seemed to be his type.
Now scrubbing Zoya's heel, Najma asked her if she remembered their conversation about love from several months ago.
"Remember Zoya, you said once you fell in love, aap unse ladengi, unse rooth jaya karengi, and you'll wait for him to manao you? Ammi and I love your fights with Bhaijaan by the way! Do you still feel the same?"
Zoya bent her head pretending to choose a nail color and let her hair fall as a curtain over her face, "I was just being silly then, Tamatar. Nahin, main unse nahin ladungi. But may be he'll fight with me, kyunki main itni paagal hoon. He may dislike my craziness, and find me irresponsible and childish. Yeh wala laga doon?" she asked holding up a bright pink nail color.
Najma sensed a deep ache in Zoya, but couldn't exactly put her finger on it. The last time they had talked about such things, Zoya had been giddily chattering about true love as fun, and playful nok-jhonk between soul mates. But now there was a too-serious tone, and a streak of cynicism in her voice. Her new view of love seemed despondent and heartbreaking.
"When you marry, what kind of person would you want your husband to be?"
"Main nikaah nahin karungi. I'm just not cut out for it." Zoya said with a dull finality.
"But Zoya, how can that be? Everyone gets married. Every girl dreams of a prince charming!"
"I know Tamatar, but to dream of prince charming, you must have some princess-like qualities, right? And that's not me. I don't want to think about getting married. I want to work, and do a lot of things like travel more. And may be no one would want to marry me. I am too independent and say and do stupid things. I am a misfit in America, and in India," she laughed bitterly to hide her pain.
"C'mon Zoya! You're not silly at all. And whoever said anything about being a misfit? You're such fun!"
Najma couldn't understand why Zoya was talking like this. She c*ocked her head to one side and looked at Zoya quizzically. Something was wrong. Very wrong.
And danged if she wouldn't try to find out what it was.
Dilshad had just finished talking to her doctor and went to Tanu's room. She knocked and then entered the room without waiting to be invited in. Tanu was on her bed going over some papers and looked up in alarm.
"Khaala? Ayeye, sab kucch theek toh hai na?"
"Tanu the doctor just called. She said that there may be some mis-reading of the tests. They want you to come back in again and do a whole blood panel and probably even an ultrasound. I hope everything is okay with the baby. Please be ready at 4 tomorrow."
She didn't miss Tanu's expression of alarm as her eyes widened.
That evening before dinner, Dilshad decided to talk to Asad. "I want you to sit and listen very carefully." He did as she asked and looked up at her in agitation.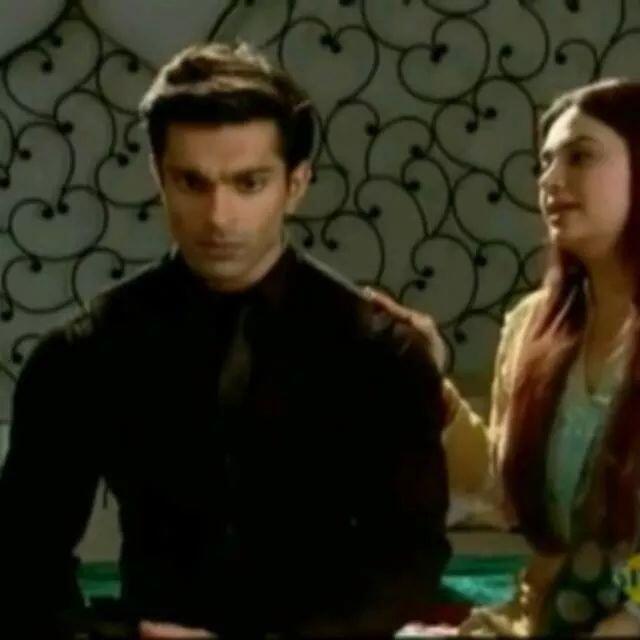 "Kya hua Ammi?"
"I took Tanu to the doctor today, and we found out that she's pregnant."
"WHAT?" Asad leaped up and started to pace the floor while running his hands through his hair.
"I kept hoping that it wouldn't be true. That somehow nothing happened that night," he muttered bleakly under his breath.
"Asad!" Dilshad commanded, "sit."
His eyes stormy and face twisted in agony, he sat and dropped his face in his hands.
But he couldn't sit still for long. He began pacing back and forth again, and eventually walked to his bookcase slamming his fist into its side.
"Asad! Calm down. I have something important to tell you."
But he couldn't bear to hear anything. All he could see what the end of his miserable life.
Grabbing his car keys he banged out of his room and the house, as if chased by an army of demons.
Dilshad sighed, "Allah! Never listens, that one." She raised her eyes upward and prayed for his safety and happiness.
I will make it right.
She walked into the living room, and bumped into Najma. "Najma, be careful."
"Sorry Ammi."
Dilshad noticed that Najma too was preoccupied. What is going on in this house?
"Kya hua beta?" She asked guiding her daughter to the sofa.
"Woh, Ammi, I'm worried about Zoya."
"What happened to Zoya? Is she OK?"
"I don't know. There seems to be something too sad and quiet about her. Do you think she's missing her Abbu?"
"May be. But did something specific happen?"
"It's strange. Months ago we were discussing ishq wala love, true love ... you know what I mean, right?"
Dilshad nodded patiently.
"When I asked her about it again today, she seemed really hard on herself. She said that she probably isn't worth being loved because she is stupid and a misfit. How ridiculous is that?"
She continued to muse out loud, "that's just not like her at all. I wonder what's going on."
Dilshad's heart wrenched. She knew exactly why Zoya would think something like that. Her idiot of a son had no sense at all. Knowing Zoya, she knew that that girl would have already booked her tickets to New York by now.
She needed to fix this soon or something terrible would happen. Too many hearts would be broken.
Allah! Please guide me.
Song in Title:
Dor (2006): "Ye Hosla"
___________________________________________________________________________________
Shaam Chhupale Suraj Magar, Raat Ko Ek Din Dhalna Hi Hai
Chapter 15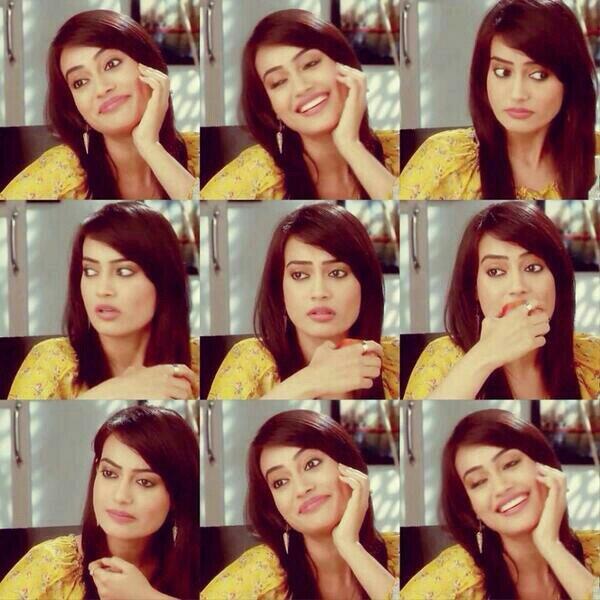 In the car, Asad slammed his already-bruised fist on the steering wheel. All he could see before him was a swirling and disintegrating collage of Zoya's face: smiling, angry, sad, happy, naughty, and angelic. A part of him had hoped that they could still be together by some quirk of fate, but now there was no hope.
"You stupid, stupid jerk," he berated himself for the thousandth time.
"What have you done?"
Finding himself close to the dargah he wrenched the car to a violent stop. He parked and walked the narrow lane toward the shrine, each step burdened by guilt and angry regret.
He entered the shrine with his head covered and bowed. Sitting down he glanced at the floor sightlessly. Someone coughed, and he looked up.
Her head was covered with a white dupatta this time and she was staring stonily at her clasped hands. Tears were flowing down her face just as they had that first time he saw her here. He didn't realize when his own eyes blurred. She hastily wiped her tears and got up to leave after offering a quick prayer.
He nearly got up to follow her, but what could he even say to her? He wasn't sure how much longer he stayed after that. It seemed as if every event and encounter was mocking him for thinking himself so principled and morally superior.
He hung his head and hunched his shoulders.
As he was leaving the shrine, he felt a hand on his shoulder. Turning around, he stiffened.
"Jee?" he said harshly and impatiently.
His father stepped out of the shadows and moved his hand away.
"Ayaan told me that you were getting engaged?"
Asad nodded assent.
"You look about as miserable as I feel," muttered Rashid.
Asad picked his head and stared at this man.
"Why are you getting married if you don't love the girl?"
"How did yo—-?"
"I saw the way you looked at Zoya right now. A blind man can see that you are hopelessly in love with her."
Asad's head swam. How did his father know Zoya? And how—-?
He cleared his clogged throat, "you know Ms. Farooqui?"
"You mean Zoya? Yes, in fact I met here for the first time in December as she moped because someone had shouted at her for being irresponsible and careless."
Rashid looked at his son knowingly.
Asad ducked his head, remembering the incident well. It was one of the many times that he had humiliated her for not being conventional and conservative enough for a girl from a proper family with upright moral standing. And he'd said those ugly things to her on the day of her mother's death anniversary. He squeezed his eyes shut and forcibly expelled his breath.
"We are good friends now." His father continued. "But I haven't seen her recently nor talked to her. Obviously something is troubling her too. She looked heartbroken in there."
Asad felt torn. He wanted to walk away and never look back. But he also wanted to linger. He wanted to hear more from his father about Zoya and what he meant about being similarly miserable. But he couldn't find the courage to ask him directly.
Wait, did he just call him his father —-?
For the first time, Rashid felt hopeful about his son. He could see that Asad was not glaring at him hatefully, but was actually silently crying for help by letting the man he hated even this close to him for this long.
He felt elated.
"Don't make the same mistake I made eighteen years ago," he said somberly.
Asad looked at him sharply.
His heart ached for his son. He knew too well the pangs of love and regret. To have true love and to turn your back on it? Was it a family curse?
"Don't let the woman you love get away because of some misplaced sense of loyalty or duty. You will condemn yourself to a life sentence of silent suffering and hopeless yearning."
Rashid's voice broke in anguish.
"You will resent everyone around you and loathe yourself for the rest of your life. Every day will be cursed with regret and wanting to end it all. And one day, even your children will hate you for your cowardice."
He dashed the moisture from his eyes and patting Asad on his back one last time, walked away into the night.
Asad stood rooted to the ground.
He couldn't believe that the words he had just heard were nearly the same as the ones that he had been hurling at himself for the last few days. They were his father's words but his constant thoughts. In just a few days he had felt his spirit battered and soul bruised. And this man had lived like this for eighteen years? Because he knew that his father was reciting this list of pain from personal experience. Would he become his father after all—not just hurting a woman he loved, but also living a life of self-loathing?
His vision cleared as if a muddy veil had been lifted.
All rancor dissipated.
He felt a burning but fierce kinship with his father in that moment of absolute despair. He had missed his father's hand on his head all these long years.
Asad's throat wrenched out as if with a mind of its own, "Abbu!"
Rashid halted and stood as if carved in stone.
His heart soared.
He turned and blindly groped for his estranged son who fell into his embrace and sobbed in his arms like a baby.
Neither knew how long they stood there. The street was emptier when they stood apart and looked into each other's streaming eyes.
The father touched his son's face. His fingers traced his features like a blind man blessed with sight. Brokenly Rashid tried to tell his son to learn from his example. "Wrest the happiness you deserve from fate's cruel hands. It's your birthright. Don't let anyone tell you otherwise."
Wiping his son's tears, he smiled gratefully. His teeth gleamed in the night. "If I died today, I'd die a happy man because finally I was able to hold my son in my arms and hear him call me 'Abbu.' I am so sorry for not being a good Abbu to you and your sister. May Allah never forgive me."
"No, Abbu, don't say that. I too have been blind and rigid."
With his hand on his head, the father blessed his son with a life full of joy and happiness.
"Yes, there will be some tough decisions ahead, but you will be stronger for it. Do not hurt yourself anymore. You deserve to love and be loved. You are a good man. Fight for your love. I didn't, and regret it every day of my life."
As Asad drove home that night, he felt as if a weight he had carried around him most of his life, had been lifted.
Song in Title:
Dor (2006): "Ye Hosla
Aug 16, 2013
PART SIX: Maine Kaun Si Tujhe Jannat Maang Li (By Dixiej) (Thanked: 282 times)
Khwaab Mein Dekha Tha Ek Aanchal Maine Apne Haathon Mein
Chapter 16
"I think Tanu may be lying."
Finally Dilshad had been able to corner her son, after his return, to tell him about her suspicions.
"What? How can you say that Ammi? Why would she do that? And now you say that the doctor has confirmed the ... the pregnancy too."
"I don't know, it's just a feeling that I have. All through the trip I kept noticing little things. Her diet and gestures ... the way she moved, all of it seemed too familiar. A body doesn't react so quickly after conception. It takes anywhere from 9-12 days for even doctors to be able to say if a woman is pregnant. And if we count from that night, it's been only 9 days."
"What are you saying Ammi? I don't understand. Even so, it ... it does fall within the 9-10 day range you mentioned."
For a second, he couldn't believe that he was even having this conversation with his mother! What had happened in the last two weeks that his life was completely turned upside down? How could he be so embroiled in a situation so distasteful, when he had prided himself as a man of morals and strict principles?
"Asad, you are so naïve! I am saying, I suspect that she has been pregnant for more than 9 days."
"What? Do you know what you are saying?"
He had begun to pace again. His hands were itching to do some damage.
"Calm down! I know, even I couldn't believe it myself. But I have experience and my instincts are rarely wrong. And Dr. Sharma also said that given her body language she may be pregnant for more than 9 days. She can tell us for sure only after more tests."
Asad looked at her with a glimmer of hope shining in his eyes. He dared not hope, but could it be that he hadn't erred after all? He didn't even care about Tanveer's betrayal. Could he finally have a chance with Zoya?
"I have convinced her to go with me to the doctor again for a more extensive check-up tomorrow," she said, patting his hand.
"But Ammi, if you are right, then why will she go with you tomorrow? It's the easiest way to be caught lying. And if she doesn't agree, than how do we prove any of this?"
Dilshad frowned at his pessimism in exasperation. He was behaving as if he wanted Tanu to be pregnant with his child. So many questions of his mother who's trying her best to help him!
And she was pretty sure he mustn't have asked HER a single one.
Men were such duffers, even if this one was the apple of her eye!
"Yes, you are right," she continued patiently. Sometimes things needed to be spelled out and diagrammed for this son of hers.
"But she hasn't backed out as yet. So either she'll try to come up with an excuse or... Which is why I wanted to tell you in advance. She probably knows that till the birth we can't determine paternity. We have to keep an eye on her and I also want you to hire an investigator who can find out a little about her background and her life in Kanpur. I am not going to be taken for a fool. I will not let her ruin my children's happiness if she is lying about this."
"I wonder why I can't remember anything from that night," he muttered to himself.
"What?" Dilshad almost shouted. "What did you just say?"
"I said that I can't recall anything from that night that—-"
"Asad!" This time she did shout.
"Tell me everything that happened that night, this instance. Do not hide anything, you understand?"
Embarrassed, he did. He told her about Tanu bringing him some milk, feeling dizzy, and then waking up to find—-
In a flash Dilshad understood it all. She knew it would be futile to talk to Asad right now. She needed to think more about this.
Meanwhile Asad was paralyzed with doubt and hope. On the one hand, he didn't want to betray the trust of a close friend whom he may have hurt, but on the other, there were some things about her that had begun to nag him. It didn't add up. And the biggest red flag now seemed to be his complete lack of memory of what happened that night. Knowing himself, and thinking more calmly about the incident, he knew he wasn't capable of such an act.
His mind and heart warred.
Finally, he decided to trust his Ammi's instincts, and Abbu's blessings; he took a leap of faith.
He called Prasad to find the best investigator who could do a quick but extensive background check on someone whose details he was forwarding.
Before leaving his room Dilshad looked at him fondly and put her hand on his head.
"Don't worry, we will fix this mess. But what did you say to Zoya?"
He looked at her in confusion. "I haven't told her any of this."
She resisted rolling her eyes and clutching her forehead in dismay. "No, I mean did you ever say anything to her about being unfit as a wife or bahu?"
His world reeled.
"Najma told me that they were chatting about love and marriage, and Zoya said that she won't get married because she wouldn't make a good wife or daughter-in-law."
Seeing his shattered expression she knew she was right. He had done the damage, he would have to fix that one on his own.
That night she had another of her nightmares. And try as she might she couldn't repress crying out. She was so mortified when everyone came to check on her. Zoya dared not look at Mr. Khan. But from under her lashes she saw him frowning. Her heart stopped. Please Allah miyan, I hope I didn't call out—-
Asad frowned. She'd had such nightmares before. She looked shaken up but always brushed off Ammi's concern.
Regret hollowed him. He wished he could hold her. But no, he was probably a part of her nightmares now.
Song in Title:
Dil Chahta Hai (2001): "Tanhayee"
___________________________________________________________________________________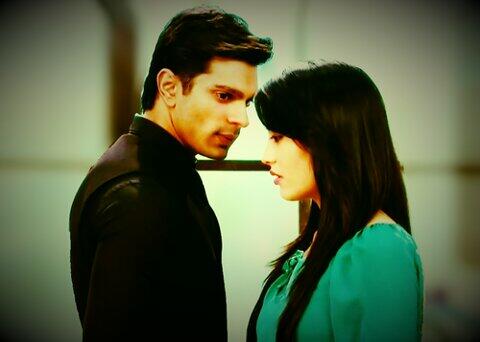 Koi Khalish Hai Hawaon Mein Bin Tere
Chapter 17
"WHAT?" Everyone rushed to the living room where Zoya was arguing loudly on the phone with her Aapi.
"Aapi, how could you do this to me after all that's happened?" She wailed. After a minute, she disconnected the phone and looked up with squinty eyes.
"Ridiculous," she muttered mutinously.
"What happened Zoya?" Asked Phuphi with trepidation. Her next question echoed Asad's biggest fear. "Did Zeenat insist that you return to New York immediately."
Zoya shook her head with resentment. "No phuphi, it's much, much worse."
Everyone waited with bated breath. Asad wanted to rage and pace. Please give me a chance to explain. Please don't go!
"This is so embarrassing," She said softly. "Aapi has put my name and profile on some matrimonial website, because she's decided that I must get married this year."
Asad forgot to exhale. Najma guffawed and then squealed with delight. Dilshad looked at Asad whose head was bent. Tanu liked this bit of news a lot. Things may finally get easier, she thought.
"Waise Zoya, by the way, how about you and Ayaan bhaijaan?"
"WHAT?" bellowed Asad.
Zoya glared at him angrily. Oh, so I'm not good enough for your brother either! It was a good thing that Phuphi and Tamatar were here, or she'd have bashed his skull in.
"Think about it Bhaijaan. Both of them are so similar and get along so well. They would make a perfect jodi. The most fun couple of Bhopal! Just imagine! Mona Darling Weds Raabert! And their kids would be born reciting shayari. How cute!" she clapped her hands merrily.
"Ayaan is getting engaged to Humaira," Asad declared, a bit too quietly, the veins in his forehead nearly popping.
The vision of Zoya's children had him seeing red.
Dilshad saw him walk away to his room and heard the door close softly behind him.
Rolling her eyes and blinking to keep from crying, Zoya spoke to Najma. "Its not funny, Tamatar, Aapi's even sent me some 'promising' candidates that I'm supposed to check out and let her know."
"I want to see, please," begged Najma bouncing on her toes. Zoya looked at her with a sinking heart and then shrugged.
Eh, it could be fun to rip the clowns to shreds. She needed to feed her anger, or she'd burst into tears right here.
She brought out her iPad and soon both of them were bent over the prospective matches suggested by Aapi.
"Ooh, look this one is a doctor in Delhi."
"Nah! He's already balding."
"Business in Lucknow?"
"But he hasn't even graduated high school!"
"Computer guy in Hyderabad?"
"Too short."
Her email alert pinged.
It was from Aapi.
"Oh no! No! No! No!" Zoya screamed and leapt up on the sofa jumping in agitation. Her iPad and phone slid to the floor. Asad came rushing out of his room, even though he couldn't bear to see and hear more evidence of his world crashing around him. He still couldn't wipe out the image of a pregnant Zoya, or a Zoya holding a baby, from his mind.
That baby was going to be his.
"Ms. Farooqui are you okay?" Even the sight of her hopping on his precious sofa couldn't override the concern in his voice.
"What happened Zoya?" asked Najma. This was such fun.
Zoya bent down to retrieve the iPad and fish out her phone which had gotten lost under the sofa. Her ass waved in the air, and Asad sucked in his breath. He hadn't seen a cuter butt, and if no one else were here, he's just lift her over his shoulder and carry her to his room to get started on making that baby.
"I will kill Aapi!" She muttered under her breath.
"Zoya! Aise nahin kehte hain beta."
"But Phuphi you don't know what she's done." She gesticulated wildly, using air quotes, and nearly in tears.
"She just emailed me that a 'good friend's son' is in Bhopal and will 'drop by' tomorrow and 'take me out for coffee.' "
Asad's heart stopped.
Najma's glee knew no bounds. She clapped in delight. Laughing, she taunted Zoya, "how ironic. Just yesterday you said you won't get married! And today? Boom! You challenged the universe. Now within 24 hours, proposals, ladkas and rishtas. Soon shehnai. Ab to Zoya gayee kaam se." She danced around trying to evade Zoya's punches.
Zoya stomped her foot and then ran to her room. "This is so not happening! I hate this. I'm going to talk to Jeeju."
Najma chased after her. "But what does he do? Is he based in the US?"
They could still hear Zoya ranting. "I'm not going out with some lame guy! I don't care even if he is from the Bay area, and works for Apple!"
"APPLE!!! Zoya you are sooooo lucky. Free iPads and iPhones for life! Ask if he has a brother, OK?"
Dilshad turned to Asad who was still reeling from all the bad news ... and what's with Tamatar going on about this loser's brother?
"I'm not going to send her alone with some man we don't even know," Dilshad spoke gravely. "You and Tanu will join them, and make sure that everything is okay."
Oh god, what fresh hell is this? He was to be her chaperone now? Yes, he deserved to suffer for being a total ba*stard to her, but like this?
For the first time in her life, Zoya was not able to talk Aapi out of her decision, or get Jeeju to support her.
She first had herself a good cry.
Then stomping mad, she got ready for the date from hell. She had one mind to apply the smelliest oil in her hair, and braid it in sausage rolls, borrow a pair of granny glasses from somewhere, and wear her most faded shirt and ripped jeans.
Aapi was crazy if she thought that she'd go get a mani and pedi for this.
No way, Jose!
But on finding out that Mr. Khan and Tanu were going too, she decided to take better care of her appearance, even applying make-up carefully to cover up the puffiness of her eyes. Her hands had almost reached out to wear the only salwar kameez she'd packed with her, but no. She wouldn't change who she was. Not even for him.
That evening everyone, except Asad, waited in the living room. He was in his room, supposedly working on an important project. The doorbell rang. Slamming the laptop shut with unnecessary roughness, he decided to make an appearance after all. One look, and his heart went out to her. She was gripping her hands tight, and her kohl-lined eyes still betrayed some redness.
A giggly Najma opened the door and said Hi to someone shyly.
"Zoya?"
"No, I'm her friend Najma. Please come in and meet everyone."
"Asalamu Walekum. I'm Omar. Nice to meet you all."
Everyone was checking him out. Head to toe. He stood, shoulders back, hands pushed into his pockets and head co*cked to the side.
Najma instantly approved of the tall, good looking and well-dressed cutie pie. She made eyes at Zoya behind Omar's back with exaggerated head nods while making the sign of A OK with her hand.
Asad seethed with jealousy. He could have thrown something.
Najma stepped forward and introduced Zoya. He shook her hand. "We've met," he said roguishly.
Zoya tilted her head to one side haughtily.
"We went to the same school till eighth grade."
Zoya still couldn't place him.
"Omi the Zamboni," he rolled his eyes and laughed huskily.
"Omi!" Zoya screamed and launched herself in his arms. He laughed and swung her around. They hugged for what seemed like an eternity to Asad. His hands were balled by his side, his face set in a murderous grimace.
Get.
Your.
Hands.
Off.
Her.
Now.
"Is it really you? Wow, look at you, you cleaned up good!" Zoya gushed.
"And you? Kim Possible? Not so bad either," he teased.
"But how come, here, after so long?" she asked when they disengaged. Asad had died a few deaths by now.
"Cousin's wedding, and then Ammi called your Aapi, and the rest, as they say, is history! True story!" he answered sheepishly and winked at Najma.
Aw! he's so cute, thought Najma.
Zoya pulled him by his hand to seat him on the sofa, eager to find out more about Omar. She had a million questions.
Dilshad interrupted. "Beta you'll get late. May be you should leave now. Earlier I had thought of sending Asad and Tanu with you, but since you know each other so well, may be that's not necessary."
"No Ammi, we don't mind. This way we'll get to know Ms. Farooqui's long-lost friend better." Asad ground out his words, while glaring at Zoya, car keys biting into his hand.
Dilshad was surprised, but then, not really. She smiled to herself. Hmm, may be this is just the kick in his pants he needs.
Three hours later when they returned, Dilshad could tell by her son's thunderous expression that he'd had a very bad time. He slammed into his room and she heard a muffled growl as the door banged close.
Tanu looked pale, and Zoya, after so many days, looked exhilarated.
In his room, Asad paced and fumed. His jaw and head hurt from clenching his teeth so tight, for so long. If looks could kill, Omar would be dead and interred already.
They had looked so cozy together laughing and chatting about everything American. Some nonsense about In 'n' Out Burger versus Five Guys. Ribbing each other about the pros and cons of California living and New York attitude. The high-fiving and fist bumps!
Ya Allah! He could have gladly brained this guy.
But he had loved hearing stories of how a tomboy Zoya had tackled schoolyard bullies to save dear little chubby Omi, and how she had even dangled from the meanest, baddest bully's hair, to get him to stop tormenting another lost soul. That bully had now grown up to be an NYPD cop, and still nursed a crush on the spitfire who had nearly scalped him in fifth grade.
He had never seen Zoya laugh so much. How come she never laughed like that with him? No wait, she had laughed like that with him, but just once—-
He was from America. She was from America. May be they would be good for each other?
NO!
He knocked the books off the console table in fury and frustration.
Back in her room, Zoya meanwhile was on the phone with Omar. She loved meeting him, but wanted to be very clear that she was not getting married any time soon.
"Because you are in love with that hulking pit bull of yours?" He asked.
"Whoa! What pit bull, and how do you—-?"
"Oh, please! Any idiot can tell that the two of you have the hots for each other. Why you aren't together I don't know. And what's the deal with that girl with him?"
"She's his fiancée and there's nothing between us, so just shut up!"
"Nothing between you? Stop kidding yourself. He looked like he was imagining fifty different ways of killing me slowly with his bare hands," Omar chuckled, highly amused.
"But seriously, there's some deep stuff going on, and you better resolve it before you both make the biggest mistake of your life."
"Shut up Omar, and mind your own beeswax! You show up not even for five hours and Bam! You're my relationship counselor?" She barked.
"Whatever. His sister though is quite the charmer. Her I could be interested in."
"Watch it. Her brother will really kill you then. For how long are you in town?"
"Two more days, and then I have go to Mumbai. Bye Zoey, I'll tell khala that we just didn't click. But dude, don't mess this up. Put him in one of your famous headlocks and don't let him go till he squeaks."
Zoya laughed at that image while she hung up. Imagine her doing that to Jahanpanah! Jahanpanah six packs!
He would kill her.
But may be she just needed to hang on for dear life, and he would eventually hug her tight and dip his head to kiss her senseless. She sighed with longing, and kicked the footstool violently.
Suddenly she heard a muffled crash, and ran out. Everything looked fine in the kitchen and the living room. Instinctively she knew that Mr. Khan had thrown a fit yet again. Grabbing the first aid box, she knocked softly on his door, and opened it before he could respond.
It was déjà vu all over again.
He looked up at her, his eyes pleading. She examined his hands. It was the other one this time.
"Allah miyan! Seriously Mr. Khan, why do you even keep breakable things in your room, if all you do is smash them to pieces in one of your temper tantrums?"
She went to the restroom to wet the cotton ball and applied it to his cut while gently blowing on it. He watched her face as she dressed the cut. Her lips as she blew on his wound, were so kissable. One tug, and he could feast on them and never let her go. His other hand almost moved to tuck her hair behind her ear. Fisting it, he moved it behind his back.
He cleared his throat. "Thank you Ms. Farooqui, you shouldn't have bothered. It's just a minor cut," he whispered harshly. "Please, just go back to your room."
"You're welcome Mr. Khan. Always such a gentleman," she scoffed, and turned to go, but was grabbed roughly from behind. He turned her to face him.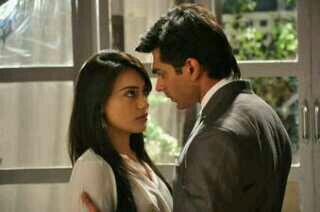 "Yes, I am a gentleman! If I hadn't been, I would have punched someone tonight." He shut his eyes in embarrassment. God, how dumb did that sound?
Her eyes went wide as she stared at him. So Omar was right.
She felt a bubble of hope bloom in her chest. She brutally squashed it.
"Oh really?" She decided to goad him. "Jealous Mr Khan?"
"Ms. Farooqui, don't be ridiculous, please go to bed," he ground out, pressing his uninjured hand to his forehead.
"Why don't you just admit it Mr. Khan?" She whispered, her voice dangerously close to breaking. "You want me, but think that I'm not good enough for you. Do you like me against your better judgement? If you think I am so irresponsible and insensitive then why do you even care?"
He turned away from her, his shoulders heaving.
"Allah Miyan what's wrong with you Ms. Farooqui," she continued, her voice thick with tears, "of course Mr. Khan doesn't care for you!"
Tears spilled from her eyes. "I'm good enough to punch someone for, but not to spend the rest of your life with, isn't that right? I'm a misfit and not worthy to be your wife, or Phuphi's bahu or the mother of your kids!" She hurled the first aid box at his back and ran out sobbing.
"Zoya! Please don't—-" He called out in a strangled voice to her retreating back. Hating himself, he slammed his bandaged hand on the console.
Song in Title:
I Hate Love Storys (2010): "Bin Tere"
___________________________________________________________________________________
Tumko Jo Pyaar Kiya, Maine To Sazaa Main Paayi, Tanhaai
Chapter 18
Tanu was not a happy camper. She was bristling at Khala's suspicions and recent blocking of her maneuvers. She hadn't taken her tenacity and hyper motherly instincts into account.
Then there was Asad's rude and aloof behavior during the entire trip. She had hoped that a guilt-ridden Jammy would be more attentive to her. But he just seemed resentful, and was behaving like a sulky child whose favorite toy had been taken away.
And now? That coffee date yesterday had been a total disaster.
Here she had thought that Zoya would finally be out of her hair, but then Jammy had to go and act like a pissed off gorilla in heat. Each smile and laugh of Zoya's had made him clench and unclench his fists. He had nearly bitten off the waiter's head and almost crushed the wine glass in his bare hands. He sat, arms crossed stiffly across his chest, scowling at the other two, and didn't even say a word to her. Not a single word or glance!
She would have to make alternate plans. And soon.
Tanu decided to play her cards first, by announcing the next morning that she would like to better get to know Jammy's other siblings. Could they all go for dinner so that she could also meet her two other future sisters-in-law? She hoped that by involving more of the family, Asad would lower his guard, and it would become harder for Khala to break off the engagement. The added bonus would be that Tanu would get a break from Khala's current hawk-like scrutiny. She was being a bit too observant for her own good.
Before Dilshad or Asad could shoot this idea down, Najma squealed with delight about how much fun it would be for all the siblings to get together.
She looked approvingly at Tanu, "such a great idea! Why didn't I think of it?" She gushed.
"This way even Zoya can meet Nikhat and Nuzzhat and we can all get to know one another better. It was such fun with Ayaan bhaijaan during the trip, right Zoya? Please can we go to the new Thai restaurant, please, please Bhaijaan?"
Asad nodded. A part of him felt elated at Najma's warmth and affection for Zoya. He noticed that Najma was happier at the prospect of Zoya meeting their sisters, instead of Tanu.
"It would be a good idea, but I don't know if their parents will let them meet us," he said stiffly.
Although he had taken a step toward reconciling with his father, he still hesitated to go the complete distance. But this was all the encouragement that Najma needed.
She reassured him, "don't worry bhaijaan. I'll talk to Ayaan bhaijaan and we'll come up with something."
Asad shrugged and got ready to go to work, avoiding looking at Zoya. "Let me know, then I can make reservations."
He too wished that he were introducing Zoya formally to his sisters, not Tanveer. He desperately wanted Ammi's suspicions to be right. But so far, they hadn't been able to do much. They hadn't yet heard from the investigator. His life was hanging in the balance. And he was running out of time. Her Aapi's rush to get Zoya married had shaken him to the core. Knowing Zoya, she would run away at the slightest whiff of an arranged nikaah. But even more than that, he could no longer bear to look at her red-rimmed eyes or her desperately knotted hands. The kohl in her eyes had begun to get darker and thicker. She wasn't fooling him. He knew that she was overdoing the make-up to hide the ravages of daily tears and smudges under her eyes. But it was the bruises he had begun to notice on her knuckles that completely undid him. When he'd first seen the small crescent welts on her hands he'd been puzzled. But then he'd seen her digging her nails in and realized what they meant. This morning those bruises seemed to be covered by bite marks, and he had nearly grabbed her hands in anguish; he longed to hold her to him.
Please don't hurt yourself. I'm not worth it. But he also knew that she wasn't the kind to suffer in quiet. She was fiercely independent, a wave upon the sand that ceaselessly ebbed out of reach. A blink, and she'd be gone.
Asad brooded as he slipped into his suit jacket.
"And Ammi," Najma continued. "When are you going to start making arrangements for the sagaai?"
She didn't notice the sudden drop in the temperature in the room. Tanu could have hugged the little brat.
Zoya didn't want to raise her eyes for fear that she would fall apart. She focused on holding her knife and fork over the plate as straight as possible as she blinked to stop the tears. Do NOT make a fool of yourself, she scolded herself.
As soon as the words exited Tamatar's mouth Asad had glanced up at Zoya and seen her eyelids redden and lips turn white.
"Tamatar, why don't you call Ayaan right now. It'll be hard to get a hold of him later."
Before dashing off to contact Ayaan, Najma called out over her shoulder, "Zoya, may be you can invite Omar?"
She didn't see the scowl settle on Asad's face.
Great! Just bloody great.
"Okay. I'm meeting him for lunch at that new mall. I'll ask him if he can join us," said Zoya, her gaze still lowered.
She didn't miss Mr. Khan slamming the door a bit more violently than usual on his way out.
Good, she thought. Serves you right.
But then she looked up and saw Tanu. She dug the fork end into her thumb.
At Tanu's suggestion of a family get-together, Zoya had felt a tremor of hope shudder through her. At least she could lose her despair in a big group and she'd get more time with Omar before he left for Mumbai. And then Raabert would be there too. It would be fun to meet Mr. Khan's other sisters too. She had always wondered what it would be like to have so many siblings. It must be such fun she mused: secrets and clothes to share, fights and alliances, and lots of talking and giggling late into the night.
Thinking of sleepovers and late nights, her mind automatically swerved to that fateful sleepover the first night in this house, when she had inadvertently mistaken his room and bed as hers. She had been fast asleep and then found herself flying through the air and landing hard on the floor thanks to his freakishly quick reflexes.
She had been sore for days afterwards.
And Mr. Khan hadn't stopped pulling the rug from under her since then, she thought with a pang.
How many times had she imagined that scene being a lot different? He would have pinned her on her back with his rock hard body. Her eyes would have snapped open in alarm, and then drooped with desire as they continued to gaze into each other's eyes. He would have slowly and deliberately laced his fingers through hers over her head and kissed her neck, his lips slowly moving up her chin to her lips.
He would have kneed her legs apart and settled between her thighs still kissing her senseless. The sounds of their sighs and moans would have filled the room as their bodies moved against each other more urgently.
She nearly moaned out aloud.
Even dreaming of it right now in the middle of the living room, made her insides clench and tighten, and desire nip her in the gut.
"Stop it," she scolded herself, "he can go to hell for all I care," and she fled to the privacy of her room.
But in her heart she knew that her cursing him out was just a pathetic ruse to block out the real pain: Tanveer would be a member of the family that Zoya had wanted to be a part of so badly. So many sisters, a brother, an Ammi like Dilshad, and an Abbu like Dost. All her life she had yearned for this. And the love of a man like Mr. Khan.
It was time to lock herself in the bathroom and stuff her knuckles in her mouth again.
Song in Title:
Dil Chahta Hai (2001): "Tanhayee"
Aug 16, 2013
PART SEVEN: Saazish Mein Shaamil Sara Jahaan Hai (By Dixiej) (Thanked: 285 times)
Nange Pairon Pe Angaro Chalti Rahi, Haaye Chalti Rahi
Chapter 19
Ayaan had loved the idea just as much as Najma.
By noon he had concocted a foolproof plan to get clearance from the elders in the family.
He first told dadi about bhaijaan's upcoming engagement and convinced her to help him with his plans. While saddened by not being able to share in her first grandchild's big moment and joy, she was pleased that at least the children kept in touch, and were eager to get together and share in each other's joys.
The older generation could learn a thing or two from them.
She was already planning which earrings of hers she would give as a saugat to her oldest grand daughter-in-law.
Dadi talked to Shireen. "Now that Nikhat and Imran are engaged, it would be a good idea for Imran to get to know his sister- and brother-in-law better. Why not send the children out for dinner so that they can all get to know one another."
Shireen though it was a great idea.
Dadi delegated her to approach Siddiqui saheb with this suggestion.
After much fuss and coaxing from Razia, who never passed up an opportunity to push Humaira and Ayaan together, it was decided that Ayaan and Imran would take the three girls out for dinner and that they would all return home by 10 O'clock sharp. Details of the venue were demanded with repeated reprimands for the children to carry their phones and leave the restaurant's number at home. Ayaan mentally rolled his eyes but he was thrilled that he would get to spend more time with bhai and Najma and especially Mona darling. His sisters and Humaira were already jealous of his Ajmer-Jaipur-Agra trip and had noticed a new spring in his step lately. He strummed his guitar more, and was trying to learn some old songs.
Imran was told the real reason for the outing, and was asked to cross his heart and swear that he would never let anyone know about who they were really meeting at the restaurant. Ayaan had decided that if anyone did find out about this clandestine meeting, he would pass it off as them just happening to run into his brother and family.
He rubbed his hands in glee. He was awesome. Ayaan raised his collar and brushed the tip of his nose with a definite flair and flourish.
He called Asad at work to give him the all-clear.
"Ho gaya! But we have to be back home by 10. Can you believe that? I'll be able to squeeze another half hour or so," he promised smugly.
"But bhai, what a genius idea! Zaroor Mona darling ka hi hoga haina? Just like the road trip was her idea too. Bahut maza aya tha. We should definitely do something like this again. By the way, Dadi wants us to bring a gift from her to your fiancée, so remind me when we get there. I might forget." He returned with full gusto to the previous subject.
"Kya Bhaijaan, kahan chhupa ke rakha tha aapne Mona ko? For so long I had been asking you to introduce me to your guest. And you kept putting me off by calling her your musibat and what not."
He nattered on, not paying any attention to the bristling silence at the other end.
"If I had met her even sooner—-"
"Ayaan!" Hollered a seething Asad.
"Bakwas ki baatein mat karo! I have a lot of work to do before we meet. As it is, because of our dinner plans I'll have to leave work early. I'm hanging up now."
"Par bhai—-"
Asad pressed the heels of his hands to his eyes and sighed hopelessly. It hadn't escaped his notice how both Najma and Ayaan loved Zoya. His stupid misconception that she wouldn't be suitable for his family had become a recurring taunt that played in his head on an endless loop.
To endure another get-together from hell.
More torture to see her laugh and chat with someone who was just as fun-loving as herself. Najma's words about how she and Ayaan would make a perfect couple were still giving him ulcers. Could Ayaan really be romantically interested in Zoya? Why was she even in love with Akdu Ahmed Khan who had only grief to offer?
But Ayaan? How could he want to punch his own brother?
Incredibly foolish!
He called Prasad and gruffly told him to expedite the investigation. "I don't care how much extra he charges. Send someone to Kanpur. Just do it, dammit! I want results."
He called Dilshad next. "Ammi, we are meeting everybody for dinner tonight. Humein ghar aate aaate 10:30 ya 10:45 ho jayega. Can you do something while we are gone?"
"Haan Asad, bolo."
"Ammi, I know this is going to sound terrible, but while we are gone, can you check through Tanu's things carefully for any clue that we may be able to use to discredit her claims?"
"Accha hua tumne keh diya. I was thinking of doing the same."
"Take pictures of anything suspicious Ammi. And call Prasad if you need anything. I want to end this soon."
Asad had made the reservations for 7 o'clock so that they would have enough time to talk and enjoy a leisurely meal. Ammi would have enough time to do a thorough look around.
He sighed heavily. The same thoughts circled like buzzards in his head. Omi, the bloody Zamboni would be there. Check.
Sit through the Mona Darling and Raabert banter. Check.
And to add insult to injury, Tanu would be introduced as his fiancée, and Zoya as their guest, while he stewed in jealous and silent misery. Check.
Damn!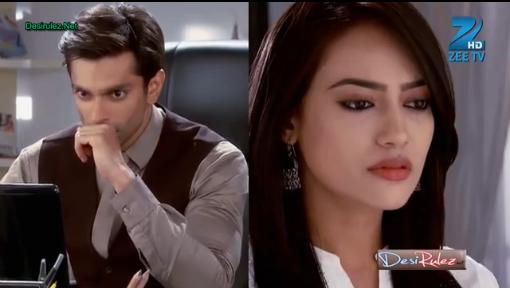 Not that he would ever know, but for Zoya this would be much harder. He could enjoy the luxury of scowling and brooding in silence, and no one would think twice about his behavior. But Zoya was known by Omar, Najma and Raabert to be the life of the party. Her silence would be a dead giveaway.
After her crying jag, she decided to do some yoga and a lot of deep-breathing meditation to calm and center herself.
She would need all her strength reserves today, and if it didn't kill her, she'd be even stronger tomorrow—gee thanks, Nietzsche miyan.
Song in Title:
Aaja Nachle (2007): "O Re Piya"
___________________________________________________________________________________
Ek Din Kabhi Jo, Khud Ko Taraashe, Meri Nazar Se Tu Zara
Chapter 20
At 6:30, everyone gathered in the living room to leave for the restaurant. Najma was admiring Tanu and complimented her on her exquisitely embroidered anarkali.
"Ooh what a great bag, Tanveer. Is it new?"
Tanu was thrilled with all the attention, and hoped that Asad would notice too. She was perfumed and coiffed to the nines. Good, that Ms. New York was in her usual jeans.
No competition tonight.
When Asad came out of his room, Najma eagerly pointed out how nice Tanveer looked. He complimented her politely and greeted Omar stiffly.
How or when it was decided that Zoya would ride with Omar on his bike, and Najma and Tanveer would come with Asad he never knew.
Zombie had a bike? Where—-! What the hell?
He was shell-shocked at the speed with which Najma had taken over the planning of the whole evening.
Dilshad hid her smile. Love and heartache had made him putty in his baby sister's hands. Najma yammered on about how much fun it would be and how lucky Zoya was. How she wished she could go on a bike ride too.
Could she may be, get a ride on the way back?
Tanu spoke up on a still-dazed Asad's behalf, and firmly told Najma, no.
Najma pouted, but was soon diverted by Omar asking her about her plans for the summer. He promised her a bike ride around the neighborhood later, if her mother and brother permitted. Tanu sought Asad's approval in handling Najma, but he was preoccupied.
As usual.
But thank god! At least she wouldn't have to sit through any more of his rear-view mirror gazing.
Asad meanwhile turned to glower at Zoya, and his breath caught. She wore her signature jeans which she had topped with an elegant white kurti with zari work on the collar and cuffs. He had thought that she looked good in red and pink. She was ethereal tonight in white, and minimal make-up and accessories.
Her bitter words and sobs from last night still slashed his soul.
He hadn't slept a wink.
He had yearned to go to her room and gather her in his arms to tell her that she was the most perfect and precious thing in this whole world, and that he was unworthy of her.
Zoya too stole a glance at Jahanpanah under her lashes. Her heart stopped seeing him in a grey suit with a white shirt and no tie. While he looked good in anything, even a towel (she mentally slapped herself), seeing him in a suit always made her knees go weak and heart race. He looked good enough to eat.
She shook her head and finger-combed her hair to hide her blush. God, she better stop fantasizing about him. One of her worst fears was that one night she'd cry out his name in her sleep, and everyone would hear her.
"Zoya, I love your heels!" Exclaimed Najma suddenly, just as they were leaving. Everyone's eyes traveled to her feet. Impishly, Zoya stuck out her foot and lifted the pant leg, exposing a slender ankle wrapped in the thinnest silver anklet. She wore strappy silver slingbacks studded with crystals that perfectly set off her toenails, which were painted hot pink.
Asad couldn't take his eyes off those toes. They looked adorable enough to suck. If he ever did manage to get her in his bed, he would beg her to only wear those heels. He would hold her by her ankles, bite and lick them while gazing intently into her eyes, and pound into her till kingdom come.
Swearing under his breath he stalked off to his room, trying, but failing miserably, to control his breathing. He took deep breaths thinking that he'd explain his abrupt departure by saying that he'd forgotten his keys. When he stepped out, the living room was empty.
Good. Bullet dodged.
Striding toward the main door he heard a door open and shut. He turned to see Zoya rushing out at full speed. She was carelessly stuffing her phone in her bag, and as usual wasn't looking where she was going.
He grabbed her wrist to break her momentum and she crashed into his chest.
"Ms. Farooqui—-!"
She struggled to break his hold on her wrist.
Something snapped in him. He couldn't let go.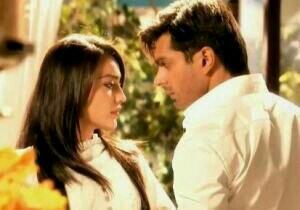 "Mr. Khan," she ground out through gritted teeth. "Please let me go."
"So that you can go ride with your precious Omi the Bimboni?" He sneered, not realizing that he was slowly stroking the inside of her wrist with his thumb.
Oh god, did he even know what he was doing to her?
"It's Omar, and aapko iss se kya?" She lashed out at him trying to free her hand. His grip tightened.
Damn, he smelled good.
C'mon Zoya Farooqui, get angry or you'll melt into a messy puddle right here.
"Aap aakhir chahte kya hain? Why are you doing this? Sagaai ki taiyyari kissi aur se, aur haq mujhh par jatane ki koshish kar rahe hain aap? Kyun?" She taunted, her voice rising.
She continued to struggle and he continued to thwart her attempts at digging her nails into his fingers to make him release her.
Her fury could not be dammed any more. It was real now. She wanted to stomp all over him.
"What is this, Mr. Khan?" She moved her face closer to his. His eyes widened and he held his breath. "Some kind of an admission that you have a thing for me? Will you kiss me now?"
His body leaped in response and desire made him taut.
"You think you can officially get married to Tanveer, and keep me on the side for booty calls? Will you become your father's son after all?"
"ZOYAAA!" He thundered and flung her wrist away nearly making her spin and lose her balance.
"Chillayiye mat mujhh par! I am badtameez in your eyes, so different from you and your tehzeeb or lihaz right? That is why you say hurtful things, but then you give me these mixed messages. Make up your damn mind!" She dashed the gathering moisture from her eyes.
He almost smiled. He loved the sight of her spitting nails and breathing fire! She didn't even realize how s*exy she looked. And now that she'd mentioned it, he just wanted to grab and shut her up by covering those lips with his. His eyes fixed on her lips and his head bent an inch as if drawn by a magnet. One touch, a bite, and he'd thrust his tongue in when she parted her lips and have her brand him forever.
His half-grin infuriated her even more.
Oh really Jahanpanah? This is funny to you?
"Why does my friendship with Omar bother you, Mr. Khan? Doesn't it prove your view of me as a jeans-wearing sl*ut?"
"No! Zoya, please don't—-!" His s*exual haze dissolved to be replaced with anguish; he tried to hold her by her forearms to stall her self-flagellation. He didn't mind the sting of her words against him, but he hated that she was cutting herself to the quick.
Her eyes blazed. She violently jerked his hands off and held up a hand to shut him up.
"Meri baat abhi khatm nahin hui hai!"
She was beginning to run out of steam, and given another second, she would start weeping.
But she had to have the final word.
"You know aapki problem kya hai? You don't think that what we could have had is worth fighting for. You don't have the guts to fight for a love that Allah gives only once in a lifetime. You use your seventeenth-century Jahanpanah-mode ideas as an excuse to hide behind, because you are scared of being happy; because you feel that you deserve to be miserable."
"Ms. Farooqui," he growled softly. He crossed his arms across his chest and looked at her patiently. "Are you done?"
"Don't! Just bloody don't! I'm a strong girl and will get over even this, because you," and she stabbed his chest over his folded arms with her finger repeatedly, "are not worth it!"
She ran out of the front door.
Oh lord help him, she was gorgeous!
Only she could speak to him like that and diagnose everything that was wrong with him in a second.
"Tabhi aap itne badtameez hain!" In a flash he remembered their first meeting and the first of many fights.
"Disappointed?"
"Sorry?"
"Aapne poori koshish ki mujhe marne ki, lekin main tab bhi bach gayee."
He smiled wryly.
Oh no, Ms. Zoya Farooqui. Ab aap mujhse nahin bachengi. You can't wear your f*uck me heels and walk away from me this time. I won't let you!
Song in Title:
Ye Jawaani Hai Diwani (2013): "Subhanallah"
___________________________________________________________________________
Ab Jo Ghalat Tha, Wo Bhi Sahi Hai, Behosh Bhi Hoon, Pee Bhi Nahin Hai
Chapter 21
At the restaurant everyone was introduced to one another.
Ayaan hugged Najma and then bent to give Zoya a quick side hug, while loudly greeting her: "Mona Darling! I missed you!"
She laughed up at him, and tried to disengage herself by playfully elbowing him.
"Hi Raabert! I didn't miss you at all!"
Nuzzhat and Nikhat couldn't believe their eyes. Who was this girl in western clothing that Asad bhaijaan had brought, and who Ayaan bhaijaan was so friendly with?
They sneaked a peek at Asad and saw him frowning. They sensed some undercurrents there, but dismissed it thinking that Bhaijaan didn't approve of girls wearing jeans.
But who was she?
Little did they know why their bhaijaan was looking so grim. On reaching the hotel entrance he had seen them come in on that wretched bike.
He felt punched in the gut.
Zoya was in the front actually riding the bike! Omar had his arms around her, his hands on the handle bar too. Their bodies touched shoulder to thigh. They both laughed as she shook off the helmet. In blind fury, Asad had marched up to rage and rail at them, just barely having recovered from the near-heart attack.
"Ms. Farooqui! How can you be so reckless?"
He savagely turned on Omar, "How could you let her ride? What if she'd had an accident?"
Omar had held up his hands defensively, "hey buddy, you try saying no to her!"
At that, Asad had looked guiltily at Zoya's crestfallen face.
He knew exactly what she was thinking.
"He already did."
When he looked back at her a few minutes later, he saw her head bent, hair curtaining her face, and shoulders stooped. Omar had his arm protectively around her and was leaning toward her as if trying to comfort her. She had been momentarily happy, and he had stomped all over that too like a rampaging elephant in musth! He should be hanging his head in shame, he chided himself. C'mon Zoya, stay mad at me, he silently urged her. Please!
Meanwhile, Humaira's heart sank as she laid eyes on the kind of girl she knew Ayaan always liked. She noticed with dismay how his gaze lingered on her, and how he eagerly jumped to sit next to her at the table.
In all of this, no one noticed the pall that had fallen on Tanu's face at the sight of Imran. He too had paled when being introduced to Asad's future fiancée.
Soon everyone was seated at the large round table set away from the main dining room providing more privacy for bigger parties. Nuzzhat wanted to know everything about America, and both Zoya and Omar filled her in. Whenever Zoya flagged, Omar picked up the conversation thread. They painted such a fun picture, that she wanted to go right away. Ayaan self-importantly promised her that he would take her there one day.
Omar was pissed at Asad and glared at him for the stunt he had just pulled in the parking lot. Zo had only just begun to smile after leaving home. He knew something had happened before they left. He had a good mind to rake him over hot coals for being a complete jerk to Zoya.
But when he looked at Asad again, he noticed pain etched across his face.
He shook his head in disbelief.
What was wrong with these two? What was the hold up?
May be, he needed to push Zo's Mr. Khan over the edge.
May be just a tad.
He looked up and noticed Ayaan looking at him funny.
He chuckled to himself. Whoda thunk it.
Zo sure had made many conquests here.
He covered Zoya's hand with his, and deliberately leaned in intimately. From the corner of his eye he noticed Asad nearly shoot out of his chair.
Good. Eat your heart out buddy.
Nuzzhat just had to know how Ayaan knew Zoya so well, so he and Najma (who, by now, was an expert on the topic as well), regaled everyone with the story of their conspiracy against Bhaijaan. They competed with each other on reporting how Bhaijaan would get so annoyed, and call her a musibat and gairzimmedaar because she would always argue with him and challenge his decisions.
Zoya's heart constricted at those words and broke into a million pieces as she ducked her head and tried to bite her lips to keep them from quivering.
"Mujhe uss din ka intezaar hai ki kab aap meri zindagi se ruksat hongi," he'd said in Mangalpur. He was right. She was a musibat. She wanted to run out and keep running. Only gripping the table's edge and letting its sharp side dig into her palms was keeping her here. Once again she'd made a royal fool of herself in front of him at home. Why couldn't she just shut her stupid mouth? Each time she opened it, she blurted out her heart.
Asad was sitting directly opposite her. His heart slammed against his chest as he felt helpless seeing the spark in her eyes dim.
Again.
For a second, her alarmed gaze had skittered to him, and her widening eyes had pooled with anguish. She was biting her lips now. They'd be swollen soon. He groaned. He wanted to rub his thumb over them and cradle her head in his arms. He saw Omar's hand tighten on hers and Zoya turned to him gratefully. He couldn't take his eyes off their clasped hands. It burned a hole in his hollow chest. He should be holding her hand! He would lift it to his lips and kiss it. He's go down on his knees and slip a ring on her finger promising to do right by her forever. Asad squeezed his eyes shut and sighed. He could only flex his arm and clench his fist in frustration. She shouldn't have to sit through a recounting of how, for months, he had viewed her so negatively and been so vocally critical of her. It was wrong. If she only knew what he thought and felt about her now.
But how could she? The only side of his he had ever shown her was that of a prickly and judgmental ass.
He quickly distracted Ayaan by mentioning Mukka Ahmed Khan, and whether he wanted an action replay of the Operation Pyaasi Atma climax.
Everyone laughed.
Ayaan held his ears.
Omar wanted to know what Pyaasi Atma was all about so Najma filled him in shyly.
He looked at Zoya in amazement, and wrapped his arm around her shoulder.
"Seriously? The more things change the more they remain the same, right Zo?" She laughed up at him.
Thank god, Omar was here.
With his other hand he covered hers and squeezed it comfortingly. He let his hand linger on hers.
Across the table, a water goblet tipped over.
The drinks and appetizers soon arrived, and the dinner order was being placed. Zoya overheard Asad's order and panicked.
He probably had no idea about Thai food.
She cleared her throat and looked at the server. "Doesn't that have peanuts?" Asad caught on, and quickly told the server about his allergy. The waiter assured him that he would tell the chef and that they would take the utmost care with his order.
Asad stewed. He was such a fool. How could he have forgotten something so important? She had remembered even though he had bitten her head off and made her cry the last time when he thought she had deliberately fed him peanuts to keep him from testifying against his father.
What was she made of? He had just yelled at her. And here she was already looking out for him. How was he ever going to be able to make up for everything he had done to hurt her?
Tanu felt like choking Zoya. Why couldn't she have thought of that? She felt like kicking herself. One more reason for him to behave like a lovesick puppy now, she fumed.
She needed to salvage the situation quickly.
Placing her hand possessively on his arm, she exclaimed, "thank goodness for Zoya! Jammy, you have to be more careful about your health. Zoya won't always be here to remind you each time. She'll be leaving pretty soon. Though she must have remembered how it was her food that led to your last allergy attack. That was the most severe attack you've had, right?"
He hated Tanu right then, and moved his arm out of her grasping claws.
He looked at Zoya and saw her hide behind the leather-bound menu card.
He felt anger bubble up inside him.
"No, it wasn't Ms. Farooqui's fault then, because she didn't know about my allergies. In fact, her quick thinking saved my life that day. And apparently today too. I should have remembered, it was really careless of me."
Omar raised his eyebrows and silently approved.
Now that's what I'm talking about, Mr. Khan!
Tanu fumed. This was not going well at all. First, to have to sit at the same table as Imran, and now Jammy becoming Zoya's gushing cheerleader.
Still, all was not lost.
She began to imperially question Nikhat and Nuzzhat about what they were doing in college.
Nikhat replied in hushed tones.
The men talked stiltedly about sports and politics.
Zoya couldn't believe her ears. Jahanpanah had actually stood up for her in front of everyone! She wanted to do her happy dance. She looked up to see him watching her anxiously, and beamed her full dimpled smile at him.
His ears reddened.
Looking away, she noticed that Humaira seemed lost and heartsick. She asked Ayaan to switch places with her so that she could be next to Humaira.
After settling down, she asked her how she'd done in the fashion show.
"How do you know?" asked Humaira in bewilderment.
"I was there. Don't you remember how nervous you were?"
"You were the one in the burqa who gave me the confidence to go up on stage!" exclaimed an excited and grateful Humaira.
Zoya blushed. "I didn't do anything. It was all you. You looked beautiful by the way. And the idiot who didn't see that isn't worthy of you," she said making a face at Ayaan who was talking to Omar.
Omar saw her looking his way and winked at her impishly. She narrowed her eyes at him playfully. She looked across at Mr. Khan and saw that he was openly staring at her. Not with anger or guilt or even jealousy, but something else entirely in his eyes.
She dragged her eyes away.
Humaira went on sadly, "I don't know what I was thinking. That's not me at all. I prefer to dress more simply. But Ayaan seems to like girls who dress smartly like you."
Zoya sensed a kindred spirit and her heart went out to this young girl smarting from being neglected by the one she obviously loved. Here was someone feeling exactly the same as her: inadequate and lacking, and unable to be the kind of girl that the men they had fallen in love with, liked.
Damn those Khan brothers!
She held Humaira's hand under the table and when she looked up, she said softly, "isn't it funny? The person I ... I like, doesn't really like that I dress this way. Nor does he approve of what I do or think, for that matter. But I've only just begun to stop feeling sorry for myself."
She squeezed Humaira's hand, "and you know what helps? Getting mad!"
They both smiled at one another with watery eyes. Zoya picked up her Diet Coke and saluted her sister in arms with it.
Humaira laughed and picked up her Orange juice and did the same.
They clinked their glasses and took a sip to toast their strength.
Zoya began to ask her about her classes. Nuzzhat joined in too, and somehow she and Humaira were talking of the episode in college when Zoya had entangled with some eve teasers who were bothering Najma.
They didn't realize that the conversation around them had come to a stand still.
Humaira was on a roll and spoke with admiration, "but you were so brave that day! We heard how you saved Najma from those goons and how the principal mistakenly had you arrested. In fact we organized a rally the next day to protest against it and demand those boys' suspension."
She didn't realize that everyone was staring at them.
"That was you?" exclaimed Ayaan gleefully. "Mona Darling that was so awesome! You are such a Jhansi ki Rani."
"Jail!" croaked Omar in splits. "Too much! Apun ki Buffy the Vampire Slayer! How many did you send to the hospital?"
He dodged the napkin she lobbed at him, nearly wheezing with laughter now. "But that was badass! You're awesome, you know that? I love you!"
There, that should light a fire under the jackass' butt.
Zoya guiltily looked up at Mr. Khan. What the hell was Omar up to? And oh my god, Mr. Khan would go apesh*it over this jail story!
She and Najma had decided not to tell him of Najma's involvement in that incident when he had bailed her out of jail with barely repressed anger. She saw him grip the knife on the table and noticed that his knuckes were white. Her heart plummeted. Was he thinking the same things he'd said to her that day? Because if he said another angry word to her she would probably burst into a million tears right here and make a complete ass of herself. He stared at the plate in front of him, not meeting her glance or looking at Najma. Both she and Najma were terrified that Asad would explode in anger at hearing this recap.
But he remained silent.
Nuzzhat and Ayaan gushed on about how the whole college had admired the courage of a girl who had dared to stop those hooligans, when they were the ones who should have been jailed.
Everyone wanted to know what had happened afterwards.
Zoya and Najma looked at each other in alarm remembering Mr. Khan's volatile temper and harsh words.
Najma tried to make light of the whole thing by comically telling them that Bhaijaan was really mad and how she and Ammi were terrified, she rolled her eyes and clutched her heart dramatically, but how even then, Zoya wouldn't back down as she had demanded that he apologize to her for being rude.
Everyone raised their eyebrows admiringly at Zoya's spunk. One did not go up against Asad Ahmed Khan and live to tell about it.
Omar did an exaggerated slow clap, "good girl!" He even got up and stood behind her chair to hug her tightly. He looked at Asad, issuing him a direct challenge by kissing the top of her head.
If this doesn't do it, then that tight-assed moron doesn't deserve her.
Najma went on to tell them, rubbing her hands with glee, how Zoya got her revenge. When Bhaijaan refused to apologize, Zoya tampered with his phone and added a voice password so that each time he took a call, he had to say, "I am sorry Zoya," to unlock his phone.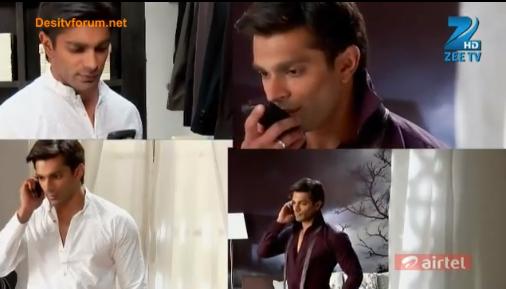 Everyone roared with laughter.
Omar slapped his palm on the table with glee. "That's my girl!"
Zoya breathed a sigh a of relief and smiled slightly, even laughing when Ayaan turned toward her and bowed waving both his hands in front of him in her honor.
Asad felt his world tilt. She had not just saved Najma from gundas that day, but also silently borne his apoplectic lashing out against her without uttering a single word to implicate his sister?
It was something he would have done for Ayaan or his sisters.
He stole a look at her and nearly wept to see her laughing with Omar, Ayaan and Humaira. That was the day that he had nearly blurted out, "main aap jaisi ladki se nafrat karta hoon."
He had been so furious at her, that he had yelled at her about her being a negative influence on Najma. He had raged against her lack of a decent upbringing and how her parents must have been too busy to teach her any manners or, raise her right.
He deserved to say "I'm sorry Zoya," a million times, to her face, for the rest of his life.
Asad noticed that she had left the table to go to the restroom. Excusing himself to make an urgent phone call, he decided to follow her. He didn't care how it looked, or whether anyone would wonder at their absence.
He had to talk to her.
He would break Omi's bony touchy-feely ass later.
Asad missed Omar's smirk behind his back.
Atta boy!
Song in Title:
Son of Sardar (2012): "Yeh Jo Halki Halki Khumariyaan"
____________________________________________
Song in Main Title:
Aaja Nachle (2007) "O Re Piya"
Aug 17, 2013
PART EIGHT: Chalna Aahiste Ishq Naya Hai (By Dixiej) (Thanked: 293 times)
Chapter 22
The sense of urgency to talk to her, to plead with her, was overpowering. For days now, he had sweated bullets, worried that he'd wake up one day and find her gone. He slept too lightly, starting at the merest sound. Was that her, sneaking away from him forever? He kept a fearful watch, a daily vigil, because her independence scared him. If he didn't talk to her now, he'd lose her forever. If she still stayed on, it was only because she hadn't yet found a way to leave … him.
But she would leave.
Of that he was dead sure.
Even now, a part of him agonized that she had already left. Thanks to him, the multiple blows of this evening had to have had reached a tipping point for her. He swore under his breath and his hands fisted.
Asad saw her in the corridor. Thank god! He grabbed her hand and pulled her into a semi-darkened room that seemed to be stocked with restaurant supplies. She was about to scream, but went still when she saw that it was him. Her eyes went wide with anxiety and worry as he backed her against the wall and covered her mouth. Asad quickly removed his hand but still held her.
"Miss Farooqui, I am really sorry for behaving so rudely that day." He whispered through a choked throat.
"I had no idea that you were protecting Najma. I can never thank you enough for being so brave. I was a total jerk for saying those awful things to you."
Her eyes began to fill up. She raised her hand to cover her trembling mouth as her body was racked with sobs.
He couldn't bear to see her cry so brokenly. He gathered her in his arms and held her as she cried. She struggled weakly to free herself but he wouldn't let go. Resting his chin on her head he kept murmuring into her hair, "I'm sorry Zoya, I am so sorry baby. Please forgive me for every cruel word and act."
And she cried even harder.
Someone tried to open the door from outside, but Asad blocked it with his shoulder still holding her tightly and stroking her back while raining soft kisses on her head. It killed him to hold her shuddering body in his arms knowing that he was responsible for this.
When she was done sobbing, he pulled out his handkerchief and handed it to her while he wiped her tears with his thumbs, and gently brushed her hair from her forehead.
Her tears still wouldn't stop. Zoya continued to hold a knuckle to her mouth to control the tapering sobs.
So that's how she got those bite marks! He involuntarily yanked her hand from her mouth and kissed each bruised knuckle softly. He swooped to suck her tears and kissed her face still whispering I'm sorry, his own eyes damp.
How and when her arms crept up his neck she didn't know or care. She sought the warmth and comfort of his strong embrace and clung desperately to him. As she hugged him he bent to kiss her gently on her mouth.
But once their lips met there was nothing gentle about the all-consuming kiss that jolted both of them to the core and made them fuse their bodies even closer. Her fingers tugged his hair painfully as she stood on her toes to be devoured by him.
She wanted to punish him and surrender herself.
His arms and lips crushed her to him.
As she gasped for air he slid his tongue into her mouth to stroke hers and she moaned in the back of her throat. They came up for air and Asad nuzzled her neck. Her pulse was racing a mile a minute. And his hot breath on her neck made her knees turn to water.
"Mr. Khan—-?" Zoya whispered, shrinking away.
I don't want your pity … or charity. Please!
"Shh," he hushed her, capturing her lips with his again, this time sucking on her lower lip erotically and molding her hips to his. He deepened the kiss and held her face with both his hands. He would break contact and then swoop in again at another angle before she could even regain her breath.
Molten heat pooled between her legs as she instantly throbbed and swelled in response. She ground against his hardness unconsciously. She dug her nails in, raking his nape before biting his lip, and heard him suck in his breath.
Asad broke away and trailed kisses to her ear.
"Don't. Please don't." She wept, horrified at what had just happened. Zoya pushed herself away from him and pressed her fingers to her swollen lips, nearly doubling over with the pain.
"I'll go away. You'll never ha—-!"
"No!" He roared.
He closed the distance she'd forced between them and held her urgently by her forearms, "Don't ever leave me! I—- I love you Zoya."
Her heart hammered. What? Did he even know what he was saying?
He held her face gently with both his hands and gazed into her eyes, his own moist. "I wanted to come tell you that night itself but ... but, something happened. I've been such a fool. You were right. I'm not worthy of you," he said ruefully.
He continued stroking her cheeks and lips with his thumbs, unable to keep his hands off her face. When not touching her face, his hand would re-tuck her hair behind her ear.
"Oh God! It killed me to see you in so much pain! I deserve to be flogged for everything I've said and done. Forgive me Zoya!"
Zoya's hand came up to cover his mouth. He hugged her tight, almost lifting her off her feet. When he set her down again, she smiled through her tears looking up at him, truly and deeply happy. For so long she had been the outsider looking in; now she was home.
No questions or doubts remained.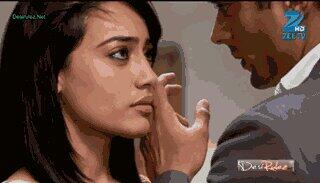 "I promise you, I'll fix this, and no one will ever come between us again," Asad vowed tenderly.
She closed her eyes in prayer and whispered back, "I trust you Mr. Khan. I love you too."
At the simplicity of her confession, he lost all remaining control. Groaning, he folded her in his arms while grinding her into the wall, and kissed her till they were both deliriously breathless.
After many more overdue promises sealed with hundreds of kisses, he rested his forehead against hers reluctantly, "now go back there and I'll join you all in a minute. And remember, I love you."
He watched her rearrange her clothes and hair, smiling as she used his handkerchief to wipe away the tear streaks and errant lipstick stains on her mouth first, and then his.
He touched her swollen lips with his thumb and almost kissed her again. Zoya kissed it though she wanted to bite his thumb and suck on it. She took out a small mirrored case, and handed it to him to hold it up for her while she touched up her eyes and lips. He looked on, smitten and mesmerized as she pressed and rubbed her lips together for even coverage.
"Zoya—-!" he groaned, bewitched and insatiable.
She smiled, mischievously licking some of the lip gloss off her lips.
He let Zoya go ahead of him. But only after punishing her for teasing him so wantonly.
As she left, Asad grabbed her in a quick hug, "I'm really sorry for everything," he whispered. It was hard to see her walk away even when everything was all right between them. More than all right!
She pressed her hand to his lips to stop him for berating himself. He kissed her palm and she blushed as she turned to leave.
He tugged her hand again and twisted it behind her back, "and one more thing. The next time you ride a bike, it'll only be with me. I want you leaning into my back, your arms around me, and your thighs tightly gripping mine."
"Jealous, Mr. Khan?"
"Like hell," he growled in her ear sending shivers down her spine.
"But," she pouted and widened her eyes, "what if I want you holding me from the back with your thighs pressing against mine?"
"Zoya!" he sighed. He knew he was beat.
"Hmm?"
"Okay."
"Okay, what?"
"You can ride it too, but Just. With. Me." He punctuated each word with a kiss.
"Yay!" But he silenced her again.
As she stepped out, she saw Tanveer having a muffled but agitated conversation with Nikhat's fiance, Imran. She had an open file in her hands and was pointing at something. She ducked back into the storeroom and closed the door behind her.
Asad looked up from stuffing his handkerchief in his pocket, and his eyes hooded with desire.
"Mr. Khan," she whispered, tugging his arm. "Tanu seems to be having an argument with Nikhat's fiancé right outside."
"What? Let me check."
He poked his head out and saw the same thing. They both had their heads together as they whispered furiously. It was clear that these two knew one another from before.
He stepped back in.
"Why did they behave like strangers when everyone was first introduced?" Asad wondered aloud, hands on his waist.
"It looks really fishy. And they seem to be disagreeing about something. Neither seems very happy," added Zoya.
Their eyes met and both saw hope and determination reflected in the other's eyes.
He sat her down on a box of linens, knelt in front of her, and told her every miserable detail of what happened that fateful night. He also told her of the doctor confirming her pregnancy and Ammi's suspicions.
Zoya was furious. She jumped up and nearly charged out the door. He had to restrain her by grabbing both her arms. Holding her by her forearms he again rested his forehead against hers as he smiled down at her.
"Shant meri Jhansi ki rani," he spoke through suppressed laughter.
He loved that she felt so protective of him. Where was this girl all his life? And why didn't he grab her the first day he saw her?
"We have to be really careful about what we do next."
"But Mr. Khan, she obviously spiked your drink that night so that she could seduce you. I will kill her!" Zoya squirmed and hissed.
"How could you even believe that anything happened between the two of you? Do you remember that night in the farmhouse? Nothing happened between us even though we were clearly attracted to each other."
Hands on the wall on each side of her face Asad effectively trapped her by slowly moving his lower body against hers and arched an eyebrow, "were attracted? The things I wished I could do to you that night! Do you know how often I've kicked myself for not acting on that attraction? And the times I've dreamt of what I would have done?"
Allah Miyan! Where had this Mr. Khan been hiding?
She blushed, but soldiered on trying not to be distracted by his amorousness, or her own body's heated response to his closeness, "you could never do anything as revolting as she alleges."
He couldn't believe how lucky he was that she loved him.
He grabbed her roughly by her waist, dragged her against his hardness and running his tongue along the curve of her ear, whispered, "not even with you?"
"Mr. Khan! Behave!" But her body's full-blown arousal was betraying her. Oh god she was so ready, it would be so easy to give in. She was a hair's breadth away from grabbing his head and begging him to take her right here, right now. Whimpering, she wrapped one leg around him. This was all the invitation he needed. He cupped her bottom and lifted her up. She crossed her legs behind his back squeezing him to her as she clenched her thighs.
Still pinning her against the wall he played with her hair and trailed his knuckle against her lips. Her lips! So long he had waited to touch them, trace their outline with his fingertips, and then his tongue. He had imagined their plump softness under his as he nipped and teased before sucking on them. He would never get enough of those lips.
She held his tormenting hand before he drove her completely insane and reluctantly climbed down.
"And now she'll try to pass off her pregnancy on you,"
Zoya tried to regain her temper and an upper hand. She stomped her foot but ended up kicking the box which scattered all the tablecloths and napkins.
"How dare she?" She struggled out of his grasp straining to get to the door.
Asad couldn't resist this vision of outspoken passion and flaming attitude. With a soft laugh he tugged her to him and kissed her. He snaked his tongue in and she moaned. Still incensed at Tanu and frustrated with his tackles, she pushed against his shoulders. They both tumbled onto the heap of gleaming white linens as he dissolved the remainder of her feeble resistance with his mouth and tongue. He slowly let his hand roam from her pert bre*asts to her butt, pinching it and then grinding into her to let her know how aroused he was.
"Oh God Zoya! Do you know how hard it's been keeping my hands off you!"
"Allah miyan, what's wrong with you Mr. Khan! Everybody must be wondering where we are." But even she knew that her feeble protests were just a token. She wanted to push his shirt aside and run her hands over his chest and tight stomach.
He raised his head, intoxicated and hungover.
Asad looked down on her flushed face and whispered, "You are so beautiful. And hot as hell. Marry me."
"Oh really? Musibat magnet? Iss misfit se aap nikaah karenge?"
He stroked her dimpled cheek tenderly and looked deep into her eyes, "haan, ab har musibat qubool hai. And you aren't a misfit. I was an idiot. You? You are perfect just the way you are."
"Told you!" She pushed back against his shoulders, straddled him, and poked his chest.
"Zoya Farooqui kucch bhi kar sakti hai. Jahanpanah six packs ka sakt dil bhi mom kar sakti hai!"
He grabbed her stabbing finger and bit on it. She hissed and her thighs clenched around him.
"Ahem," he grinned devilishly as her hands roamed over and explored his chest and abs. He grabbed her hand in one of his and drew her close while molding her butt intimately to make her rub against his erection.
He heard her breath hitch and teased, "dil to mom kar sakti hai, lekin niche, ulta assar?"
"Mr. Khan, you are so bad!"
She leapt up and ran out, cheeks flaming, his soft laughter following her.
Song in Title:
Aaja Nachle (2007) "O Re Piya"
Aug 18, 2013
Bahon Mein Tere Maste Ke Ghere (By Dixiej) (Thanked: 294 times)
Chapter 23
When Tanu saw them return to the table she knew it was all over.
Dang! This was not good.
Zoya blushed when Omar looked at her with a lop-sided grin and a raised eyebrow.
On the way back home, Asad couldn't resist looking at Zoya in the rear view mirror. She caught him looking and smiled shyly but looked out of the window for most of the ride.
At the restaurant, Najma had kept begging Asad to allow her to ride back with Omar since for some reason Zoya wasn't going with him. Asad, gently but firmly, told her that she could come home on Ayaan's bike. It made no sense for Omar to come back to their place. After all there was enough room in the SUV for all of them.
Zoya smiled.
Omar however, was not to be dismissed so easily. He looked directly at Asad and said, "Hey I'll join you all, since the party is moving back home. I'm totally free."
Zoya nearly snorted. Jahanpanah's tehzeeb wouldn't allow him to be rude!
"Zo?" asked Omar indicating his bike.
"Umm, Omar, I'll ride in the car." And she gave him a look. He grinned and shrugged.
"Okay, I'll see you all at the house in a few."
And that is how the cavalcade with a twin motorcycle escort proceeded to the Khan Villa.
In the parking lot, Asad had politely opened the passenger seat door for Tanu, and then the back door for Zoya. As she raised her leg to get inside, he had pinched her butt painfully. She exhaled and nearly giggled out loud. He had thrust something in her hand and then closed the door after her. All the way back home, her fingers had lovingly traced the outline of a velvet box. She didn't want to think of what could be inside.
Instead she wanted to savor everything that had happened in a little room an hour ago. She had closed her eyes and replayed his touch on her body, the feel of his lips against hers and their hot grinding and friction that had set her nerves aflame and brought her close to coming. Head thrown back in surrender she had smelled her own arousal in that tiny space.
She was wet again. For that matter, she had been wet all evening. Oh god, if Tanu weren't in the car she would have been in the passenger seat. She would have boldly placed her hand on his thigh to feel his muscles bunch in anticipation. She would have slowly moved her hand up and tried to unzip him.
He would hold her hand tight to stop her.
She would lean closer to whisper in his ear, "please."
"No!"
"Yes."
"Zoya—-!"
Nipping his ear she'd purr, "Jahanpanah, you are all mine now." Would he groan with desire and press her hand to cup him?
"And this kaneez will have her way with you," she would tease huskily. He would definitely leap against her hand, and she would laugh throatily.
She'd thrust her tongue in his ear and lick and suck his ear lobe. He would have groaned and his grip on her hand would loosen, passion fast overcoming his reserve. She would unsheath him and he would gasp.
"So tell me Mr. Khan," she would have breathed against his mouth, snaking her tongue out to lick the corner of his parted mouth while stroking his length. Slowly rasping a fingernail up and down his pulsating ridge and running her thumb over his wet tip, she would finally push him over the edge, "uhmm, do you want me to swallow?"
"Zoyaaa!" He would growl and hiss through gritted teeth hotly, taut with desire, and she would go down on him.
He better have good control over the car when she did do this for real, she thought through her haze.
She stirred restlessly and looked up to see him staring at her in the rear-view mirror. She blushed. If he just saw what was on her mind he would probably run and hide in his room like all those times before. But no, she had seen a much bolder, mouthier, and handsier side of him in that storeroom.
Oh god, that storeroom. It was her favorite and happiest place in the world right now. She would make him bring her back to this restaurant again and again, and he'd better not waste anytime in mounting her and making her eyes roll back in her head by pounding her brains out in that same storeroom. Her thighs clenched and she throbbed in frustration.
Back home, Ayaan and Omar had stayed back for coffee and the cake that Zoya had baked yesterday. Tanu and Dilshad had gone off to their rooms pleading tiredness. While Ayaan horsed around with Najma and Zoya in the kitchen, Omar cornered Asad.
"So, Mr. Khan, I'm glad to see better sense has prevailed after all?"
Asad tilted his head to the side in confusion.
Omar sighed. What did Zo see in this bugger?
"Looks like you both have scratched whatever itch it was that needed scratching, and finally worked things out. I'm happy for Zo, but it will still take me some time to forgive you being a total jerk to her. Do that again, and you'll have her Jeeju to answer to first. And Aapi and Jeeju have me on speed dial."
Asad smiled and held his hand out. Omar shook it and then handed him the keys to his bike.
"Go on, I know you're dying to. I'll send her out with some excuse. This will give me some time to get to know Najma better," and he looked directly at Asad, daring him to say no.
"You know, Omar, you're not half as bad as I first thought," Asad said good-humoredly, palming the keys.
"And thank you, for everything."
Omar laughed. "Sure, no problem, and I'm extending my stay by the way, so you'll be be seeing a lot more of me."
Asad walked away shaking his head. But Omar wasn't a threat anymore. Though he'd have to watch him around Najma.
Two minutes later Zoya came running out and they zoomed off into the night. Her hands gripped his chest tightly, the side of her face pressed into his back and her thighs cupped his intimately. He took one of her hands and laced his fingers through hers. As they stopped at a red light, he flipped the visor open and pressed her hand to his lips. She slid even closer and he could feel raw heat radiating from her on his butt. His blood rushed and he throbbed in sync with the bike.
As they thundered off again he held her hand over his heart. She couldn't tell whose heart she could hear beating but that, and the bike were making her horny as hell. She wanted to run her hands over those abs and dip even lower. Unconsciously, she started to grind against him. He took one of his hands off the handle bar and stroked the inside of her thigh.
The bike stopped. Zoya raised her head groggily to peer around her. They were back home. She sighed regretfully. She got off and was suddenly lifted to be placed in front of him. He slid back to make room for her and started to slowly and sensuously stroke the tops of her thighs.
"Your turn," he murmured in her ear before putting the helmet on for her and gently buckling it and securing the strap under her chin. He let his fingers feather on her neck.
She twisted around and spoke through the raised visor. "Mr. Khan, I won't be able to do it."
"Why?" his hands were already on her waist, kneading her hips and he was pressing his erection against her butt. She wiggled her butt making him groan.
"That's why. What if we have an accident?"
"No we won't." Wrapping his arms around her waist, he bit down on her shoulder and purred in her ear, "c'mon Ms. Farooqui, take me for a ride."
And this time it was her turn to be in control while losing complete control. He would ocassionally have to steady the handle whenever she swerved too much while in the throes of passion.
It had begun to drizzle softly and a smoky haze rose from the darkened streets.
In a nearly deserted alley, she stopped abruptly and twisted around to face him and sit astride his thighs almost in his lap. She took off the helmet not caring whether it stayed on the handle bar or fell. She hugged him and growled fiercely, "Mr. Khan, you've been driving me crazy all day. I need you."
Asad's heart leaped. She was such a tiger!
"Zoya, we are in the middle of the street!"
"I don't care. Just kiss me please, Asaaadd!"
The way she slurred his name completely undid him. He swooped to kiss her pressing her back onto the bike and cradling her head on the handle bar. He ravished her mouth with his teeth, tongue and lips. Kissing the dew off her face and neck he let his hands cup her bre*sts and flicked their erect peaks with his thumbs.
Placing her hands beside her head, she gripped the handle bar for leverage and raised her hips. Her legs gripped his waist as she writhed against him seeking release.
"Zoya," he groaned breathlessly, his hips hitching in primal response, "ride me, baby."
Throwing her head back with a guttural cry, she came.
Sing in Title:
Ghar (1978): "Bahon Main Tere"
Disclaimer: The views expressed above are member's views and this website does not comply with it. The views expressed may not be factually correct. Incase of any issue please contact us/report it to us.