Loving Someone Is Easy But........Completed!!! 30/01/15 :)
May 18, 2014
Loving Someone Is Easy But........ (By Sviji) (Thanked: 218 times)
(Thank You Coolbake for The Wondeful Banner)
Part 1
Two weeks, it had been two weeks since Arnav had talked with Khushi after the fight over Khushi's stunt on taking Arnav and Aarav's DNA test without his knowledge. And in this two weeks Khushi had endured a lot more than she could tolerate, her insecurities reached to a limit where she could not take it more, and the way Arnav giving his attention to Sheethal and Aarav is not digestible for her, more than what hurts her more is he treating her like non existing material.
Khushi looked at their room door waiting for Arnav to come inside, every day he has been spending his time with the family and Sheethal and Aarav after having the dinner, now days it looks like she is an outsider and the two are family members.
Arnav came late inside his room, it was 11 pm, he looked at Khushi who was falling asleep in the recliner, and he could guess she was waiting for him. He felt bad but had been terribly hurt by her one action. He moved towards her, and was going to lift her when she woke 'oh you came I was waiting for you'
Arnav moved back, keeping a feet distance between them, Khushi stood up 'I wanted to talk to you about something important'
Arnav turned back to go to the bed but was stopped by Khushi, Arnav sternly 'not now Khushi'
Khushi 'I know you are lately very busy with your family but this is important and I cannot talk to you tomorrow'
Arnav surprised turned to face her, 'his family' he thought…are they not her family too? Khushi not giving away any expression gave the file to him which she retrieved from her drawer, Arnav took the file and opened it, only to drop it down in shock……Khushi bend down and took the file and in a cool manner 'what happen Arnav ji?'
Arnav stunned 'what happen? You are asking me what happen? What joke is this Khushi? And what is this file? Haan? It is written Divorce Papers'
Khushi 'I'm not joking, and it is indeed Divorce Papers for us….*looking at his shocked face* I had lot of time to think about this, about us and I realized I'm not perfect for you in anyway. I'm middle class girl, uneducated, traditional girl, having low mentality class mind and these all qualities of mine are making me insecure about our relation…whenever your past makes an appearance this insecurity gets increased…today it is Sheethalji and tomorrow it would be other…..'
Arnav tried to open his mouth, Khushi 'let me complete….and I know one this for sure where there is no trust than relationship itself crumbles in the storm…..and so I came to decision to free you from this sick woman, who behind her husband's back spies on him'
Arnav 'Khushi!!! *he came forward to clutch her arms but she moved back* what nonsense or you saying?'
Khushi 'exactly everything is nonsense for you, why? Why only you have the rights to misunderstand me and I don't have…why only you can think that I had affair with Shyam but I should not think that there was anything between you and Sheethal and Aarav is the result for it, who is exactly a Xerox copy of you….why only I've to give the test for my purity, my innocence, my pure love but not you…..even then I did gave my test of my innocence in all the way but you cannot, do you know why because there were many girl's before me in your life and biggest example is I myself witnessed your relationship with Lavanyaji…huh a Live In….so why not you had the same live in relation with other girl friend of yours….how can I turn blind eye? When a walky talky of mini ASR roaming in front of me all the time…..tomorrow some other girl friend of your's will come to this house saying I'm just friend of ASR but in real she would have been more than a friend and proof would be again another mini ASR version……is that why you love to spend your time with Sheethal and Aarav because you know Aarav is your son and Sheethal is your son's mother, so why not I unite you with your little family and take a back seat…..so here it is solution for everything….you don't have to put up with me and my irritating behaviour….just sign this papers….I've already signed them…..'
Khushi putting the file down on the table went to bed to call it a night as if nothing major happened….Arnav stood rooted to his spot with her every words hitting on his head like a hammer…he never thought Khushi will misunderstand him this way and all this is because he had given enough reason for her to misunderstand him….her words ….how can I turn blind eye? When a walky talky of mini ASR roaming in front of me all the time…….
………even then I did gave my test of my innocence in all the way but you cannot do, you know why because there were many girl before me in your life and biggest example is I myself witnessed your relationship with Lavanyaji…A Live In….so why not you had the same live in relation with other girl friend of yours……….
He looked at her retreating back with tears blurring his eyes; he walked over to her with wobbling legs…. 'Khushi we need to talk' Arnav said slowly
Khushi still closing her eyes 'there is nothing more to talk, I've already said what is needed to be and don't worry no one will question you as I've already stated the reason of our divorce to be my insecurities and mental sick behavior to see you with your ex-girlfriend and her son'
Arnav urgently 'Khushi…you are not understanding…..they meant nothing…'
Khushi 'exactly it mean nothing to me what you do and what you don't….I've gone past all….I feel nothing now….so now let me sleep I've work to do tomorrow morning…..if you could not then let me know I'll go to sleep in guest room….'
Arnav looked at Khushi, she did not even looked at him, what had he done? Is the damage very big to control now, to correct every wrong to right now?' Arnav kept looking at her without noticing the time running, and Khushi did not care to open her eyes and look for him, as if nothing about him matters to her anymore.
Next day, at breakfast table, Arnav came down, he did not slept a wink at all night and when his eyes dropped it was early dawn but even then he could not sleep due to nightmares of Khushi leaving him….when he opened his eyes he saw the time is 8.30 and Khushi is not in the room….he panicked got up and came out to see her setting the table for breakfast….Anjali who was coming down for breakfast called out to him 'Chotte you are not yet ready?'
Arnav 'I…I'm going to Di….will be in short while' he rushed back to his room and freshened up, then rushed down to breakfast table…..everyone were settling down….Arnav took his seat but kept looking at the direction of kitchen to see Khushi is coming or not.
Nani looking at him 'Chotte are you not going to office?'
Maami 'hello hi bye bye…yes yes Arnav bitwa…you are wearing your casual rather than your suit'
Anjali 'haan chotte'
Arnav 'nahiin Di I'm not going for work today'
Aarav shouted 'yay…then ASR we can have another basketball match'
Khushi came outside saying 'haan haan Aarav, Arnavji will definitely have another basketball match with you and your mom…kyun Arnavji?'
Aarav 'huh I did not ask you?' he was rude which Khushi brushed it off….Arnav felt like someone choking him, Khushi keeping the bowl of Kheer on the table 'arey arey Sheethal ji why are sitting there, come sit here' she pulled the chair beside Arnav for her….Arnav looked at her shocked.
Payal, Anjali and Nani looked at her confused; her behaviour seeming odd for them……Sheethal was more than happy to oblique…..Anjali 'par Khushiji that is your place'
Khushi 'toh kya hua Di….I'm giving her my place' this was something they did not expect…..Arnav felt air leaving him, not able to breathe….he looked at Khushi 'Khushi yeh kya keh rahi ho tum, don't do this' he almost pleaded her…..
Khushi in low whisper only for Arnav to hear 'why? What I'm doing? This is only correct, her place beside you, nai'
Arnav looked at Sheethal who is coming to sit next to him 'No Sheethal….don't mind but I don't like someone else sit on this seat…..this is Khushi's place' Sheethal fake a smile at him and sat beside Anjali but was fuming inside.
Khushi cared less of what he said; she did not even look at him who has eyes only for her…..Maami 'hello hi bye bye, is something special today? Looking at the variety of breakfast…all she could think of is to devour her favourite aloo puri'
Khushi 'haan Maami…today you will be so happy….and for this I have prepared everyone's favourite'
Maami made face at her but was very happy to have her puri and she did started to dig into it….Nani 'but Khushi bitiya what is the special occasion?'
Khushi 'ofpho Nani ji have your breakfast I'll tell you what is special today'
Payal clutching her arms 'Khushi what is all this? What are you hiding?'
Khushi 'nothing jiji, you surely will get to know'
Khushi started serving everyone…..Aarav 'I don't want this paratha…I like only toast and jucie'
Maami laughing 'yeh toh bilkul hamre Arnav bitwa jaise hai….I don't like this paratha….I want only toast and juice'
Anjali 'haan Maamiji bilkul' they don't even know what havoc they are creating in Arnav and Khushi's life.
Nani 'aur gussa bhi bilku chotte ki tarah'
Maami looking at Arnav 'haan Arnav bitwa tabhi toh yeh humko bilkul chotte pactket wa lagtha hai'
All laughed, Sheethal is smiling hearing their words…..Khushi 'haan haan that's why he too is having diabetics like Arnavji…in dono ki kitne milthi julthi hai….jaise ki Arnav and Aarav is father son duo' all stopped laughing, shocked at her statement…..Arnav closed his eyes in pain….Sheethal is all elated to hear this….Khushi turning to Aarav 'don't worry Aarav…I've prepared your and Arnavji's toast and juice….here take this'
Khushi came towards Arnav to put some butter toast in his plate; he stopped her and took alloo puri…..Khushi 'arey why you are eating this?'
Arnav swallowing 'I like this more'
Khushi 'acchha you should have told me before' she looked at everyone who stopped eating and looking at her with surprised at her behaviour 'arey why you all are not having anything'
Payal whispering 'Khushi what the hell you are saying? Do you have any idea?'
Khushi 'why jiji? Did I say any wrong? I said what all you said from past few days…..I don't think so all I said is wrong…' with a confused face…… hearing her words all looked like they have got hard slap on their face.
Khushi pushing Payal in her seat beside Akash 'Jiji you too have your breakfast with all, I have prepared your favourite too'
Anjali trying to lighten the atmosphere 'Khushi ji you too sit down, we can self-serve'
Khushi 'no no Di…I want to serve you all today…who knows tomorrow I would be able to do or not….' Arnav dropped the piece of poori he was holding in his hand to put in his mouth….he stood up and held Khushi's wrist dragging her to their room…..all the Raizada's were confused with Khushi's behavior and could sense a tiff between both husband and wife.
Khushi 'Arnavji where are you taking me?'
Arnav pulled her inside the room, locking the door turned to face her, Arnav holding her shoulder tightly 'Khushi what happen to you? Why are doing all this? It is hurting'
Khushi taking his hands off of her 'what happen to me? I'm all right….why do you think so I'm not?'
Arnav 'you know what I'm referring to….why are you linking me with Aarav?'
Khushi 'why? What is wrong in me doing so? All are saying the same thing which I said and you did not even mind on their words but then why do you mind when I said all right'
Walking back to the table, she took the file looking at the papers inside 'Arnav ji you still did not sign on the papers? Sign it soon'
Arnav in anger pulled the file away from her hand and tore it in pieces; he looked at her hurt 'how can you do this to us? How can you end our relation? Is this all easy for you?'
Khushi 'Easy for me? I'm making it easy for you and you have a problem in it? *disbelief written over her face* and what do you want me to do, stay in a corner and look at you having a good time with your lovely little family…playing basketball with them….fondly recalling your college life with your ex-girlfriend or to say the mother of your child'
Arnav shouted 'they are not….they meant nothing to me….why don't you understand….he is not my son…..he could not be….I never had been in physical relationship with any of my previous girlfriends….it was just a hollow relationship….why can't you trust me?'
Khushi 'trust you? And how should I do….when that boy is exactly your carbon copy…and when I see his mother holding your photo and crying….and when I see how much you hate kids but yet here you are bonding so well with that little boy as if he is your son…huh? What am I saying? He is your son…… one word from his mouth all run towards that little boy fulfilling it…running behind him to get him ready for school……running behind him to make him eat…..all this is not enough that everyone one has only one word Aarav is exactly like their Chotte, Arnav bitwa, Arnav bhai, Nanav…his walking, taking eating everything resembles the great ASR……….and now I think it is so good that we don't have planned for any child in near future……or else I would have had given my child a fatherless life'
Arnav is hurt beyond limit hearing her words, her every words piercing his heart 'Khushi don't do this…..please believe he is not and….I love only you and had been only yours'
Khushi 'do you have proof? I had, even you felt it…isn't it…you are my first love and my first for everything…….but how can you prove that to me that I'm your first in every way…..look Arnav ji I'm done putting with your past….now all I can understand is Loving Someone Is Easy But Accepting Their Past Is Not……..would you have accepted me if you had come to know that I had been physical relationship in my past with my boyfriend….the answer is clear No!!! right…..how can the Male Ego digest the fact…..a boy can be in physical relationship as many as he can but they will always prefer a virgin wife for him…..cheap thinking…..isn't it?'
Arnav stood like thunder bolt hit him, he could not believe his Khushi can ask and speak something like this………
Khushi 'what happen now? Could not get a word, I've had enough with your behavior, for you I'm just a punching bag to take out all your anger and frustration…..Sheethal is not meant nothing to you Arnavji but the truth is I'm meant nothing to you…..'
Arnav shaked his head in denial, Khushi 'for you the first priority is Di then the family and now Sheethal and Aarav……where I'm? There I don't see myself in the list where all I can see myself is a unwanted thing kept in this house….So now it is better I leave your life and this house'
Taking the bag kept from the corner of the room she moved outside, Arnav cached up with her, stopping her, holding her wrist 'Khushi you cannot leave me like this'
Khushi 'why? Should I wait for you to throw me out?'
Arnav shaking his head 'no…try to understand….I need you in my life'
Khushi 'for what? To serve as a non-payable servant which I'm doing right now'
Arnav shocked 'Khushi!!! How can you compare yourself to a servant? You are my wife dammit'
Khushi 'am I? but I never was treated as your wife'
Arnav cupped her face 'Khushi Khushi…you are not in your sense….please don't do this…..we can talk it out calmly..'
Khushi 'No there is nothing to talk about; we are over…sab kuch khatam….hamara rishtha khatam…'
Arnav 'No…I'll not let you do that….'
Khushi 'then watch me'
She freeing her hand from him, walked furiously towards the exit door of Shantivan, everyone stood rooted to the spot seeing her going out with Arnav running after her stopping her. But she left.
This will replace Cruel Game Of Fate......not sure about the length.
News : Guys, I want to share with you a good news and that is I got job offer, they had asked me to join by tomorrow. I'm not sure about the schedule timing, it works on shift base all day timings....rotational shift......I'm very much excited.....and very happy to share with you all.
Since I'll be joining tomorrow, I don't know when the office hour will end. Only tomorrow I'll be able to know. For this one week may be I'll be able to give update or may be not, need for me to adjust with the timings.
But Cruel Game Of Fate will be updated as it is already written, and this week the story will come to end. Please bear me this week, I can't help it. I'll try to give at least any of my stories update but can't promise for sure.
Don't worry I'll not leave any of my Stories at the middle, will surely be here till its end and of course till you people are here. Have a Nice Day.
Will be updating Arranged Marriage by evening. :)
Do please let me know about this story, how is it?
Aug 29, 2014
Loving Someone Is Easy But........Part 2!!! 29/8/14 (By Sviji) (Thanked: 202 times)
Part 2
Three years later,
After praying to God, he turned to leave when he was hit by petite figure with such a force that both fell down…..his heart speed up and he felt it again after such a long period of time Dhak Dhak.
'haww hamari duppata' that voice, Arnav looked up at the girl crouched opposite to him examining her torn duppata due to stones. Same hazel eyes stared back at him through the holes. Arnav's head started spinning, is he hallucinating her again?
The girl stood up glaring at him baring her face to him stopping the world of Arnav 'this is all because of you? Can't you see and walk? Now my duppata is waste, and all torn' looking at his dumb state she huffed 'can't even apologise for his mistake? Huh?' with that mumbling to herself started walking away.
Arnav getting his sense back stood up running after her, today after three years they met again at the same Dargah where he proclaimed to write his own destiny once but today he came to the same place asking him to give his Khushi back accepting his defeat and the kind God accepted his wish and fulfilled it soon, his Khushi is in front of him now and how can he let her go like this….so he ran and ran after her like those years back she ran after him for giving his mannat key.
He ran and caught her hand who is going to exit the place, Khushi looked back to give her piece of mind to the person for daring to hold her hand. She hissed 'what are you doing? Leave my hand'
Arnav in a broken whisper 'Khushi!!!'
Khushi blinked looking up at him shocked 'you?....you know my name? who…who are you?'
Arnav cupping her face 'Khushi why are you asking as if you don't know who I'm? I'm Arnav…'
Khushi pushing him 'I don't know any Arnav'
Arnav 'Khushi I know you are angry with me but please listen to me once…you have misunderstood it all….'
Khushi pushed him running getting scared at the way he is behaving with her and her heart…why her heart is galloping from the time she bumped into him, Arnav ran after her….Khushi did not look behind and straight away went to the old lady who is now sitting at the steps 'Amma!!!! Amma let's go'
Arnav came to them 'Khushi let's go…..I'll tell you once we go to our home….I'll clear all your misconception……but please don't walk away from me'
Khushi clutched the ladies hand 'Amma let's go….this man……. this man is saying all the rubbish…I'm scared…let's go'
Arnav stood shock, why Khushi calling that lady amma? When her amma, babuji and buaji is in Delhi….Arnav stepped forward 'Khushi!!!'
Khushi stepped back, lady stopped 'beta who are you?'
Arnav looked at the lady, his eyes expressionless to see someone standing between him and Khushi 'I'm Arnav Singh Raizada and she is Khushi, my wife Khushi Kumari Gupta Singh Raizada'
Khushi shouted from behind 'I'm not….amma tell him…I'm not his wife….I don't know him….I'm not any Khushi Kumari Gupta Singh Raizada….I'm Khushi Khanna'
Arnav shaking his head 'no you are not….you are lying…I know you are angry with me….but Khushi three years of punishment without my fault is enough….please come back to me….I love you…'
Khushi's heart skipped a beat seeing his painful face, his hopeful eyes, his words…but how can she go with a stranger?......
The lady stepped in 'beta…'
Arnav 'don't…I said don't come in between me and her'
Lady got taken aback…Khushi fumed 'how dare you talk to my Amma like that'
Arnav 'Amma?'
Khushi 'yes she is my amma Radhika Khanna'
Arnav 'she can't be? Your amma, babuji, jiji and buaji is in Delhi'
Radhika 'she is telling the truth,…..she is Khushi Khanna and definitely not your wife…..she is my daughter.'
Arnav not believing 'no, she is my wife…I can sense her, I know her very well to get confused with someone else'
Khushi held the lady's hand 'Amma chalo…yeh aadmi…bakwaas pe bakwaas kartha jaa raha hai' she dragged the lady with her to their home.
Arnav ran after her 'Khushi…Khushi…listen to me….Khushi's don't do this to me' the lady looked at the broken man with pity once and get into the auto. Arnav did not fail to notice the lady's eye which definitely hid something. He took his car and followed them.
Khushi and the Radhika got down the auto, paying the share of auto they got inside their small house. Their house located in quite place where only few houses in neighbourhood scattered around that too at little distance.
Kitchen room,
Khushi muttered 'pata nahiin kaha se aagaya, hume apna patni keh kar…huh?' she marched inside her room. The Radhika sighed and sat down on the sofa in their living room
Living room,
Radhika could it be? She shuddered to think if what….
Khushi had slept that afternoon after having her lunch, but Radhika could not, worry clouded in her eyes, she looked outside her room window and got shock to see the same man from dargah standing outside their house leaning against the car.
Radhika's bedroom,
She shivered, that man cannot see her due to the folds in her windows but she could. She gasped how did he reach here? Did he…did he follow them?
Arnav stood outside of his car looking at the small house they walked inside, it had been hours now he standing in the scorching sun of afternoon now giving way to the soothing evening.
He closed his eyes thinking back of what happened three years ago, that fateful day……
Arnav shouted falling on his knees 'Khushi!!!!'
Anjali sobbing came near him, keeping her hands on her shoulder 'Chotte!!! What happen to Khushi? Why did she left?...Chotte….'
Arnav broken whisper 'what should I tell Di? that….that my Khushi left me….'
Anjali gasped along with others 'Chotte what are you talking? Why will Khushi do that….she loves you….'
Arnav 'she left me….she said our relationship is over….how can she leave me like this….how can she end our relationship....is it all easy?'
Nani coming near to her 'Chotte Khushi bitiya aisan nahiin keh sakthi….there is some misunderstanding…..'
Arnav bitterly 'yes misunderstanding…a huge misunderstanding …..she thinks Aarav is my son….' All got shock listening to his words…he stood up turning to them 'why Di? Why maami? Why you all compared me with Aarav? Because of everyone's word she left me….she left me because she thinks I don' t love her…she thinks she is a servant and not my wife….' Raizada's could not believe what they heard.
Arnav turning to Payal 'and Payal how could you have neglected your sisters pain and compare her husband with his friends son, could not you see her pain at all….what if she had done the same comparing Akash to someone's else child? How could you have felt?' Payal crying looked down in shame.
Nani 'Chotte *crying* we did not thought the consequences of our words…we just…when we saw Aarav 's habbits and your's were similar….'
Arnav shouted 'he is not….'
Nani 'I know…I know….but we just as a joke uttered those words…it was not meant to be….we never thought Khushi would take it seriously…'
Arnav painfully 'no girl would like her husband compared with someone's else child….how can you all compare me with him?'
Maami 'par Arnav bitwa he is exactly same to same like you'
Arnav 'so does that mean you trying to tell me he is my son'
Maami shaking her head backed off…..a voice from behind shouted 'yes!!!' all looked behind and their eyes went wide, Arnav growled 'what?'
Sheethal 'yes Aarav is your son'
Arnav gritting his teeth 'he is not'
Sheethal 'wait I'll show you the evidence' she went inside her room and came with the envelope and taking out a paper showed to towards Arnav.
Arnav 'what is it?'
Sheethal 'look at this' he snatched the paper from her hands and glaring looked at the paper, DNA Report of Arnav and Aarav…POSITIVE. The paper fell from his hand. Sheethal 'Aarav is your son'
Other looked at the DNA report, and gasped, Arnav looking at her with his eyes fuming 'he is not my son, he can never be....…I never crossed my limits with any of my ex- girlfriends in the past.'
Sheethal 'he is your son, we crossed our limits on the convocation party where you had been drunk and not in your senses and I could not stop you'
Arnav 'lie all lie….your story is a big lie….this report is all lie….you cheat…you gold digger….'
Sheethal crying 'I'm saying the truth…and this DNA test is not done by me but Khushi' all got shocked…..Arnav 'this can't be she said she tore the reports'
Sheethal 'she did not, she had threw them out of the room and I took it….now you know the truth….he is your son ASR, accept him'
Arnav shouting 'never….I'll never believe this…get lost…get out of my house' he grabbed Sheethal's hand dragging her out…..Aarav trailing behind asking him to leave his mother's hand.
'Chotte don't' Arnav stopped in his tracks….disbelief written all over him…..he turned to his Di….Anjali 'Chotte how can we neglect the truth….the reports says Aarav is your son….'
Nani 'we should have known…..he is exact replica of you….and after your relationship with Lavanya declaring for live in…this is not surprise to know you would have lived with her and fathered a child'
Arnav disbelievingly 'you all believe her….and not me….'
Maami 'how can we turn blind eye towards the truth Arnav bitwa'
Arnav 'I don't care what you all think, she is getting out of this house Now'
Anjali 'if so I too will leave with her, I'll not let my nephew suffer because of you'
Nani 'I too will go with them'
Arnav left Sheethal's hand 'what about me? You people have no trust in my words, I'm your brother Di, the same brother who is with you from the past 27 years….the same brother who never left your side….who lived for you…and you believe the piece of paper over me'
Anjali looked away, Arnav smiling painfully 'okay if you want her and that boy in this house….than I'm leaving….there is no need of me here….'
Arnav turned around walked out of the house shutting all the voices asking him to stop….he can't believe Sheethal could do something like this….can lie like this….will be a home wrecker….how did I had been friend with her in college without seeing her true face….for which he is getting punished without his fault….all the proofs are against him and his Khushi too had left him….No he cannot live without her….I'll go to her and explain her everything….she will understand him…she is just angry with him.
He swirled the steering wheel of his car towards Gupta house, but reaching there all he got was another shock from Gupta's telling Khushi did not come to their house…he had even not believing them checked the house but true she was not there….whole day he looked for her like crazy all though the Delhi not leaving a place, bus stop, railway station, even checked airports for being in safer side what if she not wanting to be known left by plane but his hope had been dashed….the day he lost his Khushi….
He had left the house and started living in a flat alone; his relationship with his family strained who believed that cheater over him. And the relationship with Akash Maama has limited to only professional….they tried to make him come back to RM, to accept Sheethal and give his name to Aarav….like hell he will do that…only Khushi is his wife and the child of his mother will be Khushi, only their child will get his name.
Arnav sighed opening his eyes, those two are still living in RM, all the Raizada's in the web of lies spin weaved by Sheethal….top to it his Dadi who had went back to Aashram had returned again claiming Sheethal should be married to him and he should give Aarav his name…he will die but never will give his Khushi's place to anyone.
Gupta's are with him and trust him, and Payal too is the only one from Raizada's who wanted Khushi back in his life….who has now come close to him as his sister….the sister who trust him when his own sister did not….she knew how much he and Khushi love each other….she wants them together and living in guilt of hurting Khushi unknowingly…
Arnav looked up at the sky, stars scattered all around and twinkling…spotting his mother and Khushi's parent in it he spoke 'I know she is my Khushi….my heart cannot lie to me…. she is angry with me…and refusing to recognize me….please bring her back to me….'
Radhika came to the window again before going to the bed….the guy is still standing at the same place…..she don't know what to do….her heart and mind in fight.
Okay I know people will be very mad at me, and will think what with her and memory loss concept but what to do yaar, I'll go only with the flow what came in my mind and to say I love this memory loss concept, only if I've a memory loss where I'll forget all the bad thing happened in my life. But kya karoon this concept has been etched even before I started waiting for you three shot and it's sequel.
And people there will be no update till next week and yes I'm trying to write update for other stories too.
Do please let me know about this story, how is it?
And thank you to everyone who commented and hit thank you button on previous update.
Oct 18, 2014
Loving Someone Is Easy But........Part 1!!! 18/10/14 (By Sviji) (Thanked: 211 times)
Flashback in Olive Color
Part 3
Khushi 'Amma hum Kishan Kaka ke dukan jaa kar aate hain' she ran out of the door before Radhika could stop her. Khushi giggled to herself smelling the fresh flowers bloomed in their lawn.
Arnav straightened himself as soon as Khushi came out of the house; Khushi came out of the little gate, turning towards the shop which is a little distance away from their house.
But she stopped short when she heard the voice again, the same voice which is haunting her from yesterday 'Khushi!!!' Khushi turned back 'you, what are you doing here?'
Arnav 'Khushi listen to me'
Khushi 'don't come near me….what do you want?....and how did you reach here? Did you…did you follow us' gasping looking at him.
Arnav 'Khushi come back to home'
Khushi 'which home? This is my home' pointing a finger at the small house.
Arnav 'no Khushi your house is where I'm your husband lives'
Khushi shouted 'I'm not your wife, leave me alone' and ran back to her house shutting the door behind. Arnav tried to catch her but she had till then reached inside and shut the door.
Arnav knocked on the door 'Khushi please listen to me….just once'
Khushi shouted from inside 'no, go away from here…if not then I'll call the police…just go away'
Arnav 'I'll not Khushi, until you hear me out…until I get you back in my life…I'm not going to leave you and go'
Radhika came near Khushi to see her breathing heavily leaning against the closed door 'what happened beta?'
Khushi 'that mad man came here too' she looked at her mother in horrified expression. Radhika looked at her calmly 'go to your Khushi…everything will be fine' Khushi ran inside her room.
Who is he? Why is he after her? Calling her his wife? He is really mad. thought Khushi lying on her bed.
Arnav stayed outside the house the whole day; no water, no food and no medicine making him weak, leaning against his car he waited for her to come out, again and listen to him once.
Khushi, now since she know him standing outside their house is watching him from morning standing by his car, what is this man made off? Why is he doing all this, standing in the scorching heat whole day. She doubts whether he had anything. She felt bad for him but he is disturbing her.
As she watched, she noticed in horror him falling down the ground, something pricking her heart she rushed outside to him with Radhika from inside looking at her run and came outside following. Khushi crouched down beside Arnav's limp form and started patting his cheek 'hey get up….Arnav get up….' But it was useless he had passed out.
Radhika 'Khushi let us take him inside and call for a doctor' Khushi nodded at her and took him inside which was quite a difficult task.
Doctor has checked him and declared because of not taken any intake from last two days he had fainted due to weakness and his diabetic's being the main reason, his sugar level reduced. Khushi gasped, feeling terrible, he had been out there because of her. Asking them to make him eat something and after giving prescription of medicine he took his leave.
Radhika after the doctor left came inside Khushi's room where Arnav is now lying unconscious. Radhika stood guilty looking at Arnav's limp form; she should have talked with him and should not have bent towards her insecurities.
Caressing Khushi's hair 'beta you go to my room and take rest, I'll take care of him'
Khushi 'nahiin he is in this condition because of me…I don't know why he stood all day waiting for me when I don't even know him, why he is running after me, following me but whatever it is he is sick because of me. I should have explained to him softly but…..' shakes her head, her tears choking looking at the worn out man before her.
Radhika 'don't worry dear, I said na, I'm here to look after him…you go and take rest…when he wakes up I'll make him eat and give medicines and you can meet him tomorrow'
Khushi 'but….'
Radhika 'Khushi listen to me dear'
Khushi 'okay but don't forgot to give him food and medicine'
Radhika 'I'll not' hugging her amma she went to her mother's bedroom.
Arnav opened his eyes feeling his head spin, Radhika 'easy beta' he swirled his head towards the source of voice. He got up and sat straight with the help of her.
Radhika 'wait let me bring you something for you to eat' before Arnav could open his mouth she went out and came inside with a tray containing bowl.
Radhika 'you fainted outside our house and we took you in. Doctor checked you asked us to make you eat something and you have to have your medicine too'
Arnav 'no.....I don't need anything'
Radhika 'Khushi made this soup for you'
Arnav jerked his head towards her 'she made this' Radhika nodded at him and watched him take the bowl and having it. His tears flowed down after tasting Khushi's handmade soup, it had been years he had tasted something she had prepared by her hand.
Arnav looked around for locating Khushi but met with disappointment, Rahika noticed him and taking a chair sat opposite him.
Bedroom, Khushi's
Radhika 'she is in other room. I asked her to go to sleep'
Arnav nodded at her, his face fell. Arnav then looked at her 'she is my Khushi, isn't she? I can see in your eyes, you are hiding something'
Radhika looking at his face for some minute and then sighing started speaking 'she does not remember you'
Arnav shocked at her words 'it is not possible, Khushi can never forget me'
Radhika 'trust me, she does not recognize you'
Arnav looked at her 'you are lying, did she asked you to lie'
Rahika 'no…..hear me out first'
Taking deep breathes she told how three years back she met with Khushi……
Radhika and her husband Suresh Khanna was returning to Lucknow when they stopped their hired car at the middle of road seeing someone lay. They got out and looked at the body to know who the person is lying on the middle of the road blocking it.
But they gasped looking at the petite form; a girl around early twenty is lying on the road covered by her blood.
Radhika 'Suresh ji we should take her to hospital'
Suresh nodding at her took her to the hospital, after painful hours doctor came out from OT and informed them about the attempt murder on the girl, she has been hit by rod on her head and stabbed on her stomach.
They were horrified, doctor wanted to file the case but Suresh declined saying what if she gets in danger again, the doctor was not convinced but then by giving some amount they made him quite.
The nurse had then given them the girls mangalsutra and her gold chain. Radhika looking at the chain closely 'Suresh ji there is some name written on this in hindi'
Suresh took the chain and read 'Khushi!!!'
Radhika 'may be the girls name is Khushi'
Suresh 'could be? Only when she comes to conscious we can tell anything'
Radhika 'we will wait till then' and they waited for her to come to conscious.
After two days Khushi came to conscious but then she remembered nothing, doctor checked her and declared she has lost her memory.
Arnav was torn hearing that someone had attempted to kill his Khushi, Oh God how much it must have pained her…his heart twisted hearing all that happened with Khushi….who is that person? If they had tried to kill her three ago and they come to know that she is alive then they will again attempt to kill her…..No he will not let anything happen to his Khushi.
Radhika 'we could not leave Khushi…our heart did not let….so on seeing the name in the chain we had told her, her name is Khushi and she is our daughter….and Khushi believed our words….since then she is living with us'
Arnav gulped his tears, Radhika 'now you know why she could not recognize you'
Arnav 'but why did you hide the truth of her being not your daughter? Did you people not tried to find her family? Do you know how much I suffered without my Khushi…three years….from three years I was going crazy finding her everywhere'
Radhika 'I and Suresh don't have child of ours, and we run children's orphanage accepting God's decision as it is giving our love to the children who were orphaned…..but when we saw Khushi we could not do anything but bring her as our daughter…..I know this is not the reason but we should have tried finding her family but.....but we became selfish.'
Arnav firmly 'I'm taking her back with me'
Radhika 'what no? She will not go with you'
Arnav 'why she will not go with me? I have proofs of her being my wife and I'm taking her back'
Radhika 'but what about her, her feelings, even if you have proofs'
Arnav 'then what should I do? Let her be with you and live alone for whole life when I knew where my wife is?'
Radhika sighing 'I'm not going to separate you from your wife, because I've no rights, you have but please try to understand. Give her time, make her believe you…we cannot break the truth to her all of sudden…and her doctor too had asked to not stress her for anything since her second accident'
Arnav's heart dropped 'accident? Another attack'
Radhika 'no, it was an accident where I lost my husband last year. We three where in same car and our car hit with the truck, the truck driver was drunk and driving rashly which resulted for my loss, my husband died in the same spot'
Arnav kept quiet, Radhika wiping her tears 'please beta first make Khushi believe you…trust you then we will disclose the truth to her'
Arnav 'hmmm'
Radhika smiling slightly 'you can live here with us, which will be easy for you and Khushi to come close together'
Arnav 'thank you, I'll ask my manager to bring my luggage here' Radhika nodded at him 'okay beta you take rest, we can talk the rest tomorrow'
Radhika left Arnav alone, he thought of what he should do next to bring his Khushi back to him, his heart wrenched at what happened to Khushi? I'll not leave that person whoever it is tried to hurt my Khushi.
At the middle of the night, being always a light sleeper Arnav felt someone open the door to his room, he opened his eyes a little to see who it is and gulped to see Khushi coming towards him.
Khushi came near him and looked at him who for her is sleeping not knowing he is very much awake. She had got up when Radhika came inside the room and waited till she sleeps and as soon she saw her amma is asleep she came outside to check on him for once…for her satisfaction…..She looked at him for some minutes 'I'm sorry *Arnav got confused on why she is saying sorry* because of me you are sick now…..but it is your fault too….why are you following me? What do you want from me? I don't know you but….but you are calling me your wife….how can I accept it? I will get scared na….'
Sitting beside him 'tsk phir se sorry….jaldi se tik hojoye…..hume accha nahiin lag raha apko aise dekh kar…. pata nahiin kyun….' She got up and left the room, Arnav opened his eyes after she went….looking at the ceiling 'kyun ki tumhare dhadkan mujhe pechanti hain….' (because your heart remembers me)
I know out of blue I have update this Story but guys I've planned to start updating all my stories and to reach their destination. I'll not leave any of my story without meetings it's end. So here the next update. The update will come weekly once as I've to update other stories too. And people have enough time to read and comment.
Do please let me know about this part, how is it?
And thank you to everyone who commented and hit thank you button on previous update.
Oct 22, 2014
Loving Someone Is Easy But........Part 4!!! 22/10/14 (By Sviji) (Thanked: 202 times)
Part 4
Next day, Khushi peeped from door to see Arnav. He from his corner of his eyes can see her antics but hiding his smile he kept his attention to the call not giving her inkling of he knows what she is doing.
Arnav 'Yes Aman, bring my things to this address.' He suddenly turned towards door and she leapt away from there rushing towards kitchen to help Radhika.
Arnav shaking his head 'And Aman don't react to anything you see here'
Aman was confused 'Sir?'
Arnav 'Do not react and be your normal self' he cut the call.
Aman looked at his phone in bewildered. Is he in mental asylum or in jail that he is asking him to be neutral and not to react?
Radhika came inside the room after knocking 'Breakfast is ready. Aajoa beta'
Arnav walked behind Radhika, he looked at Khushi who is setting the table. Her gaze time to time looking at him secretly, the three sat down and started having their breakfast. One in silence and other two looking at each other discreetly.
Radhika 'Beta doesn't forget to take the medicine.'
Arnav 'I'll.....and aunty my manager is bringing my things here'
Radhika 'Good, if you need anything ask Khushi since I'm going to orphanage' Khushi looked at both of them wide eye. She followed her amma inside the room asking 'he is going to stay here'
Radhika 'Oh I forgot to tell you. Yes he is going to stay here'
Khushi 'but amma he.....'
Radhika 'Khushi, he has nowhere to go and he needs someone to take care of him. Because of us he became ill now it is we who should take care of him. So I had asked him to shift from hotel to our home till he is here for his meeting'
Khushi 'and that is....'
Radhika 'depending on the deal takes to finish *looking at her troubled expression* don't worry I've made him understand you are not the Khushi he thinks and you are my daughter'
Khushi comes to open the door hearing the door bell ringing. She 'Yes!!!'
But the man in front of her went immobile seeing her, he whispered 'Maam!!!'
Khushi confused 'Ji!!! Kisse milna hai apko'
Arnav came to them 'Khushi, he is my manager Aman.' Aman just looked at Khushi without blinking. Khushi felt uncomfortable at his shocked look and left aside.
Arnav 'Aman come inside' he said little loudly. He took Aman inside the room he is staying. Aman 'Sir?'
Arnav 'this is why I asked you to not react and behave normally.' Looking at his questioning gaze 'She is Khushi, my Khushi'
A smile appeared on Aman's lips while his eyes twinkled with the information. Arnav 'but......' what but thought Aman and he got all his answer when Arnav narrated the incident of him bumping with Khushi in Dargah and how he had followed them here and after incidents and the truth of Khushi losing her memory.
Aman 'now what are you going to do sir?'
Arnav looked out from the window 'Will make her fall in love with me again? Will make her believe in me again? Will bring her memory back? She belongs with me and she has to know it'
Aman 'What should I do sir? Anything?' he was desperate to see his boss and Khushi ji to see together and happy. Enough of his boss living his miserable life.
Arnav 'for now nothing, just don't let anyone know about Khushi. Let it be hidden for now. I first have to get her to identify her real identity'
Aman agreed understanding him. There was a knock on the door. Khushi came inside bringing coffee tray. Khushi 'Voh...Coffee'
Arnav took both cup and forwarding one to Aman he started sipping his. Khushi looked at him before leaving out.
Aman smiled sadly 'I wish Khushi ji gets her memory soon'
Arnav 'yes but I know her heart remembers me'
It had been one week he is staying in Radhika's house. Khushi behaved with him civilly but he always knows her constant gaze on him, her questioning and confused eyes on him.
He looked up at the stars. He is sitting on the cot kept outside the house on the open space. Sleep had already deprived him when Khushi left him. All he could do was indulge himself in work and sleep only when his mind and body could no more take that too he gets restless sleep with Khushi invading his dreams. His one folly of ignorance towards her feelings had cost them too much.
Tinkling sound soothed his ear, he know she is standing behind him. Arnav without turning 'Why are you standing? You can sit beside me; the cot has enough space for another person to sit'
She came in front of him with tentative step and sat beside him. His gaze on the stars but his senses alert on her whereas her gaze travelled back and forth to the star and him.
After painful minute of silence 'Is it true? Your wife looks like me?'
He gulped what should he tell not only look like but she is his wife. He nodded his head. Khushi 'You miss her'
Arnav 'very much'
Khushi 'Where is she? What happened to her?'
Arnav 'She left me for my mistake'
She kept quiet, for few seconds. Khushi 'What did you do? I...I mean....' she stammered, how can she except him to tell his personal life and just because she looks like his wife will he tell her or what?
Arnav 'I hurt her feelings'
Khushi looked at him confused. Arnav smiled painfully at her 'For to know what happened you need to know my story. Arnav and Khushi love story' her heart skipped bit hearing him spelling her name with her eventhough she knows he is taking his wife's name. How irony? His wife's name too is Khushi.
Arnav 'do you want to know?'
Khushi 'will you?'
Arnav 'I'll not tell you but show you'
Khushi 'how?'
Arnav 'you will see soon but for now let us get inside. It is not out to be in this cold' and Khushi had no choice than to agree with him.
Happy Diwali To You All. Have Lot's Of Fun.
Do please let me know about this part, how is it?
And thank you to everyone who commented and hit thank you button on previous update.
Nov 10, 2014
Loving Someone Is Easy But........Part 5!!! 10/11/14 (By Sviji) (Thanked: 243 times)
Part 5
It took a day for Arnav to set the stage. He is well prepared for the outcome after he had the talk with Khushi's doctor. He need to do this to get her in his life, he can't wait more, three years is enough pain, now not more than this he will be able to bear. Seeing her so close yet so far is killing him.
Khushi came out of her room and looked at Arnav who is all ready. Arnav 'ready?'
She nodded her head; she does not feel scared of him instead she feels protected and safe. He is still a stranger for her but her heart does not accept it so, and her Amma too is encouraging for her to go out with Arnav which nagged her but she brushed it off thinking he had won her Amma's trust.
Arnav 'Come Khushi' blinking his eyes assuring towards Radhika he took Khushi outside, settling her safely in his car he took the seat behind the wheel and drove off.
The car came to stop after hour of travelling, they were before some building. Khushi looked at Arnav. Arnav 'This is my office. AR, Lucknow branch'
He held her hand and took her inside where Aman is waiting for them. Everything is arranged. She looked around, the whole office is empty. Arnav 'It is weakened so it a leave today'
Arnav 'Come' he took her to a big hall which is nothing but a conference room except for now the round table, chairs are removed with their a stage being set at one corner and two comfortable cushion set of sofa of occupying on the other.
Khushi 'Arnav ji what are we doing here?'
Arnav taking her hand in his 'Khushi I promised you I'll show you my love story' Khushi nodded her head. Arnav 'So here I'm going to present Arnav and Khushi's love story'
He made her sit and after ordering Aman to bring something for Khushi he gave green signal to start the show. He hoped again hoped something triggers her memory.
Khushi looked eagerly at the stage. She wants to know his love story, he had seen him all lost in his wife's though, seen him how much he is suffering without her, and can feel how much he loves her. She wants to know their story. She is so excited not knowing what is going to hit her in few hours.
She glued to her seat with her heart beat accelerating, blurred images of a man and girl continuously fighting with their every encounter, the invisible thread binding them forcing to cross each other path each time.
She blinked to clear the haze but the wheels in her head started running in high speed.
:
:
Khushi being pushed on the stage for ramp walk, her falling on Arnav's arm. The fight, the accusation, and his misbehaving all came crushing down on her.
The telecast after her fights with him in Dargah, Shyam coming into picture, how she had to leave her city and come to Delhi to in her buaji place with her sister.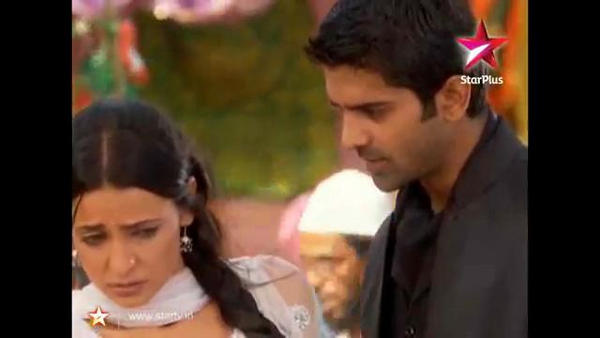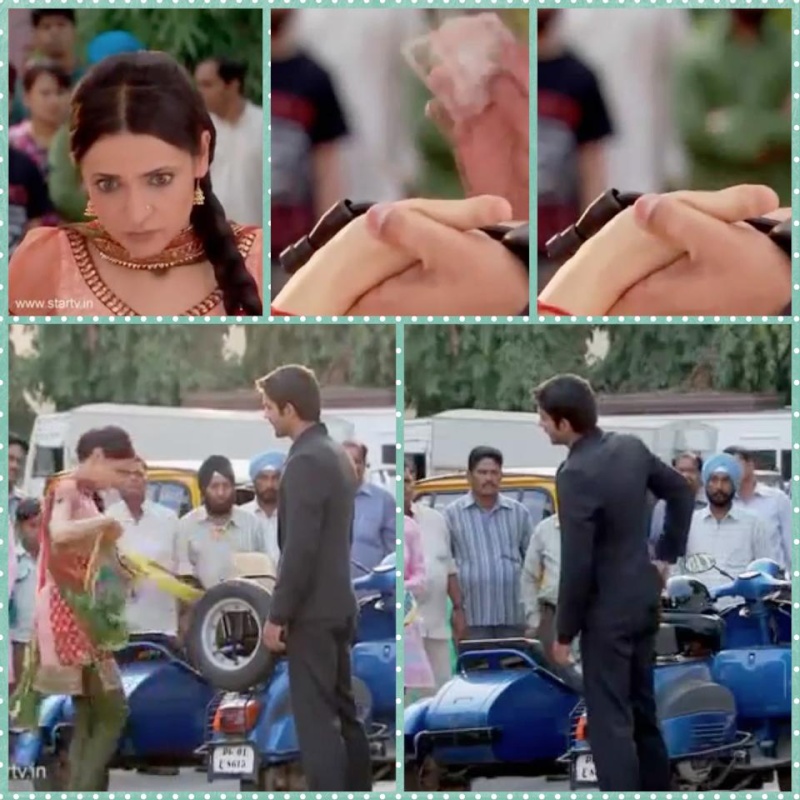 Time and Time again their crossing each other and getting into fight. Bumping into Shyam on market and how he helped her to get a job which landed her on AR main branch, their heated arguments and the deal.
Shyam staying as her buaji PG. Their (ArShi's) constant bickering and tricks to prove each other in other's eye, Lavanya clinging to his arm. (Khushi's hand involuntary clutched her heart, a small pain searing through it)
Guest house incident and the aftermath of her leaving the job and also intend to leave the city but again it was not happening. She tried to run a sweet shop again landing directly to his house. Fate played cruel game.
Anjali had blackmailed her to take Lavanya's training which she did only to later thrown out by Arnav from his house. And then he comes to buy her for her sister and then constant of series of event happening around them changing their emotion from hate to something keen to attraction. The attraction was always there from start but they had never given it thought but being close to each other they felt it with much force.
Diwali night, him announcing to get married to Lavanya, his accusation of his her not meant nothing to him. Then her forced engagement with Shyam. The cheat, the lie, the deceit of Shyam coming in open. Broken engagement, Akash and Payal jiji's love story, their engagement and Lavanya Arnav's break up.
Arnav's changing attitude towards Khushi. NK's arrival. The wedding, the awful terrace incident and the hurtful wedding deal proposed by Arnav. The forced marriage for six months, her tears, her pains, his hurtful action, his pain, everything ran in front of her as not it is reel but she had lived it which is true.
Khushi clutched her head, Arnav getting kidnapped, she with NK recuing after months of fight with Shyam. Then Shyam's deceit coming in front of Raizada's, the aftermath, Arnav throwing Shyam out, and their six month marriage coming to end. Dadi coming into picture, the insult and Arnav's sudden decision of remarriage. Di losing her baby and Shyam re entry in their life. Against all odds their marriage happening.
Shyam's true face coming in front of Di and once for all he is out of everyone's life. And then Sheethal entered with Aarav along with bringing storm in their life.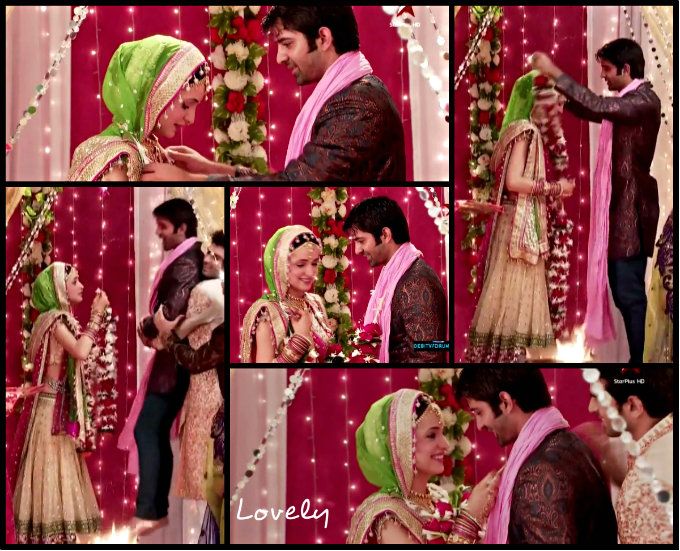 Khushi blinked back her tears escaping, the pain, the hurt, the betrayal she felt searing through her heart punching them and hitting them again and again. She felt nauseated, her head started spinning, she no longer was able to stable herself, before she could hit the ground sliding down from the sofa she was seated she felt two arms wrapping around her securing her in the safe cocoon.
:
:
:
She came out of house with her luggage walking on the road aimlessly; she had left the house, left her husband now where will she go? She blinked her tears to get clear vision.
'Why Arnav ji? Why did you do this to me?' She cried, unable to think of living without him but she had to.....she could no longer take his indifference, it hurts.
Sudden force of light blinded her; she squeezed her eyes shut before opening them only to feel horror looking at the person now standing before her with his evil smile.
She tried to take a step back but..... 'not soon Khushi ji'
There she blackout, a person from behind has kept a cloth on her nose and smelling the ether she fainted.
Khushi opened her eyes wide when she felt cold water drenching her. A sarcastic voice reached her ears 'Wake up sleeping beauty'
Sheethal grinned at her shocked expression 'Surprise!!!'
Shyam came from behind and hugged Sheethal, looking at Khushi he kissed her. Breaking from the kiss Sheethal looked at her 'Kya huwa shock laga. Shyam it is enough now at least let us raise the curtain before her'
Khushi looked at them in anger and also fear lurking in her eyes. She could not believe what she is seeing
Shyam 'Khushi ji' his sickening voice is making her gag.
Shyam 'You are more fool than that Anjali. Let me tell you one truth. Sheethal is with me. And do you know from when, from the time Arnav had rejected her. She had come down to India to make him accept her proposal but your husband was so much thrived to get success in business that he has no time for fun in his life. He did not want distraction in his life and Girls were only distraction according to him. I met her in a club where she was drowning herself in alcohol. Sheethal was heartbroken and you know how I cannot see beautiful girls heartbroken. I met her, consoled her, gave her support and guess what we started going out with each other. Sheethal baby I love you so much.'
Sheethal 'anything for you Shyam'
Shyam 'You know we have this understanding. She and I share everything with each other but at the same time we never interfere when others go around with someone. We get what we want from each other and it enough for us'
Sheethal 'but I did not forget the insult your husband gave me years back and I wanted revenge. He had forget everything with his business flourishing but I was enraged and wanted him to be in pain'
Shyam 'So you see we had to hurt him and it is only possible when his Di gets hurt. Like knight in shining armour I saved her from falling on the steps of mandir and she like fool fell for me. Oh I enjoyed a lot with her and her brother's money'
Khushi closed her eyes tight, grief for Anjali and angry on these two. She spat at them 'Dhabba ho tum log manushya ke naam pe (you both are shame in the name of human) and you both are not even fit to be in the list of monsters.'
Sheethal laughed 'shhh cool girl.....don't you wish to hear another important news....this will be very much useful to you....hahaha....you know what it is Aarav is my and Shyam's son'
Khushi looked at them wide eye. Shyam 'kya huwa Khushi ji dhakka laga'
Sheethal 'Shyam was playing with Anjali's life and I was here making my son as the Xerox copy of Arnav Singh Raizada, all credit goes to my being his classmate in Harvard and Shyam being around Arnav.'
Shyam 'but you are a fool to believe all this. And what you did? you left Arnav. Bechara pagalon ki tarah tumhe doond raha hai'
Sheethal smirking 'Guess what baby? It is call for celebration; we have to celebrate this victory.'
Shyam pulling her close 'And how may I ask?'
Sheethal 'you know very well how?'
Khushi looked at them disgusted. Sheethal turning to Khushi 'Oh common don't make faces. Having S** is nothing wrong.'
Khushi 'you are bi***'
Sheethal laughed 'that I'm' then titling her head 'baby you wanted to have fun with her don't you'
Shyam's lustful gaze roamed over Khushi's form. Sheethal 'now she is all yours, you can do whatever you want but for now let us have our celebration'
They chuckled leaving shocked and terrified Khushi. Sheethal's voice echoed back 'and forgot to tell you I'll soon get Shyam in Raizada Mansion again, this time not even your husband can stop it'
She ran, ran, and ran........her head time to time turned backward to see if they are following her. She was lucky enough to get a chance from escape from them but she needs to reach to a safe place and the safe place can only be in her husband's protective arms. Oh Arnav ji I'm so sorry I doubted your love.
Wiping her tears she made her step quicker hearing the footstep behind her.
But alas they caught with her.
She looked in fear at the men surrounding her, Sheethal and Shyam came towards her with predatory eyes. Shyam 'you did wrong Khushi ji. You should not have run. Now you have to leave this world. You are dangerous for us. Khushiji I thought to have some fun with you but *shaking his head* I can get many girls' like you but not Arnav's property..tsk.... you have to die'
Sheethal laughed looking Khushi's deer caught by Lion expression; they stabbed her with knife and hit her head forcefully with rod…They were going to continue with the act till breathes her last but to their unlucky a car came towards them made them to clear the place leaving Khushi to die.
:
:
:
Arnav looked at Khushi worried from the glass door of the private room; as soon as she fainted he got her to hospital not knowing what to do cursing himself.
He should have been careful but his recluse decision had lead Khushi into stress.
Doctor came out of the room after checking her. Arnav 'How is she?'
Doctor 'She fainted due to her mind tried to put pressure to think the incident of her past. She stressed herself to dig into her memory. She will fine. But take care to go slow or to leave it on nature so to avoid happening like this again'
Arnav went inside the room, looking her fragile form; he sat beside her bed on the stool. Taking her hand in his, his tears escaping 'I'm so sorry to hurt you again'
Do please let me know about this part, how is it?
And thank you to everyone who commented and hit thank you button on previous update.
Nov 13, 2014
Loving Someone Is Easy But........Part 6!!! 13/11/14 (By Sviji) (Thanked: 6 times)
Part 6
Arnav opened his eyes, his gaze clashed with the hazel eye looking at him. He sat straight, cupping her cheek 'Khushi how are you feeling now?'
She kept quite looking at him.
Not seeing her respond to him he stood up 'let me call the doctor' with that said he turned back walking towards the door.
However her voice stopped him 'I'm sorry!!!'
Arnav confused looked at her; it is him who has to be sorry, then why. Khushi's next word made him to root to his spot 'I'm sorry to doubt your love Arnav ji. I'm so sorry I did not trust and had believed in you. I'm sorry'
Arnav gulped, his eyes brimming with tears 'Khu...Khushi!!!'
She cried lowering her gaze 'I'm so so sorry to leave you and our house'
Raising her eyes to look him, she pleaded him 'Forgive me Arnav ji'
Khushi!!! He cried moving towards her, taking her in his arm, Khushi cried hard hugging him tight 'Sorry, very sorry. Please forgive me. I'm sorry I hurt you'
He shaked his head, cupping her face, he cried smiling 'No...no sorry. Khushi....*searching her eyes* you remember everything'
Khushi nodded her head, breathing in relief he hugged her fiercely 'Oh Khushi.....my Khushi is back'
This is how Radhika spot them when she entered in the room; she had been sent by Arnav to home last evening. He was adamant to stay with Khushi and asked her to leave the hospital saying he will take care of her and she needs rest. She left with hesitation but now seeing Khushi in Arnav's arm and he rejoicing, she backed away with heavy stone settling in her heart 'she lost her...... she lost her daughter. The one who is before her is Arnav Singh Raizada's wife who will leave her and her life. God!!! Why such a fate?'
Khushi had confided to Arnav what happened with her after she left the house?
Arnav was seething in anger; he had never thought Sheethal would be with Shyam planning his doom. Khushi's voice brought him back from his thought of devising painful punishment for Shyam and Sheethal.
Khushi 'I'm so sorry Arnav ji'
Arnav 'Shhh Jaan, you are not at fault. Anyone at your place would have reacted the same. I just wished you would have given me chance otherwise we would not be separated for this three year'
Khushi shed silent tears, she is at fault but Arnav did not let her blame herself.
Doctor came inside the room and Khushi noticed Radhika standing away from them. Arnav followed her gaze and invited Radhika to come near her.
Khushi smiled at her 'Thank you for saving me and giving me the love of mother. Thank you Amma'
Radhika hugged, her relief of Khushi recognizing her made her happy.
Arnav looked at both of them and smiled. Doctor 'she is fine and can be discharged after the paper works are completed' he left the room.
Arnav to them 'I'll go get her discharged and settle the bill' he left the two alone to give some time for them.
A week later, Pandit ji announced 'Now you both are husband and wife'
Arnav and Khushi looked at each other smiling. Everything fell back on place, Radhika wanted to see them married before they leave for Delhi.
Radhika blessed them for happy life.
Night, Khushi and Arnav are snuggled to each other after passionate love making, it had long they been in one in every sense. He kissed her forehead feeling alive; his Khushi is with him now.
Khushi 'Arnav ji, how is everyone at home? You always dodge my question but this time I want you to answer me. And we are leaving for Delhi tomorrow right. I want to know everything what happen in my absence.'
Arnave sighed 'Khushi after you left the house. I too left the house when my own family did not trust me. Only Payal and your family were with me. I tried finding you and the search was still on until I find you here. Everything changed Khushi. They are not the same. In two months of we leaving the house, Shyam had again entered the house. Di was the one who bought him to Raizada Mansion. I could not believe how Di could do this to me. Apparently they married again. I never went inside the house. Everyone had to accept her decision. NK not liking the events happening left to Sydney. Payal was the one who used to visit me frequently and updated me everything happening in house. The relationship between me and our family is sour now. Nani could not take the happening in the house, she was disheartened, first you left and then me, then Di went and married that swine, everything was too much for her. She got heart attack *shhh don't panic* she is fine; I went to look her when she was admitted in hospital. She requested me to come back but I could not. How can I when she did not trust me? She still thinks I'm Aarav's father.'
Khushi heart pained listening to everything 'is that Sheethal still in our home?'
Arnav nodded his head 'I tried to prove my innocence but she always escapes and changed the DNA test report which I took again for showing her true face to our family. But all back fired on me, now I know that swine is with her and helping her.'
Both felt anger towards the duo, because of them their live had almost destroyed. Now they are together, they will show them what it to mess with them.
Next day, Khushi 'Amma think one more time. Please come with us'
Radhika 'I too wish Khushi, but beta here our children's (orphanage children) are depending on me. I can't live them alone. Whenever I miss you I'll come to see you and you can come to see me. I'm sure Arnav will bring you here if you ask him' she looked towards Arnav who nodded his head.
Both took her blessing and sat inside the car, Radhika watched the car speeding away. She will miss her daughter but is happy to see her going to live her life with her husband.
After two hours, Delhi Airport.
Khushi 'Arnav ji Aman ji has sent a car to pick us na' she looked around.
Arnav pocketing his phone 'yes Jaan, the car is on its way, got stuck in traffic'
Khushi 'I'm so happy. I'm going to meet my family'
Arnav 'No Khushi we are going to stay at my place, my apartment'
Khushi looked at him shocked, then composing 'I don't agree with you. I want go to my home, Shantivan. And Arnav ji, they are our family, getting angry will not make things right. We need to set everything right on our own. It is high time we get back to our family'
Arnav 'Khushi!!!'
Khushi 'Please Arnav ji, now I'm there na why are you thinking so much. Don't worry, I promise I'll never leave you again'
Arnav 'but that Sheethal and Shyam.....'
Khushi 'We will take care of them together and you are there na, with me'
Arnav hugged her 'Always!!!' The car send by Aman picked them and they headed towards Shantivan.

I don't know why but there is no option coming as Thank You button for my post in AM1. I don't know how it will be in this page. More than Thank you button I'm irritated to not able to modify or delete any view. I would be glad to hear from you as the Thank you button or any other button is not showing.
Do please let me know about this part, how is it?
And thank you to everyone who commented and hit thank you button on previous update.
Nov 24, 2014
Loving Someone Is Easy But.....Next Part 7 Is Up!!! 24/11/14 (By Sviji) (Thanked: 250 times)
Part 7
Raizada Parivar stood in shock looking at the entrance, on HP's shout of joy they all had come out of from wherever place they were to see Arnav and Khushi standing together. Khushi looked all of them wearing the same shocked expression. No one is ready to come out of their stupor.
Khushi 'Jiji!!!!'
Payal till then did not realize her eyes were filled and two three drops fell, she smiled slowly hearing Khushi call out to her. Nothing could stop her she ran forward to engulf her sister who returned back to her after three years.
Payal 'Khushi!!!' she cupped her face. Khushi 'Shhh....Don't cry jiji...Now see i'm back'
Payal 'yes you are and I'm not letting you go ever'
Khushi 'and I'll never leave again' Payal looked at Arnav who is having soft smile on his face looking at them both mainly Khushi.
Payal 'Thank you Arnav ji. You bought her back'
Arnav 'I had to.' He looked at Khushi, his eyes shining with love, warmth and care.
Khushi 'Jiji humein andhar nahiin bulaogi'
Payal looking at her for a minute then realization dawned her 'wait for few seconds' she ran inside and came out with arthi thaal. Payal welcomed them inside after done with their aarthi. Arnav and Khushi walked inside. Khushi looked at other's who stood like a stone at their place. Her gaze did not leave anyone, and when her gaze landed on Shyam and Sheethal it hardened, like a steel.
She moved towards Nani 'Namasthe Nani ji' she bend down to touch the old ladies feet, whose eye covered with unshed tears. Nani 'Khushi bitiya!!!', she hugged her relief to see her back. She knew the circumstance in past or in present is good but she is happy, very happy to see her favourite child back.
Khushi moved towards Anjali 'will you not welcome me Di?'
Anjali smiled at her weakly and hugged her softly saying 'Welcome home Khushi'
Khushi then met with Maami who with her painted wide eyes 'Hello hi Phat....I mean Khushi' Khushi touched Manorama's feet for blessing. She ignored the two devils and moved towards HP, OP and JP who are like family to her. They smiled heartily seeing their Khushi bhabi back. They had missed her so much.
Arnav 'Chalein!!' Khushi looked up at Arnav's face, standing behind her.
Nani panicked hearing his words 'Kahan?'
Khushi 'To our room Nani ji' she did notice the relief in her. Smiling at Nani ji she left with Arnav who is dragging her softly towards their room.
Khushi gasped entering inside the room, the room is well kept even today, her questioning gaze went over to Arnav. Arnav shrugging 'only Payal was allowed to come inside our room to keep it as it is; only she has the key to our room'
Khushi 'how did you give the key to her? Trust her?'
Arnav 'because she was the only one who trusted me in this house' she hugged him in sorry she too was not with him when he needed her, Arnav is in peace to have her in his arms.
Khushi caressed his hair as he slept clutching another hand of hers; he is such a baby sometime. Sighing she withdrew her hand from his hold. Last day was every eventful Arnav ji was not ready to leave the room and no one in the family tried to come to their room except Jiji who came down occasionally to see if they need anything. Poor jiji she is doing all the work alone, it is good at least HP and OP are there to help her. Getting out of bed she left to get ready for the new day ahead in her home.
When she came out Arnav was awake, he looked at her through his sleepy eyes 'why did you get up?'
Laughing she came to him 'it is morning and I've to go for morning Arthi, and help jiji'
Hugging her by waist 'don't go'
Cupping his cheek 'Arnav ji get up. Don't you have to go to office?'
Arnav shaking his head 'No!!! I don't want to'
Khushi smiling softly 'Poor Aman ji, he will be alone working no one to shout at him'
Arnav 'I don't shout at him without reason'
Khushi raising his eye brows 'accha'
Arnav 'yeah I tend to get angry when work is not done?'
Khushi pinching his nose 'I don't think so. Your anger always resides on nose and does not have to have any particular reason to burst open. Most of the time it is Aman ji who becomes target of your anger. Accha now get up, it was already enough days you are away from office and your work'
Arnav 'Khushi!!!'
Kissing him on his cheek 'I love you Arnav ji, as much as I want you beside me all the time I don't want your work and office suffer without you. Get up, it is 6 am now, your jogging time' sighing he got up smiling at her 'okay!!!' Once he left for washroom to freshen up, she left the room. Coming down she straight went to Pooja room.
Anjali, Nani, Maami, Payal were already present. Payal smiled at her, she is happy to see her sister again. Taking the Pooja Thal in her hand she forwarded it to Khushi 'Raizada bahu has returned home after long time and as you are the elder bahu of the house I'll be happy if you perform today's pooja' Khushi smiled at her and then looked at others. Nani smiled at her nodding, Mami as usual did not bother much about her surrounding, Anjali kept silent. Khushi took the thal from Payal and did arthi of Devi Maya.
Kitchen,
Khushi 'Jiji what are you going to prepare for breakfast?'
Payal 'I'm thinking to prepare halwa puri'
Khushi 'and aloo sabji, Arnav ji loves it'
Payal cupped her face 'I'm happy to see you both together'
Khushi holding her hand 'I'll not do the same mistake again to hurt us both. Jiji you peel the potatoes till then I'll go see Arnav ji, he must have returned from his jogging' and left for their room. Arnav smiled at her when she entered the room. He is on call with Aman as usual.
Khushi taking out his clothes kept them on bed and keeping his laptop bag, phone, and car key on the low table she looked at him till he finishes his call.
Arnav 'Keep the presentation ready. We will discuss everything once again before the meeting. Will see you in the office Aman.' Cutting the call he came to Khushi, Khushi 'Go shower and after getting ready come down your breakfast will be ready'
Arnav 'is it necessary to have breakfast down'
Khushi 'Arnav ji we are not wrong but the people who are wrong should think of not coming before us but they are roaming freely so why should we lock ourselves in room as if we are coward. We have already decided we will not run away from them. We will face everything together'
Arnav took deep breath; kissing on her forehead he left to get ready for the day. He has his Khushi with him and hell if he let anyone win over them.
Dining table,
Everyone are present in dining table, Shyam was going to sit but before he could Arnav kept his hand on the chair 'This is my place'
Giving a hard stare to Shyam he sat on his usual where once he used to sit. Shyam twitching his lips went to other side of the table. Khushi came out with Payal each holding bowls containing aloo sabji and halwa, puri is already kept on the table by HP. Khushi 'HP ji please bring the juice'
HP scurried off, Khushi smiled at Arnav before putting puri, aloo sab ji in his plate, and placing a cup of sugar free halwa. Sitting beside him she started having her breakfast. All looked at Arnav and Khushi who is behaving normally as if nothing wrong went in Shantivan and the Raizada family. Shyam and Sheethal looked at each other, their evil eyes not able to take the scene in front of them.
Finished with breakfast, Arnav and Khushi left dining table, one leaving for the office while the other sending off with a good bye kiss, smile and little warning of be back home soon.
Coming Up: Time to Confront Evil.
Do please let me know about this story, how is it?
And thank you to everyone who commented and hit thank you button on previous update.
Dec 9, 2014
Loving Someone Is Easy But........Part 8!!! 08/12/14 (By Sviji) (Thanked: 205 times)
Part 8
Khushi looked at the ID card in her hand, the boy Aarav was in hurry to get to school who did not notice the card dropping down from his pant pocket. But now seeing the ID card she could not hold herself then to reach to school.
Khushi 'jiji I'm going out, have some work. Will be back in sometime'
Payal 'but where?'
Khushi 'I'll tell you once I'll be back' with that she rushed out with Payal looked at her retreating figure with confused face.
Rani Memorial School,
Entering inside the school office and met with the Principal. Principal 'this is against our rules Mrs. Raizada'
Khushi 'I know but I'm sorry I really want to know. It is important and urgent'
Principal sighing 'okay'
She called the peon to bring the file containing details of 3rd std student. Peon came with the file and gave it to Principal. Principal 'here is the file Mrs. Raizada'
Khushi took the file from her and went through; her stopped at the form of Aarav. Her breath hitched, clenching her jaw tight with the information on the form. Giving back the file to Principal she thanked her for her help.
Coming out of the school, she reached the car, driver came to open the door for her. Settling inside she instructed the driver to take the car to AR.
Late afternoon, Khushi 'Di how can you fill in the form as Aarav's fathers name as Arnav ji? How can you?' she after reaching AR has confided the information with Arnav who like her was shocked and had left the office to home for much needed confrontation.
Anjali 'Khushi ji Aarav is.....'
Khushi 'Don't....don't even say he is Aarav's father.....he is not....he can never be. Don't impose your misconception on him. Arnav ji is not Aarav's father and he will never be. Only my child will have the right on him as his/her father. I'll not like anyone else call him dad or make use his name'
Anjali 'Khushi ji? You think we used Chotte's name. Did you forgot the DNA reports..'
Khushi 'I don't believe it. I was a fool to fight with Arnav ji before listening to his words, I was hurt with his behaviour but now I've opened my eyes....and I'll never let anyone take advantage of him even if it you Di'
Anjali looked at her shocked....she turned to Arnav who is watching all this silent 'Chotte look what Khushi is telling'
Arnav 'she is not wrong Di. How can you fill my name in the fathers place without my consent....I never knew you will do something like this....it is heights...you cannot force me to accept any child as mine.'
Akash tried to talk 'bhai....'
Khushi 'he is no one's brother, he is only my Arnav ji, it is enough trouble you all gave him. Going behind his back you all did numerous things. So all wants Aarav to get father's name isn't it?...then Akash ji why don't you give him your name....*turning to Anjali* kyun Di why don't you ask Shyam ji give him his name' Shyam looked her stupefied, everyone were shocked.
Khushi 'Why are you all shocked? I don't have any ill thought towards the child but imposing him on my husband is the last thing I'll tolerate. He is not at fault to be born to the parents who use him for their benefit *glaring at Sheethal and Shyam* but disturbing me and my husband with such behaviours is unacceptable. I hope you all understand and Di I would like it if you go and change it, if not then I'll have to file the case on whoever is trying to drag my husband's name on mud. And Oh if you people thinking of DNA test then let me clear you all, we will go for it and no one will be able to change the DNA test according to their will like last time.'
Everyone watched in shock to see Khushi marching towards their room dragging Arnav with her who did not even interrupt or spoke a word against her. Payal smirked watching her feisty sister. She is all set to wait and watch the foreplay she is going to witness in coming days, and if need to be she will be there for Khushi when she needs her.
Inside their room, Khushi looked at Arnav who is looking at her as if never saw before. Khushi 'What?'
Arnav shaking his head 'Can't believe it? It was you who spoke like that. I never saw you raising your voice on family members'
Khushi sitting down dejectedly on the bed 'it was needed Arnav ji' he sat beside her, and held her hand 'What happen Khushi?'
Khushi looked up at him, her eyes filled with tears 'I'm sorry Arnav ji I talked to Di like that but…..'
Arnav 'shhh I know I understand. It is okay I'm not upset with you'
Khushi 'but how could Di do this?'
Arnav 'Shhh they all are under Sheethal and Shyam's influence' Khushi twisted her lips in annoyance 'I hate the pair, can't tolerate them before my eyes'
Arnav 'everything will be alright soon, we will make everything fine' Khushi hugged him taking in the solace of his arms.
Evening, Gupta House, Buaji opened the door and stood shell shocked with one hand on her head and another one on her mouth.
Garima coming from behind 'who is it jiji?' and wore same expression of shock like buaji looking at the person before her.
Khushi jumped on them hugging them tight 'buaji, amma'
Garima breaking the hug, ran her hand on Khushi wanting to confirm 'is that really you?'
Buaji too looked at Khushi with wide eye, Arnav coming inside smiled 'She is your every own Sanka Devi Buaji. Khushi is back'
Buaji 'titalia' cupping her face….Garima 'Where did you leaving us? Did you not ever think about us, Arnav bitwa?'
Arnav holding Khushi by shoulder who is looking at Buaji and Garima sorrily 'now she is back why to hold on to past'
Khushi holding her ears 'I'm sorry Amma, Buaji' both the elderly woman smiled at her, being happy to see their daughter back.
Khushi looking around 'Where is babu ji?'
Both the woman looked at each other and then at Arnav, Arnav 'Khushi first come sit you will know soon'
Garima 'haan betiya come sit, I'll tea and snacks for you both' she ran towards the kitchen happily to prepare Khushi's favourite. Buaji occupied one of the couches and looked at Khushi filling her eyes; she has missed her titalia very much.
Half an hour later, Khushi heard her father's call 'Garima….' Her head swirled towards the entrance door to see Shashi walking inside with walking stick. She gasped 'babu ji'
Shashi stopped hearing the voice, it had been three years he heard her voice, feeling it be his another imagination he closed his eyes before shaking his head.
Khushi called him softly before walking to him 'Babu ji' Garima, Arnav, and Bua ji stood up.
Shashi turned his head, his eyes going wide to see Khushi is really standing before him, Khushi give him watery smile 'babuji'
Shashi 'Betiya?' she rushed to her father's arm crying. Shashi laughed while crying, her daughter is really there, he raised his eyes to look at other three who nodded at him, he hugged her close happy to see his Khushi betiya back.
Khushi coming out of hug, her hand on her mouth looked up and down at Shashi in astonishment. Khushi 'babu ji you can walk…and you are talking'
All smiled, Arnav coming to her 'how is the surprise Khushi? One you wish to give to your family and one we gave you. Babu ji is fine now, he is getting back to his old self. For now he needs the help of stick to walk and his speech is little slurred but there he is recovering well'
Khushi hugged Shashi again crying in relief. Gupta house filled with laughter after a very long time with all smiling from their heart. Khushi looked at Arnav with adoration, love, and gratitude after listening to Garima and Buaji's word on how he is the one who is behind all this. she mouthed towards him 'I love you' who smiled back at her, his eyes conveying his love for her.
Do please let me know about this part, how is it?
And thank you to everyone who commented and hit thank you button on previous update.
Dec 13, 2014
Loving Someone Is Easy But........Part 9!!! 12/12/14 (By Sviji) (Thanked: 182 times)
Part 9
The same night,
Nani looked up to see Khushi 'Come in betiya'
Khushi came inside and looked down, Nani 'betiya sit down' patting the space beside her.
Nani sighed 'I heard what happened between you and Anjali'
Khushi 'Sorry Nani ji but I don't think so I did wrong'
Nani 'betiya I understand you where you come from but....'
Khushi 'No but Nani, Aarav is not his son and I'll never allow anyone to hurt him, again'
Nani looked at her astonished, Khushi 'we had suffered already enough due to my foolishness and I'm not going to let anything come between us. Do you really want Sheethal....'
Nani rushing to clear her misconception 'No betiya I can't think anyone else as my Chotte's wife than you. I just don't want injustice happen to an innocent soul (Aarav)'
Khushi 'trust me Nani I know who is right and who is wrong. I know who is Aarav's father and soon everyone too come to know of it. For now please don't do anything which will hurt me and Arnav ji. I could have gone to live with him in his flat where he was living from past three years but I did not want to give up on our family.' Looking at Nani for a minute hoping her to understand her she left the room, leaving behind thoughtful Nani.
Anjali turned around after praying to Devi Maya only to collide with Khushi. Khushi looked at her silently assessing her, not saying a word. Anjali lowered her gaze, last day's incident flashing on her mind. She had been not able to sleep all night and had come to Devi Maya mandir only to get some solace from the smiling God but nothing could have prepared her for facing Khushi again.
Khushi 'came for pooja Di'
Anjali surprised looked at her; she could not believe Khushi could talk to her normally after what happened. Khushi 'agar apki pooja katam ho gayi ho to kya aap humare liya wait kar sakthi hain Di (If you are done with pooja can you please wait for me). Five minutes, I'll not take more than that.'
If Anjali panicked at her request then did not show it on her face or so she thought, nodding at her she watched Khushi giving Pandit ji her pooja thaal and asking him to do pooja for Arnav's name.'
Khushi closed her eyes, joining her hands praying to the almighty who always helped her, looked after her and gave her strength saving her from every evilness in the world. Requesting her to shower and bless the love and care with her protection not only on her but for her husband and her both the families.
Done with her pooja she turned to Anjali who stood quiet in her place, had already been witnessed to the fleeting fear crossed on her eyes she sighed with resolve in her mind.
Khushi 'Di we need to talk'
Not giving her a chance she dragged Anjali behind the temple, the place is quiet and empty. Settling on the stone bench, she made Anjali to sit beside her.
Anjali breaking her silence 'What is you need to talk?'
Khushi 'are you not happy Di? Happy to see me with Arnav ji?'
Khushi looked at the shocked Anjali 'Kyun Di? Main sachh keh rahiin hoon na'
Not able to look in her eyes Anjali looked down, Khushi 'What grudges did you had with me Di? I always loved you like my own sister, you were never Arnav ji's sister for me but as my own, then why Di? Why did you betray me and Arnav ji like this? Pata hai aapko kitna dard hota hai. Di I did wrong in leaving Arnav ji but you? Why did you left his side Di? Why? How much he must have felt to see you not being there with him, for him? Aisa kya guna kiya hai Di. What did we do? Do you really think Arnav ji can father a child and leave like this? Then it means only one thing, you see him as your father. Isn't it Di? Do you see him another version of your father? Do you really think he will do something like him? Because Arnav ji really thinks like this, he thinks you are convinced that he is like his father. Is it true Di? Don't you have little trust in him? Do you really think Arnav ji is heartless person who will take away a child's innocence and identity if he knows he is his child? No Di, he would have accepted his mistake and would have given him his name. Tell me Di, do you really think Arnav ji is a Aarav's father? Kyun itna hi barosa hai aapko aapke Chotte par?'
Anjali 'bas kijiye Khushi ji.....*choking on her words* bas kijiye, please'
Khushi 'No Di tell me, Is Arnav ji is like his father who will betray a woman to this extent leaving her in the middle after having affair and father a child?'
Anjali 'No!!!, don't say such thing about him. Mere Chotte aisa nahiin hai. He will never deceive anyone. He is not Rajendra Maliks son because he is Ratna Raizada's son. He will never be like his father, he is his Maa's son' looking at Khushi with anger shimmering in her eyes.
Khushi smiled softly, Anjali's expressing turned from angry to confused seeing Khushi smiling at her with the knowing look. Khushi 'What did you think Di? You will do something like that and I'll believe you are against Arnav ji. I've seen it in your eyes Di how your eyes shinned seeing me back with Arnav ji. How you always stayed aloof but had been secretly watching us with longing eyes? How you are fighting alone with your demons? Di, please tell me what happened for you to take such a drastic step to marry that man who not only tried to kill your son like brother but also your child. Don't hide anything now Di? Please.....'
Anjali cried seeing Khushi's trust on her, she never thought she is so lucky to have this girl in her life, in her brother's life. Khushi hugged Anjali 'bas Di bahut ho gaya...now we will make them pay for what they did to us. Di tell me how did that Shyam enter our house'
Anjali choking 'it is all because of me. I was fool to love that man in the past. I never knew he can go low to such an extent. Cheating, betraying, murdering, and then cyber crime act.'
Khushi 'Wh...what?'
Anjali 'The day before you left I.....*holding Khushi's hand tight* I did not knew....I could not realize what happened with me. That.....*choking on her every word*....he had come to my room and molested me *Khushi gasped, she never thought of this could have happened*....and I did not even knew it. Next day I got a call and....it was him....he asked me to see the MMS he is going to send me. The video contained *Anjali closed her eyes in shame*....I was shocked paralysed....don't know what to do? He warned me to not disclose it to anyone otherwise he will upload it on online. I could not let that happen? What will happen to families reputation, Chotte's reputation, with my reputation going down he too will be doomed, his business would have collapsed, everything was in line. I shouted at him, begged him what he wants now? He threatened to me support Sheethal otherwise the consequence will be worst. Sheethal was keeping an eye on you both and she knew you were going to leave Chotte asking for divorce, that bi*** knew it all from start. They threatened me to go against my own Chotte. I was tied and no one should know about it. I'm sorry Khushi ji....I'm so sorry....I did not want to do all that but I was forced. I could not let him destroy my Chotte but guess what he did just that....separating you from him. I realized that day itself what type of woman is Sheethal and in following days I got to know the truth of both of them. They planned it all very crucially and we became a pawn in their dangerous game.'
Khushi sat shock, Anjali 'he always threatens me with that video, he forced me to marry him, and do you know....he harasses me mentally and physically.....he gets cozy with that woman in front of me....I felt like to kill them but he is so smart....as much as I want them to be killed, they have their weapon hidden. He had hid the video to the place where if anything happens to them then everything will be coming in front of the whole world. I don't care about what society will think about me. But Khushi ji how will I see anything happening to my Chotte and family'
Khushi gulping, her tears escaping with Anjali's called in her painful voice 'Di!!!!'
Anjali hugged her crying 'I did not want to hurt Chotte....I never wanted to. Believe me I was unable to....he made me do all this. And I could not do anything than to watch everything in front of my eyes.'
Khushi 'Shhh Di....shhh Chup hojayiye....We know you Di....we trust you. Like me Arnav ji too believes his Di can't do anything deliberately to hurt him. Don't worry Di sab kuch teek hojayga. They will be punished for every sin they did to us.' Anjali clutched on to her like a dried shaking leaf.
Face etched in pain, eyes red saying the agony he is going through, his fist tight and jaw clenched indicating the anger simmering inside him, Arnav Singh Raizada felt like a failure who could not save his sister. Khushi understanding and going through his inner turmoil hugged him giving him support and strength, her heart wrenching in agony to see the man she loves more than anything or anyone in this world is breaking down to pieces.
Arnav 'Khushi all this happened under our nose and we did even see it. And I too left her to face her demons. I failed Di....I failed her again....'
Khushi 'Shhh Arnav ji don't think like that....it was not in your hand. You were not aware of what they were planning. They were so cunningly with everything planed out and moved according to it. We fell for it, we were made to indulged in our problem and we could not see what happening around us'
Arnav 'But Di.....'
Khushi 'We are there for her. We will get her out of this, and he will pay for every crime he did to her'
Arnav 'how?'
Khushi 'leave that on to me.....', he laid his head on her lap while Khushi caressed his hair. Arnav 'I can't see them without breaking their face'
Khushi 'even I can't but we have to be cautious. He is keeping an eye on us'
Arnav looked at her, Khushi 'I noticed a car following our car so I got down in Mall and escaping from there I left to Mandir in an Auto.'
Exclaiming he blurted out 'What if there was someone was keeping an eye on Di? What if they saw you talking to her?'
Khushi 'Shhh relax, no one got to know about us. Remember yesterday's fight I instigated purposely, they think we hate Di and other's in this family for hurting us'
Arnav 'are you sure?'
Khushi 'cent percent!!! Beside he wants to corner me which I'm not giving him anytime' his lips thinned 'that bas****'
Khushi 'Shhh Chup....we will think calmly how to proceed now, already PK is working one side and now we have to something by which we will be able to nail them in coffin. They had played too much with us and our family. This the end'
Note: Khushi leaving Arnav, Anjali siding Sheethal and DNA report was enough for Nani and Maami with others to believe Aarav is Arnav's son because the boy is exactly like Arnav in his behaviour. Human Brain!!!
How did Anjali did not realize what happened with her that night because she was drugged and it is not secret who did it.
P.S Next update on Monday/Tuesday, which happen to be last/second last update of this story.
Thank you to EVERYONE who hit Thank You button and commented on previous part. And Silent readers like always a kind request please do hit thank you button.
Jan 24, 2015
Loving Someone Is Easy But........Part 10!!! 23/01/15 (By Sviji) (Thanked: 163 times)
Part 10
'Nanav!!! Khushi ji.....Nanav.....Khushi ji'
Everyone in Raizada came out of the house listening to the loud voice.
Arnav released a frustrated sigh.....this guy will never change. Khushi giggled looking at his fuming face. Arnav promised with his eyes for nice payback for laughing at him.
Khushi 'Laadgovernor correct your sulking face'
Arnav 'as you wish my pagal wife'
Khushi 'haww'
Arnav raised his eye brows but then was taken aback when NK had hugged him with force. Arnav 'What the!!!'
Khushi laughed. NK 'Nanav Mere bhai'
He leaving Arnav rushed to hug Khushi but stood confused with something restricting him from moving. NK looked back to see Arnav had held his jacket from moving forward. NK 'Nanav leave me'
Khushi came to them smiling 'Namasthe Nanhe ji'
NK shaking hands with her, which is the only thing Arnav had allowed 'it is nice to you again Khushi ji. It is whole three after I'm seeing you. You did not do right. I missed you Khushi ji'
Khushi just smiled at him sadly 'I should not have left, right? I know'
Nani 'Nanhe you forgot us'
NK taking her blessing 'how can I? I missed you all'
Nani 'I know everything, I can see how much you missed us'
NK pulled his ear softly in sorry gesture. He met with everyone cheerfully.
After spending his time with family and done with distributing gift he left for his room he used earlier.
Days rolled with no change in Raizada Mansion. Everyone immersed in their own life is what a third person from outside could see but no one knew what is one upto behind the closed room.
One side Arnav and Khushi tried every means to save their family from Shyam and Sheethal while on the other side Shyam and Sheethal had been on the chance to when they should destroy the little new found peace of Raizada's.
Sheethal 'I'm leaving for club Shyam. I need break from this daily headache I'm witnessing in this family. We are going nowhere. When this game will end and we will get everything in our name. Now Khushi too has come back from her death. We should have made sure she is dead before leaving the place'
Shyam 'Yeah right and get caught'
Sheethal 'do something soon. It is really frustrating now. I don't want to use Raizada money. I want to own this wealth' she left the place highly annoyed at whatever is happening against their plan.
Radison Club,
'Sheethal you here?'
Sheethal turned around, she is already in high alcohol effect 'You NK?'
NK 'yep'
Sheethal 'What are you doing here?'
NK 'what will anyone do in club? Of course to relax myself'
Sheethal rolled her eyes. NK 'I never knew you visits club'
Sheethal 'What do you know about me? Nothing'
NK 'you are right. I don't know anything about you'
Sheethal 'see I'm right'
NK 'you broke my heart'
Sheethal 'Me?'
NK 'yeah you?'
Sheethal 'what did I do?'
NK holding her hand 'I really liked you Sheethal and wanted to marry but you love Nanav'
She started laughing 'you like me....hahaaha and what did you say I love your Nanav? Sheethal loves Nanav......tsk tsk NK you know you Raizada are bunch of fool. Truth is in front of you guys but never sees it but instead believe what you are shown.'
NK shocked 'you don't love Nanav'
Sheethal 'I can never love anyone other than myself.'
NK pressing her hand 'Not even your son. Sheethal marry me. I'll give your son a father's name. I'll be a good husband and very good father for Aarav'
Sheethal snatching her hand swayed poking a finger on his chest 'why will I marry you when my son has his real father'
NK 'but Nanav will never marry you. He loves Khushi ji'
Sheethal laughed again 'Who talked about your Nanav?'
NK 'What?'
Sheethal 'you did not understand? Your Nanav is not Aarav's father....remember this in big bold letters'
NK looked at her shocked, Sheethal controlling her glee 'it is all my and Shyams plan. We trapped everyone. *in his ear* Ek Raaz ki baat bataon....*he asked What* Shyam is the father of Aarav.' She laughed again. Even a smart intelligent person will make mistake when they are high in the effect of drug and Sheethal who acts like smart but in real is very dumb to spill everything to NK.
Next Part: Monday (Maybe Last or second Last part)
I know it is very short but I was blank when I wrote this now. Don't know why I'm struggling to write next part of my stories. Even for SHT I was like what the hell I'm writing. I would have given update tomorrow but I've got some important work outside and I'm leaving with my mom for the same which I came to know sometime back.
I hardly will be able to update any story tomorrow.
Do please let me know about this story, how is it?
And thank you to everyone who commented and hit thank you button on previous update.
Disclaimer: The views expressed above are member's views and this website does not comply with it. The views expressed may not be factually correct. Incase of any issue please contact us/report it to us.