MasterChef Myeduniya
May 31, 2014
MasterChef Myeduniya (By Rockinriya) (Thanked: 18 times)
Hey fellow Myedunians!
For a long time i had this concept in mind.Cooking is something which has a place for itself in my heart,as i am sure it does for many.And this is the reason for the creation of Masterchef Myeduniya!
Myedunia is the perfect example of Unity in Diversity.There are such variety of people here from different parts of the world.Some are mothers,some are school students,some go to college,there is variety everywhere!
This is a place where all these different people can share their recipes! We have people who are experts in cooking,some who love cooking and want to try new recipes and some who would like to learn cooking.This is the place for them all.Some are masterchefs already,while some can become one!
Is there any specefic occasion,your friend's birthday and you want to whip up a cake but dont know how? Or its diwali celebration and you want to impress your guests? Or maybe your children are bored of eating regular food,so you want to make something interesting and healthy.Well this is the place!
And the best part,these recipes have been used by many,so they are tried and tested,not like those recipes online where you have to use weird appliances or ingredients which aren't available.
People can posts different recipes and cant ask for recipes for specefic occasion also.So what say? Do you like the idea?
Voting: (Total Votes: 41)
Like the idea,do continue.
(Votes: 39)
Shut up and delete the post.
(Votes: 2)
Jun 2, 2014
Classic Macaroni Salad (By Ilovearshi) (Thanked: 10 times)
Hola Guys,
A great initiative Riya!! My Darling. I totally loved this idea so thought to contribute something from my side.
Classic Macaroni Salad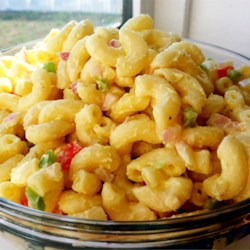 "This is a salad that everyone seems to love. It is just a pleasing taste that seems to suit everyone."
Ingredients :
4 cups uncooked elbow macaroni

1 cup mayonnaise

1/4 cup distilled white vinegar

2/3 cup white sugar

2 1/2 tablespoons prepared yellow mustard

1 1/2 teaspoons salt

1/2 teaspoon ground black pepper

1 large onion, chopped

2 stalks celery, chopped

1 green bell pepper, seeded and chopped

1/4 cup grated carrot(optional)

2 tablespoons chopped pimento peppers

(optional)
Directions :
Bring a large pot of lightly salted water to a boil. Add the macaroni, and cook until tender, about 8 minutes. Rinse under cold water and drain.

In a large bowl, mix together the mayonnaise, vinegar, sugar, mustard, salt and pepper. Stir in the onion, celery, green pepper, carrot, pimentos and macaroni. Refrigerate for at least 4 hours before serving, but preferably overnight.
PREPARATION TIME
20 mins
COOKING TIME
10 mins
READY IN
4 hrs 30 mins
Hope it helped.
Jun 3, 2014
Revani by I4arshi (By Rockinriya) (Thanked: 9 times)
Hey everyone! Its so great seeing people liking this concept.This is a turkish delight given to us by I4arshi.
Revani
Prep Time: 20 minutesCook Time: 30 minutesTotal Time: 50 minutesIngredients:
For The Cake:
3 eggs
1/2 cup sugar
3 tbsp. flour
3/4 cup vegetable oil
1 cup uncooked semolina
1 cup plain yogurt
zest of 1 lemon
1/4 cup finely ground hazelnuts
1/2 tsp. baking soda
2 tsp. baking powder
1 tsp. vanilla
ground nuts and coconut flakes for garnish
For The Syrup:
3 cups sugar
3 cups water
juice of 1/2 lemon
Preparation:
Before you start making the cake, prepare the syrup to give it time to cool down. Begin by mixing the sugar and water in a medium saucepan. Turn the heat on high and bring the mixture to a boil while continuously stirring it. Once it boils, reduce the heat to low and let the syrup boil gently for about 10 minutes with the cover off. Add the lemon juice toward the end. Turn off the heat and let the syrup cool down while you make the rest of the recipe.
In a large mixing bowl, whisk together the eggs and sugar first. Whisk the mixture briskly for several minutes until the sugar dissolves. The more you whisk, the better your 'revani' will turn out. Next, add the oil, lemon zest and yogurt and whisk for several minutes more. Last, add the dry ingredients and mix together well until you have a smooth batter.
Pour the batter into a greased 10 x 12 inch baking tray. Bake in a 350° F/ 175° C oven until the top is nicely browned and a toothpick inserted in the center comes out clean. Once you remove the pan from the oven, let it rest for about five minutes. Cut the cake into portion-sized squares or rectangles while still in the pan. Using a large spoon, slowly drizzle the cool syrup all over the cake and let it soak in. When you've used up all the syrup, cover the cake with foil and refrigerate it for several hours.
Before serving, garnish each square of cake with a pinch of coconut and ground nuts. You can also make orange-flavored 'revani' by substituting the lemon zest and juice with orange zest and juice. Or, you can eliminate the lemon all together and use rose water instead to give the cake a wonderful rose aroma.
I am definitely going to try this recipe out! Already salivating! Thank you I4arshi!
P.S. Guys i am going to nepal for 5 days.Yep my holidays just started today.So i won't be able to be here for those 5 days.But do keep posting different recipes.Will miss you all a lot! Love you all.
Jun 3, 2014
Healthy Dessert! (By Samiha) (Thanked: 14 times)
When it comes to satisfying your sweet tooth, our dessert recipes take the cake. Sweet and satisfying without the guilt—our confections are both scrumptious and healthy. Sit back and relax because you won't want to miss a bite.
So the first recipe is-
Rich Chocolate Pudding Pie:

Ingredients:
CRUST:
30 chocolate wafers (such as Nabisco's Famous Chocolate Wafers) $
3 ounces bittersweet chocolate, melted
1 tablespoon canola oil
FILLING:
3/4 cup sugar
1/4 cup cornstarch
1/4 cup unsweetened cocoa
1/4 teaspoon salt
1 3/4 cups 1% low-fat milk, divided $
2 large egg yolks $
4 ounces bittersweet chocolate, finely chopped
1 tablespoon white rum
1/2 cup fresh raspberries $
10 tablespoon fat-free frozen whipped topping, thawed $
Preparation:
1. To prepare crust, place wafers in a food processor; process until finely ground. Add 3 ounces melted chocolate and oil; process until blended. Press into bottom and up sides of a 9-inch pie plate. Freeze 15 minutes or until set.
2. To prepare the filling, combine sugar, cornstarch, cocoa, and salt in a large saucepan; stir with a whisk. Add half of milk and 2 yolks; stir with a whisk until smooth. Stir in the remaining milk. Cook over medium heat for 5 minutes or until thick and bubbly, stirring constantly. Remove from heat. Add 4 ounces chocolate, and stir until smooth. Stir in rum. Pour filling into prepared crust. Cover with plastic wrap; chill 4 hours or until set. Serve with raspberries and whipped topping
Jun 7, 2014
Homemade Pizza Recipe (By Ilovearshi) (Thanked: 8 times)
Homemade Pizza Recipe
"This recipe is a hearty, zesty main dish with a crisp, golden crust. Feel free to use whatever toppings your family enjoys"
Ingredient :
1 package (1/4 ounce) active dry yeast

1 teaspoon sugar

1-1/4 cups warm water (110° to 115°)

1/4 cup canola oil

1 teaspoon salt

3-1/2 cups all-purpose flour

1/2 pound

ground turkey or beef

1 small onion, chopped

1 can (15 ounces) tomato sauce

3 teaspoons dried oregano

1 teaspoon dried basil

1 medium green pepper, diced

2 cups (8 ounces) shredded part-skim mozzarella cheese
Directions :
In large bowl, dissolve yeast and sugar in water; let stand for 5 minutes. Add oil and salt. Stir in flour, a cup at a time, until a soft dough forms.

Turn onto floured surface; knead until smooth and elastic, about 2-3 minutes. Place in a greased bowl, turning once to grease the top. Cover and let rise in a warm place until doubled, about 45 minutes. Meanwhile, cook beef and onion over medium heat until no longer pink; drain.

Punch down dough; divide in half. Press each into a greased 12-in. pizza pan. Combine the tomato sauce, oregano and basil; spread over each crust. Top with beef mixture, green pepper and cheese.

Bake at 400° for 25-30 minutes or until crust is lightly browned. Yield: 2 pizzas (3 servings each).
Sweet Red Wine
Enjoy this recipe with a sweet red wine.
TOTAL TIME:
Prep: 25 min + rising Bake: 25 min.
MAKES: 6 servings
Jun 7, 2014
Healthy Pizza (Vegetable)..! (By Love_Asya) (Thanked: 7 times)
Heya..!
Ilovearshi just posted a recipe of pizza...but I'm posting my recipe which is different than hers...and it is pure vegetarian...So vegetarian's..this is especially for u..!!
Healthy Pizza
Ingredients:-
Base:

1 and a half cups wholewheat flour

2 tablespoons soya flour

1 and a half teaspoons dried yeast

1 teaspoon sugar

1 teaspoon salt

1 tablespoon olive oil

2 tabls spoon wheat bran
Sause:
2 tablespoons olive oil
1 small onion, chopped
4-5 garlic cloves,chopped
4 medium tomatoes,finely chopped
A few fresh basil leaves, roughly torn
Salt to taste
1 teaspoon crushed dried red chillies
Topping:
1 medium onion,sliced
2 medium tomatoes,quarted and cut into thin strips
1 medium capsicum,cut into thin strips
1 tablespoon low-fat mozzarella cheese, grated
1/4th teaspoon dried oregano, crushed
Method:-
*Mix the yeast with the sugar and one teaspoon warm water and set aside until frothy.Mix together the yeast mixture, wholewheat flour and soya flour.


*Add the salt, olive oil, and wheat bran. Add little water and knead into a soft dough. Cover the dough with a damp cloth and set aside to rest in a warm place for about 45 minutes, or until the dough is approximately double in size.




*Divide the pizza dough into four portions. Roll out each portion into moderately thick eight-inch rounds. Prick all over with a fork.




*Pre-heat an over to 220 degree C / 425 degree F / Gas Mark 7.




*For the sauce, heat olive oil in a pan; add the onion and garlic, and stir-fry for a few minuted. Add the tomatoes and saute' for a few seconds.




*Add one cup of water and bring to a boil. Stir in the basil leaves, salt and the red chillies. Cook on medium heat for about 5 minutes, or till the mixture is of dropping consistency.




*For the topping, spread the prepared pizza sause on the rolled pizza base. Top with sliced onion, sliced tomato and capsicum strips.




*Sprinkle the grated mozzarella cheese evenly to cover the pizza.Sprinkle the dried oregano.




*Place the pizza on a greased ovenproof tray and bake in the preheated oven for about 20 minutes, or until the pizza base is crisp and the cheese melts and starts bubbling.




*Remove from the oven, cut into six or eight wedges and serve hot.




Okay, so this is my Pizza recipe..and believe me ppl this pizza is very yummy..For the topping u can add olives,etc if u like..!! This recipe looks long..but when u start making it u cant believe the time..When i was first finished it i felt like OMG.! what must be the time...and when i looked at the clock I couldnt believe my eyes.... it took me almost 1 hour to finish it..!!! I thought i must have stayed in the kitchen for 2-3 hours..Silly Me.!

Total time: App. 1-2 hours..( It depend on your cooking & cutting speed..)
Note: Before cooking please arrange all the equipments and all the ingrdients on the platform..to save time and energy ;)
With Loads of Love,
Love_Asya.
Jun 11, 2014
Chocolate mint bars by I4arshi :) (By Rockinriya) (Thanked: 8 times)
Hey guys,this recipe is given by I4arshi.We all love chocolate and we love mint.But mint and chocolate together? Mmm...so enjoy this recipe! :D
Chocolate-Mint Bars
Ingredients
· Bottom layer:
· 4 1/2 ounces all-purpose flour (about 1 cup)
· 1/2 teaspoon salt
· 1 cup granulated sugar
· 1/2 cup egg substitute
· 1/4 cup butter, melted
· 2 tablespoons water
· 1 teaspoon vanilla extract
· 2 large eggs, beaten
· 1 (16-ounce) can chocolate syrup
· Cooking spray
· Mint layer:
· 2 cups powdered sugar
· 1/4 cup butter, melted
· 2 tablespoons fat-free milk
· 1/2 teaspoon peppermint extract
· 2 drops green food coloring
· 3/4 cup semisweet chocolate chips
· 3 tablespoons butter
Preparation
1. 1. Preheat oven to 350°.
2. 2. To prepare bottom layer, weigh or lightly spoon flour into a measuring cup; level with a knife. Combine flour and salt; stir with a whisk. Combine granulated sugar, egg substitute, ¼ cup melted butter, 2 tablespoons water, vanilla, eggs, and chocolate syrup in a medium bowl; stir until smooth. Add flour mixture to chocolate mixture, stirring until blended. Pour batter into a 13 x 9 inch metal baking pan coated with cooking spray. Bake at 350° for 23 minutes or until a wooden pick inserted in center comes out almost clean. Cool completely in pan on a wire rack.
3. 3. To prepare mint layer, combine powdered sugar, ¼ cup melted butter, and next 3 ingredients (through food coloring) in a medium bowl; beat with a mixer until smooth. Spread mint mixture over cooled cake.
4. 4. To prepare glaze, combine chocolate chips and 3 tablespoons butter in a medium microwave-safe bowl. Microwave at HIGH 1 minute or until melted, stirring after 30 seconds. Let stand 2 minutes. Spread chocolate mixture evenly over top. Cover and refrigerate until ready to serve. Cut into 20 pieces
Jun 17, 2014
Gujarati Theplas! :D (By Rockinriya) (Thanked: 7 times)
Hey everyone!
Owing to the Gujarati wave that is going on in india,i thought about posting a gujarati dish which can be found in every gujju house.For people not residing in india and unaware about the word gujarat,it is a state of india and our current prime minister,Narendra Modi, is from gujarat,and was its chief minister so thats why the 'Gujarati' wave.
This is a super easy recipe which i love to make,though my mum makes it better.Doesn't take any time to make and is super handy and can be eaten anytime with anything in anyway! Basically i am in love with theplas!
So here is the recipe of Gujarati theplas!
Theplas
Ingredients
2 whole wheat flour
fenugreek (methi)
1tbsp oil
2 tbsp curd
1/4 tsp turmeric powder
1tsp chilli powder
salt
oil
Method
Combine all the ingredients in a bowl and knead into a semi-soft dough using enough water.
Knead the dough well using a little oil. Cover and keep aside for 10 minutes.
Divide the dough into 14 equal portions and roll out each portion into a 125 mm. (5") diameter circle using whole wheat flour for rolling.
Heat a non-stick tava (griddle) and cook each circle, using a little oil, till it turns golden brown in colour from both sides.
Serve hot with curd or sweet mango pickle.
So enjoy this desi gujarati dish and i think i am going to rush and make some theplas for my mouth is watering already!
(Image courtesy google)
Jun 22, 2014
Diabetic desserts by 14arshi (By Rockinriya) (Thanked: 7 times)
Diabetic Dessert
Orange-Pumpkin Tarts
Ingredients
· 1 cup crumbled sugar-free oatmeal cookies (5 cookies) $
· 2 tablespoons butter or margarine, melted $
· Cooking spray
· 1 teaspoon all-purpose flour
· 1/2 cup canned pumpkin
· 1/2 cup evaporated fat-free milk
· 1/4 cup measures-like-sugar calorie-free sweetener $
· 1/4 cup egg substitute
· 2 tablespoons orange juice $
· 1/2 teaspoon pumpkin pie spice
· 1/4 cup frozen reduced-calorie whipped topping, thawed
Preparation
1. Preheat oven to 375°.
2. Combine cookie crumbs and butter, stirring well. Coat 4 (4-inch) tartlet pans with cooking spray. Sprinkle flour evenly over bottoms of pans. Press crumb mixture into bottoms and three-fourths way up sides of pans. Bake at 375° for 5 minutes.
3. Combine pumpkin and next 5 ingredients, stirring well with a whisk. Pour evenly into prepared crusts.
4. Bake at 375°F for 25 minutes or until set. Cool completely on a wire rack. Top each tart with 1 tablespoon whipped topping.
Fudgy Cream Cheese Brownies
Ingredients
· 3/4 cup sugar
· 1/4 cup plus 2 tablespoons reduced-calorie stick margarine, softened
· 1 large egg
· 1 large egg white
· 1 tablespoon vanilla extract
· 1/2 cup all-purpose flour
· 1/4 cup unsweetened cocoa
· Cooking spray
· 1 (8-ounce) block 1/3-less-fat cream cheese, softened
· 1/4 cup "measures-like-sugar" calorie-free sweetener
· 3 tablespoons 1% low-fat milk
Preparation
1. Preheat oven to 350°.
2. Beat sugar and margarine with a mixer at medium speed until light and fluffy. Add egg, egg white, and vanilla; beat well. Gradually add flour and cocoa, beating well. Pour into an 8-inch square pan coated with cooking spray.
3. Beat cream cheese and sweetener with a mixer at high speed until smooth. Add milk; beat well. Pour cream cheese mixture over chocolate mixture; swirl together using the tip of a knife to create a marbled effect.
4. Bake at 350° for 30 minutes. Cool completely in pan on a wire rack. Cut into squares.
5. Tip: Don't use reduced-calorie or fat-free tub margarine in this recipe because those products contain water, which will make the brownies gummy
Jul 1, 2014
Everyone's favourite-Bhelpuri! (By Rockinriya) (Thanked: 11 times)
I personally am in love with this! My mother and i love eating this in the evening,its sweet and sour tingling our taste.Those who haven't eaten this before must definitely have heard of this street food.And so here is the super easy recipe of bhelpuri which can be made in minutes!
Bhelpuri
Ingredients:
2 cups puffed rice
2 tbsp coriander chutney
2 tbsp tamarind chutney
1 tsp red chili chutney (optional)
1 large boiled potato, peeled and chopped
½ to ¾ cup boiled moong beans or steamed moong sprouts
1 medium size tomato. finely chopped
1 small onion, finely chopped
1 tsp roasted cumin powder
1 tsp chaat masala
½ tsp red chili powder
¼ cup chopped coriander leaves
¼ or ½ cup sev
5-6 papdis, broken into pieces
2 tbsp roasted peanuts
1 tsp lemon juice
black salt as required
Instructions
Firstly dry roast the puffed rice in a kadai or pan till they become crisp.
Let them cool and take them all in a large bowl.
Add everything to the puffed rice except sev and coriander leaves.
Quickly mix everything.
Now lastly garnish bhel puri with some coriander leaves and sev.
Serve bhel puri immediately.
Isn't it super easy and super delicious? So try it and enjoy this delicacy!
Disclaimer: The views expressed above are member's views and this website does not comply with it. The views expressed may not be factually correct. Incase of any issue please contact us/report it to us.